The U.S. Department of Justice announced Wednesday that it has approved Google's request to use part of an undersea cable connecting the US and Asia via Taiwan. Google agreed to operate a portion of the 8,000-mile Pacific Light Cable Network System between the US and Taiwan, while avoiding the leg of the system extending to Hong Kong.
Google and Facebook helped pay for construction of the now completed undersea cable, along with a Chinese real estate investor. U.S. regulators had previously expressed national security concerns about the Chinese investor, Beijing-based Dr. Peng Telecom & Media Group Co.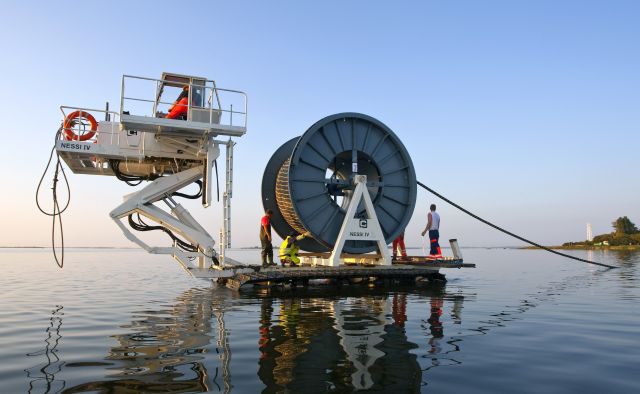 Google, Facebook and telecom and undersea infrastructure developer TE SubCom and PLDC (Pacific Light Data Communication Co. Ltd.) are teaming up to build a 120 Terabits per second (Tbps), 12,800 km subsea cable that will connect Los Angeles with Taiwan, but exclude Hong Kong.
…………………………………………………………………………………………………..
The DoJ granted a six-month authorization for using the cable after Google emphasized "an immediate need to meet internal demand for capacity between the US and Taiwan" and that without the requested temporary authority, it would likely have to seek alternative capacity at "significantly higher prices."
After discussions with Google representatives, the DoJ concluded that the obligations undertaken by Google would be sufficient to preserve their abilities to enforce the law and protect national security. Under the terms of the security agreement, Google has agreed to a range of operational requirements, notice obligations, access and security guarantees, as well as auditing and reporting duties, among others.
Google also committed to pursuing "diversification of interconnection points in Asia," as well as to establish network facilities that deliver traffic as close as practicable to its ultimate destination. This reflects the views of the US government that a direct cable connection between the US and Hong Kong "would pose an unacceptable risk to the national security and law enforcement interests of the United States", the DoJ said.
More information concerning the license application and the US Justice Departments' response is available here.
……………………………………………………………………………………………………………………………………………………….
The U.S. government decision to exclude Hong Kong (see Update below) from a trans-Pacific cable was "severe blow" to the city as a telecom hub, a key industry figure said Thursday.
The DOJ said "a direct connection between the U.S. and Hong Kong would pose an unacceptable risk" to national security and law enforcement interests.
Charles Mok, the IT industry representative in the Hong Kong Legislative Council, said the decision was "not a surprise."
It had been public knowledge for at least six months that the FCC held such views about Hong Kong and was delaying approval of the cable.
More than a month ago, Facebook and Google had amended their applications, excluding Hong Kong and terminating the cable in Taiwan, Mok pointed out.
"It is a severe blow to Hong Kong's status as a hub for telecommunications and underseas cable in the region," he said.
"The obvious reasons – behind what the US claims to be concerns over their national interest – must be the widely perceived deterioration of Hong Kong's One Country Two Systems, rule of law, freedom of information and the media, and the increasing interference from China.
June 18, 2020 Update:
In a press release Wednesday, "Team Telecom" recommended the FCC deny an application to connect the Pacific Light Cable Network (PLCN) subsea cable system between the US and Hong Kong.
FCC commissioners appear poised to accept the recommendation. "I'll reserve judgment for now, but the detailed filing raises major questions about state influence over Chinese telecoms. In this interconnected world, network security must be paramount," tweeted Democratic FCC Commissioner Geoffrey Starks.
Team Telecom – officially the Committee for the Assessment of Foreign Participation in the United States Telecommunications Services Sector – is an organization created by President Trump in April. It's chaired by Trump's attorney general and includes his secretaries of Homeland Security and Defense. As the Department of Justice explained, Team Telecom formalizes a process that has existed for years, but which will "benefit from a transparent and empowered structure."
References:
https://www.justice.gov/opa/pr/department-justice-clears-google-s-application-federal-communications-commission-operate
https://www.lightreading.com/asia/us-decision-a-blow-to-hks-status-as-telecom-hub-says-legislator/d/d-id/758791?
https://www.cnbc.com/2020/04/08/google-gets-federal-ok-to-operate-subsea-cable-from-taiwan-to-us.html
http://licensing.fcc.gov/cgi-bin/ws.exe/prod/ib/forms/reports/related_filing.hts?f_key=2252704&f_number=SCLSTA2020040200015
https://www.wsj.com/articles/u-s-allows-google-internet-project-to-advance-only-if-hong-kong-is-cut-out-11586377674 (on-line subscription required)
Rob Powell reports that Google's submarine cable empire now hooks up another corner of the world. The company's 10,000km Curie submarine cable has officially come ashore in Valparaiso, Chile.
The Curie cable system now connects Chile with southern California. it's a four-fiber-pair system that will add big bandwidth along the western coast of the Americas to Google's inventory.  Also part of the plans is a branching unit with potential connectivity to Panama at about the halfway point where they can potentially hook up to systems in the Caribbean.
Subcom's CS Durable brought the cable ashore on the beach of Las Torpederas, about 100 km from Santiago. In Los Angeles the cable terminates at Equinix's LA4 facility, while in Chile the company is using its own recently built data center in Quilicura, just outside of Santiago.
Google has a variety of other projects going on around the world as well, as the company continues to invest in its infrastructure.  Google's projects tend to happen quickly, as they don't need to spend time finding investors to back their plans.
Curie is one of three submarine cable network projects Google unveiled in January 2018. (Source: Google)
……………………………………………………………………………………………………………………………………………………………………………………..
Powell also wrote that SoftBank's HAPSMobile is investing $125M in Google's Loon as the two partner for a common platform, and Loon gains an option to invest a similar sum in HAPSMobile later on.
Both companies envision automatic, unmanned, solar-powered devices in the sky above the range of commercial aircraft but not way up in orbit. From there they can reach places that fiber and towers don't or can't. HAPSMobile uses drones, and Loon uses balloons. The idea is to develop a 'common gateway or ground station' and the necessary automation to support both technologies.
It's a natural partnership in some ways, and the two are putting real money behind it. But despite the high profile we haven't really seen mobile operators chomping at the bit, since after all it's more fun to cherry pick those tower-covered urban centers for 5G first and there's plenty of work to do. And when they do get around to it, there's the multiple near-earth-orbit satellite projects going on to compete with.
But the benefit both HAPSMobile and Loon have to their model is that they can, you know, reach it without rockets.
…………………………………………………………………………………………………………
An AWS Region is a particular geographic area where Amazon decided to deploy several data centers, just like that. The reason behind a chosen area is to be close to the users and also to have no restrictions. At the same time, every Region is also connected through private links with other Regions which means they have a dedicated link for their communications because for them is cheaper and they also have full capacity planing with lower latency.
What is inside a Region?
Minimum 2 Availability Zones
Separate transit centers (peering the connections out of the World)
How transit centers work?
AWS has private links to other AWS regions, but they also have private links for the feature AWS Direct Connect – a dedicated and private & encrypted (IPSEC tunnel) connection from the "xyz" company's datacenters to their infrastructures in the Cloud, which works with the VLANs inside (IEEE 802.1Q) for accessing public and private resources with a lower latency like Glacier or S3 buckets and their VPC at the same time between <2ms and usually <1ms latency. Between Availability Zones (inter AZ zone) the data transit there's a 25TB/sec average.
From AWS Multiple Region Multi-VPC Connectivity:
AWS Regions are connected to multiple Internet Service Providers (ISPs) as well as to Amazon's private global network backbone, which provides lower cost and more consistent cross-region network latency when compared with the public internet.  Here is one illustrative example:
,,,,,,,,,,,,,,,,,,,,,,,,,,,,,,,,,,,,,,,,,,,,,,,,,,,,,,,,,,,,,,,,,,,,,,,,,,,,,,,,,,,,,,,,,,,,,,,,,,,,,,,,,,,,,,,,,
From Facebook Building backbone network infrastructure:
We have strengthened the long-haul fiber networks that connect our data centers to one another and to the rest of the world.
As we bring more data centers online, we will continue to partner and invest in core backbone network infrastructure. We take a pragmatic approach to investing in network infrastructure and utilize whatever method is most efficient for the task at hand. Those options include leveraging long-established partnerships to access existing fiber-optic cable infrastructure; partnering on mutually beneficial investments in new infrastructure; or, in situations where we have a specific need, leading the investment in new fiber-optic cable routes.
In particular, we invest in new fiber routes that provide much-needed resiliency and scale. As a continuation of our previous investments, we are building two new routes that exemplify this approach. We will be investing in new long-haul fiber to allow direct connectivity between our data centers in Ohio, Virginia, and North Carolina.
As with our previous builds, these new long-haul fiber routes will help us continue to provide fast, efficient access to the people using our products and services. We intend to allow third parties — including local and regional providers — to purchase excess capacity on our fiber. This capacity could provide additional network infrastructure to existing and emerging providers, helping them extend service to many parts of the country, and particularly in underserved rural areas near our long-haul fiber builds.
………………………………………………………………………………………………….
Venture Beat Assessment of what it all means:
Google's increasing investment in submarine cables fits into a broader trend of major technology companies investing in the infrastructure their services rely on.
Besides all the datacenters Amazon, Microsoft, and Google are investing in as part of their respective cloud services, we've seen Google plow cash into countless side projects, such as broadband infrastrucure in Africa and public Wi-Fi hotspots across Asia.
Elsewhere, Facebook — while not in the cloud services business itself — requires omnipresent internet connectivity to ensure access for its billions of users. The social network behemoth is also investing in numerous satellite internet projectsand had worked on an autonomous solar-powered drone project that was later canned. Earlier this year, Facebook revealed it was working with Viasat to deploy high-speed satellite-powered internet in rural areas of Mexico.
While satellites will likely play a pivotal role in powering internet in the future — particularly in hard-to-reach places — physical cables laid across ocean floors are capable of far more capacity and lower latency. This is vital for Facebook, as it continues to embrace live video and virtual reality. In addition to its subsea investments with Google, Facebook has also partnered with Microsoft for a 4,000-mile transatlantic internet cable, with Amazon and SoftBank for a 14,000 km transpacific cable connecting Asia with North America, and on myriad othercable investments around the world.
Needless to say, Google's services — ranging from cloud computing and video-streaming to email and countless enterprise offerings — also depend on reliable infrastructure, for which subsea cables are key.
Curie's completion this week represents not only a landmark moment for Google, but for the internet as a whole. There are currently more than 400 undersea cables in service around the world, constituting 1.1 million kilometers (700,000 miles). Google is now directly invested in around 100,000 kilometers of these cables (62,000 miles), which equates to nearly 10% of all subsea cables globally.
The full implications of "big tech" owning the internet's backbone have yet to be realized, but as evidenced by their investments over the past few years, these companies' grasp will only tighten going forward.
On March 14th at the 2019 OCP Summit, Omar Baldonado of Facebook (FB) announced  a next-generation intra -data center (DC) fabric/topology called the F16.  It has 4x the capacity of their previous DC fabric design using the same Ethernet switch ASIC and 100GE optics. FB engineers developed the F16 using mature, readily available 100G 100G CWDM4-OCP optics (contributed by FB to OCP in early 2017), which in essence gives their data centers the same desired 4x aggregate capacity increase as 400G optical link speeds, but using 100G optics and 100GE switching.
F16 is based on the same Broadcom ASIC that was the candidate for a 4x-faster 400G fabric design – Tomahawk 3 (TH3). But FB uses it differently: Instead of four multichip-based planes with 400G link speeds (radix-32 building blocks), FB uses the Broadcom TH3 ASIC to create 16 single-chip-based planes with 100G link speeds (optimal radix-128 blocks).  Note that 400G optical components are not easy to buy inexpensively at Facebook's large volumes. 400G ASICs and optics would also consume a lot more power, and power is a precious resource within any data center building.  Therefore, FB built the F16 fabric out of 16 128-port 100G switches, achieving the same bandwidth as four 128-port 400G switches would.
Below are some of the primary features of the F16 (also see two illustrations below):
-Each rack is connected to 16 separate planes. With FB Wedge 100S as the top-of-rack (TOR) switch, there is 1.6T uplink bandwidth capacity and 1.6T down to the servers.
-The planes above the rack comprise sixteen 128-port 100G fabric switches (as opposed to four 128-port 400G fabric switches).
-As a new uniform building block for all infrastructure tiers of fabric, FB created a 128-port 100G fabric switch, called Minipack – a flexible, single ASIC design that uses half the power and half the space of Backpack.
-Furthermore, a single-chip system allows for easier management and operations.
Facebook F16 data center network topology
………………………………………………………………………………………………………………………………………………………………………………………………..
Multichip 400G b/sec pod fabric switch topology vs. FBs single chip (Broadcom ASIC) F16 at 100G b/sec
…………………………………………………………………………………………………………………………………………………………………………………………………..
In addition to Minipack (built by Edgecore Networks), FB also jointly developed Arista Networks' 7368X4 switch. FB is contributing both Minipack and the Arista 7368X4 to OCP. Both switches run FBOSS – the software that binds together all FB data centers.  Of course the Arista 7368X4 will also run that company's EOS network operating system.
F16 was said to be more scalable and simpler to operate and evolve, so FB says their DCs are better equipped to handle increased intra-DC throughput for the next few years, the company said in a blog post.  "We deploy early and often," Baldonado said during his OCP 2019 session (video below).  "The FB teams came together to rethink the DC network, hardware and software.  The components of the new DC are F16 and HGRID as the network topology, Minipak as the new modular switch, and FBOSS software which unifies them."
This author was very impressed with Baldonado's presentation- excellent content and flawless delivery of the information with insights and motivation for FBs DC design methodology and testing!
References:
https://code.fb.com/data-center-engineering/f16-minipack/
………………………………………………………………………………………………………………………………….
Other Hyperscale Cloud Providers move to 400GE in their DCs?
Large hyperscale cloud providers initially championed 400 Gigabit Ethernet because of their endless thirst for networking bandwidth. Like so many other technologies that start at the highest end with the most demanding customers, the technology will eventually find its way into regular enterprise data centers.  However, we've not seen any public announcement that it's been deployed yet, despite its potential and promise!
Some large changes in IT and OT are driving the need to consider 400 GbE infrastructure:
Servers are more packed in than ever. Whether it is hyper-converged, blade, modular or even just dense rack servers, the density is increasing. And every server features dual 10 Gb network interface cards or even 25 Gb.
Network storage is moving away from Fibre Channel and toward Ethernet, increasing the demand for high-bandwidth Ethernet capabilities.
The increase in private cloud applications and virtual desktop infrastructure puts additional demands on networks as more compute is happening at the server level instead of at the distributed endpoints.
IoT and massive data accumulation at the edge are increasing bandwidth requirements for the network.
400 GbE can be split via a multiplexer into smaller increments with the most popular options being 2 x 200 Gb, 4 x 100 Gb or 8 x 50 Gb. At the aggregation layer, these new higher-speed connections begin to increase in bandwidth per port, we will see a reduction in port density and more simplified cabling requirements.
Yet despite these advantages, none of the U.S. based hyperscalers have announced they have deployed 400GE within their DC networks as a backbone or to connect leaf-spine fabrics.  We suspect they all are using 400G for Data Center Interconnect, but don't know what optics are used or if it's Ethernet or OTN framing and OAM.
…………………………………………………………………………………………………………………………………………………………………….
In February, Google said it plans to spend $13 billion in 2019 to expand its data center and office footprint in the U.S. The investments include expanding the company's presence in 14 states. The dollar figure surpasses the $9 billion the company spent on such facilities in the U.S. last year.
In the blog post, CEO Sundar Pichai wrote that Google will build new data centers or expand existing facilities in Nebraska, Nevada, Ohio, Oklahoma, South Carolina, Tennessee, Texas, and Virginia. The company will establish or expand offices in California (the Westside Pavillion and the Spruce Goose Hangar), Chicago, Massachusetts, New York (the Google Hudson Square campus), Texas, Virginia, Washington, and Wisconsin. Pichai predicts the activity will create more than 10,000 new construction jobs in Nebraska, Nevada, Ohio, Texas, Oklahoma, South Carolina, and Virginia. The expansion plans will put Google facilities in 24 states, including data centers in 13 communities.  Yet there is no mention of what data networking technology or speed the company will use in its expanded DCs.
I believe Google is still designing all their own IT hardware (compute servers, storage equipment, switch/routers, Data Center Interconnect gear other than the PHY layer transponders). They announced design of many AI processor chips that presumably go into their IT equipment which they use internally but don't sell to anyone else.  So they don't appear to be using any OCP specified open source hardware.  That's in harmony with Amazon AWS, but in contrast to Microsoft Azure which actively participates in OCP with its open sourced SONIC now running on over 68 different hardware platforms.
It's no secret that Google has built its own Internet 

infrastructure

 since 2004 from commodity components, resulting in nimble, software-defined data centers. The resulting hierarchical mesh design is standard across all its data centers.  The hardware is dominated by Google-designed custom servers and Jupiter, the switch Google introduced in 2012. With its economies of scale, Google contracts directly with manufactures to get the best deals.

Google's servers and networking software run a hardened version of the Linux open source operating system. Individual programs have been written in-house.
…………………………………………………………………………………………………………………………………………………………………………
---