Gartner: Global public cloud spending to reach $332.3 billion in 2021; 23.1% YoY increase
According to Gartner, global public cloud spending is forecast to reach $332.3 billion in 2021, increasing by 23.1% from $270 billion in 2020.  Growth in cloud spending can be attributed to increased adoption in technologies such as virtualization, edge computing and containerization.
"The events of last year allowed CIOs to overcome any reluctance of moving mission critical workloads from on-premises to the cloud," said Sid Nag, research vice president at Gartner. "Even absent the pandemic there would still be a loss of appetite for data centers.
Table 1. Worldwide Public Cloud Services End-User Spending Forecast (Millions of U.S. Dollars)
| | | | |
| --- | --- | --- | --- |
|   | 2020 | 2021 | 2022 |
| Cloud Business Process Services (BPaaS) | 46,131 | 50,165 | 53,121 |
| Cloud Application Infrastructure Services (PaaS) | 46,335 | 59,451 | 71,525 |
| Cloud Application Services (SaaS) | 102,798 | 122,633 | 145,377 |
| Cloud Management and Security Services | 14,323 | 16,029 | 18,006 |
| Cloud System Infrastructure Services (IaaS) | 59,225 | 82,023 | 106,800 |
| Desktop as a Service (DaaS) | 1,220 | 2,046 | 2,667 |
| Total Market | 270,033 | 332,349 | 397,496 |
BPaaS = business process as a service; IaaS = infrastructure as a service; PaaS = platform as a service; SaaS = software as a service     Note: Totals may not add up due to rounding.
Source: Gartner (April 2021)
As organizations mobilize for a massive global effort to produce and distribute COVID-19 vaccinations, SaaS based applications that enable essential tasks such as automation and supply chain is critical. Such applications continue to demonstrate reliability in scaling vaccine management, which in turn will help CIOs further validate the ongoing shift to cloud.
"It's important to note that the usage and adoption of cloud that served enterprises well during the ongoing crisis will not look the same in the coming years," said Mr. Nag. "It will further evolve from serving pedestrian use cases such as infrastructure and application migration, to those that combine cloud with technologies such as artificial intelligence, the Internet of Things, 5G and more.
"In other words, cloud will serve as the glue between many other technologies that CIOs want to use more of, allowing them to leapfrog into the next century as they address more complex and emerging use cases. It will be a disruptive market, to say the least."
Driven by demand for composable applications, software-as-a-service (SaaS) will account for the largest market segment to reach $122.6 billion in 2021. Gartner cited that SaaS-based applications will be instrumental in countries' efforts to produce and distribute COVID-19 vaccinations, in areas such as automation and supply chain. These applications will help CIOs validate the shift to cloud.Desktop-as-a-service will experience the highest growth at 67.7% to reach $2 billion, while infrastructure-as-a-service will grow by 38.5% this year to reach $82 billion. In 2022, growth in these areas is expected to slow down.
…………………………………………………………………………………………………………………………………………………..

Cloud Computing Fuels Revenues and Profits for Big 3 Cloud Companies: 

Amazon's market-leading AWS cloud business grew revenue 32% in the first quarter, a faster pace than analysts had expected and accelerating from 28% growth in the fourth quarter.  Microsoft's revenue has skyrocketed since it invested billions of dollars to build a massive, interconnected cloud computing platform.  Revenues for its Azure cloud offering were up 50% in the quarter. Meanwhile, revenues at Google's Cloud business grew 46% this past quarter.  However, Google continues to be a distant third to Amazon and Microsoft in the cloud business.

All three cloud providers are making a big push into edge computing and 5G "cloud native" core networks.   That effectively makes them leaders in those new tech markets, with the traditional network providers playing a subservient role.  For example, Dish Network will build its 5G core network using the AWS cloud infrastructure and services.

These big three cloud businesses are in reality massive cloud (i.e. Internet) resident data centers with high-speed interconnections (Data Center Interconnects). There's no reason to think growth will slow any time soon. Were they stand-alone businesses, they would be the three largest enterprise-software entities in the world.  And they design their own compute servers, making them the world's largest global computer companies too!

………………………………………………………………………………………………………………………………………………….

While cloud services boomed in the past year, Gartner suggests that spending on cloud might take a different note in 2021 and 2022 as enterprises shift away from infrastructure and application migration towards advanced applications integrating AI and IoT and 5G.

In the first quarter of 2021, research and analytics firm Canalys reported that global cloud services infrastructure spending grew to $41.8 billion to represent a 35% year-on-year increment and 5% quarter-on-quarter growth.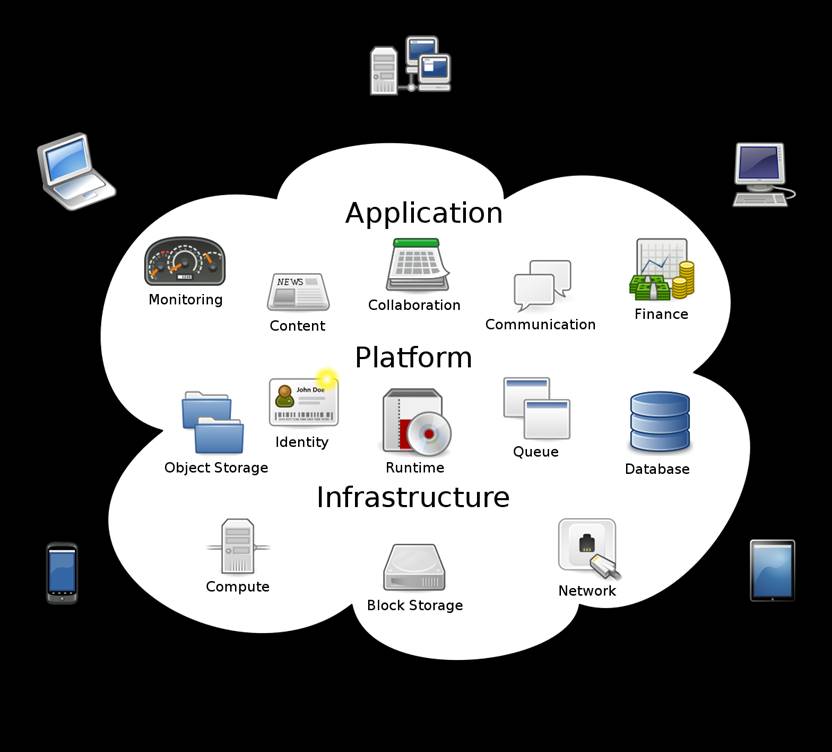 References:
https://www.gartner.com/en/newsroom/press-releases/2021-04-21-gartner-forecasts-worldwide-public-cloud-end-user-spending-to-grow-23-percent-in-2021
https://www.telecomreviewasia.com/index.php/news/industry-news/2325-global-public-cloud-spending-to-reach-332-3-billion-in-2021
Curmudgeon/Sperandeo: Technology Fab Five Biggest Winners from Covid-19 Pandemic
---