MoCA Link™ point-to-point coax link for broadband services delivered by 5G FWA, Fiber PON, or Satellite
The Multimedia over Coax Alliance (MoCA) is working on a new standard that endeavors to bridge the gap between outdoor broadband access network devices and the residential broadband gateway inside a customer's home.  The alliance's MoCA Link™ provides a symmetrical multi-gigabit, sub-millisecond latency, point-to-point coax link for broadband services. It will be able to connect 5G fixed wireless access, satellite or PON broadband devices on the side of the home or on the roof to the in-home Wi-Fi router.  Please refer to diagram below.
MoCA Link is a peer-to-peer link for satellite and other network services operators, enabling the re-use of pre-installed RG6 coaxial cabling to link receivers on the outside of a home to the gateway inside the home.  Satellite and 5G need a network connectivity solution that can provide a reverse power feed from inside the home to outside the home. MoCA Link™ features the robust reverse power feed 5G and satellite providers need.
The MoCA Link™  spec is slated for completion by late this year. Dr. Jim Crammond, MoCA's president, says that MoCA Link will effectively pair existing MoCA 2.5 silicon to new firmware that enables the new point-to-point connectivity bridge for 5G, satellite and fiber-based broadband services.
"MoCA Link™ 2.5 delivers the ultra-fast speed, high bandwidth and low latency that customers want with the ease of installation that service providers need," said MoCA President Dr. Jim Crammond. "The Alliance's inherent expertise in new applications for pre-installed coax cabling lets broadband service providers link receivers on the outside of a home to a gateway inside the home simply, efficiently, and cost-effectively."
Here are a few attributes of MoCA Link™:
Point to point connection designed specifically for 5G, Fiber PON and Satellite
Ultra-low latency of less than 1 millisecond
Allows low-cost access termination on the street, roof, or outside wall of the premise
Enables reverse power feed
Based on MoCA Home™ 2.5 technology
2.5 Gbps
Will be extended to MoCA Link™ 3.0 (10 Gbps)
Ease of deployment using existing coaxial cabling
Multi-Gigabit speeds
Ease of deployment reusing deployed coaxial cabling
Operating frequency range of 400MHz – 1675MHz.
Co-exist with TV, DOCSIS and cellular (4G/5G) technologies.
Supports standard traffic shaping and QoS up to four (4) queue in actual applications.
Strong security support
Three transmission power modes with 45dB, 55dB or 65dB link budgets and power saving
modes.
Applications include the following: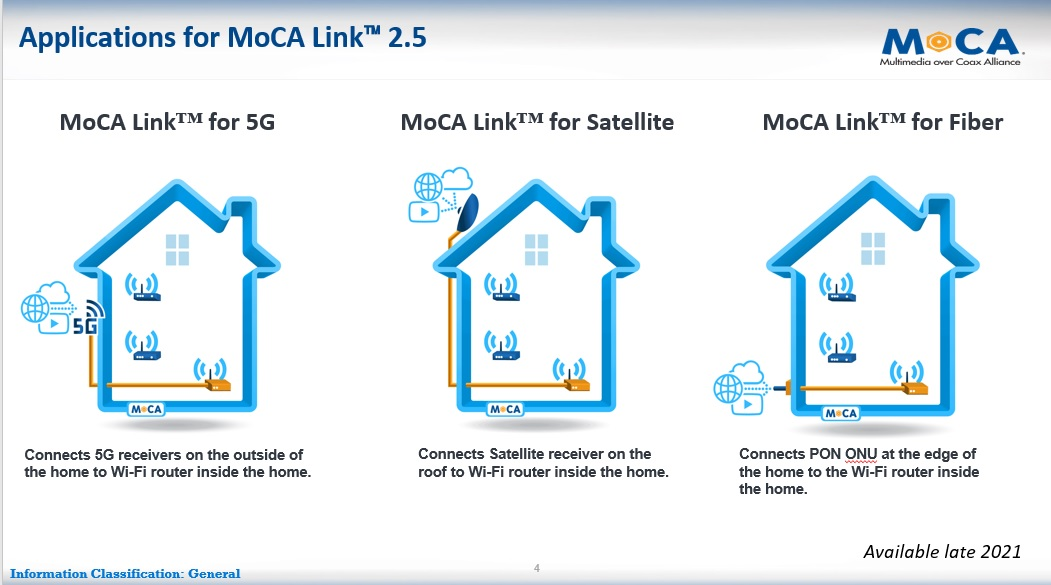 For 5G, MoCA Link™ is a point to point technology to solve for the 5G challenge of bringing millimeter wave signals, that don't penetrate buildings well, into the home. We also re-architected parts of the MAC to meet sub-millisecond ultra-low latency requirements.
For Fiber, MoCA Link can terminate on the street, not in the home, making MoCA Link a valuable PON extension.
For Satellite, (underserved rural areas) connecting to broadband can be as simple as:
Change out an old satellite TV dish for a satellite receiver/transmitter with MoCA Link™
Reuse the coax already there, and
Connect to the in-home broadband gateway.
MaxLinear, which has MoCA 2.5 silicon in its product set, is among the suppliers working on MoCA Link technology. Dr. Crammond joined MaxLinear when the company acquired Intel's Home Gateway Platform division in August 2020.
Here's a chart depicting MoCA Technology Standards:
References:
http://www.mocalliance.org/mocalink/
https://www.totaltele.com/510870/New-MoCA-standard-MoCA-Link
https://www.lightreading.com/cable-tech/moca-prepares-to-link-up-with-5g-fixed-wireless-satellite-and-pon-broadband/d/d-id/771891?
---