Frontier Communications sets another fiber buildout record; raises FTTP buildout target for 2022
Frontier Communications reported better than expected  2nd quarter 2022 results on Friday. Operating income was $166 million and net income was $101 million for the 2nd quarter 2022.  Adjusted EBITDA was $535 million, representing sequential growth of 5.1% from the first quarter of 2022, driven by the sequential increase in Consumer revenue, accelerating cost reductions, and a one-time $8 million sales tax refund. Adjusted EBITDA declined from $628 million in the second quarter of 2021 primarily due to subsidy-related revenue declines, partially offset by lower operating expenses and cost savings initiatives.
The fiber facilities based telco set another fiber network buildout record in the second quarter of 2022.  Frontier  also raised its fiber-to-the-premises (FTTP) buildout target for the full year to a range of 1.1 million to 1.2 million locations, up 10% to 20% from an earlier target of about 1 million locations.. Capital expenditures were $641 million, an increase from $385 million in the second quarter of 2021, as fiber expansion initiatives accelerated. Frontier's fiber network passed 4.4 million locations (out of a total fiber footprint of 15 million locations covering parts of 25 states), a marker on the way to a grander plan to build FTTP to at least 10 million locations by 2025.
"Frontier is Building Gigabit America. We are deploying fiber and connecting people to the digital society at a record pace," said Nick Jeffery, President and Chief Executive Officer of Frontier. "We have the second-largest fiber build in the country and this expansion is unlocking new opportunities to meet increased consumer demand for blazing-fast fiber broadband while driving efficiencies across our business."
Mr. Jeffery continued, "In the second quarter, we saw the impact of our operational success translate into financial growth, and we delivered sequential EBITDA growth ahead of schedule. Our team's operational discipline over the last year has improved Frontier's financial trajectory and positioned us as the preferred digital partner for customers across our footprint."
Second-quarter 2022 Highlights:
Built fiber to a record 281,000 locations
Added 54,000 fiber broadband customer net additions, resulting in fiber broadband customer growth of 13.4% compared with the second quarter of 2021
Revenue of $1.46 billion, net income of $101 million, and Adjusted EBITDA of $535 million
Capital expenditures of $641 million, including $325 million of non-subsidy-related build capital expenditures
Net cash from operations of $229 million, driven by healthy operating performance and increased focus on working capital management
Raised $1.20 billion of debt in May, contributing to liquidity of approximately $3.70 billion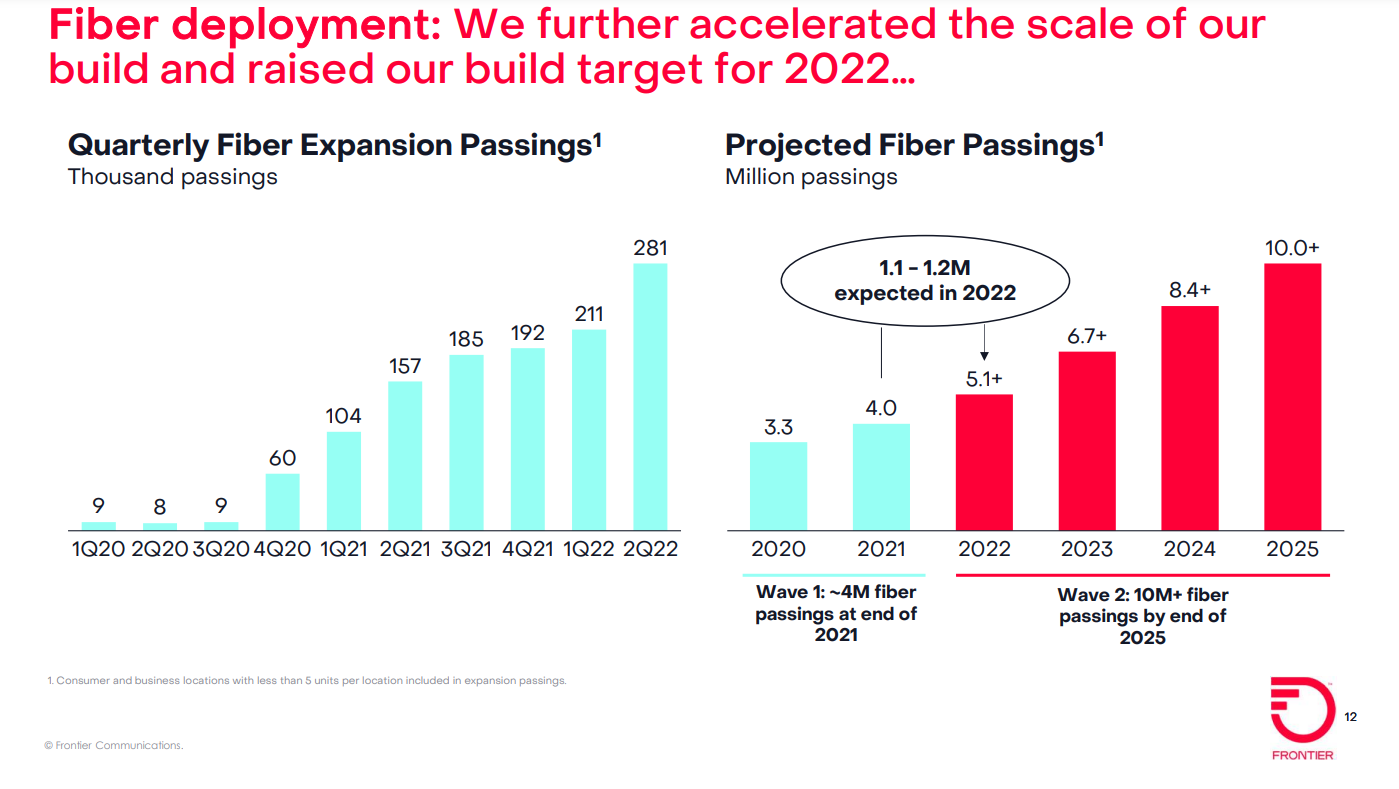 Frontier was able to accelerate its Q2 fiber buildout and expand its full 2022 target in the face of a "challenging supply chain and macroeconomic environment," Jeffery said on the company's Q2 earnings call on Friday August 5th. Jeffery noted that Frontier has diversified its fiber build into six additional states and plans to be building in at least 12 states by the end of the year. "This geographic diversity expands our opportunity to build fiber and provides redundancy for maintaining our build pace," he said.  Frontier is pairing that with additional contracts for both labor and equipment and realizing cost efficiencies using a blend of "cluster density" and new construction techniques – moves that are helping the company manage through both inflation and labor-related challenges, Jeffery added.
Frontier's current FTTP buildout plan covering 10 million locations focuses on a portion of its footprint referred to as Wave 1 and Wave 2. The telco is also piecing together a plan for Wave 3 – a portion of its footprint with 5 million locations in rural areas deemed to be financially less attractive to build fiber.
However, Frontier execs said a fresh analysis indicates that between 1 million to 2 million of those Wave 3 locations can be converted to FTTP economically without government subsidies.
John Stratton, Frontier's executive chairman, said the other 3 million to 4 million remaining locations in Wave 3 could also meet the company's return-on-investment thresholds depending on how the distribution of some $42 billion in federal infrastructure funding pans out in the coming years.  However, the overall funding plan for a Wave 3 build is still being ironed out. Frontier is also exploring other options for Wave 3, including partnerships and joint ventures.
As US cable operators and telcos struggled to gain broadband subs in Q2 2022, Frontier bucked the trend, adding 9,000 total broadband subs in the period when a loss of 41,000 legacy DSL/copper subs were included.  Jeffery estimated that between 45% to 50% of all new Frontier fiber subs selected speeds of 1-Gig or more. Frontier launched a symmetrical 2-Gig fiber service in February.
Copper-to-fiber migrations are part of Frontier's subscriber total, but the "vast majority" of those additions are coming from new customers, CFO Scott Beasley said.
"I think it's clear to see from recent results that, as we've always said, fiber is a superior product to cable," Jeffery said. "And while the cable and fiber market remains competitive, it's also worth reminding ourselves that in our specific footprint, we have 84% of that where we have one or fewer competitors today. That said, in this quarter, we gained share against every competitor in every geography we operate in."
……………………………………………………………………………………………………………………………………………………………………………………………………………………………………….
Comments from Nick Del Deo, Senior Analyst at MoffettNathanson:
Frontier's overall results in Q2 were solid, particularly with respect to financial metrics. On the subscriber front, Frontier continues to expand its fiber broadband base, adding 54K total fiber broadband customers (consumer and business), the same as in Q1, with a nice uptick in SMB adds (1K in Q4, 2K in Q1, and 4K in Q2). Gains came from both base markets and expansion markets. Copper losses also ticked up, but the company still added broadband customers overall, the third consecutive quarter it has done so. The company achieved this despite Q2 seasonality (primarily snowbirds in its Florida markets) and churning out nonpaying copper customers with the expiration of COVID-era requirements. Frontier is not seeing any deterioration in bad debt or customer payment trends with shifts in the macro environment.
In Q2, the cable industry posted total broadband net adds that were approximately zero, the first time this has happened since cable broadband was introduced about 25 years ago. Frontier's telco peers reported weak results, too, with little change in fiber adds and heightened DSL losses. The management teams pegged the performance, to varying degrees, on: low gross connects stemming from low move rates; a return of seasonality that disappeared during the pandemic (e.g., college students); competition, most notably from fixed wireless (though this was not uniformly described as material); a pull-forward of some demand due to COVID over the past couple of years; and disconnects associated with government support programs rolling off. [Rightly or wrongly, market saturation has not been cited as a possible headwind.]
Frontier has banked the future of the company on broadband net adds, with a plan to upgrade a large portion of its footprint to FTTH and take share, primarily from the cable operators. The accelerating growth of Frontier's fiber footprint offers some protection from market-wide trends, since it should mechanically gain net subscribers where it upgrades from copper to fiber. But Frontier has something else going for it, too: an ongoing transition from a company with weak management, a poorly received brand (to be generous), bad customer service, and no strategic focus to the opposite. These "softer" attributes matter.
Frontier stepped up the pace of its fiber expansion in Q2, adding 281K locations vs. 211K last quarter, and expects to reach 1.1-1.2M homes this year. While it remains early, Frontier's expansion fiber cohort penetration rates remain encouraging; the 2020 build cohort stands at 22% at 12 months and 44% at 24 months, albeit on a small base of "golden" trials, while its larger 2021 build cohort stands at 17% at 12 months, right in the middle of its target range. While acknowledging "pockets" of expense pressure, the company remains confident in its $900-1,000 cost per location target. Management indicated that it now believes 1-2M of its 5M wave three locations, which have been set aside from an upgrade perspective, can be profitably converted to fiber without government subsidies (the 3-4M latter require support). The company did not announce specific changes to its fiber build plans with this update, but did note that some of these locations may be sprinkled in to the plans it has previously laid out. Management suggested these 1-2M locations would have a somewhat lower return profile than its wave two locations, in mid-teens rather than mid-to-high-teens. Financial results in Q2 were better than expected. Revenue was 0.8% ahead of consensus, with the effects of sustained fiber net adds and a jump in copper broadband ARPU driving the outperformance. EBITDA was 4.7% higher than consensus and was up sequentially.
References:
https://investor.frontier.com/news-and-events/press-releases/news-details/2022/Frontiers-Strong-Execution-Delivers-Sequential-EBITDA-Growth/default.aspx
https://seekingalpha.com/article/4530265-frontier-communications-parent-inc-fybr-ceo-nicholas-jeffery-on-q2-2022-results-earnings-call
https://www.lightreading.com/broadband/frontier-keeps-supply-chain-constraints-at-bay-sets-another-fiber-buildout-record/d/d-id/779547?
Frontier Communications reports added 45,000 fiber broadband subscribers in 4Q-2021 – best in 5 years!
Frontier Communications Accelerates Fiber Build Out -10 Million locations passed by 2025
Frontier Communications and Ziply Fiber to raise funds for fiber optic network buildouts
---