Frontier Communications added a record 54,000 fiber broadband customers in the first quarter of 2022, a 20% gain over the previous record set in Q4 2021 and somewhat higher than expectations coming in to the quarter.  These fiber customer adds are coming from both new and existing fiber markets. Frontier's data continues to track nicely: 22% penetration at the 12-month mark for its 2020 cohort and 18% for its larger 2021 cohort, and 44% at the 24-month mark for its (admittedly small and probably not broadly representative) 2020 cohort. Base market penetration was up 50 basis points in the quarter and 90 basis points over the past two quarters.
Frontier's aggressive fiber network buildout and a record low churn of 1.19%, enabled the telco to offset copper losses and add 20,000 net broadband subs for Q1 2021.  That's a record nearly two times higher than that set in the prior quarter. Frontier ended the quarter with 1.38 million residential fiber broadband subs, up 11% YoY.
Frontier plans to expand its fiber-to-the-premises (FTTP) footprint to 10 million locations by 2025 – a figure that includes the company's "Wave 1" and "Wave 2" builds. Frontier built fiber out to another 211,000 locations in the first quarter of 2022, and says it's on track to add more than 1 million FTTP locations for all of 2022, and another 1.6 million in 2023.
Frontier passed another 211K locations with fiber in the quarter, up from the ~190K level of the prior two quarters, a nice accomplishment in light of the disruptions associated with Omicron early in the quarter (100K of the 211K passings were achieved in March alone). Management continues to expect to add at least 1M fiber locations in 2022, and it seems on track to meet or exceed that target.
"Positive net adds is the new normal," Nick Jeffery, Frontier's president and CEO, declared on Friday's earnings call.  The CEO continued:
"We gained momentum in business and wholesale, reaching a key inflection point in SMB and we made progress improving our employee engagement. And last week, we unveiled our new Frontier brand. A year ago, we said we will take a long and hard look at our brand and its future and after a thorough data-driven evaluation I am delighted with the results. Our new brand is modern, more relevant, more tech-oriented, and reflects our commitment to relentlessly being better in our business and for our customers.   We also gained customers in our mature fiber market, what we refer to as our base fiber footprint. In our base fiber footprint, penetration increased 50 basis points sequentially to 42.4%. And our base fiber footprint serves as a target for where we expect to drive penetration in our expansion fiber footprint and we expect to steadily grow penetration to at least 45% over time.

In our expansion fiber footprint, we are also making excellent progress. At the 12-month mark, our 2021 build cohort reached penetration of 18%, consistent with our target range of 15% to 20%. And at the 24-month mark, our 2020 build cohort reached penetration of 44%, significantly outperforming our target range of 25% to 30%. As larger builds are pulled into our 2020 cohort throughout the year, we continue to expect penetration of 25% to 30% at the 24-month mark."
Indeed, Frontier's operations and service levels have improved dramatically over the past two years. Our colleague Nick Del Deo at MoffettNathanson wrote in a research note to clients:
By some measures, Frontier is now operating at as high a level as key competitor Charter in the California market. And this is having an effect on its customer perceptions and market traction. Its American Consumer Satisfaction Index scores are slowly moving up, while its net promoter score has surged, especially where it has rolled out FTTH. Churn has fallen, as have customer care call volumes.

Frontier's post-emergence management team has taken a data-driven approach to running the business and making key decisions. Put simply, the choice to refresh the company's font and logo rather than totally rebrand is further evidence that changes to the business are working."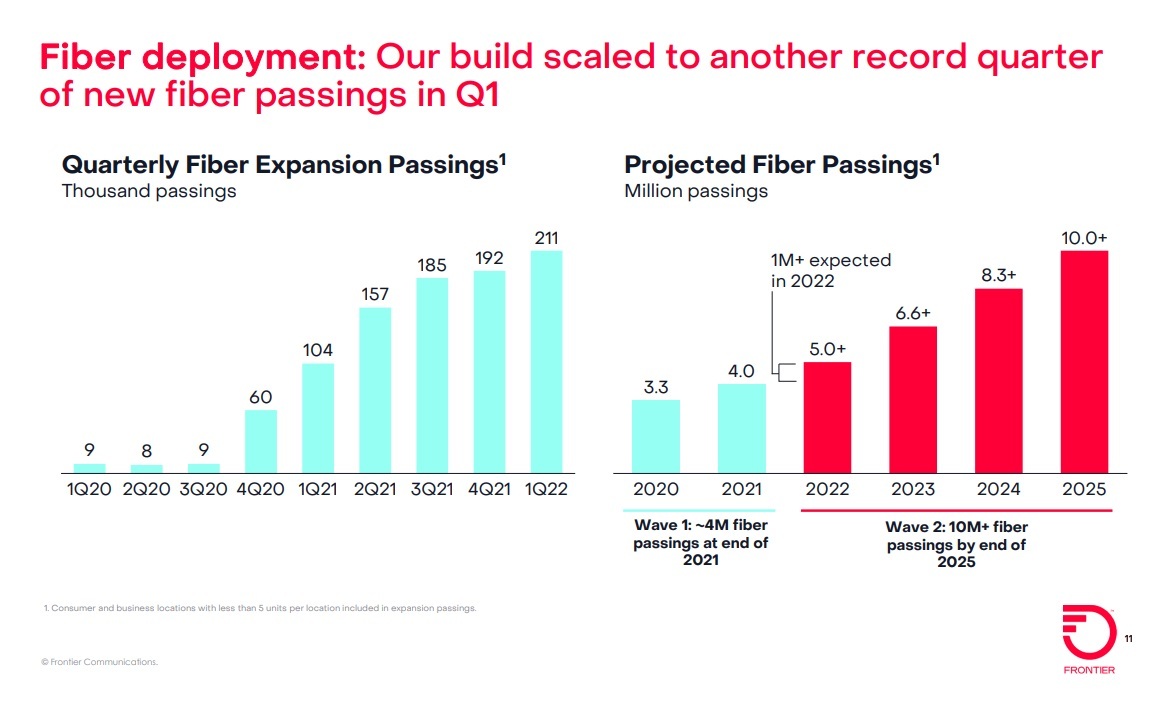 To reiterate, 1Q-2022 fiber penetration rates rose to 42.45% in the company's  base fiber footprint. Frontier expects to reach penetration rates of at least 45% over time.
In the expansion areas, Frontier realized a penetration rate of 12% at the 12-month mark in its 2021 fiber build cohort – within its target range of 15%-20%. In the 2020 FTTP build cohort, Frontier is seeing a 44% penetration rate at the 24-month mark, outperforming its target range of 25%-30%.
Source: Frontier Communications Q1 2022 earnings presentation
CEO Jeffery said Frontier's fiber-powered services are taking share from incumbent cable operators, but didn't elaborate on how much damage Frontier is inflicting.  He also acknowledged that fixed wireless access (FWA) could present an attractive option in rural areas where fiber isn't present. Jeffery also believes fiber represents "a fundamentally different proposition" over FWA, given current data usage trends. In March, the average Frontier fiber subscriber consumed about 900 gigabytes of data, up 30% from pre-pandemic levels, with a portion consistently consuming more than 1 terabyte per month.
Significantly, Frontier gained new customers in areas where fiber is being built out.  "This is critical because we know our future is fiber and fiber customers are the ones that will drive our growth in the years to come," said Jeffery, a former Vodafone UK exec who took the helm of Frontier in March 2021.
For the full 2022 year, Frontier is targeting adjusted EBIDTA of $2 billion to $2.15 billion, and capital expenditures in the range of $2.4 billion to $2.5 billion, the same as guidance issued last quarter. This implies $2,003M for the remainder of the year at the midpoint. Management continues to target FTTH builds in 2022 of at least 1,000K vs. 638K built in 2021.
References:
https://s1.q4cdn.com/144417568/files/doc_financials/2022/q1/Frontier-First-Quarter-2022-Results.pdf
https://s1.q4cdn.com/144417568/files/doc_financials/2022/q1/Frontier-First-Quarter-2022-Earnings-Presentation-(1).pdf
https://seekingalpha.com/article/4508042-frontier-communications-parent-inc-fybr-ceo-nick-jeffery-on-q1-2022-results-earnings-call
https://www.lightreading.com/opticalip-networks/net-broadband-subscriber-adds-new-normal-at-frontier-ceo-says/d/d-id/777365?
Frontier Communications added 45,000 fiber broadband subscribers in the fourth quarter, its best performance gains in five years, Frontier's Scott Beasley said at the 2022 Citi Apps Economy Virtual Conference. The company hopes to expand by 1 million fiber locations this year as part of plan to reach 6 million by 2025.
Comment: That's great progress for a company that filed for bankruptcy in April 2020 with a plan to cut more than $10 billion of its $17 billion debt load by handing ownership to bondholders. It was the biggest telecom filing since WorldCom in 2002, reflecting years of decline in its business of providing internet, TV and phone service in 29 states.
When combined with legacy DSL losses, Frontier added 9K net new broadband subscribers. Frontier is currently on an aggressive fiber build strategy that aims to add a total of 6 million locations by the end of 2025, resulting in 10 million locations reached in total. Beasley reports the company added 600K new fiber locations in 2021, with a goal of adding another million locations by the end of 2022. Beasley reports that the much discussed supply chain challenges facing the broadband industry have not had a significant impact at Frontier.
"We've managed through supply chain constraints and been able to perform very well in our fiber build and continue to ramp that up for 2022," he said.
This marked the first time in more than five years that the Company has posted total broadband customer growth in a quarter.
The Company expects to continue growing the total broadband customer base as its fiber build accelerates.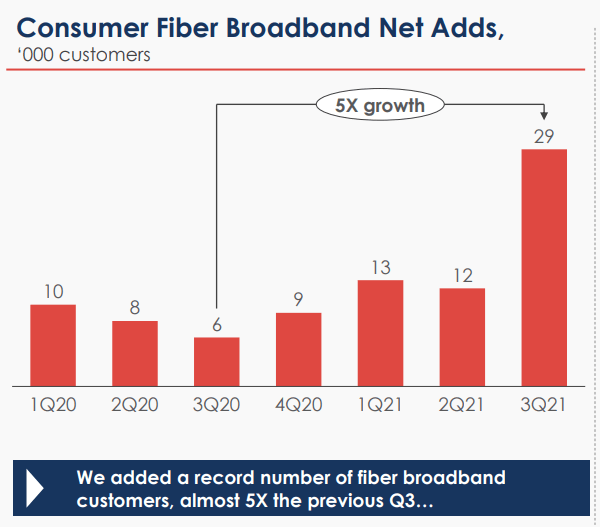 Source: Frontier Communications Q3 2021 earnings presentation
Frontier has completed 'wave 1' of this fiber expansion.  The company is now beginning 'wave 2,' which will take them through 2025, getting them to 6 million new locations. Build costs in wave 2 are a bit higher at $900 to $1,000 per fiber location.
Frontier envisions a 'wave 3' coming, but that's outside the scope of their current committed-to fiber build. Beasley says Frontier will look to leverage government funding programs and other partnerships to help fund wave 3 fiber builds.
"There could be scenarios where we accelerate the build of some locations in wave 3 into wave 2,' he said in discussing Frontier broadband growth. "That will likely be a destination of significant government funding as the roughly $45 billion of infrastructure bill funding that goes to broadband will be targeted at locations like wave 3."
Asked about potential competition from fixed wireless access (FWA) and satellite broadband services, Beasley said neither presents a material threat just yet. While FWA may gain traction in some ultra-dense urban locations and satellite in extremely rural areas, Beasley asserted neither technology will be able to stand up against Frontier's gigabit fiber offerings. The company already offers 1 Gbps and is planning the rollout of a 2 Gbps plan in the first half of this year as well as a 10 Gbps tier somewhere down the line.  "It's a technology we're watching closely but don't think it can compete with our core symmetrical speeds in fiber," Beasley said of FWA.
"Against our core gigabit plus offers, 1 gig symmetrical speeds now, we've said we're going to launch 2 gig in the first half of 2022, eventually we'll move to 10 gig, the core network is 10 gig capable now, we've trialed 25 gig successfully in certain parts of the network," he said. "I don't think fixed wireless has the capacity to compete with that core infrastructure. It will be competitive in certain niches of the market…but I don't think it can compete with our core symmetrical speeds and fiber," he added.
References:
https://kvgo.com/citi-apps-economy-conference/frontier-jan-2022
https://seekingalpha.com/article/4478155-frontier-communications-stock-subscriber-growth-higher-profits
https://www.fiercetelecom.com/telecom/frontier-adds-45k-fiber-lines-posts-first-broadband-growth-5-years-q4
With 45K New Fiber Subscribers, Frontier Sees First Positive Broadband Growth in 5 Years
---