Sabotage or Accident: Was Russia or a fishing trawler responsible for Shetland Island cable cut?
Most telecom professionals, analysts, and media don't realize how dependent the world is on a limited number of fiber-optic subsea cables that form the internet's spine and electronically link our continents and islands. Currently 95% of international internet traffic is transmitted by undersea cables. Satellites, in comparison, convey very little internet traffic.
There are still only about 200 cables around the world, each the size of a large hose pipe and capable of data transfers at about 200 terabytes per second. These cables lie on the ocean floor, while nearer to the shore they are buried under the seabed for additional protection.  They carry an estimated $10 trillion worth of financial transactions every day and come together at 10 or so international chokepoints, which are particularly vulnerable.
On October 20th, the subsea cable connecting Shetland and the Faroe Islands was damaged with a separate cable linking Shetland with the Scottish mainland also being cut. BT Group, which provides communications services through the cables, said engineers had been working "flat out" to repair the damage – which had primarily impacted mobile and broadband connections.
A BT spokesperson said: "While both cable links are being repaired by subsea engineers, engineers were able to reconnect all services via a temporary solution on Thursday afternoon."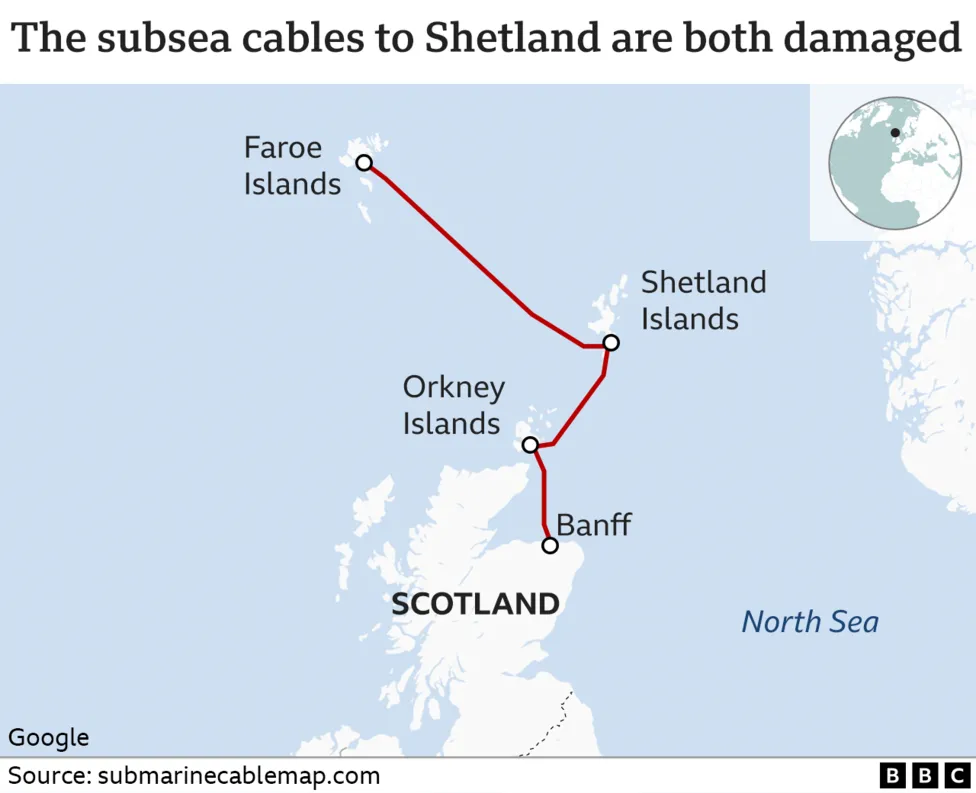 Although the BBC attributed the Shetland subsea cable damage to a fishing trawler, there is speculation that Moscow may have been the culprit.  The Financial Times (and other sources) reported that Russia's  Boris Petrov scientific research ship, was tracked in the vicinity of the Shetland Isles cables when they were cut.  Since it's designated a 'vessel of interest' by western navies, there's every chance the fault could have been an example of Russia's hybrid warfare.
The FT wrote: "The presence of a Russian underwater research ship, and the recent trio of underwater explosions that severed the Nordstream gas pipeline, make Moscow sabotage far more plausible.
Lord West, the former head of the Royal Navy, told Talk Radio: "In the Shetlands recently, where power was lost a couple of times and I'm sure it was probably a dredger or a trawler did it. "But actually there was a Russian ship of the type that can cause damage to damaged pipelines in that region. And hopefully, we are monitoring very closely making sure we're seeing what they are doing."
Alexander Lord, a Europe and Eurasia analyst at Sibylline told Express.co.uk: "I think in the instance of the Shetland Islands I think that's a really interesting one to watch. Obviously, accidents do happen, and these undersea cables do occasionally get damaged by fishing trawlers, for example.
"But I think it is notable and indeed local officials have noted that it's highly unusual that two cables were damaged in quick succession and that's what we've seen this week, it is what's caused some of the problems in Shetland.   In  terms of the vulnerability of European critical infrastructure, maritime assets, for example, including undersea cables will remain particularly vulnerable, undersea pipelines as well."
The FT noted that UK Prime Minister Rishi Sunak wrote a paper in 2017 on the growing sabotage threat to subsea cables.  From that paper:  "In the digital age of cloud computing, the idea that steel and plastic pipes are integral to our life seems anachronistic,' wrote Rishi Sunak. 'But our ability to transmit confidential information, to conduct financial transactions and to communicate internationally all depend upon a global network of physical cables lying under the sea.' And what if those cables are cut?  The threat is nothing short of existential."
In his 2017 paper, Sunak made several recommendations for fortifying the security of undersea cables. These included incentivising private businesses such as Google and Facebook, which own or finance much of the global cable network, to back up systems and distribute cables more widely. But nothing was done.
The UK has around 60 undersea cables. If several of these were cut or disrupted, the consequences would be disastrous.  Now that Sunak is the UK PM, will he invest in protective maritime and submarine capabilities as he recommended in his 2017 paper?
This past January, Admiral Tony Radakin, the head of the British Armed Forces,  observed that 'Russia has grown the capability to put at threat those undersea cables and potentially exploit undersea cables.'  It's now crunch time for the UK!
References:
https://www.bbc.com/news/uk-scotland-north-east-orkney-shetland-63337473
https://www.ft.com/content/0ddc5b48-b255-401b-8e9f-8660f4eab37b
https://www.express.co.uk/news/world/1686236/Shetland-submarine-cable-Russia-Vladimir-Putin-greyzone-latest-news-vn
https://www.spectator.co.uk/article/the-threat-to-britains-undersea-cables/
---