Cable One invests $50 million in Ziply Fiber after its JV called Clearwire Fiber
Cable One [1.] has invested $50 million to acquire a minority stake in northwestern U.S. wireline network operator Ziply Fiber [2.].  Although  the investment was made on September 6th, it was first announced Thursday November 3rd when Cable One Chair and CEO Julie Laulis revealed the investment during the company's Q3 2022 earnings call. She referred to Ziply Fiber as Cable One's "newest strategic growth partner." A Ziply representative confirmed the sum from Cable One was part of the $450 million in new funding it announced on September 8th.
Note 1.  Cable One is an American broadband communications provider. Under the Sparklight brand, it provides service to 21 states and 900,000 residential and business customers. It is headquartered in Phoenix, Arizona, though it does not serve that metro area.
Note 2.  Ziply Fiber was formed from the acquisition of Frontier Communications operations in Washington, Oregon and Montana.  Ziply has an ambitious fiber buildout/upgrade plan with the launch of symmetrical, multi-gigabit broadband speed tiers.
…………………………………………………………………………………………………………………………………………………………..
In a 10-Q filing, Cable One stated it invested an initial $22.2 million in Ziply in November 2022 and expects to invest the remaining $27.8 million before the end of September 2023. Its investment netted the company less than a 10% equity interest in Ziply.
"We are investing alongside proven operational and financial leaders that we have maintained long-term trusted relationships with and they continue to demonstrate the ability to deliver strong results and shareholder returns that align with our rigorous standards," a Cable One spokesman told Light Reading.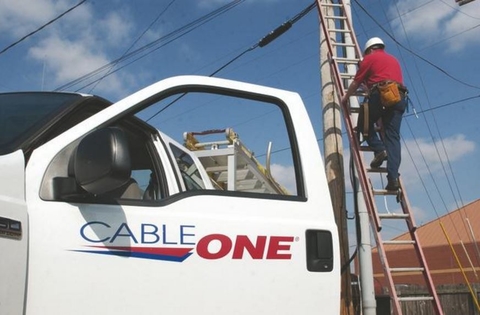 Other highlights from Cable One's Q3-2022 results and earnings call:
Total revenues were $424.7 million in the third quarter of 2022 compared to $430.2 million in the third quarter of 2021. Year-over-year, residential data revenues increased 6.3% and business services revenues decreased 11.5%. Revenues for the third quarter of 2022 included $4.9 million from CableAmerica(1) operations. Revenues for the third quarter of 2021 included $16.3 million from operations that were contributed to Clearwave Fiber(1) and from the Divested Operations, of which a substantial majority consisted of business services revenues.
Net income was $70.6 million in the third quarter of 2022, an increase of 35.1% year-over-year. Adjusted EBITDA was $224.6 million in the third quarter of 2022, an increase of 1.9% year-over-year. Net profit margin was 16.6% and Adjusted EBITDA margin(2) was 52.9%.
Revenues decreased $5.5 million, or 1.3%, to $424.7 million for the third quarter of 2022 due primarily to the contribution of operations to Clearwave Fiber and the disposition of the Divested Operations during 2022 that collectively generated $16.3 million of revenues in the prior year quarter, predominantly consisting of business services revenues, and decreases in residential video and residential voice revenues. The decrease was partially offset by increases in higher margin residential data and business services revenues from continuing operations and the addition of CableAmerica operations.
Cable One, like other cable operators, is seeing a slowdown in consumer move activity across its footprint. The operator posted an organic gain of just 1,800 broadband subs in the quarter, according to MoffettNathanson, a division of SVB Securities.
Sell-in for 1-Gig service has accelerated to nearly 32%.
Cable One's average revenue per user (ARPU) rose 15%, to $80.46, as customers migrated to faster, higher-priced services or took an unlimited data plan.
Rate increases are "absolutely on the table," Laulis said.
Average data usage reached about 580 gigabytes per month in Q3, up 19% year-over-year.
Cable One, which has DOCSIS 4.0 on its roadmap, has tested symmetrical multi-gigabit speeds, but did not say when it might launch such services.
FWA adoption in Cable One's markets "remains low," Laulis said.
Video losses hit 18,000, widened from a year-ago loss of 8,000. Reflecting Cable One's de-emphasis on video and its laser-focus on broadband, the company's video base eroded by another 28% year-over-year.
At the start of 2022, Cable One along with three private equity companies formed a joint venture called Clearwave Fiber, aiming to reach 500,000 rural locations by 2027. Cable One contributed assets from its Illinois-focused Clearwave Communications and South Carolina-based Hargray Communications businesses as part of the deal. Shortly after its formation, Clearwave Fiber acquired the assets of Kansas-based operator RG Fiber to gain a foothold in the state.
Earlier this week, Clearwave Fiber revealed it has already crossed the 100,000 passings mark. By the end of this year, the company said its services will be available in a total of 35 markets across four states: Illinois, Kansas, Georgia and Florida.
References:
https://www.businesswire.com/news/home/20221103005494/en/Cable-One-Reports-Third-Quarter-2022-Results
Cable One joint venture to expand fiber based internet access via FTTP
Ziply Fiber deploys 2 Gig & 5 Gig fiber internet tiers in 60 cities – AT&T can now top that!
Frontier Communications and Ziply Fiber to raise funds for fiber optic network buildouts
https://www.lightreading.com/cable-tech/cable-one-invests-$50m-in-ziply-fiber/d/d-id/781591
https://www.fiercetelecom.com/broadband/cable-one-doubles-down-fiber-50m-ziply-investment
---