Qualcomm Introduces the World's First "5G NR-Light" Modem-RF System for new 5G use cases and apps
Qualcomm Technologies, Inc. today announced Snapdragon® X35 5G Modem-RF System, the world's first "5G NR-Light" [1.] modem-RF system. NR-Light, a new class of 5G, fills the gap in between high-speed mobile broadband devices and extremely low-bandwidth NB-IoT devices. NR-Light devices, powered by Snapdragon X35, can be smaller, more cost-efficient, and provide longer battery life than traditional mobile broadband devices.
Note 1. 5G NR-Light is not an ITU-R recommendation, but rather a subset of 5G-NR in 3GPP Release 17, which was "frozen" on June 10, 2022.  In 5G NR Release 17, 3GPP introduced a new tier of reduced capability (RedCap) devices, also known as NR-Light. It is a new device platform that bridges the capability and complexity gap between the extremes in 5G today with an optimized design for mid-tier use cases. When compared to 5G enhanced mobile broadband (eMBB) devices that can support gigabits per second of throughput in the downlink and uplink, NR-Light devices can efficiently support 150 Mbps and 50 Mbps in the downlink and uplink, respectively, due to the designed optimizations:
narrower bandwidths, i.e., 20 MHz in sub-7 GHz or 100 MHz in millimeter wave (mmWave) frequency bands,
a single transmit antenna,
a single receive antenna, with 2 antennas being optional,
optional support for half-duplex FDD,
lower-order modulation, with 256-QAM being optional, and
support for lower transmit power
……………………………………………………………………………………………………………………………………………………………………………………………………………………………………………………………….
In a briefing provided in advance to journalists, Gautam Sheoran, Qualcomm's vice president of product management, defined the X35's target market as "entry-level devices that may not necessarily need multi-gigabit speeds."  The X35 doesn't support millimeter wave (mmWave) connections, even though Qualcomm continues to praise mmWave. But the X35 can support theoretical peak download speeds of 220 Mbit/s, with best-case uploads of 100 Mbit/s. "We should look at it as bringing all of the benefits of 5G at a much smaller data rate," Sheoran said.
"The chipset is not only NR-Light, it also supports 4G fallback," Sheoran added. "It's really a future proof product that will last a number of years." Sheoran emphasized that IoT gear built on its new systems was not that far off. "We expect devices to come out in the market around the first half of next year," he said. "Sampling is actually happening as we speak."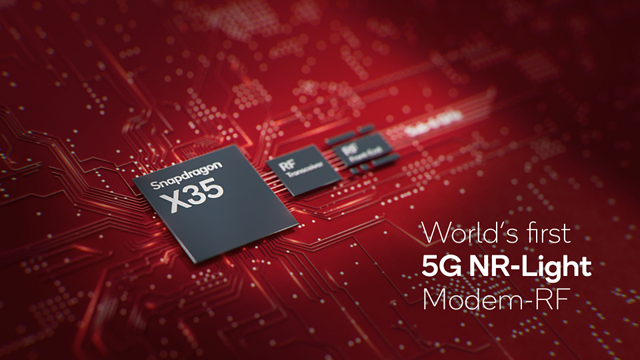 Snapdragon X35 offers a device platform that bridges the complexity and capability gap between the extremes in 5G today and addresses the need for mid-tier use cases. This lower cost option provides device makers with a long-term migration path to replace LTE CAT4+ devices, ultimately increasing 5G adoption and allowing for faster transition to a unified 5G network.   In addition to Snapdragon X35, Qualcomm Technologies also announced Snapdragon® X32 5G Modem-RF System, a modem-to-antenna solution built to lower complexity and fuel cost-efficient NR-Light devices.
"Snapdragon X35 brings together key 5G breakthroughs expected from the world's leading wireless innovator," said Durga Malladi, senior vice president and general manager, cellular modems and infrastructure, Qualcomm Technologies, Inc. "The world's first 5G NR-Light modem features a cost-effective, streamlined design with leading power efficiency, optimized thermal, and reduced footprint. Snapdragon X35 is poised to power the next wave of connected intelligent edge devices and empower a wide spectrum of uses. We look forward to working with industry leaders to unleash what's possible with a unified 5G platform."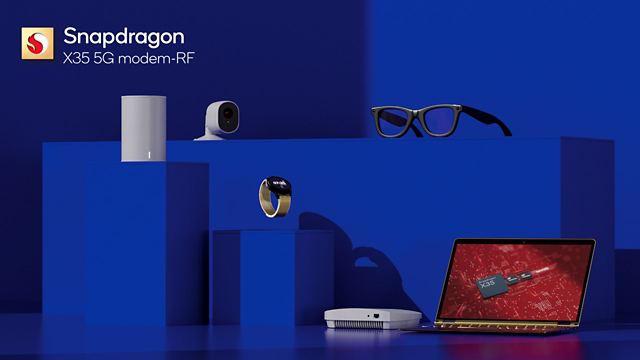 World's first 5G NR-Light modem-RF with a new streamlined architecture:
Snapdragon X35, a 3GPP Release 17 RedCap modem with optimized RFIC and PMIC modules, offers OEMs new 5G capabilities to create next-generation devices for a new era of use cases. The flexible, streamlined architecture and high-level modem-RF integration deliver superior power and thermal efficiency while enabling a small form factor design tailored to fit in compact devices.
Expansion of 5G ecosystem to new wave of use cases:
Snapdragon X35 brings a unique mix of capabilities in data rates, power consumption, complexity, and reduced footprint needed to cost-effectively enable new use cases such as entry-level industrial IoT devices, mass tier fixed wireless access consumer premise equipment, mass tier connected PCs, and first generation 5G consumer IoT devices like direct-to-cloud glasses and premium wearables.
With support for both LTE and 5G NR-Light, Snapdragon X35 is backwards compatible and future-proof enabling OEMs to develop devices which coexist with a wide range of 4G and 5G device classes helping scale 5G NR-Light services.
Breakthrough performance with advanced Modem-RF feature set:
Snapdragon X35 is equipped with advanced modem-RF technologies aimed to significantly reduce power consumption, enhance 5G coverage, lower latency, increase battery life, and improve uplink speeds:
– Qualcomm® QET5100 Envelope Tracking
– Qualcomm® Smart Transmit™ Technology
– Qualcomm® 5G Ultra-Low Latency Suite
– Qualcomm® 5G PowerSave Gen 4
In addition, Snapdragon X35 supports dual-frequency GNSS (L1+L5) to offer precise positioning suited to enable new industrial use cases and applications. With its global RF-band support, Snapdragon X35 supports all spectrum bands within Sub-6GHz, FDD, and TDD, to satisfy the needs of various markets.
These innovations and other improvements in Snapdragon X35 are designed to power a new generation of use cases and applications. Qualcomm suggested the company's new chipset could be used in such gadgets as fixed-wireless consumer premise equipment as well as mobile hotspots, smartwatches and other upmarket wearables, connected cameras, industrial sensors, and augmented-reality glasses running what Sheoran called "glass-to-cloud" apps.
Customer sampling of Snapdragon X35 and X32 are expected to begin in the first half of 2023 and commercial mobile devices are expected to be launched by the first half of 2024. For additional details, please visit the Snapdragon X35 webpage.
…………………………………………………………………………………………………………………………………………………………………………………………
References:
https://www.qualcomm.com/news/releases/2023/02/qualcomm-introduces-the-world-s-first-5g-nr-light-modem-rf-system
https://www.qualcomm.com/news/onq/2022/07/what-is-5g-nr-light–a-k-a–redcap–and-how-will-it-accelerate-t
https://www.lightreading.com/iot/qualcomm-starts-connecting-dots-on-5g-nr-light-/d/d-id/783124?
https://www.3gpp.org/specifications-technologies/releases/release-17
https://portal.3gpp.org/Home.aspx?tbid=373&SubTB=373#/55934-releases
---