Although the consumer penetration rate of 5G services remains low, more businesses are using 5G technology to develop applications that offer more diverse content and facilitate production processes, according to Taiwan's National Communications Commission.
Kaohsiung Music Center has become the nations first exhibition venue to offer performances combining music and 5G artificial intelligence (AI) of things, the commission said. The V Future Party this year is set to become the nations largest performance integrating virtual reality and real-time performance, the commission said. The performances are to combine Chunghwa Telecoms 5G network, AI technology and high-end facilities at the center, it added.  Participants in the V Future Party would see AI manga characters perform with live dancers.
The party integrates online and offline performances by utilizing high-speed and low-latency characteristics of the 5G system and multiple high-speed cameras to capture real-time actions in three dimensions, it said.  The new form of performance brings new possibilities to performing arts, it added.
Meanwhile, China Steel Corp has used the 5G enterprise private network technology developed by Chunghwa Telecom to monitor its operations along a 900m-long steel slag transportation track and remote-control slag receiving operations, the commission said. This assists greatly in avoiding industrial safety accidents, it said.   Through the 5G system, on-site images and data can be sent immediately to the vehicle dispatch center.  In addition, the safety of the steel factory is enhanced by the driving safety assistance system.
"When the slag-receiving vehicle is moving for a long distance in the factory area, a foreign object intruding after a level crossing is lowered would immediately trigger a warning sound and automatically notify the slag-receiving vehicle to stop," the commission said.
Previously, Taiwan network operator Far EasTone Telecommunications expects its 5G subscriber penetration rate to reach 40% by the end of this year from more than 30% last year,  Taipei Times reported. It would be reasonable to see an increase of 10 percentage points this year, Far EasTone president Chee Ching (井琪)
References:
https://www.taipeitimes.com/News/taiwan/archives/2023/02/17/2003794528
https://www.ncc.gov.tw/english/
https://www.taipeitimes.com/News/biz/archives/2023/01/14/2003792552
https://www.prnewswire.com/news-releases/taiwan-companies-are-perfect-partners-in-the-competitive-5g-tech-war-said-roger-huang-head-of-digitimes-research-301635280.html
The Taipei Times reports that Asia Pacific Telecom Co. said it expects its 5G network to cover 90 percent of Taiwan's population by the end of this year, as its 5G base station number reaches 9,500 units by sharing infrastructure with Far EasTone Telecommunications Co.
Through a co-build and co-share infrastructure model, Asia Pacific currently provides 5G services through 7,500 base stations utilizing the 3.5-gigahertz spectrum owned by Far EasTone, the company said.
"Asia Pacific has obtained a new opportunity to thrive, thanks to the new telecommunications regulation that allows telecoms to co-share and co-build 5G networks," company chairman Lu Fang- ming told a media briefing following the company's annual shareholders' meeting in Taipei.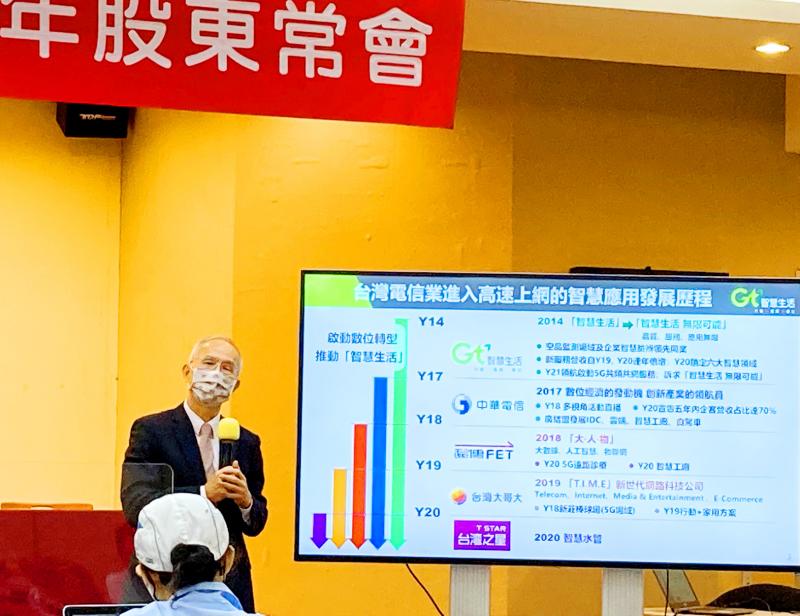 Asia Pacific Telecom Co chairman Lu Fang-ming speaks to reporters during a media briefing following the company's annual shareholders' meeting in Taipei's Neihu District yesterday.                        Photo credit: Lisa Wang, Taipei Times
………………………………………………………………………………………………………………………………………….
A subsidiary of Hon Hai Precision Industry Co, Asia Pacific Telecom said it has seen a rebound in subscriber numbers after rolling out its 5G services in October last year, shaking off the adverse impact from a major price war in 2019.
The company saw a 172 percent jump in average revenue per user from 5G subscribers compared with its 4G users.
The company plans to upgrade 20 percent of its mobile subscribers — or about 400,000 users — to its new 5G services by the end of this year, despite a delayed regulatory approval, company president Huang Nan-ren told reporters.
The Fair Trade Commission approved the 5G infrastructure co-sharing proposal early this month.
The National Communications Commission yesterday gave the green light for Far EasTone to invest NT$5 billion (US$179 million) for an 11.58 percent stake in Asia Pacific, which would it give one seat on the latter's board.
Asia Pacific said it expects its earnings before interest, taxes, depreciation and amortization to further improve, extending a positive trend over the past two years. It hopes to be profitable in three to five years.
…………………………………………………………………………………………………………………………………………
Taiwan as a whole is expected to reach a 5G penetration rate of nearly 30% by the end of this year, local news site Digitimes reported, citing industry sources.
According to the Digitimes report, Chunghwa Telecom (CHT) currently leads the Taiwanese 5G market, with nearly 1 million subscribers. The operator is expected to reach 2 million 5G customers by the end of the year.
The carrier currently operates a total of 8,000 5G base stations, with plans to expand this figure to 10,000 by the end of the year, according to the sources.
The operator was the first telco in Taiwan to receive a license for 5G services from the National Communications Commission (NCC). Chunghwa Telecom launched commercial 5G services in Taiwan based on the non-standalone (NSA) 5G architecture.
Far EasTone Telecommunications (FET) has already secured over 800,000 5G subscribers and expects 5G service users to account for 30% of its total mobile services by the end of 2021. The company has already deployed over 7,000 5G base stations, with its coverage reaching 75% of the total population in Taiwan.
Taiwan Mobile currently has 800,000 subscribers in the 5G segment and aims to increase its 5G penetration rate to 30% by the end of the year, according to the report.  Taiwan Mobile had partnered with Nokia to launch its 5G network. The telco had acquired 60 megahertz of spectrum in the 3.5 GHz band and 200 megahertz of the 28 GHz frequency.
Digitimes also said that handset vendors will find it difficult to sustain the competitiveness of their 4G models while putting sales focus on 5G smartphones.  If they want to achieve good business performance during the 4G to 5G transition period they must continue to sell 4G smartphones till 5G coverage in Taiwan increases.
References:
https://taipeitimes.com/News/biz/archives/2021/08/26/2003763222
https://www.rcrwireless.com/20210826/5g/apt-5g-coverage-reach-90-taiwan-population-end-2021
---