Distributed Access Architecture
DAA Tutorial:
Distributed Access Architecture (DAA) – not to be confused with 1970's Data Access Arrangement – is a method used to decentralize cable networks by relocating select functions that have typically resided in the headend or hub to intelligent fiber nodes, closer to the subscriber.
DAA enables the evolution of cable networks by decentralizing and virtualizing headend and network functions. DAA extends the digital portion of the headend or hub domain out to the fiber-optic node and places the digital-to-RF interface at the optical-coaxial boundary in the node. Replacing the analog optics from the headend converts the fiber link to a digital fiber Ethernet link, increasing the available bandwidth by improving fiber efficiencies (wavelengths and distance) and directional alignment with the NFV/SDN/FTTx systems of the future.
According to Viavi, DAA deployment hurdles include the assessment of jitter and timing for R-PHY deployments and the complete re-verification of all planned and existing services to be delivered over the new platform. Repurposing any legacy analog fiber for high-speed Ethernet also requires a thorough assessment of the fiber dispersion than can lead to10G Ethernet performance degradation.
Although the level of equipment changeover depends on the architecture selected, a common ingredient for any distributed access architecture deployment is the extensive retrofitting of digital nodes and the deeper digital fiber runs that connect to them. Although deployment strategies may differ substantially, the need for ongoing distributed architecture deployment to address consumer demand is no longer in question.
DAA replaces analog fiber with IP connections (digital fiber) and creates a software-defined network that supports:
Node evolution with remote PHY and remote MAC/PHY
Transition to digital optics, removing analog lasers
Digital fiber closer to the subscriber's home
Migration to centralized data centers
Flexible advertising, channel lineups and bandwidth management
There are three main approaches to DAA –Integrated CCAP (a centralized access architecture), Remote PHY and Remote MAC/PHY – both of which are distributed access architectures that are designed to move key functions out of the headend and closer to customers at the edge of a hybrid fiber – coaxial network. While the former focuses on moving the Physical layer further out, the latter also includes the media access control layer.  These are shown in the following illustration: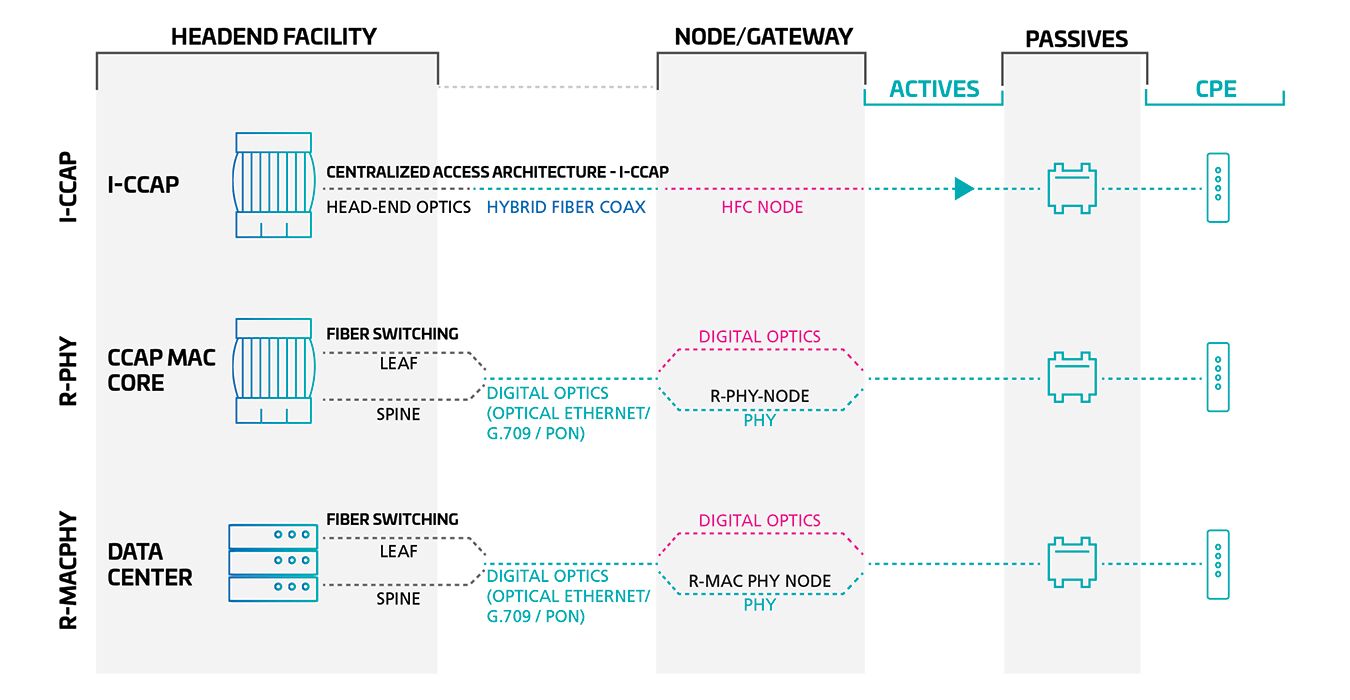 Illustration Credit: CommScope
………………………………………………………………………………………………………………………………………………….
DAA Market Assessment:
The coronavirus pandemic shifted network operators' priorities to upstream bandwidth, but now spending on remote PHY and remote MAC/PHY devices is increasing, tweeted Jeff Heynen of the Dell'Oro Group.
Heynen told Fierce Telecom that DAA spending on Remote PHY and Remote MAC-PHY devices in the first half of 2021 was up 62% compared to the first half of last year, jumping from $43 million to $69 million. He added spending for the full year is expected to reach $180 million, up 78% from 2020.
Remote PHY "still dominates the DAA overall spending, with Comcast, Cox, Vodafone, and others (unnamed) are responsible for most of the DAA deployments." However, Remote MAC-PHY is forecast to gain more traction in 2022.  "We'll see more substantial increases in 2023 as operators upgrade their networks for DOCSIS 4.0," Jeff added.
GCI Deploys CommScope's DAA Solution:
Separately, Alaska's #1 network operator GCI is deploying CommScope's Remote MAC-PHY product as part of a network upgrade plan it is executing to deliver 2G and eventually 10G broadband to customers.  The CommScope product GCI is using can be deployed as either a Remote PHY or Remote MAC-PHY device.  [The CommScope RD2322 RxD is a Remote MAC/PHY Device (RMD)]
With the upcoming launch of the service in 19 Alaska communities, GCI will be among the nation's leaders in 2G internet deployment.
The RD2322, which CommScope first announced in May, can be deployed as either a Remote PHY Device (RPD) or a RMD based on its software image. GCI deployed the RMD in its existing CommScope NC4000 fiber nodes by swapping the node lid, bringing a host of key advantages to the GCI network including a simplified, distributed access architecture (DAA), lower latency, greater headend efficiencies, and higher throughput.
"GCI is now among the first to deploy Remote MACPHY in its broadband network, and we credit our longstanding partnership with CommScope for our successful launch," said Victor Esposito, vice president, Engineering, GCI. "The deployment of RMDs paves the way for GCI's launch of 2 gig internet in the coming months and our journey to 10G in the next five years. RMD technology also allows us to move internet distribution from the centralized headend out into neighborhood nodes, enabling GCI to provide more reliable, better quality, and higher performance service to our customers. We look forward to working with CommScope to deploy RMDs throughout our network in Alaska."
"CommScope deeply understands the imperative to transition networks to DAA," said Ric Johnsen, senior vice president and segment leader, Broadband Networks, CommScope. "We designed the RD2322 platform to cater to the broad needs of our operator customers—whether they're going directly to Remote MACPHY, like GCI, or are choosing to start with Remote PHY. The RMD leverages over 20 years of field-hardened software as well as seamless integration with legacy back-office infrastructure to make this high-profile transition simple and reliable."
CommScope's end-to-end solution for Remote MACPHY includes the RMD, fiber nodes, video delivery, fiber, cables, and connectors, as well as back-office software to orchestrate, onboard, manage, and scale deployments. The RMD provides an evolutionary path for operators to transition from I-CCAP and Remote PHY to Remote MACPHY—an architecture with a clear path to DOCSIS 4.0 Extended Spectrum DOCSIS. To find out more about CommScope's solutions for Remote MACPHY, please visit the CommScope website.
References:
https://www.fiercetelecom.com/operators/gci-taps-commscope-for-daa-push-road-to-10-gbps
https://www.commscope.com/press-releases/2021/gci-deploys-commscope-remote-macphy-device-for-daa/
https://www.commscope.com/solutions/broadband-networks/distributed-access-architecture/
---