NeoPhotonics completed experimental verification of the transmission of 400Gbps data over data center interconnect (DCI) link in a 75 GHz spaced Dense Wavelength Division Multiplexing (DWDM) channel.
NeoPhotonics achieved two milestones using its interoperable pluggable 400ZR [1.] coherent modules and its specially designed athermal arrayed waveguide grating (AWG) multiplexers (MUX) and de-multiplexers (DMUX).
Note 1. ZR stands for Extended Reach which can transmit 10G data rate and 80km distance over single mode fiber and use 1550nm lasers.
Data rate per channel increases from today's non-interoperable 100Gbps direct-detect transceivers to 400Gbps interoperable coherent 400ZR modules.
The current DWDM infrastructure can be increased from 32 channels of 100 GHz-spaced DWDM signals to 64 channels of 75 GHz-spaced DWDM signals.
The total DCI fiber capacity can thus be increased from 3.2 Tbps (100Gbps/ch. x 40 ch.) to 25.6 Tbps (400Gbps/ch. x 64 ch.), which is a total capacity increase of 800 percent.
NeoPhotonics said its technology overcomes multiple challenges in transporting 400ZR signals within 75 GHz-spaced DWDM channels.
The filters used in NeoPhotonics MUX and DMUX units are designed to limit ACI [2.] while at the same time having a stable center frequency against extreme temperatures and aging.
Note 2.  ACI stands for Adjacent Channel Interface; it also can refer to Application Centric Infrastructure.
NeoPhotonics has demonstrated 90km DCI links using three in-house 400ZR pluggable transceivers with their tunable laser frequencies tuned to 75GHz spaced channels, and a pair of passive 75GHz-spaced DWDM MUX and DMUX modules designed specifically for this application. The optical signal-to-noise ratio (OSNR) penalty due to the presence of the MUX and DMUX and the worst-case frequency drifts of the lasers, as well as the MUX and DMUX filters, is less than 1dB. The worst-case component frequency drifts were applied to emulate the operating conditions for aging and extreme temperatures, the company said in a press release.
"The combination of compact 400ZR silicon photonics-based pluggable coherent transceiver modules with specially designed 75 GHz channel spaced multiplexers and de-multiplexers can greatly increase the bandwidth capacity of optical fibers in a DCI application and consequently greatly decrease the cost per bit," said Tim Jenks, Chairman and CEO of NeoPhotonics. "These 400ZR coherent techniques pack 400Gbps of data into a 75 GHz wide spectral channel, placing stringent requirements on the multiplexers and de-multiplexers. We are uniquely able to meet these requirements because we do both design and fabrication of planar lightwave circuits and we have 20 years of experience addressing the most challenging MUX/DMUX applications," concluded Mr. Jenks.
About NeoPhotonics
NeoPhotonics is a leading developer and manufacturer of lasers and optoelectronic solutions that transmit, receive and switch high-speed digital optical signals for Cloud and hyper-scale data center internet content provider and telecom networks. The Company's products enable cost-effective, high-speed over distance data transmission and efficient allocation of bandwidth in optical networks. NeoPhotonics maintains headquarters in San Jose, California and ISO 9001:2015 certified engineering and manufacturing facilities in Silicon Valley (USA), Japan and China. For additional information visit www.neophotonics.com.
References:
https://www.neophotonics.com/press-releases/?newsId=11856
https://www.telecompaper.com/news/neophotonics-demonstrates-90-km-400zr-transmission-in-75-ghz-dwdm-channels-enabling-256-tbps-per-fibre-capacity–1343096
Executive Summary:
Market research firms Dell'Oro and Heavy Reading disagree on who are the top optical network equipment vendors, especially for data center interconnect (DCI).  Obviously, the mega cloud computing/Internet service providers (Google, Amazon, Baidu, Facebook, etc) together account for the overwhelming market for DCI equipment purchased.  None of them disclose who their DWDM vendors are.  It's well known that most of those mega cloud/Internet players design their own IT equipment (e.g. compute servers, Ethernet switches, Routers, etc), but they don't design or build DWDM transport gear.
Dell'Oro Group DCI Market Analysis:
Ciena, Cisco and Infinera together command 85% of the disaggregated wavelength-division multiplexing field for DCI optical network equipment market segment, Dell'Oro Group estimates.
……………………………………………………………………………………………………..
–>This is a big surprise to this author as neither Nokia (via Alcatel-Lucent), Huawei (#1 overall optical network vendor) or ZTE are top tier according to Dell'Oro.  See two graphs below ("Other Voices" section), courtesy of Heavy Reading and IHS-Markit.
……………………………………………………………………………………………………..
Dell'Oro Group estimated that disaggregated WDM systems reached an annualized revenue run rate of $400 million, growing 225% year-over-year. This is partly because these systems are finding utility in the booming DCI market segment.
Jimmy Yu, VP at Dell'Oro Group, said that while the disaggregation concept is not new, service provider adoption in the data center segment is.
"In most—if not all—purchases, we found that these new systems were being employed in DCI across both metro and long haul spans," Yu said in a press release. "So far, the largest consumers have been internet content providers that appreciate the platform for its simplicity, capacity, and power savings."
Yu added that "based on second quarter results, where disaggregated WDM systems represented nearly one-third of the optical DCI equipment purchases made, we have to say that Disaggregated WDM systems are truly hitting the sweet spot for DCI."
As wireline operators look to diversify their revenue mix, the DCI market has a compelling growth path driven by the consumption and distribution of various data forms over the public internet and private networks.
Outside of DCI, the overall WDM market, which consists of WDM Metro and DWDM Long Haul, grew only 2% year-over-year in the second quarter, says Dell'Oro. The research firm noted that growth was driven by strength in the Asia Pacific region, especially China and India.
The share of 100G WDM wavelength shipments going to DCI was 14% in the quarter, according to Dell'Oro.
About the Report:
The Dell'Oro Group Optical Transport Quarterly Report offers complete, in-depth coverage of the market with tables covering manufacturers' revenue, average selling prices, unit shipments (by speed including 40 Gbps, 100 Gbps, and >100 Gbps).  The report tracks DWDM long haul terrestrial, WDM metro, multiservice multiplexers (SONET/SDH), optical switch, optical packet platforms, and data center interconnect (metro and long haul).  To purchase this report, call Matt Dear at +1.650.622.9400 x223 or email Matt@DellOro.com.
………………………………………………………………………………………………………………
Other Voices on Optical Network Equipment Market:
1.  Cignal AI:
Huawei and ZTE saw record shipments of 100-Gbps coherent ports in China during the second quarter of 2017 as well as strong sales in general throughout the region, reports Cignal AI. So what accounts for sour grapes from optical component houses? Inventory corrections at Chinese systems vendors, particularly Huawei, according to the market research firm.
"Demand for optical hardware in China is not slowing down, and equipment vendors are universally providing positive guidance for North America during the second half of the year," said Andrew Schmitt, lead analyst for Cignal AI. "Operators around the world are shifting spending from long-haul to metro WDM, though this shift is materializing into gains for only a few vendors."
Optical revenue in China is up 13 percent for the first half of 2017 as compared to the same period in 2016. The weak demand reported by component makers is a result of an ongoing inventory correction (primarily at Huawei), rather than a signal of weak end market demand.
2. IHS-Markit:
Huawei ranked first overall in combined market presence and market leadership in the recent Optical Network Hardware Vendor Scorecard released by IHS Markit.  Huawei received this assessment for its comprehensive performance on multiple benchmarks including reputation for innovation, market share momentum, and global market share.
There are over a dozen vendors around the globe that make and sell optical network equipment. The 10 vendors profiled in this Scorecard–ADVA, Ciena, Cisco, Coriant, ECI, Fujitsu, Huawei, Infinera, Nokia, and ZTE–were selected because they are the top revenue producers of optical hardware.
The Scorecard used concrete data and metrics, including market share, financials and direct feedback from buyers on innovation, product reliability, service and support to evaluate 2016 market performance and future momentum of the top 10 optical network equipment vendors.
IHS Markit optical network hardware vendor scorecard (Source: IHS Markit Optical Network Hardware Vendor Scorecard)
3.  Heavy Reading:
Market share estimates are based on DCI revenue contribution by Heavy Reading's definition (not disclosed in the teaser briefing). Most vendors do not currently break out from their broader metro WDM revenue the portion accounted for by metro DCI deployments. A few companies did provide Heavy Reading with some general guidance on their revenue from metro DCI. The pie chart figure below shows Heavy Reading's metro DCI equipment vendor share estimates for 2016.
Note that Adva has the top vendor market share and Cisco is not represented in the figure.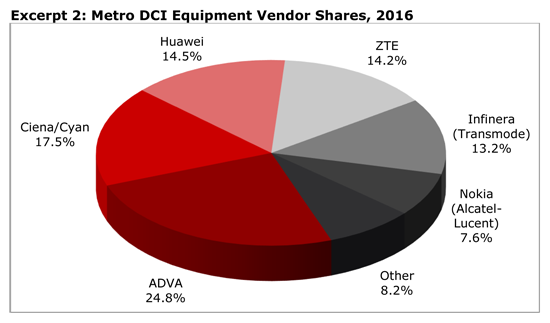 Source:  Heavy Reading
References:
http://www.delloro.com/news/disaggregated-wdm-systems-hitting-sweet-spot-data-center-interconnect-according-delloro-group
http://www.fiercetelecom.com/telecom/cisco-ciena-and-infinera-take-dominant-spots-data-center-interconnect-optical-segment-says
https://cignal.ai/2017/08/2q17-optical-hardware-results/
http://www.huawei.com/en/news/2017/8/Huawei-Optical-Network-IHS-Leader
http://www.heavyreading.com/details.asp?sku_id=3503&skuitem_itemid=1728
---