I.  Light Counting's 3Q2017 Market Update:
In its newly released "December 2017 Quarterly Market Update" LightCounting LLC states that demand for optical communications technology in 3Q 2017 followed what has been a year-long trend:  Telecom/network service provider spending declined year-on-year while data center operators increased their investments in fiber optic infrastructure.
The decline in telecom optical network spending hit the optical components segment hardest, but was negative for vendors selling to telcos which can be seen from the chart below:
In 3Q 2017, data center use of optical communications technology was considerably more than that of telecom/network service providers.
Source:  LightCounting LLC
…………………………………………………………………………………………………………..
Chinese carriers (see companion piece below) followed through on their announced plans to trim spending. LightCounting reports that China Telecom will continue to cut capex in 2018. Elsewhere in the world, only Orange looks like it will spend more this year than last among LightCounting's list of top 15 telecom service providers.
Upticks in 100G DWDM transponders and WSS module sales paled in comparison to the declines experienced in the FTTx and wireless front haul markets, both sequentially and annually (see "Demand for FTTx, wireless optics declines from 2016: LightCounting").
LightCounting says that check-ins with semiconductor vendors such as Analog Devices, Qualcomm, and Xilinx revealed increased activity in wireless/cellular communications, including 4.5G and 5G projects. This information leads the market research firm to expect initial commercial deployments of next generation wireless technologies in 2018, which in turn should boost the demand for optical front haul technology.
Optical vendors with exposure to the data center and internet content provider markets fared better than long haul/DWDM vendors.  For example, Alibaba, Facebook, and Google increased their infrastructure spends by 142%, 62% and 39%, respectively, leading to overall spending records in the space during the quarter. Facebook plans to double capex in 2018, leading to hopes that data center optical spending growth is sustainable.
Optical transceiver vendors benefited during the quarter, which Applied Optoelectronics seeing a 27% increase in revenues and Innolight a 94% boom versus 3Q16. Shipments of PSM4 and CWDM4 100GbE modules set records during the quarter. However, 100GBASE-LR4 QSFP28 optical transceiver demand in the third quarter of 2017 proved softer than LightCounting expected.
…………………………………………………………………………………………………………….
LightCounting LLC says:
Our analysis is based on confidential sales data provided by leading suppliers and offers a unique port-based view of the industry.
References:
http://www.lightwaveonline.com/articles/2017/12/third-quarter-2017-follows-year-long-theme-for-optical-communications-lightcounting.html
https://www.lightcounting.com/News_121317.cfm
http://techblog.comsoc.org/2017/11/27/cignal-ai-deloro-optical-network-equipment-market-decline-continues/
https://www.futuremarketinsights.com/reports/optical-networking-market
…………………………………………………………………………………..
II. China's Optical Market Comeback (via Barron's on-line), by Tiernan Ray
China's optical fiber market is coming back, but slowly, according to a note this morning from Rosenblatt Securities analyst Jun Zhang, who follows shares of laser vendor Oclaro, Acacia Communications,  Applied Optoelectronics, and other vendors.
"Demand in China is stabilizing and slightly improving," writes Zhang, "but we do not see a broad acceleration in China's recovery yet.
"Chinese vendors recently concluded 2018 component and module procure- ments. Therefore, optical module and component suppliers should have base- line procurement contracts from Chinese vendors for 2018."
The tricky part, indicates Zhang, is that Chinese buyers of components  are increasingly coming up with their own internal components, which is going to dent some of the demand:
Instead of over promising volume to suppliers, we believe Chinese vendors offered baseline procurement volume estimates for 2018. Additionally, we believe these current procurement forecasts do not include any upside from initial 5G deployments in 2H18. However, line and client side module procurements from Chinese vendors are all down YoY due to internal sourcing. Therefore, due to conservative forecasts and increasing competition in the module market, most optical suppliers will likely continue to speak conservatively on China demand. 
Zhang goes through what to expect, and it's quite a mixed bag for various different vendors:
As we expected, ZTE is attempting to increase its internal sourcing for line side CFP2 DCO modules in 2018. Therefore, Acacia's business could be negatively impacted in 2018 by ZTE. On the other hand, we believe there's a chance Acacia can qualify at Huawei for DSP in 2018, but we see no signs yet. Intel's  CWDM4 has been qualified at Facebook and could have a sizeable market share, similar to the share size we expect InnoLight to also have at Facebook in 2018. However, Applied Optoelectronics shares are down significantly at Facebook in 2018 likely putting its CQ4 guidance at risk […]

NeoPhotonics  could be up YoY, Lumentum flat YoY, Oclaro down slightly YoY, and Acacia down YoY. We also estimate Huawei and ZTE's 100G ports to grow to 150K and 35K from 130K and 45K, respectively, in 2018. FiberHome  recently saw a large share gain at China Unicom and we expect it to double its 100G port shipments in 2018 from a small basis.
Executive Summary:
Market research firms Dell'Oro and Heavy Reading disagree on who are the top optical network equipment vendors, especially for data center interconnect (DCI).  Obviously, the mega cloud computing/Internet service providers (Google, Amazon, Baidu, Facebook, etc) together account for the overwhelming market for DCI equipment purchased.  None of them disclose who their DWDM vendors are.  It's well known that most of those mega cloud/Internet players design their own IT equipment (e.g. compute servers, Ethernet switches, Routers, etc), but they don't design or build DWDM transport gear.
Dell'Oro Group DCI Market Analysis:
Ciena, Cisco and Infinera together command 85% of the disaggregated wavelength-division multiplexing field for DCI optical network equipment market segment, Dell'Oro Group estimates.
……………………………………………………………………………………………………..
–>This is a big surprise to this author as neither Nokia (via Alcatel-Lucent), Huawei (#1 overall optical network vendor) or ZTE are top tier according to Dell'Oro.  See two graphs below ("Other Voices" section), courtesy of Heavy Reading and IHS-Markit.
……………………………………………………………………………………………………..
Dell'Oro Group estimated that disaggregated WDM systems reached an annualized revenue run rate of $400 million, growing 225% year-over-year. This is partly because these systems are finding utility in the booming DCI market segment.
Jimmy Yu, VP at Dell'Oro Group, said that while the disaggregation concept is not new, service provider adoption in the data center segment is.
"In most—if not all—purchases, we found that these new systems were being employed in DCI across both metro and long haul spans," Yu said in a press release. "So far, the largest consumers have been internet content providers that appreciate the platform for its simplicity, capacity, and power savings."
Yu added that "based on second quarter results, where disaggregated WDM systems represented nearly one-third of the optical DCI equipment purchases made, we have to say that Disaggregated WDM systems are truly hitting the sweet spot for DCI."
As wireline operators look to diversify their revenue mix, the DCI market has a compelling growth path driven by the consumption and distribution of various data forms over the public internet and private networks.
Outside of DCI, the overall WDM market, which consists of WDM Metro and DWDM Long Haul, grew only 2% year-over-year in the second quarter, says Dell'Oro. The research firm noted that growth was driven by strength in the Asia Pacific region, especially China and India.
The share of 100G WDM wavelength shipments going to DCI was 14% in the quarter, according to Dell'Oro.
About the Report:
The Dell'Oro Group Optical Transport Quarterly Report offers complete, in-depth coverage of the market with tables covering manufacturers' revenue, average selling prices, unit shipments (by speed including 40 Gbps, 100 Gbps, and >100 Gbps).  The report tracks DWDM long haul terrestrial, WDM metro, multiservice multiplexers (SONET/SDH), optical switch, optical packet platforms, and data center interconnect (metro and long haul).  To purchase this report, call Matt Dear at +1.650.622.9400 x223 or email Matt@DellOro.com.
………………………………………………………………………………………………………………
Other Voices on Optical Network Equipment Market:
1.  Cignal AI:
Huawei and ZTE saw record shipments of 100-Gbps coherent ports in China during the second quarter of 2017 as well as strong sales in general throughout the region, reports Cignal AI. So what accounts for sour grapes from optical component houses? Inventory corrections at Chinese systems vendors, particularly Huawei, according to the market research firm.
"Demand for optical hardware in China is not slowing down, and equipment vendors are universally providing positive guidance for North America during the second half of the year," said Andrew Schmitt, lead analyst for Cignal AI. "Operators around the world are shifting spending from long-haul to metro WDM, though this shift is materializing into gains for only a few vendors."
Optical revenue in China is up 13 percent for the first half of 2017 as compared to the same period in 2016. The weak demand reported by component makers is a result of an ongoing inventory correction (primarily at Huawei), rather than a signal of weak end market demand.
2. IHS-Markit:
Huawei ranked first overall in combined market presence and market leadership in the recent Optical Network Hardware Vendor Scorecard released by IHS Markit.  Huawei received this assessment for its comprehensive performance on multiple benchmarks including reputation for innovation, market share momentum, and global market share.
There are over a dozen vendors around the globe that make and sell optical network equipment. The 10 vendors profiled in this Scorecard–ADVA, Ciena, Cisco, Coriant, ECI, Fujitsu, Huawei, Infinera, Nokia, and ZTE–were selected because they are the top revenue producers of optical hardware.
The Scorecard used concrete data and metrics, including market share, financials and direct feedback from buyers on innovation, product reliability, service and support to evaluate 2016 market performance and future momentum of the top 10 optical network equipment vendors.
IHS Markit optical network hardware vendor scorecard (Source: IHS Markit Optical Network Hardware Vendor Scorecard)
3.  Heavy Reading:
Market share estimates are based on DCI revenue contribution by Heavy Reading's definition (not disclosed in the teaser briefing). Most vendors do not currently break out from their broader metro WDM revenue the portion accounted for by metro DCI deployments. A few companies did provide Heavy Reading with some general guidance on their revenue from metro DCI. The pie chart figure below shows Heavy Reading's metro DCI equipment vendor share estimates for 2016.
Note that Adva has the top vendor market share and Cisco is not represented in the figure.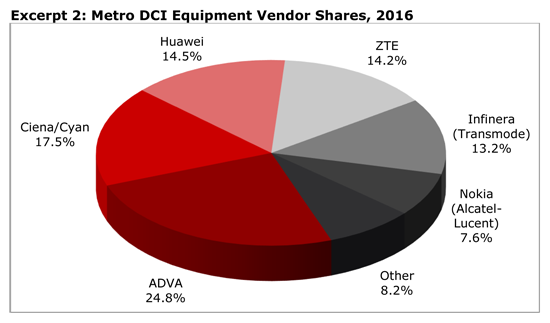 Source:  Heavy Reading
References:
http://www.delloro.com/news/disaggregated-wdm-systems-hitting-sweet-spot-data-center-interconnect-according-delloro-group
http://www.fiercetelecom.com/telecom/cisco-ciena-and-infinera-take-dominant-spots-data-center-interconnect-optical-segment-says
https://cignal.ai/2017/08/2q17-optical-hardware-results/
http://www.huawei.com/en/news/2017/8/Huawei-Optical-Network-IHS-Leader
http://www.heavyreading.com/details.asp?sku_id=3503&skuitem_itemid=1728
---