Executive Summary:
Rootmetrics (a division of IHS Markit) has just reported on how the U.S. carriers fared in delivering the key combination of widespread 5G availability plus higher speeds (than 4G LTE) and data reliability performances in 1H 2021.
"5G is quickly becoming more widespread, speeds are getting faster, and we expect the end-user … experience to become even better going forward as the networks continue to mature and bolster their spectrum holdings," Rootmetrics said in its most recent report on carrier network performance testing results from the 125 most populous U.S. metropolitan areas.
Rootmetrics awards rankings across three categories: Availability, Reliability and Speed.
Here are how the top three U.S. wireless carriers fared:
AT&T took the top honors in Rootmetrics' "best Everyday 5G" category.  AT&T had a much narrower win in fastest download speeds, winning in 20 markets while Verizon was fastest in 16 markets and T-Mo in 13.  AT&T was second in reliability to Verizon.
T-Mobile US was rated best in 5G availability and recognized as having "excellent" 5G availability. "T-Mobile also showed much faster speeds since [the second half of 2020]—in large part because of its increased usage of mid-band spectrum—as well as good data reliability in most cities," Rootmetrics reported.
Verizon was first in reliability and improving speeds and availability.  Rootmetrics said that Verizon's network is showing "rapid 5G expansion, providing users with 5G in far more cities than it did in [the second half of 2020]. What's more, Verizon's speeds were close to those of AT&T and stronger than those of T-Mobile."
Rootmetrics said that AT&T most often provided what it judged to be the best combination of availability, speed and reliability, "until 5G becomes ubiquitous, consumers will, at times, need to weigh the benefits of high availability and lower performance or lower availability and high performance."
"The mobile landscape—and the 5G race in particular—is highly dynamic and prone to rapid change, so it wouldn't be a surprise to see the leaderboard shift as we move further into 2021 and beyond," Rootmetrics stated.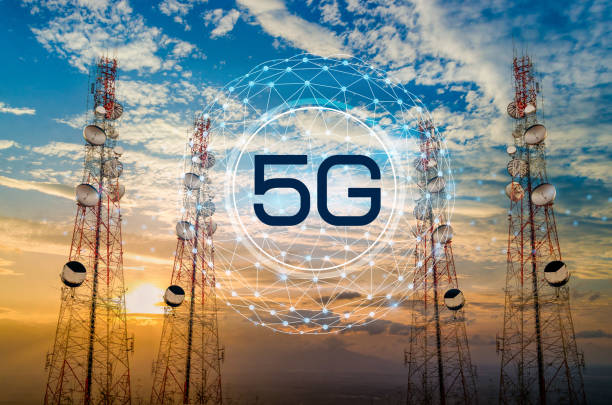 Mid-band spectrum could change the 5G speed landscape going forward, according to the market research company. With the carriers investing billions at the C-Band auction earlier this year—and Verizon's spend of $45B more than those of AT&T ($23B) and T-Mobile ($9B) combined—speeds for all three carriers could get much faster going forward. The move toward more mid-band 5G, however, has already begun. T-Mobile, which merged with Sprint primarily to acquire Sprint's vast and coveted midband spectrum holdings, has an early lead on the competition in terms of implementing mid-band spectrum into its 5G. In fact,  T-Mobile's speeds have increased because of its additional usage of mid-band spectrum since 2H 2020.
………………………………………………………………………………………………..
Global 5G Assessment:
While this report only rated U.S. 5G carriers, Rootmetrics stated that South Korean network operators are providing the most widespread 5G in the world.
While 5G is growing fast in the U.S., South Korea still holds a commanding lead in the worldwide 5G race. With South Korean carriers the first in the world to deploy 5G on a wide scale, doing so in early April of 2019, it's perhaps no surprise that the 5G results we've seen in South Korea have been outstanding and better than those in Switzerland, the UK, or the US. To see how 5G compares in major cities around the world, we looked at the highest 5G availability in South Korea's biggest city (Seoul) compared to that in the most populated cities in Switzerland, the UK, and the U.S.
Note that with 5G availability approaching 100% for LG U+ in Seoul, Rootmetrics looked at 5G-only availability results for this comparison, which show how 5G would perform if it were ubiquitous today; all other metrics in this report reflect Everyday 5G performance.
5G availability recorded in Seoul was far higher than that in London, New York City, or Zurich. Speeds in South Korea are also much faster than those in other countries. While Everyday 5G median download speeds in the UK almost always exceed 100 Mbps in every city we test, speeds above 100 Mbps in the US are rare. In South Korea, on the other hand, we've seen Everyday 5G median download speeds in excess of 400 Mbps from all three major operators in multiple cities.
Conclusions:
The 5G race in the US is heating up fast. AT&T took home the top prize for providing the Best 5G experience, with the strongest combination of availability plus performance.
Even though some carriers are further ahead of others when it comes to delivering on the key combination of availability plus performance, all three major carriers showed improved Everyday 5G results compared to those in 2H 2020. As the carriers continue to make greater use of mid-band spectrum, whether from DSS, CBRS, the C-Band auction, or from T-Mobile's already vast mid-band holdings, 5G in the US is clearly poised for better performance to come.
In fact, as 5G continues to expand across the country and more mid-band is deployed, we expect to see much stronger availability and performance over time. As we saw with T-Mobile (as well as
operators in the UK and South Korea), mid-band spectrum can certainly help contribute to faster Everyday 5G speeds.
Indeed, while it might take another year or more, the mid-band spectrum acquired at the C-Band auction could mark a watershed moment on the path toward a fully realized 5G experience in the US—perhaps one that rivals that in South Korea, where all three
major operators use mid-band spectrum for 5G.
In the meantime, stay tuned to RootMetrics for more on the Everyday 5G experience. Rootmetrics says they will continue testing the networks to keep an eye on the state of 5G in the US and around the world.
………………………………………………………………………………………..
References:
RootMetrics (owned by IHS-Markit) conducted nearly 3 million tests in the first half of 2021 to see how the mobile carriers performed across the entire U.S., within the 50 states, and across the country's 125 most populated metropolitan markets. The network monitoring firm also examined 5G results for each network as expansion continues.
Verizon remains the carrier to beat:
Verizon delivered another excellent performance in 1H 2021. The carrier won or shared five out of seven U.S. RootScore Awards and earned more State and Metro Area RootScore Awards than any other carrier. Verizon also continued its trend of offering strong speeds and great reliability in major cities, and as shown in our last 5G Scorecard, Verizon has also delivered outstanding Everyday 5G data reliability more often than the other carriers.
AT&T shows major improvements across the board:
After taking a slight step back for speed in 2H 2020, AT&T delivered faster speeds, better reliability, and strong Everyday 5G results in 1H 2021. AT&T took home three US RootScore Awards in 1H 2021 compared to one in 2H 2020, while significantly increasing its tally of State and Metro Area RootScore Awards. And as our 5G Scorecard series has shown, AT&T has also delivered fast Everyday 5G download speeds more consistently than the other carriers in 1H 2021.
T-Mobile improves in major metros:
T-Mobile continued to perform well in our metro area testing, delivering good and improved median download speeds, with stronger reliability since 2H 2020. The carrier also provided the top Everyday 5G availability in RootMetrics' June 5G Scorecard, and its 5G speeds have continued to improve since 2H 2020.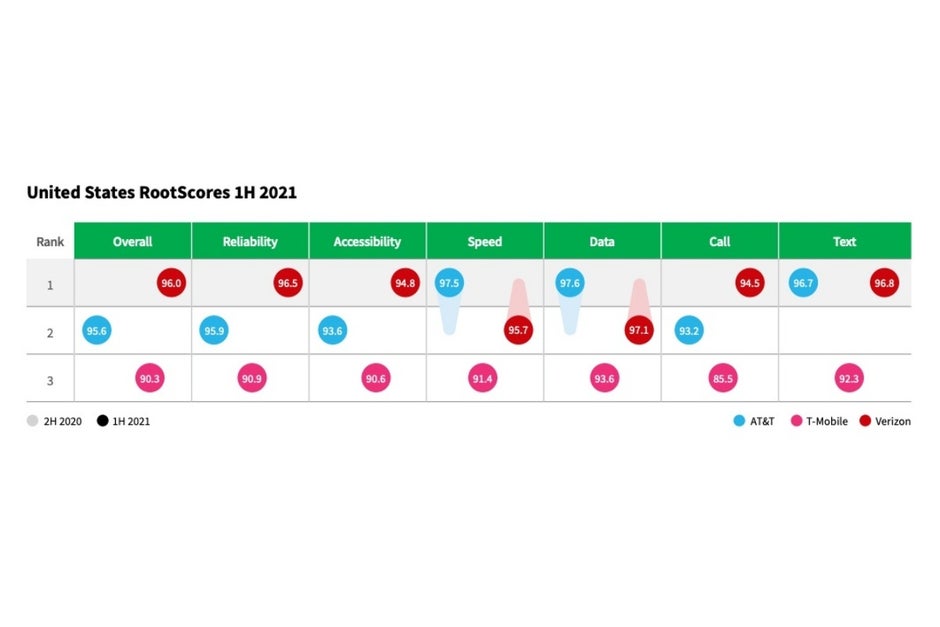 State RootScore Award tally – by category:
Overall Reliability Accessibility Speed Data Call Text Total
AT&T                                                       25     26                     18             41       36    28    43     217
T-Mobile                                                 0        1                       2               4        0       1      8       16
Verizon                                                   41     43                     38             24       27    45    46    264
……………………………………………………………………………………………………………………………………………
Metro performance in a nutshell:
AT&T continued its trend of improvement we saw in our national and state testing to the metro level in 1H 2021. AT&T won far more awards than in 2H 2020, registered faster speeds, good reliability, and delivered fast Everyday 5G download speeds.
T-Mobile increased its tally of RootScore Awards since 2H 2020, delivered much better speed results, and showed improved reliability. T-Mobile has also continued to deliver impressive Everyday 5G availability. Verizon remained the top-performing carrier at the metro level.
Verizon delivered good speed and reliability results and earned by far the most Metro Area RootScore Awards. Verizon's 5G has also continued to expand, with the carrier recording particularly strong Everyday 5G data reliability results.
……………………………………………………………………………………………………………………………………………………………….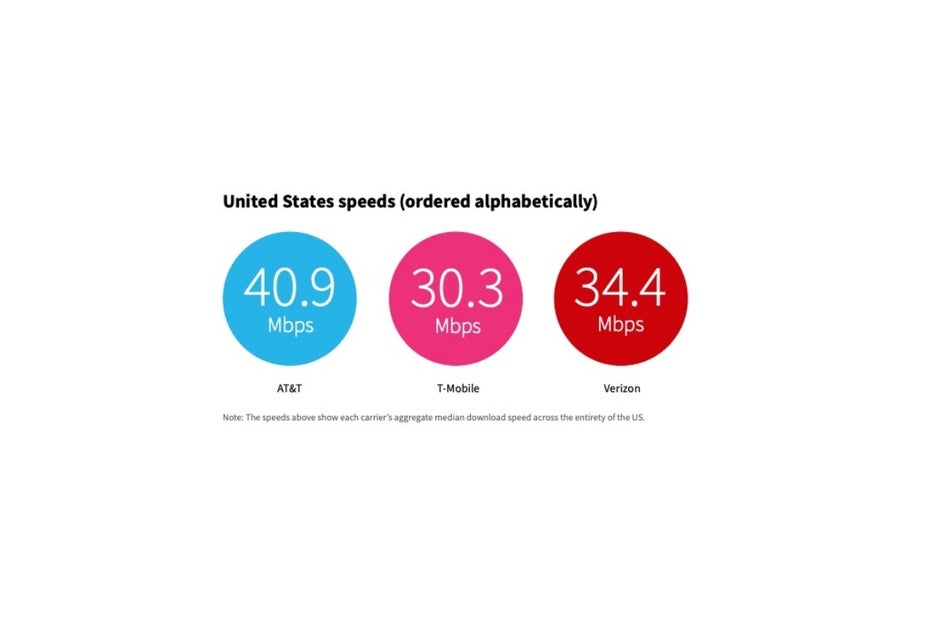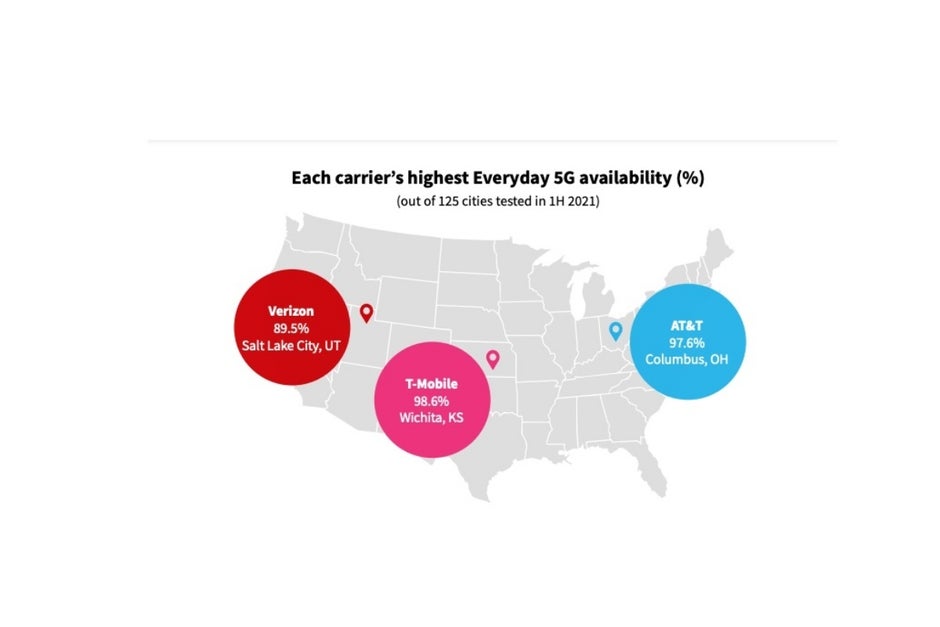 ………………………………………………………………………………………………………………………………………………
References:
https://rootmetrics.com/en-US/content/us-state-of-the-mobile-union-1h-2021
Speedtest Intelligence® from Ookla reveals T-Mobile was the fastest mobile operator in the United States during Q1 2021 with a Speed Score™ of 50.21 on modern chipsets. AT&T was second and Verizon Wireless third.
Note that this is the first quarter Ookla is reporting on the country as a whole, rather than using competitive geographies. Ookla says that expanding its focus to include rural areas will show drops in performance, decreasing speed and increasing latency when compared with prior reports.
In Q1 2021, T-Mobile had the fastest median 5G network download speed in the U.S. at 82.35 Mbps. AT&T was second at 76.60 Mbps and Verizon Wireless third at 67.24 Mbps. For a complete view of commercially available 5G deployments in the U.S. to-date, visit the Ookla 5G Map™.
Ookla discovered that during Q1 2021 that T-Mobile subscribers with 5G-capable devices were connected to a 5G service 65.4% of the time. 5G "time spent" on Verizon Wireless' network was at 36.2% and at 31% on AT&T's network.
In measuring each operator's ability to provide consistent speeds, Ookla found that T-Mobile had the highest Consistency Score™ in the U.S. during Q1 2021, with 84.8% of results showing at least 5 Mbps download and 1 Mbps upload speeds. AT&T was second and Verizon Wireless third. All three U.S. mobile carriers were above 80% in terms of consistency.
Here's the current status of Worldwide median 5G Speeds as of Q3-2022:
…………………………………………………………………………………………………………………………………..
Earlier this week a new report from becnhmarking company Rootmetrics found that T-Mobile US is leading in 5G availability across U.S. cities. Rootmetrics found that AT&T's 5G provides the best performance, and AT&T and Verizon both won high marks for 5G reliability.
"While we've seen strong and improving 5G availability and speeds from the carriers in many cities, it's important to keep in mind that with the major U.S. networks utilizing different types of spectrum for 5G, the 5G availability and speeds that consumers experience can vary a great deal for different carriers across or even within different markets," Rootmetrics concluded.
Rootmetrics tested 5G networks in 45 cities across the U.S. between January and March of this year. It recorded at least some 5G availability from all three carriers in nearly all of them. T-Mobile US was the only carrier with a 5G network presence in all 45 of the cities, AT&T had 5G service in 44 out of the 45, and Rootmetrics saw 5G availability for Verizon in 43 out of the 45 cities.
The availability of T-Mobile's 5G was one common theme across both testing reports. Rootmetrics' testing, conducted in the first half of 2021, said that T-Mobile had 5G availability in all 45 of the markets it tested and showed the highest percentages of 5G availability in the most markets: More than 55% availability in 30 markets, with the lowest tested market being Sarasota, FL, where Rootmetrics' testing showed T-Mo 5G available for a device to connect to only about 19% of the time.
…………………………………………………………………………………………………………………………………………
Separately, Light Reading's Mike Dano writes that "AT&T, Verizon and T-Mobile offer unlimited 5G disappointment."  In a subhead titled, "T-Muddle" Dano writes:
In 2019, T-Mobile boasted that "5G speed will be up to 10x faster, compared to LTE." But when it first launched its 5G network on its lowband 600MHz spectrum, speeds were only 20% faster than its LTE network. Then, after T-Mobile closed its acquisition of Sprint's 2.5GHz midband spectrum, it quickly began offering 5G speeds up to 1Gbit/s. The operator even debuted a new 5G lexicon for its offerings: "5G Ultra Capacity" refers to its speedy 2.5GHz network, while "Extended Range 5G" refers to its slower 600MHz network.

So it would stand to reason that customers might want to see which flavor of T-Mobile 5G they can access, right? A quick check of T-Mobile's coverage map reveals none of these details. The operator only offers a generic "5G" coverage layer that does not provide details about whether it's 600MHz or 2.5GHz. One is slightly faster than LTE while the other provides average speeds of 300Mbit/s. Prospective T-Mobile customers are left in the dark.

T-Mobile isn't the only operator seemingly content to hide behind 5G obfuscation. AT&T has debuted no fewer than three different 5G brands – 5G+, 5Ge and 5G – yet it does not offer any details to prospective customers about how it might charge for those offerings. The operator's pricing plans mention only "5G" and do not specify whether that means 5G+, 5Ge or 5G, or all three.
Regarding Verizon's 5G pricing plans, Dano stated:
The operator offers a truly dizzying array of 5G plans and pricing options – one observer described Verizon's pricing plans as "a series of nesting dolls."

In 5G, Verizon is reserving its faster "Ultra Wideband" technology only for its expensive unlimited plans. Customers on its cheapest Start Unlimited plan can either pay $10 extra for 5G specifically, or they can spend that same $10 to upgrade to a more expensive unlimited plan that offers 5G as well as other goodies, such as more mobile hotspot data. Why the two different upgrade options? "We always like to give customers choices," explained a Verizon spokesperson.

But what that really means is that customers are simply left to fend for themselves. They're left to pick from among a dizzying number of pricing options, all promising "unlimited" data, but all limiting that data in various ways. Customers are left to figure out why messages from iPhones to Android phones won't show delivery receipts. They're left to discover why they're still receiving robocalls, and what they might need to do to block them. They're left to uncover what kind of 5G they can get and whether it's any different from 4G.
In conclusion, Dano says that "AT&T, Verizon and T-Mobile continue to be very interested in outdoing one another in their 5G pricing schemes and big, new network claims." However, they're not succeeding in pleasing their customers who remain frustrated and disappointed.
Cartoon courtesy of long time IEEE contributor Geoff Thompson:
…………………………………………………………………………………………………………………………………………
References:
https://www.speedtest.net/global-index/united-states#market-analysis
https://rootmetrics.com/en-US/content/5g-in-the-us-1H-2021
https://www.lightreading.com/aiautomation/atandt-verizon-and-t-mobile-offer-unlimited-5g-disappointment/a/d-id/768808?
---