RootMetrics: Verizon wins 5 of 7 U.S. RootScore awards
RootMetrics (owned by IHS-Markit) conducted nearly 3 million tests in the first half of 2021 to see how the mobile carriers performed across the entire U.S., within the 50 states, and across the country's 125 most populated metropolitan markets. The network monitoring firm also examined 5G results for each network as expansion continues.
Verizon remains the carrier to beat:
Verizon delivered another excellent performance in 1H 2021. The carrier won or shared five out of seven U.S. RootScore Awards and earned more State and Metro Area RootScore Awards than any other carrier. Verizon also continued its trend of offering strong speeds and great reliability in major cities, and as shown in our last 5G Scorecard, Verizon has also delivered outstanding Everyday 5G data reliability more often than the other carriers.
AT&T shows major improvements across the board:
After taking a slight step back for speed in 2H 2020, AT&T delivered faster speeds, better reliability, and strong Everyday 5G results in 1H 2021. AT&T took home three US RootScore Awards in 1H 2021 compared to one in 2H 2020, while significantly increasing its tally of State and Metro Area RootScore Awards. And as our 5G Scorecard series has shown, AT&T has also delivered fast Everyday 5G download speeds more consistently than the other carriers in 1H 2021.
T-Mobile improves in major metros:
T-Mobile continued to perform well in our metro area testing, delivering good and improved median download speeds, with stronger reliability since 2H 2020. The carrier also provided the top Everyday 5G availability in RootMetrics' June 5G Scorecard, and its 5G speeds have continued to improve since 2H 2020.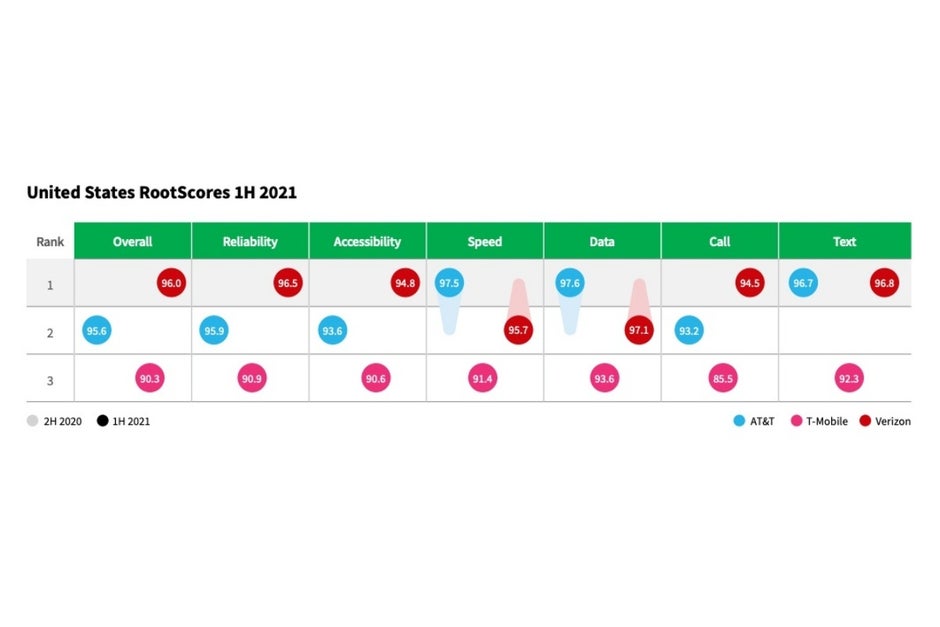 State RootScore Award tally – by category:
Overall Reliability Accessibility Speed Data Call Text Total
AT&T                                                       25     26                     18             41       36    28    43     217
T-Mobile                                                 0        1                       2               4        0       1      8       16
Verizon                                                   41     43                     38             24       27    45    46    264
……………………………………………………………………………………………………………………………………………
Metro performance in a nutshell:
AT&T continued its trend of improvement we saw in our national and state testing to the metro level in 1H 2021. AT&T won far more awards than in 2H 2020, registered faster speeds, good reliability, and delivered fast Everyday 5G download speeds.
T-Mobile increased its tally of RootScore Awards since 2H 2020, delivered much better speed results, and showed improved reliability. T-Mobile has also continued to deliver impressive Everyday 5G availability. Verizon remained the top-performing carrier at the metro level.
Verizon delivered good speed and reliability results and earned by far the most Metro Area RootScore Awards. Verizon's 5G has also continued to expand, with the carrier recording particularly strong Everyday 5G data reliability results.
……………………………………………………………………………………………………………………………………………………………….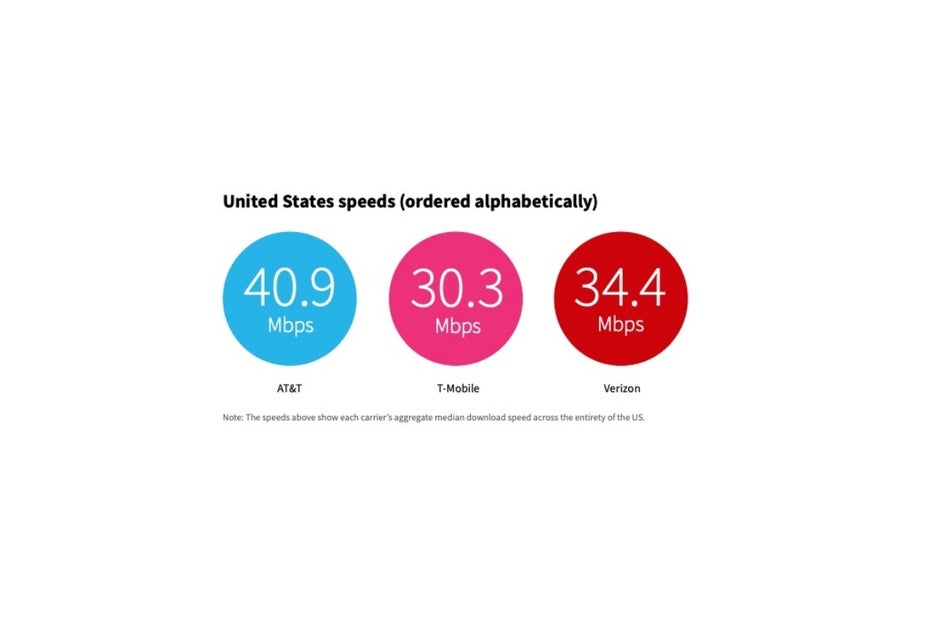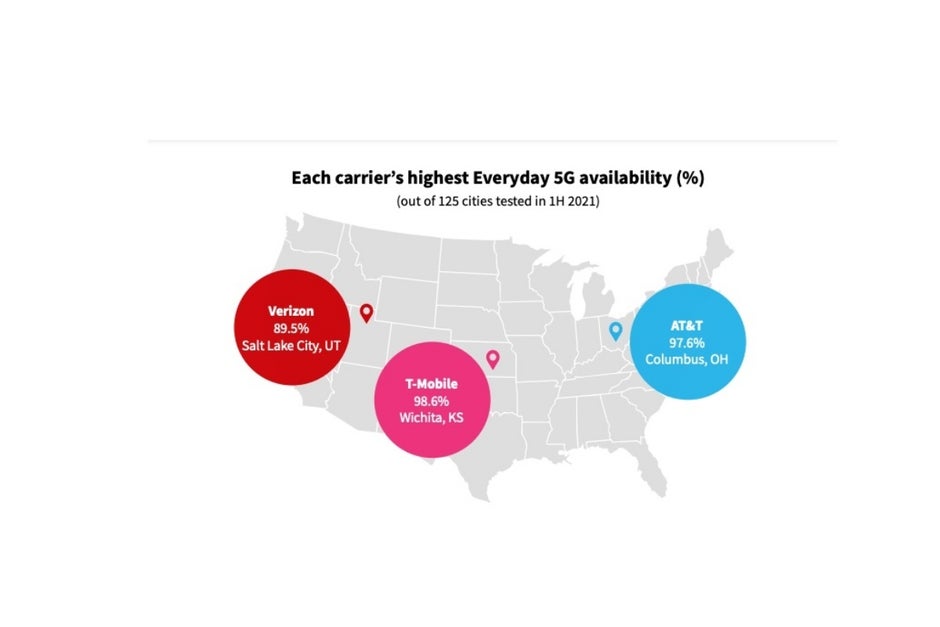 ………………………………………………………………………………………………………………………………………………
References:
https://rootmetrics.com/en-US/content/us-state-of-the-mobile-union-1h-2021
---