New ITU-T Standards for IMT 2020 (5G) + 3GPP Core Network Systems Architecture
New ITU-T standards related to "5G":
ITU-T has reached first-stage approval ('consent' level) of three new international standards defining the requirements for IMT-2020 ("5G") network systems as they relate to network operation, softwarization and fixed-mobile convergence.
The standards were developed by ITU-T's standardization expert group for future networks, ITU-T Study Group 13.
Note: The first-stage approvals come in parallel with ITU-T Study Group 13's establishment of a new ITU Focus Group to study machine learning in 5G systems.
End-to-end flexibility will be one of the defining features of 5G networks. This flexibility will result in large part from the introduction of network softwarization, the ability to create highly specialized network slices using advanced Software-Defined Networking (SDN), Network Function Virtualization (NFV) and cloud computing capabilities.
The three new ITU-T standards are the following:
ITU Y.3101 "Requirements of the IMT-2020 network" describes the features of 5G networks necessary to ensure efficient 5G deployment and high network flexibility.
ITU Y.3150 "High-level technical characteristics of network softwarization for IMT-2020" describes the value of slicing in both horizontal and vertical, application-specific environments.
ITU Y.3130 "Requirements of IMT-2020 fixed-mobile convergence" calls for unified user identity, unified charging, service continuity, guaranteed support for high quality of service, control plane convergence and smart management of user data.
ITU's work on "International Mobile Telecommunications for 2020 and beyond (IMT-2020)" defines the framework and overall objectives of the 5G standardization process as well as the roadmap to guide this process to its conclusion by 2020.
ITU's Radiocommunication Sector (ITU-R) is coordinating the international standardization and identification of spectrum for 5G mobile development. ITU's Telecommunications Standardization Sector (ITU-T) is playing a similar convening role for the technologies and architectures of the wireline elements of 5G systems.
ITU standardization work on the wireline elements of 5G systems continues to accelerate.
ITU-T Study Group 15 (Transport, access and home networks) is developing a technical report on 5G requirements associated with backbone optical transport networks. ITU-T Study Group 11 (Protocols and test specifications) is studying the 5G control plane, relevant protocols and related testing methodologies. ITU-T Study Group 5 (Environment and circular economy) has assigned priority to its emerging study of the environmental requirements of 5G systems.
ITU-T Study Group 13 (Future networks), ITU's lead group for 5G wireline studies, continues to support the shift to software-driven network management and orchestration. The group is progressing draft 5G standards addressing subjects including network architectures, network capability exposure, network slicing, network orchestration, network management-control, and frameworks to ensure high quality of service.
……………………………………………………………………………………..
The "5G" wireline standards developed by ITU-T Study Group 13 and approved in 2017 include:
Reference:
http://news.itu.int/5g-update-new-itu-standards-network-softwarization-fixed-mobile-convergence/
…………………………………………………………….
"5G" Core Network functions & Services Based Architecture:
The primary focus of  ITU-R WP5D IMT 2020 standardization efforts are on the radio aspects (as per its charter).  That includes the Radio Access Network (RAN)/Radio Interface Technology (RIT), spectral efficiency, latency, frequencies, etc.
To actually deliver services over a 5G RAN, a system architecture and core network are required. The core network provides functions such as authentication, session management, mobility management, forwarding of user data, and (possibly) virtualization of network functions.
3GPP Technical Specification (TS) 23.501 — "System Architecture for the 5G System" — is more commonly referred to as the Service-Based Architecture (SBA) for the 5G Core network.  It uses service-based interfaces between control-plane functions, while user-plane functions connect over point-to-point links. This is shown in the figure below. The service-based interfaces will use HTTP 2.0 over TCP in the initial release, with QUIC transport being considered for later 3GPP releases.
Service-Based Architecture for 5G Core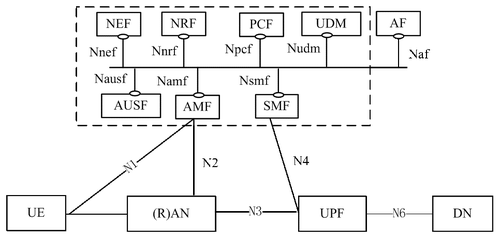 Source: 3GPP TR 23.501, July 2017, Figure 4.2.3-1
………………………………………………………………………………………….
There are many aspects to this, but the white paper highlights:
How the idea of "network function services" (3GPP terminology) aligns with the micro-services based view of network service composition
How operators may take advantage of decoupled control- and user-plane to scale performance
How the design might enable operators to deploy 5GC functions at edge locations, such as central offices, stadiums or enterprise campuses
The first 5G core standards (really specifications because 3GPP is not a formal standards body) are scheduled to be included in 3GPP Release 15, which "freezes" in June next year and will be formally approved three months later. This will be a critical release for the industry that will set the development path of the 5G system architecture for years to come.
Download white paper:  Service-Based Architecture for 5G Core Networks
Editor's Note:
From http://www.3gpp.org/specifications:
"The 3GPP Technical Specifications and Technical Reports have, in themselves, no legal standing. They only become "official" (standards) when transposed into corresponding publications of the Partner Organizations (or the national / regional standards body acting as publisher for the Partner)."
References:
http://www.lightreading.com/mobile/5g/5g-core-and-the-service-based-architecture/a/d-id/738456?
https://img.lightreading.com/downloads/Service-Based-Architecture-for-5G-Core-Networks.pdf
---