T-Mobile USA claims they are the first wireless network operator in the world to launch a commercial nationwide standalone 5G network (5G SA).  The "Un-carrier" is also expanding 5G coverage by 30 percent, now covering nearly 250 million people in more than 7,500 cities and towns across 1.3 million square miles.
"Since Sprint became part of T-Mobile, we've been rapidly combining networks for a supercharged Un-carrier while expanding our nationwide 5G footprint, and today we take a massive step into the future with standalone 5G architecture," said Neville Ray, President of Technology at T-Mobile. "This is where it gets interesting, opening the door for massive innovation in this country — and while the other guys continue to play catch up, we'll keep growing the world's most advanced 5G network."
IEEE Techblog readers know that all previously deployed (pre-standard) "5G" networks focused on delivering new 5G radio (3GPP Rel 15 5G NR) in the data plane while leveraging existing LTE core networks, management and signaling in the control plane.  With a new 5G Core network, T-Mobile engineers have already seen up to a 40% improvement in latency during testing. T-Mo claims:
"This is just the beginning of what can be done with Standalone 5G.  When coupled with core network slicing in the future, 5G SA will lead to an environment where transformative applications are made possible — things like connected self-driving vehicles, supercharged IoT, real-time translation … and things we haven't even dreamed of yet."
In the near-term, 5G SA enables T-Mobile US to unleash its entire 600 MHz footprint for 5G. With non-standalone network architecture (NSA), 600 MHz 5G is combined with mid-band LTE to access the core network, but without SA the 5G signal only goes as far as mid-band LTE. With today's launch, 600 MHz 5G can go beyond the mid-band signal, covering hundreds of square miles from a single tower and going deeper into buildings than before.
To make the world's first nationwide commercial SA 5G network a reality, T-Mobile partnered closely with Cisco and Nokia to build its 5G core, and Ericsson and Nokia for state-of-the-art 5G radio infrastructure.
OnePlus, Qualcomm Technologies and Samsung have helped the Un-carrier ensure existing 5G endpoint devices can access 5G SA with a software update, based on compatibility. The 5G SA software update is required to activate the 5G SA functionality. For example, the Samsung Galaxy S20+ 5G requires a software download (available August 4, 2020) to enable 5G SA operation.
For more information about T-Mobile's 5G vision, visit: www.t-mobile.com/5g. To see all the places you'll get T-Mobile's current 5G down to a neighborhood level, check out the map here: www.t-mobile.com/coverage/5g-coverage-map.
https://www.businesswire.com/news/home/20200804005636/en/T-Mobile-Launches-World%E2%80%99s-Nationwide-Standalone-5G-Network/
……………………………………………………………………………………………………………………………………
Comment and Analysis:  Specs for 5G Core (there is no standard)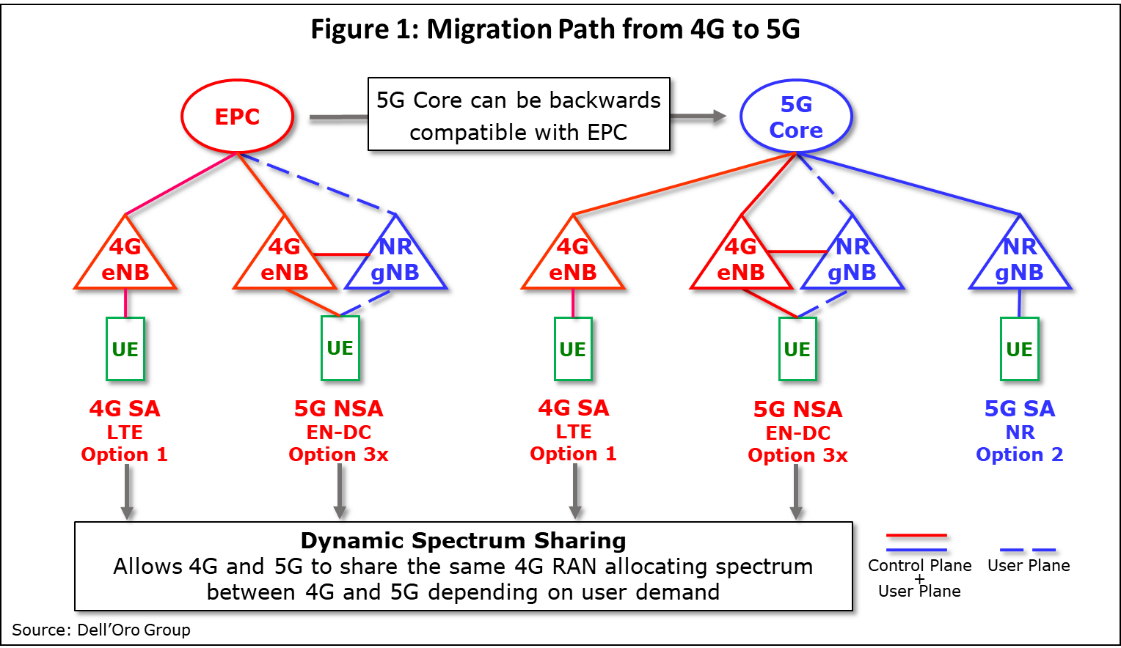 T-Mo's launch of standalone 5G is noteworthy considering there are no standards for 5G Core from any SDO!  ITU-T IMT 2020 non radio aspects SG's aren't even working on it!
Yeah, we know about 3GPP Rel 16 5G Core/Architecture specs:
TS 23.501 5G Systems Architecture, with annexes which describe 5G core deployment scenarios
TS 23.502 [3] contains the stage 2 procedures and flows for 5G System
TS 23.503 [45] contains the stage 2 Policy Control and Charging architecture for 5G System
Collectively, all three of the above referenced 3GPP Rel 16 5G Systems Architecture documents do not specify the detailed mechanisms, protocols and procedures to implement a 5G core network.
For example, there are many software choices for implementing a "cloud native" 5G Core: containers, virtualized network functions, kubernetes, micro-services. Each Network Function (NF) offers one or more services to other NFs via Application Programming Interfaces (APIs).  And there is no standard for the APIs associated with a given NF!
The only 5G Core implementation spec we know of is from GSMA.  It's titled: "5G Implementation Guidelines: SA Option 2."  That document provides a checklist for operators that are planning to launch 5G networks in SA (Standalone) Option 2 configuration, technological, spectrum and regulatory considerations in the deployment. The current version of the document currently provides detailed guidelines for implementation of 5G using Option 2, reflecting the initial launch strategy being adopted by multiple operators. There is an implementation guideline for NSA Option 3 already available.
However, as described in "GSMA Operator Requirements for 5G Core Connectivity Options" there is a need for the industry ecosystem to support all of the 5G core connectivity options (namely Option 4, Option 5 and Option 7). As a result, further guidelines for all 5G deployment options will be provided in the future.
GSMA says "5G Stand Alone to Become Reality":
"The deployment of fully virtualized networks using 5G Stand Alone Cores, thereby facilitating Edge Computing and Network Slicing, will enable enterprises and governments to reap the many benefits from high throughput, ultra-low latency and IoT to improve productivity and enhance services to their customers," said Alex Sinclair, Chief Technology Officer, GSMA.
………………………………………………………………………………………………………………..
Other Voices on 5G Core Deployments:
1.  From Rakuten CTO Tareq Amin via email to this author:
– Containerization/Cloud native 5G Core from Rakuten-NEC:
3GPP specification requires cloud native architecture as the general concept like distributed, stateless, and scalable. However, an explicit reference model is out of scope for 3GPP specification (TS 23.501). Therefore NEC 5GC cloud native architecture is based on 3GPP "openness" concept as well as ETSI NFV treats "container" and "cloud native," which NEC is also actively investigating to apply its product.
2.   Alex Quach, VP of Intel's Data Platforms Group, said most operators around the world are still leveraging a 4G core network. "The way different service providers implement their 5G core is going to vary," said Quach. "Every service provider has unique circumstances. The transition to a new 5G core is going to be different for every operator." 
3. 
Dell'Oro Group
:  "Some SPs will operate
multiple 5G Cores
dedicated to consumers, enterprise, public safety, and Internet of Things (IoT). They believe that dedicated 5G Core networks will be able to deliver new agile business solutions at a quicker pace for their respective user bases and more efficient network management."
4.  Asked if SK Telecom has now completed its 5G Standalone core network, the South Korean carrier was vague in an email reply to FierceWireless. "To commercialize standalone 5G service in Korea, we are currently making diverse R&D efforts including conducting tests in both lab and commercial environment. Our latest achievements include the world's first standalone (SA) 5G data session on our multi-vendor commercial 5G network.
https://www.fiercewireless.com/operators/sk-telecom-trials-intel-chips-for-5g-standalone-core-network
……………………………………………………………………………………………………………………………
Other References:
https://techblog.comsoc.org/2020/07/21/t-mobile-us-5g-sa-core-network-to-be-deployed-3q-2020-cites-5g-coverage-advantage/
https://www.gsma.com/futurenetworks/resources/5g-implementation-guidelines-sa-option-2-2/
https://www.gsma.com/futurenetworks/wp-content/uploads/2020/06/5G-SA-Option-2-ImplementationGuideline-v1.3.pdf
3GPP Rel 16 5G Core/Architecture specs: 
TS 23.501 5G Systems Architecture, with annexes which describe 5G core deployment scenarios:
https://www.3gpp.org/ftp/Specs/archive/23_series/23.501/  (Latest version is 3 Aug 2020)
TS 23.502 [3] contains the stage 2 procedures and flows for 5G System
https://www.3gpp.org/ftp/Specs/archive/23_series/23.502/   (Latest version is 6 Aug 2020)
TS 23.503 [45] contains the stage 2 Policy Control and Charging architecture for 5G System
https://www.3gpp.org/ftp/Specs/archive/23_series/23.503/   (Latest version is 3 Aug 2020)
New ITU-T standards related to "5G":
ITU-T has reached first-stage approval ('consent' level) of three new international standards defining the requirements for IMT-2020 ("5G") network systems as they relate to network operation, softwarization and fixed-mobile convergence.
The standards were developed by ITU-T's standardization expert group for future networks, ITU-T Study Group 13.
Note: The first-stage approvals come in parallel with ITU-T Study Group 13's establishment of a new ITU Focus Group to study machine learning in 5G systems.
End-to-end flexibility will be one of the defining features of 5G networks. This flexibility will result in large part from the introduction of network softwarization, the ability to create highly specialized network slices using advanced Software-Defined Networking (SDN), Network Function Virtualization (NFV) and cloud computing capabilities.
The three new ITU-T standards are the following:
ITU Y.3101 "Requirements of the IMT-2020 network" describes the features of 5G networks necessary to ensure efficient 5G deployment and high network flexibility.
ITU Y.3150 "High-level technical characteristics of network softwarization for IMT-2020" describes the value of slicing in both horizontal and vertical, application-specific environments.
ITU Y.3130 "Requirements of IMT-2020 fixed-mobile convergence" calls for unified user identity, unified charging, service continuity, guaranteed support for high quality of service, control plane convergence and smart management of user data.
ITU's work on "International Mobile Telecommunications for 2020 and beyond (IMT-2020)" defines the framework and overall objectives of the 5G standardization process as well as the roadmap to guide this process to its conclusion by 2020.
ITU's Radiocommunication Sector (ITU-R) is coordinating the international standardization and identification of spectrum for 5G mobile development. ITU's Telecommunications Standardization Sector (ITU-T) is playing a similar convening role for the technologies and architectures of the wireline elements of 5G systems.
ITU standardization work on the wireline elements of 5G systems continues to accelerate.
ITU-T Study Group 15 (Transport, access and home networks) is developing a technical report on 5G requirements associated with backbone optical transport networks. ITU-T Study Group 11 (Protocols and test specifications) is studying the 5G control plane, relevant protocols and related testing methodologies. ITU-T Study Group 5 (Environment and circular economy) has assigned priority to its emerging study of the environmental requirements of 5G systems.
ITU-T Study Group 13 (Future networks), ITU's lead group for 5G wireline studies, continues to support the shift to software-driven network management and orchestration. The group is progressing draft 5G standards addressing subjects including network architectures, network capability exposure, network slicing, network orchestration, network management-control, and frameworks to ensure high quality of service.
……………………………………………………………………………………..
The "5G" wireline standards developed by ITU-T Study Group 13 and approved in 2017 include:
Reference:
http://news.itu.int/5g-update-new-itu-standards-network-softwarization-fixed-mobile-convergence/
…………………………………………………………….
"5G" Core Network functions & Services Based Architecture:
The primary focus of  ITU-R WP5D IMT 2020 standardization efforts are on the radio aspects (as per its charter).  That includes the Radio Access Network (RAN)/Radio Interface Technology (RIT), spectral efficiency, latency, frequencies, etc.
To actually deliver services over a 5G RAN, a system architecture and core network are required. The core network provides functions such as authentication, session management, mobility management, forwarding of user data, and (possibly) virtualization of network functions.
3GPP Technical Specification (TS) 23.501 — "System Architecture for the 5G System" — is more commonly referred to as the Service-Based Architecture (SBA) for the 5G Core network.  It uses service-based interfaces between control-plane functions, while user-plane functions connect over point-to-point links. This is shown in the figure below. The service-based interfaces will use HTTP 2.0 over TCP in the initial release, with QUIC transport being considered for later 3GPP releases.
Service-Based Architecture for 5G Core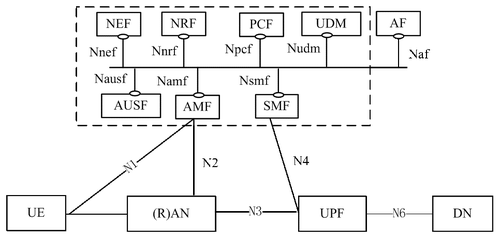 Source: 3GPP TR 23.501, July 2017, Figure 4.2.3-1
………………………………………………………………………………………….
There are many aspects to this, but the white paper highlights:
How the idea of "network function services" (3GPP terminology) aligns with the micro-services based view of network service composition
How operators may take advantage of decoupled control- and user-plane to scale performance
How the design might enable operators to deploy 5GC functions at edge locations, such as central offices, stadiums or enterprise campuses
The first 5G core standards (really specifications because 3GPP is not a formal standards body) are scheduled to be included in 3GPP Release 15, which "freezes" in June next year and will be formally approved three months later. This will be a critical release for the industry that will set the development path of the 5G system architecture for years to come.
Download white paper:  Service-Based Architecture for 5G Core Networks
Editor's Note:
From http://www.3gpp.org/specifications:
"The 3GPP Technical Specifications and Technical Reports have, in themselves, no legal standing. They only become "official" (standards) when transposed into corresponding publications of the Partner Organizations (or the national / regional standards body acting as publisher for the Partner)."
References:
http://www.lightreading.com/mobile/5g/5g-core-and-the-service-based-architecture/a/d-id/738456?
https://img.lightreading.com/downloads/Service-Based-Architecture-for-5G-Core-Networks.pdf
ITU-T Joint Coordination Activity for IMT2020 (JCA‑IMT2020) is starting a new project called the IMT-2020 standardization activity roadmap. It will be based on the information provided by ITU-T SGs and activities outside of ITU-T. It is available from the JCA-IMT2020 website.
Editor's Note:  As we've noted many times in these techblog posts, ITU-R WP5D has overall responsibility for the IMT 2020 standards, to be completed in late 2020.
IMT 2020 (standardized 5G) will not just be an extension of 4G.  In addition to offering increased bandwidth and capacity, as was the focus in previous wireless generations, 5G will provide very low latency, high density and high reliability. These capabilities will enable a variety of use cases, facilitating the creation of new, predominantly business focused services.
………………………………………………………………………………
The objective of the roadmap is to support IMT-2020 standardization coordination. IMT-2020 is an important topic for the telecommunications industry, and many standardization-related activities are held in various entities.
The JCA is progressing this work in a form of roadmap of IMT2020 standardization.
JCA-IMT2020 will keep updating this roadmap, and therefore we solicit your information about updates. If you send us the latest information of your activity related to 5G as well as Network Function Virtualization (NFV), programmable networks, self-managed networks, slicing (including orchestration and capability exposure), fixed-mobile convergence (FMC) and Information-Centric Networking (ICN) and elaborations that are strongly related to IMT‑2020, we will reflect it in the next version, which will be published after the next JCA‑IMT2020 meeting.
ITU-T member organizations may submit updates using the template to be found in Appendix below.
In addition, we invite the representatives of the ITU-T Study Groups, SDOs, fora to nominate a representative to this group.
JCA-IMT2020 will meet next time in Geneva on 10 November 2017, 16:00 -17:30 during the next ITU-T SG13 meeting.
Contact:

Scott Mansfield

Ericsson

Canada

Tel: +1 613724 931 93169636171

Email: [email protected]

Contact:

Ying Cheng
China Unicom
P.R.China

Tel: +86-10-66259394

Fax: +86-10-66259154

Email: [email protected]
Editor's Note:
The Focus Group on network aspects of IMT-2020 was established in May 2015 to analyse how emerging 5G technologies will interact in future networks as a preliminary study into the networking innovations required to support the development of 5G systems. The group took an ecosystem view of 5G research of development and published the analysis in a Report to its parent group, ITU-T Study Group 13​.
The FG was terminated in December 2016 having completed it's work.
……………………………………………………………………………………………..
Appendix – template to provide information on IMT-2020-related activities
Activity domain

Stage (topic)

Area

Entity

Title of deliverable

Scope of deliverable

Current status

Starting date

Target date

IMT-2020

5G

Network Slicing

ICN

FMC

Use cases Framework Requirements Architecture Protocol

e.g.

SDO, and WG if possible

Name | acronym | Reference

This document aims to …

Draft ITU-T Recommendation | International Standard | Specification

yyyy.mm

yyyy.mm
---