Gruppo TIM, along with its Noovle subsidiary, has started creating the first '5G Cloud Network' in Italy. The solution will lead to faster deployment of the 5G digital applications through the automation of industrial processes and the implementation of services in real time, thanks to EDGE Computing, based on specific requirements. The project will use TIM's Telco Cloud infrastructure, Google's Cloud solutions and Ericsson's 5G Core network and Automation technologies.   
Editor's Notes:
 TIM did not disclose any implementation details, e.g. containers (with or without kubernetes) or virtual machines, type of cloud service and configuration, APIs, etc.
The 5G core network, as defined by three 3GPP specifications, utilizes cloud-aligned, service-based architecture (SBA) that spans across all 5G functions and interactions including authentication, security, session management and aggregation of traffic from end devices.  The implementation method, e.g. containers, virtual machines/network functions, etc are not specified.
ITU-T has no serious work underway for 5G Core network, even though they are supposed to be responsible for all 5G/IMT 2020 non-radio recommendations/standards.
TIM also did not disclose availability date(s) for their 5G Core network, locations in Italy that can access it, or 5G endpoint devices (e.g. smartphones, tablets, etc) compatible with it.
……………………………………………………………………………………………………………………………………………………………………………..
At the start of March 2020, TIM and Google announced a new partnership covering cloud and edge computing services, building on an MoU they signed back in November 2019. In line with the rapidly expanding cloud market, TIM said at the time that it would aim to generate €1 billion from cloud services by 2024.
In early 2021, TIM acquired 100% of cloud specialist Noovle, intending for the unit to ultimately operate TIM's 17 Italian data centers.  Since its launch, Milan based Noovle has been working on innovative technological solutions to improve services across various areas, such as the provision of virtual IT infrastructures, remote working, customer experience and Artificial Intelligence.
TIM says their 5G cloud solution offers businesses – e.g. those in the automotive and transportation sector – integrated innovative solutions capable of improving the efficiency of logistics and production processes, acting in collaboration with software developers. The '5G Cloud Network' will be available close to companies' premises, based on the customer's specific requirements, in order to ensure the lowest latency possible.  It also optimizes the network service implementation time and related costs.
TIM says their 5G Cloud Network is in full compliance with data protection and in line with the strictest sector standards (not disclosed how this is done and there are no sector standards for 5G data protection/security).  Earlier this month, Italy created a national agency responsible for fighting cyber attacks, as it presses ahead with plans to create a unified cloud infrastructure to increase security for public administration data storage.  According to Reuters, the new Italian cyber-security agency unifies under the prime minister's authority many aspects of digital security which are currently dispersed among several ministers and state bodies.
Companies that intend to adopt 5G services and connectivity will be able to use the ultrabroadband radio network (RAN) in conjunction with the '5G Cloud Network' without needing to build the physical infrastructure of the core network at their logistics or production sites.
References:
https://www.gruppotim.it/en/press-archive/market/2021/PR-TIM-Cloud-Network-5G-28giugno2021.html
https://www.thefastmode.com/mobile-network-operators-m-a/17190-tim-acquires-100-stake-in-italian-cloud-firm-noovle
https://www.reuters.com/world/europe/italy-set-up-cybersecurity-agency-ahead-national-cloud-plan-draft-2021-06-09/
Japanese upstart carrier Rakuten Mobile, Inc. and NEC Corporation today announced that they have reached an agreement to jointly develop the containerized standalone (SA) 5G core network (5GC) to be utilized in Rakuten Mobile's fully virtualized cloud native 5G network.
Based on the agreement, Rakuten Mobile and NEC will jointly develop the containerized SA 5G mobile core to be made available on the Rakuten Communications Platform (RCP), Rakuten Mobile's fully virtualized and containerized cloud-native mobile network platform. The two companies will collaborate to build a Japan-made, highly reliable 5GC, based on the 5GC software source code developed by NEC. Subsequent to the launch of its non-standalone (NSA) 5G service in 2020, Rakuten Mobile aims to provide its SA 5G service in Japan in 2021.
The containerized 5GC will also play a key role in the global expansion of RCP, a platform aimed at offering solutions and services for the deployment of virtualized networks at speed and low cost by telecom companies and enterprises around the world, tailored for their unique needs. The 5GC will be offered as an application on the RCP Marketplace, allowing customers to quickly and easily "click, purchase and deploy" a fully virtualized SA 5G core network solution.
…………………………………………………………………………………………………….
Editor's Note:  The two companies don't state what spec they're using for their container based SA 5G Core Network.   
–Please see Tareq Amin's Comment below.
The only standards work we know of related to SA 5G Core Network is in 3GPP (5GCN), but it's based on a NFV enabled network cloud and a service based architecture,  rather than containers.
We suggest that NEC contribute this spec to both 3GPP and ITU-T (for IMT 2020 non-radio aspects).  However, neither ITU-R or ITU-T has any serious ongoing work related to the 5G Core Network at this point in time.
The 3GPP specified 5G core network covers both wire-line and wireless access.  Key characteristics:
 Control plane is separated from the data plane and implemented in a virtualized environment
 Fully distributed network architecture with single level of hierarchy
 GW to GW interface to support seamless mobility between 5G-GW
 Traffic of the same flow can be delivered over multiple RITs
From the latest 3GPP Release 16 – TS.23501 5G Systems Architecture-V16.4.0 (2020-03):
The 5G System architecture is defined to support data connectivity and services enabling deployments to use techniques such as e.g. Network Function Virtualization and Software Defined Networking. The 5G System architecture shall leverage service-based interactions between Control Plane (CP) Network Functions where identified. Some key principles and concept are to:
– Separate the User Plane (UP) functions from the Control Plane (CP) functions, allowing independent scalability, evolution and flexible deployments e.g. centralized location or distributed (remote) location.
– Modularize the function design, e.g. to enable flexible and efficient network slicing.
– Wherever applicable, define procedures (i.e. the set of interactions between network functions) as services, so that their re-use is possible.
– Enable each Network Function and its Network Function Services to interact with other NF and its Network Function Services directly or indirectly via a Service Communication Proxy if required. The architecture does not preclude the use of another intermediate function to help route Control Plane messages (e.g. like a DRA).
– Minimize dependencies between the Access Network (AN) and the Core Network (CN). The architecture is defined with a converged core network with a common AN – CN interface which integrates different Access Types e.g. 3GPP access and non-3GPP access.
– Support a unified authentication framework.
– Support "stateless" NFs, where the "compute" resource is decoupled from the "storage" resource.
– Support capability exposure.
– Support concurrent access to local and centralized services. To support low latency services and access to local data networks, UP functions can be deployed close to the Access Network.
ITU-T SG13 is working on IMT 2020 non-radio aspects, but are heavily dependent on 3GPP documents to be liased in order to drive their future standards work in that area.  Unfortunately that has not happened.
Please see Comment in box underneath this article for GSMA Feb 2020 document on SA 5G Core option 2 guidelines for implementation.
………………………………………………………………………………………………………………………………..
"We are very excited to collaborate with NEC on the development of our standalone 5G core network," commented Tareq Amin, Representative Director, Executive Vice President and CTO of Rakuten Mobile. "Our partnership with NEC represents a joint collaboration to build an open, secure and highly scalable 4G and 5G cloud native converged core, that will also become a key feature of the highly competitive services we will offer to global customers through the Rakuten Communications Platform."
"NEC is proud to be the 5GC development partner for Rakuten Mobile's advanced, fully virtualized, cloud-native network. Following the BSS/OSS for the 4G network and 5G radio equipment that we have already begun offering, we look forward to providing a high-quality, highly reliable 5GC and contributing to Rakuten Mobile's 5G services," said Atsuo Kawamura, Executive Vice President and President of the Network Services Business Unit, NEC.
Through the joint development of the SA 5GC, Rakuten Mobile and NEC aim to drive innovation in global mobile technology and provide high quality 5G network technology to customers both in Japan and around the world.
Rakuten Mobile CTO Tareq Amin clarification comments; via edited email to this author:
NEC/Rakuten 5GC is 3GPP standardized software for network service and a de facto standard container basis infrastructure ("infrastructure agnostic").  It is a forward looking approach, but not proprietary.
1.  3GPP standardized software for network service:
NEC/Rakuten 5GC openness are realized by implementation of "Open Interface" defined in 3GPP specifications  (TS 23.501, 502, 503 and related stage 3 specifications).
2.   Containerization/Cloud native:
3GPP 5GC specification requires cloud native 5G core (5GC) architecture as the general concept (service based architecture).  It should be distributed, stateless, and scalable.  However, an explicit reference model is out of scope for the 3GPP specification. Therefore NEC 5GC cloud native architecture is based on above mentioned 3GPP concept as well as ETSI NFV treats "container" and "cloud native", which NEC is also actively investigating to apply its product.
3.  Reference To Open RAN in the press release:
This has no relationship to 5G Core, but only an indication that our Radio Access Network (RAN) architecture is O-RAN Compliant.
……………………………………………………………………………………………………………………………………….
Press Release:
https://www.businesswire.com/news/home/20200602005999/en/Rakuten-Mobile-NEC-Agree-Jointly-Develop-Containerized
Forward Reference:
Rakuten Communications Platform (RCP) defacto standard for 5G core and OpenRAN?
About Rakuten Mobile
Rakuten Mobile, Inc. is a Rakuten Group company responsible for mobile communications, including mobile network operator (MNO) and mobile virtual network operator (MVNO) businesses, as well as ICT and energy. Through continuous innovation and the deployment of advanced technology, Rakuten Mobile aims to redefine expectations in the mobile communications industry in order to provide appealing and convenient services that respond to diverse customer needs.
About NEC Corporation
NEC Corporation has established itself as a leader in the integration of IT and network technologies while promoting the brand statement of "Orchestrating a brighter world." NEC enables businesses and communities to adapt to rapid changes taking place in both society and the market as it provides for the social values of safety, security, fairness and efficiency to promote a more sustainable world where everyone has the chance to reach their full potential.
more information, visit NEC at http://www.nec.com.
Contacts:
New ITU-T standards related to "5G":
ITU-T has reached first-stage approval ('consent' level) of three new international standards defining the requirements for IMT-2020 ("5G") network systems as they relate to network operation, softwarization and fixed-mobile convergence.
The standards were developed by ITU-T's standardization expert group for future networks, ITU-T Study Group 13.
Note: The first-stage approvals come in parallel with ITU-T Study Group 13's establishment of a new ITU Focus Group to study machine learning in 5G systems.
End-to-end flexibility will be one of the defining features of 5G networks. This flexibility will result in large part from the introduction of network softwarization, the ability to create highly specialized network slices using advanced Software-Defined Networking (SDN), Network Function Virtualization (NFV) and cloud computing capabilities.
The three new ITU-T standards are the following:
ITU Y.3101 "Requirements of the IMT-2020 network" describes the features of 5G networks necessary to ensure efficient 5G deployment and high network flexibility.
ITU Y.3150 "High-level technical characteristics of network softwarization for IMT-2020" describes the value of slicing in both horizontal and vertical, application-specific environments.
ITU Y.3130 "Requirements of IMT-2020 fixed-mobile convergence" calls for unified user identity, unified charging, service continuity, guaranteed support for high quality of service, control plane convergence and smart management of user data.
ITU's work on "International Mobile Telecommunications for 2020 and beyond (IMT-2020)" defines the framework and overall objectives of the 5G standardization process as well as the roadmap to guide this process to its conclusion by 2020.
ITU's Radiocommunication Sector (ITU-R) is coordinating the international standardization and identification of spectrum for 5G mobile development. ITU's Telecommunications Standardization Sector (ITU-T) is playing a similar convening role for the technologies and architectures of the wireline elements of 5G systems.
ITU standardization work on the wireline elements of 5G systems continues to accelerate.
ITU-T Study Group 15 (Transport, access and home networks) is developing a technical report on 5G requirements associated with backbone optical transport networks. ITU-T Study Group 11 (Protocols and test specifications) is studying the 5G control plane, relevant protocols and related testing methodologies. ITU-T Study Group 5 (Environment and circular economy) has assigned priority to its emerging study of the environmental requirements of 5G systems.
ITU-T Study Group 13 (Future networks), ITU's lead group for 5G wireline studies, continues to support the shift to software-driven network management and orchestration. The group is progressing draft 5G standards addressing subjects including network architectures, network capability exposure, network slicing, network orchestration, network management-control, and frameworks to ensure high quality of service.
……………………………………………………………………………………..
The "5G" wireline standards developed by ITU-T Study Group 13 and approved in 2017 include:
Reference:
http://news.itu.int/5g-update-new-itu-standards-network-softwarization-fixed-mobile-convergence/
…………………………………………………………….
"5G" Core Network functions & Services Based Architecture:
The primary focus of  ITU-R WP5D IMT 2020 standardization efforts are on the radio aspects (as per its charter).  That includes the Radio Access Network (RAN)/Radio Interface Technology (RIT), spectral efficiency, latency, frequencies, etc.
To actually deliver services over a 5G RAN, a system architecture and core network are required. The core network provides functions such as authentication, session management, mobility management, forwarding of user data, and (possibly) virtualization of network functions.
3GPP Technical Specification (TS) 23.501 — "System Architecture for the 5G System" — is more commonly referred to as the Service-Based Architecture (SBA) for the 5G Core network.  It uses service-based interfaces between control-plane functions, while user-plane functions connect over point-to-point links. This is shown in the figure below. The service-based interfaces will use HTTP 2.0 over TCP in the initial release, with QUIC transport being considered for later 3GPP releases.
Service-Based Architecture for 5G Core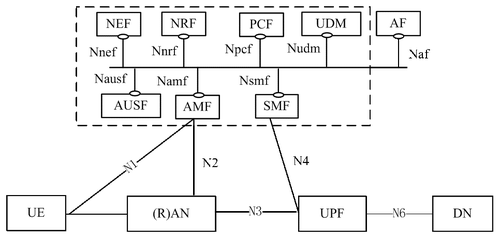 Source: 3GPP TR 23.501, July 2017, Figure 4.2.3-1
………………………………………………………………………………………….
There are many aspects to this, but the white paper highlights:
How the idea of "network function services" (3GPP terminology) aligns with the micro-services based view of network service composition
How operators may take advantage of decoupled control- and user-plane to scale performance
How the design might enable operators to deploy 5GC functions at edge locations, such as central offices, stadiums or enterprise campuses
The first 5G core standards (really specifications because 3GPP is not a formal standards body) are scheduled to be included in 3GPP Release 15, which "freezes" in June next year and will be formally approved three months later. This will be a critical release for the industry that will set the development path of the 5G system architecture for years to come.
Download white paper:  Service-Based Architecture for 5G Core Networks
Editor's Note:
From http://www.3gpp.org/specifications:
"The 3GPP Technical Specifications and Technical Reports have, in themselves, no legal standing. They only become "official" (standards) when transposed into corresponding publications of the Partner Organizations (or the national / regional standards body acting as publisher for the Partner)."
References:
http://www.lightreading.com/mobile/5g/5g-core-and-the-service-based-architecture/a/d-id/738456?
https://img.lightreading.com/downloads/Service-Based-Architecture-for-5G-Core-Networks.pdf
---