Cuba-Google agreement to speed up Internet access on the island
Google and ETECSA signed a memorandum of understanding to begin the negotiation of a so-called "peering agreement" that would create a cost-free and direct connection between their two networks.  That would enable faster access to content hosted on the Google's servers, which are not located on the island.  Internet in Cuba has been notoriously sluggish and unreliable.  In a country where information is tightly controlled, it remains to be seen how much Google'd information would be available in Cuba.  That's if and when a fast connection can be made between Cuba's ETECSA controlled Internet and Google's servers.
The agreement creates a joint working group of engineers to figure out how to implement this peering arrangement, likely via an undersea cable.  What's needed first is the creation of a physical connection between Cuba's network and a Google "point of presence," the closest ones being in South Florida, Mexico and Colombia.  Cuba currently has a single fiber-optic connection running under the Caribbean to Venezuela that has been unable to provide the island with sufficient capacity to support its relatively small but growing group of internet users, for reasons never disclosed by either country's Communist government.  Neither Cuban or Google officials provided any estimated timeframe for the island's connection to a new undersea fiber-optic cable. That step could take years given the slow pace of Cuba's bureaucracy and the obstacles thrown up by the U.S. trade embargo on the island.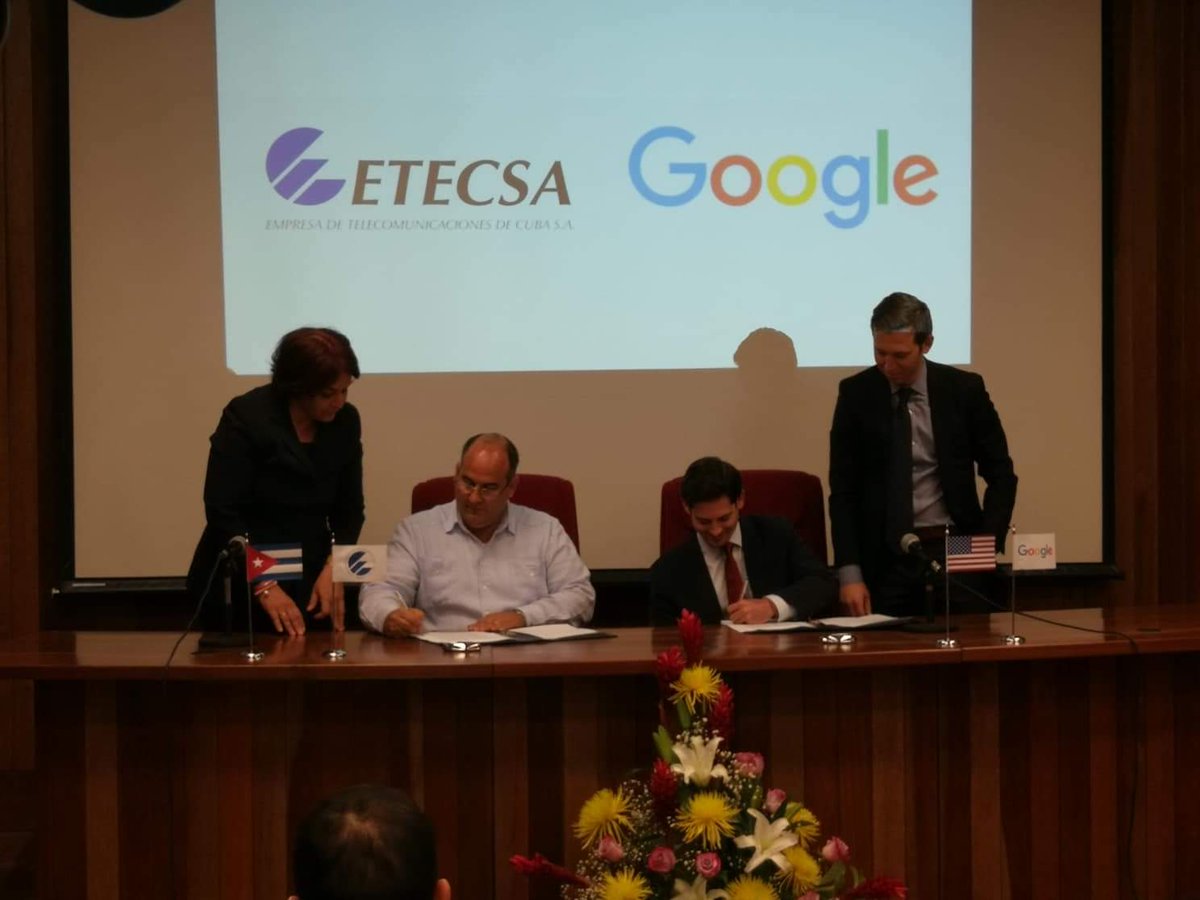 "The implementation of this internet traffic exchange service is part of the strategy of ETECSA for the development and computerization of the country," Google and ETECSA said in a joint news release, read out at a news conference in Havana.
"We are excited to have reached this memorandum for the benefit of internet users here in Cuba," Brett Perlmutter, the head of Google Cuba, said before signing the deal.
References:
https://www.reuters.com/article/us-cuba-usa-google/google-cuba-agree-to-work-towards-improving-islands-connectivity-idUSKCN1R91ZP
https://www.businessinsider.com/google-partners-etecsa-cuba-2019-3 
https://phys.org/news/2019-03-cuba-google-island.html
---