IHS Markit: CenturyLink #1 in the 2019 North American SIP Trunking Scorecard
By Diane Myers, senior research director, IHS Markit
Highlights:
CenturyLink leads the market for session initiation protocol (SIP) trunking with the largest installed base of all North American providers.
Twilio has been a disruptor in the SIP trunking market and placed second in the scorecard due to solid market momentum.
Verizon and AT&T were #3 and #4, respectively.
…………………………………………………………………………………………………………………………………………………………………………………………………………………………
Editor's Note:
SIP (Session Initiated Protocol) trunking  is a method of sending voice and other unified communications services over the internet.  It works with an IP-enabled PBX (private branch exchange). SIP trunking replaces traditional telephone lines or PRIs (Primary Rate Interface).connects both IP and analog devices via the Internet, eliminating the need to maintain separate voice circuits or replace legacy equipment.
Before SIP became a popular and reliable method of transmitting voice signals, telephone calls were carried over the Public Switched Telephone Network (PSTN). The PSTN is a circuit switched network, which requires a physical connection between two points to complete a call.
SIP trunks are virtual phone lines that enable users to make and receive phone calls over the internet to anyone in the world with a phone number. SIP trunks utilize a packet switch network, in which voice calls are broken down into digital packets and sent across a network to the final destination.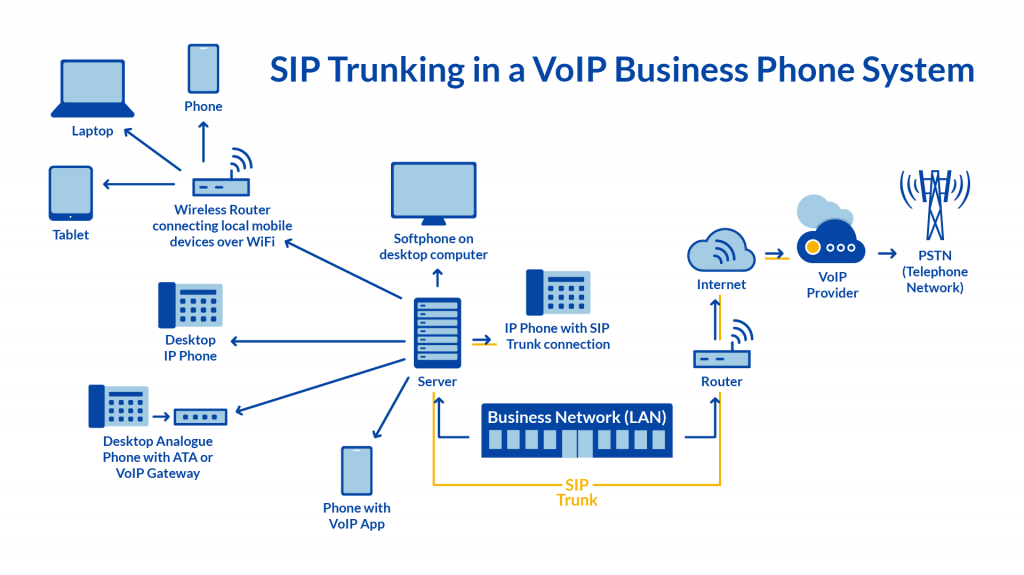 Each SIP trunk supports SIP channels. A SIP channel is equivalent to one incoming or outgoing call. A SIP trunk can hold an unlimited number of channels, so users only need one SIP trunk no matter how many concurrent calls they expect. The number of channels required depends on how many calls the business will make at any one time.
References:
https://www.sip.us/blog/latest-news/sip-trunking-101-the-fundamentals/
https://www.nextiva.com/blog/sip-trunking.html
…………………………………………………………………………………………………………………………………………………………………………………………………………………………….
IHS Markit analysis:
In its 2019 SIP Trunking North America Scorecard, IHS Markit analyzed and ranked the top SIP trunking providers in North America. For the fourth year in a row, CenturyLink leads the SIP trunking market with solid growth and the largest installed base of trunks. CenturyLink has done extensive work over the past two years bringing together its assets with those of Level 3, a company it acquired in 2017, to build a market-leading service portfolio and customer base.
In this year's scorecard, Twilio made another jump to the second-ranked position because of its strong financial score and the continued growth of its installed base. Twilio has been a market disruptor with its Elastic SIP Trunking service, which has grown to attain a sizable installed base. The strong growth of Twilio's Elastic SIP Trunking service reflects the widespread appeal of flexible consumption-based pricing.
Just a few years ago, there was little differentiation in the SIP trunking market. Fast forward to today, and there is a stark difference between traditional trunking services and the new on-demand trunks. Traditional trunking remains grounded in the old world of contracting for voice networking. In contrast, with on-demand trunks, customers simply pay for what they use and never need to worry about capacity planning.
SIP Trunking North America Scorecard:
In the 11th annual SIP Trunking North America Scorecard, IHS Markit analyzes the top-10 North American SIP trunking service providers: CenturyLink, Twilio, Verizon, AT&T, IntelePeer, Fusion, Rogers, Voyant, Windstream and Sprint. The criteria used in this analysis include market share, financial strength, market share momentum, service development and support options.
---