Huawei to help create China's first open source software foundation; unveils Honor Vision smart screen with Harmony OS
Huawei Technologies Co. said today that it plans to partner with other companies to set up China's first open-source software foundation, which is expected to begin to operate in a month or two to expand the nation's software community.
Wang Chenglu, president of the software department at Huawei's consumer business group, said software development relies on open-source codes and communities. "If China does not have its own open-source community to maintain, manage and host these open-source codes, the domestic software industry will be vulnerable in the face of uncontrollable factors," Wang said. The first open-source foundation in China will be nonprofit and open to all companies and software developers. "The plan is going forward very fast. It may officially operate in one or two months," Wang said. Wang added it is widely agreed that open-source communities are created to be fair and equitable for all, but now have become a means of making a power play between countries.
The first open-source foundation in China will be nonprofit and open to all companies and software developers. [Photo/IC]
……………………………………………………………………………………………………………………………………………………………………………………………………………………………………………………….
Last month, Nat Friedman, CEO of GitHub, which is owned by Microsoft, said on Twitter that GitHub is subject to US trade law just like any company that does business in the US. GitHub has enforced restrictions to prevent users in sanctioned countries from accessing private repositories and the GitHub Marketplace and from maintaining private, paid organization accounts, technology news website TechCrunch reported.
Maral Khosroshahi, who identified herself as a deep-learning scientist at Microsoft and founder and chairwoman of Iranian Women in Computing, said in a post on Twitter on July 27th that GitHub suspended all accounts of Iranian developers without any prior notice. "This is a shame, … especially for those who keep saying that sanctions are not supposed to affect ordinary people," Khosroshahi said in the post, adding that those views are her own.
Xiang Ligang, director-general of the telecom industry association Information Consumption Alliance, said the GitHub incident sent a warning to Chinese professionals that heavy reliance on U.S.-led open source communities may carry risks.
The open source plan also came after Huawei unveiled its in-house operating system Harmony OS on Friday, with the idea of using it in smart TVs, automobiles, wearables and other hardware over the next three years. Lyu Tingjie, a telecom professor at Beijing University of Posts and Telecommunications, said Huawei decided to build Harmony into an open-source system because it knows that support from a wide range of partners is needed to build a robust ecosystem. "The foundation plan, if well-executed, will help accelerate the development of Huawei and China's overall software industry," Lyu said.
For more information contact:
China Daily Multimedia Co. Ltd.
………………………………………………………………………………………………………………………………………………………………………………………………………………………….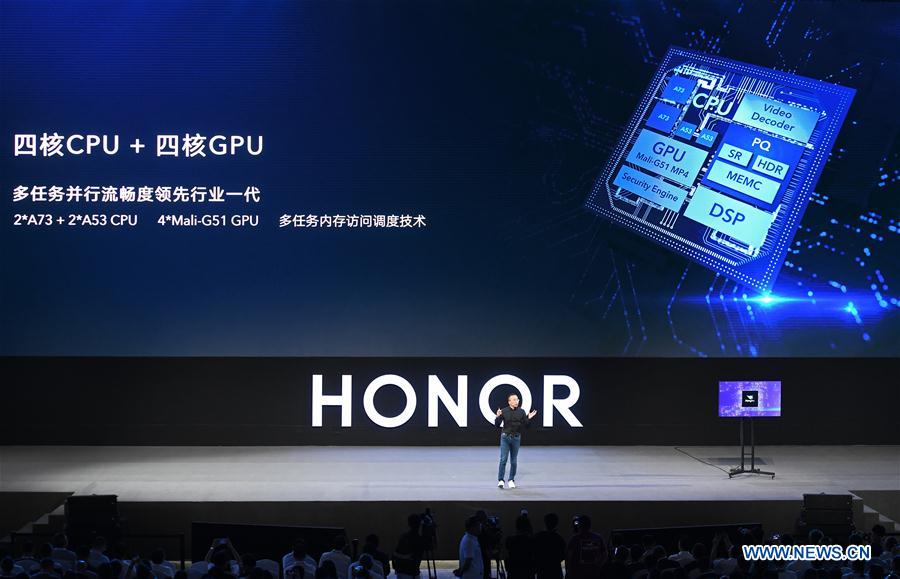 George Zhao, president of Huawei's sub-brand Honor, unveils Honor Vision series during the Huawei Developer Conference held in Dongguan, South China's Guangdong province on Aug 10, 2019. Honor Vision is the world's first smart screen equipped with HarmonyOS, or Hongmeng in Chinese, Huawei's open-source operating system. [Photo/Xinhua]
"Huawei will continue to lead a broader effort to build China's software developer ecosystem and complete industry chain for the electronic information industry, rather than just launch its OS," Xiang Ligang, director-general of the Beijing-based Information Consumption Alliance, told the Global Times.
The HarmonyOS is an open-source system, but without the support of most application developers, it can't grow at a rapid pace and neither can the industry, Xiang said.  The HarmonyOS was initially seen as an alternative plan to deal with the risks of losing access to Google's Android software and overseas market share after the US attack. Huawei is confident in keeping its overseas market share and displayed an ambition to make the HarmonyOS successful.
Richard Yu Chengdong, CEO of Huawei's consumer business, said that the HarmonyOS can make Huawei's devices functional again overnight, if the Android OS on the devices fails.  Huawei has obviously entered a whole new stage of fully developing its OS, developer ecosystem and more terminals equipped with the OS. It will eventually build its Internet of Things based on its leading communication systems, rather than just focusing on mobile phone products, a veteran industry analyst told the Global Times on condition of anonymity.
References:
http://www.chinadaily.com.cn/a/201908/13/WS5d51ed9ea310cf3e35565513.html
http://www.chinadaily.com.cn/a/201908/12/WS5d512715a310cf3e35565454.html
http://www.globaltimes.cn/content/1161064.shtml
---