China's big 3 mobile operators have 9 Million 5G subscribers in advance of the service; Barron's: China to lead in 5G deployments
According to Beijing News, the three major (state owned) China mobile network operators have already signed up 9 million advance orders for their yet to be launched 5G service.   As of October 5th, China Mobile's 5G subscribers have reached 5.32 million, China Unicom has 1.75 million, China Telecom has 1.76 million, and the total number of committed 5G users is nearly 9 million.
The three China network operators haven't set a date for the start of service, but will reportedly commence simultaneously, most likely later this month of October.  However, there are not many 5G smartphones (only two or three models) and no other endpoints (none announced yet) available from the three major China network operators.  The preferential price is between 150 yuan and 550 yuan.
On September 20, Xu Ximing, deputy general manager of the marketing department of China Mobile Group Corporation, said at the China Mobile 5G+ Innovation Cooperation Conference that China Mobile is accelerating the pace of 5G commercialization. The 5G package will be officially released in October, including basic packages and CPE packages. And upgrade plans for old users. Customers will enjoy the "three different fast" login to the 5G network, that is, the 5G terminal does not need to change the card, does not need to change the number, does not need to register, and multi-channel fast order 5G network service.
The China Unicom prices web page shows that the current campaign supports two mobile phones, Samsung Note 10+5G version offers 500 yuan, and vivo's iQOO Pro 5G version offers 400 yuan. Telecom's purchase discounts are 150 yuan for iQOO Pro, 300 yuan for ZTE Axon 10 Pro, and 550 yuan for Samsung Note 10+.
For China Mobile's preferential prices, Xiaomi 9 Pro 5G version is offered for 300 yuan, China Mobile's pioneer X1, Samsung Note 10+ 5G version  offer is 500 yuan. China Mobile told the Beijing News that more 5G models will be added in the future.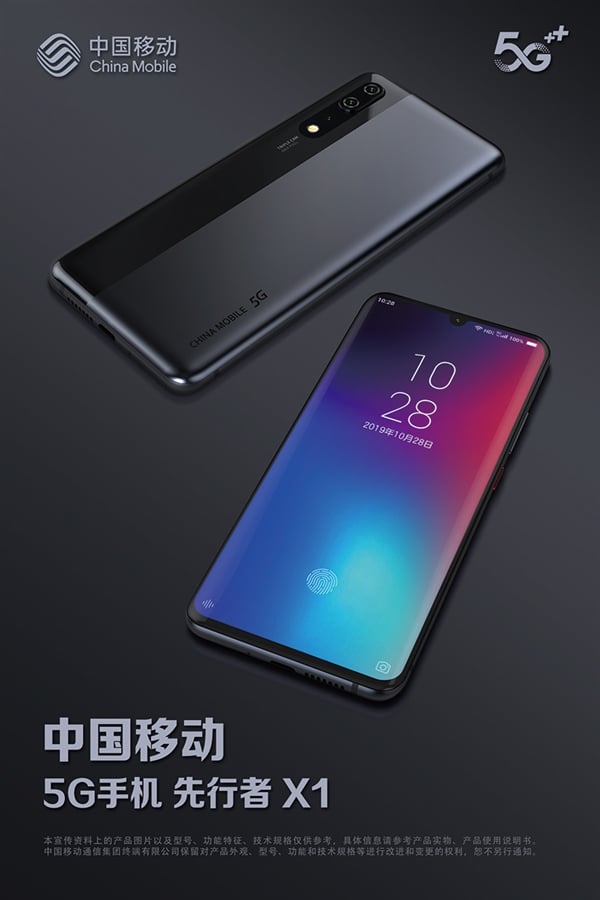 China Mobile Pioneer X1 is powered by a Qualcomm Snapdragon 855 chipset, a 6.47-inch AMOLED display with a  waterdrop notch. The display supports FHD+ resolution and also houses an on-screen fingerprint scanner. Housed inside the waterdrop notch is a powerful 20MP camera.
…………………………………………………………………………………………………………………………………………………………………………………………………………………
Note: Although Samsung continues phone sales in China, last week the handset maker ceased its mobile phone production operations in China as it closed its last factory in the country, according to Reuters.
………………………………………………………………………………………………………………………………………………………………………………………………..
China's 5G network coverage is progressing rapidly and the 5G network is increasingly equipped with a formal commercial foundation. Recently, the official statistics of the Beijing Municipal Bureau of Economics and Information Technology state that the three major network operators have completed more than 8,800 5G base stations in Beijing, covering areas along Chang'an Avenue, the World Expo, CCTV Broadcasting Center, and Shougang Park.
According to a message released by the Beijing Communications Administration, it is expected that by the end of 2019, Beijing will build more than 10,000 5G base stations.  According to the current construction progress, the number of 5G base stations in Beijing is expected to reach 12,000 by the end of the year. Among the other three first-tier cities, Shanghai plans to build 10,000 5G base stations in 2019 and 20,000 5G base stations in 2020; Guangzhou proposes to complete no less than 20,000 5G base stations in 2019, and 5G will be built in 2021. The base station is 65,000; the plan for Shenzhen is to build 15,000 5G base stations by the end of 2019.
With the spread of 5G networks, innovative applications in various 5G environments are emerging and even landing. On September 25, Daxing International Airport was officially opened. Eastern Airlines, Beijing Unicom and Huawei jointly released a 5G-based smart travel integrated service system at Daxing International Airport. Under the system, the user does not need to present the ID card and the QR code as usual, and only needs face recognition to complete the travel process such as ticket purchase, check-in, check-in, security check, and boarding.
China's government is partially subsidizing 5G deployments as we note in several paragraphs below:
The Shenzhen city government is offering to pay operators RMB10,000 ($1,398) for every standalone 5G base station deployed, with a maximum payout of RMB150 million ($20.9 million).  Its 5G plan issued last month promises support for site acquisition and subsidies for base station electricity costs.  The tech-dominated Chinese city, home to Huawei, ZTE and Tencent, plans to install 15,000 5G base stations by the end of 2019 and 45,000 by next August (more on this below).
Almost every Chinese city or provincial government has a 5G development plan.  While many are light on specifics, some reveal big ambitions.  For example, the government of Zhejiang, the wealthy province near Shanghai, expects to have 30,000 base stations next year. It plans to complete its 5G rollout by 2022, by which time its coverage will "lead the country."
The north-west province of Shanxi — not known for its advanced tech industries — has also made 5G a top priority. It has bench marked its 5G rollout against other provinces and, like Zhejiang, has set a target of 30,000 base stations by 2022.  And the city is also offering subsidies for base station power costs and help in site selection.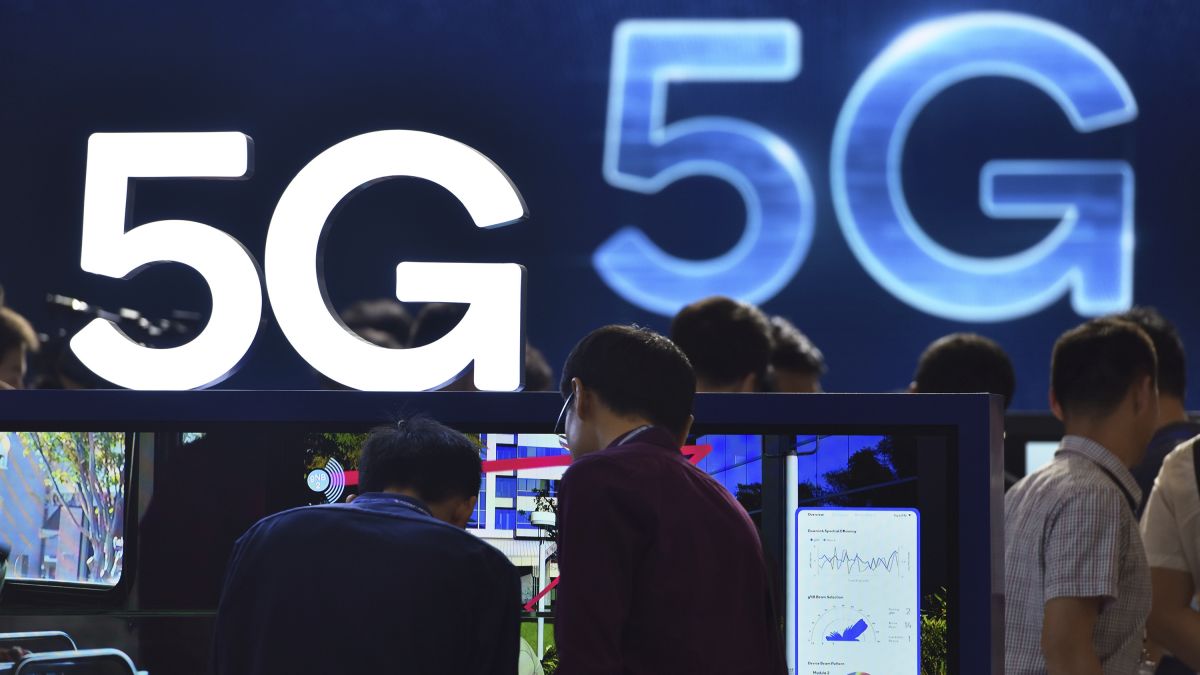 ………………………………………………………………………………………………………………………………………………………………………………………………..
From an article titled, "The Real 5G Winner Could Be China," in the October 7, 2019 print edition of Barron's:
Multiple Wall Street analysts are getting more optimistic about China's 5G build out. For instance, Rosenblatt Securities notes that local governments in the Asian country are providing subsidies to "speed up 5G network deployments." As a result, Rosenblatt says, more than 300 cities in China will have 5G networks by the end of next year. Even Hall, the Goldman Sachs 5G skeptic, expects 120 million 5G smartphones to ship next year, largely because of China's aggressive build out.

In a report this past week, Piper Jaffray analyst Harsh Kumar cited a Chinese think tank that sees China-based companies spending $411 billion on 5G networks from 2020 to 2030. Of the 600,000 5G base stations expected to be rolled out worldwide next year, Kumar says half will be deployed in China: "We expect 2020 global [5G] deployments to largely be driven by the Chinese market."

5G may come together slowly in the U.S. market, but China is serious about winning the race.
………………………………………………………………………………………………………………………………………………………………………………………………………….
References:
https://tech.sina.com.cn/t/2019-10-06/doc-iicezzrr0343842.shtml
https://www.lightreading.com/asia-pacific/china-telcos-rack-up-9m-5g-advance-subs/d/d-id/754643?
https://www.barrons.com/articles/the-real-5g-winner-could-be-china-51570228459
https://www.wsj.com/articles/in-the-race-to-dominate-5g-china-has-an-edge-11567828888
---