Verizon CEO Hans Vestberg: The 5G Revolution and Separate 5G Standards?
Verizon CEO Hans Vestberg has warned that a lack of trust among telcos could lead to separate standards being set for 5G networks.  The assumption here was that Huawei would implement one type of 5G standard with rest of the world implementing another.  That would be very bad Vestberg said, just as the CDMA and GSM specifications split the cellular industry during development of 3G standards.
"If there are going to be different 5G global standards, it will impact the whole telecom industry," he said.  "Right now, 5G is defined as a standard and everybody has agreed to it… 6G is probably coming in 7 or 8 years from now," Vestberg said.
Vestberg's comments came at Yahoo Finance All Markets Summit in New York.  It was in a response to a question about whether U.S. security concerns about China's telecommunications giant Huawei Technologies were justified, as that company has emerged as the leader in 5G technologies.  The Verizon CEO declined to comment on possible security issues regarding Huawei Technologies.
However, he said that if trust – among the various technologies' developers, and the nations that would use them – is lost, the consequence might be that different 5G providers would devise different standards.
–>We view such a statement as remarkable, if not outrageous, since Verizon does not send a representative to attend ITU-R WP5D meetings where the ONLY 5G radio standard- IMT 2020- is being progressed. Not once during this Yahoo interview did Vestberg say "IMT 2020."
You can watch the video of the Vestberg interview here.
"The 5G technology is ultimately one of the most important infrastructures for the 21st century," said Vestberg. "If we go back to – some of you might remember – the CDMA and GSM age, that really was not good."  "The tech development is moving fast, software improvements are quick.  We are going to see an extraordinary impact from 5G in the next couple of years.  Verizon plans to have 5G coverage in 14 NFL stadiums," he added.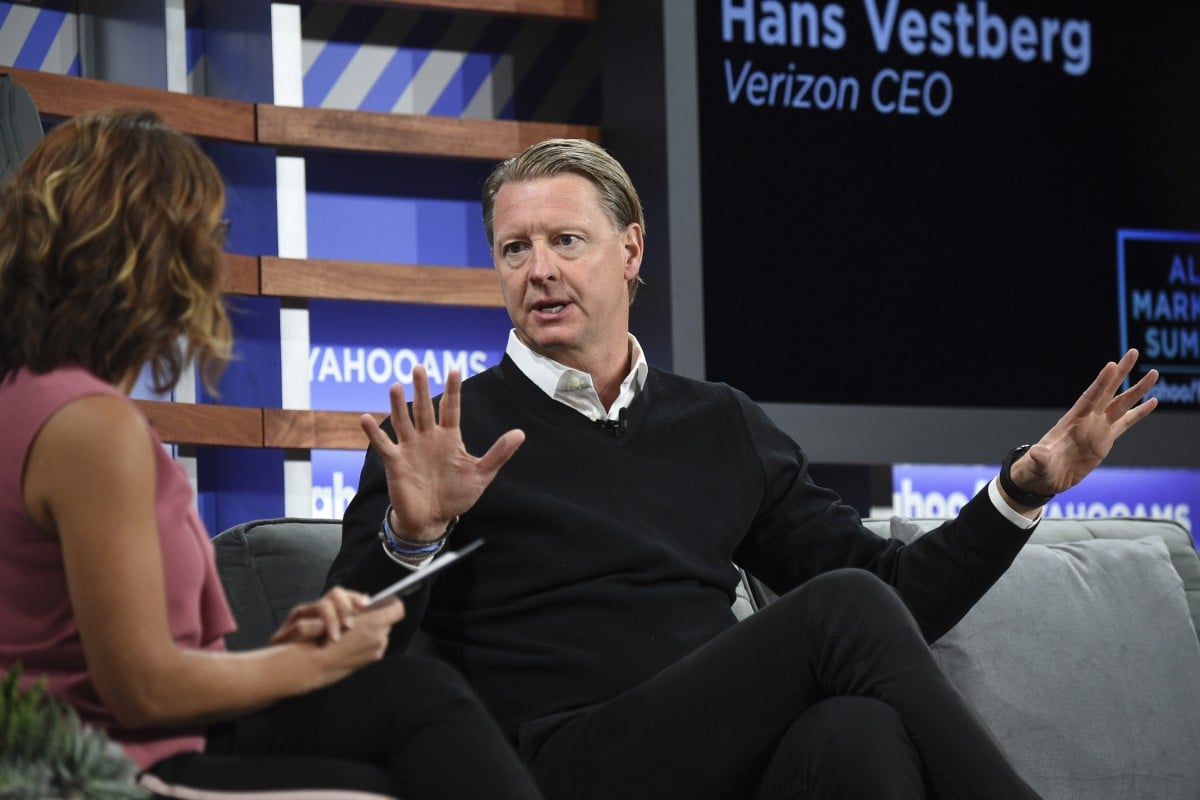 Verizon Communications chief executive Hans Vestberg interviewed during the Yahoo Finance All Markets Summit in New York on Thursday. Photo: Invision via AP
…………………………………………………………………………………………………………………………………………………………………………………………………………………………
About the Yahoo All Markets Summit:
The theme of Yahoo's All Markets Summit on 10/10/2019 in New York is Generational Opportunities. We are living in a time of profound generational change and young people today are informed by new trends like diversity and inclusion, political resets, economic dislocation and technological change like no generation before. Understanding and managing this change is essential for businesses and leaders, as the implications on all constituencies, including shareholders, customers and employees is critical. For additional information or questions please email [email protected].
…………………………………………………………………………………………………………………………………………………………………………………………………………………………………………………………………………………………
References:
https://sg.news.yahoo.com/verizon-ceo-warns-against-separate-173849596.html
https://finance.yahoo.com/video/verizon-ceo-hans-vestberg-5g-154910283.html  (video of Vestberg interview)
https://www.scmp.com/news/world/united-states-canada/article/3032434/verizon-ceo-warns-against-separate-5g-standards (seems to be a copy of the 1st reference)
---