Siemens & Qualcomm create private 5G network for industrial applications
Siemens and Qualcomm have set up a private standalone 5G wireless network for industrial applications in a test center in Nuremberg, Germany.  The test center network uses 5G NR (data plane) over the 3.7-3.8 GHz band to connect Simatic control systems and IO devices.  It enables Siemens and Qualcomm Technologies to test technologies, solve problems, and come up with solutions for the future of private wireless applications in industrial settings. Qualcomm Technologies set up 5G industrial test devices along with a 5G standalone test network that includes a 5G core network and 5G base station with remote radio head. Siemens provided the actual industrial setup including Simatic control systems and IO devices.
"We are excited to announce our 5G private network proof-of-concept collaboration project with Siemens. This project will provide invaluable real-world learnings that both companies can apply to future deployments and marks an important key milestone as 5G moves into industrial automation," said Enrico Salvatori, Senior Vice President, Qualcomm Europe, Inc. & President, Qualcomm Europe/MEA. "Combining our 5G connectivity capabilities with Siemens' deep industry know-how will help us deploy technologies, refine solutions, and work to make the smart industrial future a reality."
Using the network in the test center, vehicle makers can see automated guided vehicles interact live. The intention is to "drive forward the development and technical implementation of private 5G networks in the industrial sector," said Eckard Eberle, CEO of process automation at Siemens.
In the course of this joint research effort at the Siemens Automotive Test Center, currently available industrial technologies such as OPC UA and Profinet will be tested and evaluated – technologies that require a 5G private network in order to work. In Germany, private networks can use the local broadband spectrum from 3.7-3.8 GHz, which has been reserved for industrial usage in local deployments. These private networks allow industrial sites to control and manage their own networks as they see fit, allowing for high reliability, low latency, and the ability to reconfigure the network to suit changing needs while at the same time keeping data onsite for added security.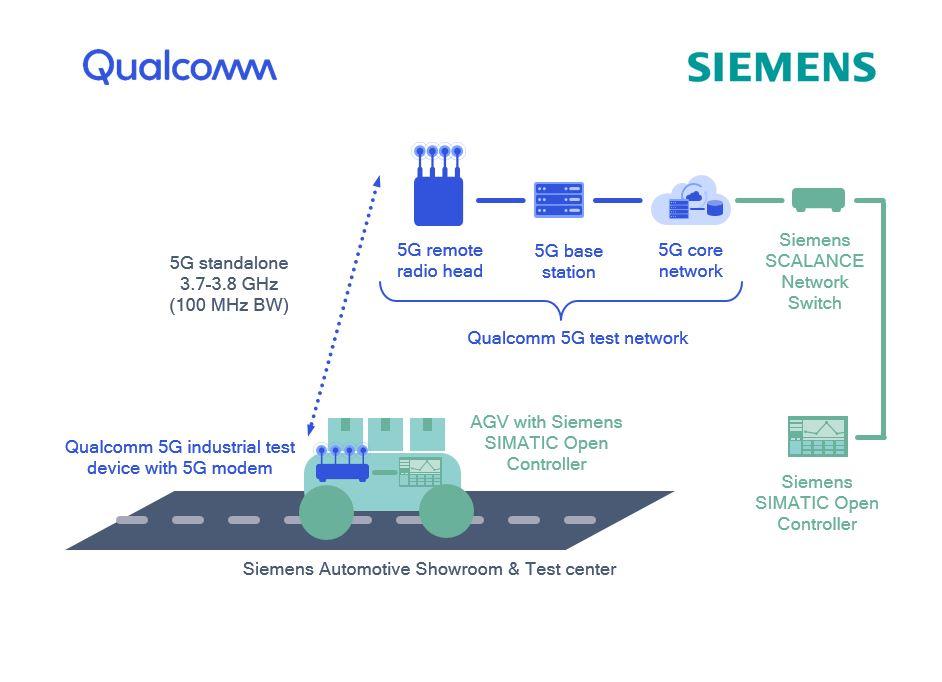 ……………………………………………………………………………………………………………………………………………………………………………………………….
Qualcomm Technologies and Siemens have a longstanding technical collaboration focused on cooperation in wireless technologies. This has resulted in over 15 years of success and the development of Siemens' unique Scalance portfolio of industrial wireless products. With Qualcomm Technologies' leading expertise in 5G technologies, this collaboration continues to evolve —leading into the first 5G private standalone network in an industrial environment using the 3.7-3.8GHz band. This allows solutions to be tested and developed which the industry will be able to use with the upcoming Release 16 of the 5G standard.
The two  companies are also exhibiting elsewhere in Nuremberg, Germany at the Smart Production Solutions (SPS) 2019 conference that continues this week.  At SPS, Qualcomm joined with Bosch Rexroth to showcase time-synchronized industrial devices over a live 5G network.
Time-sensitive networking (TSN) over 5G will provide greater flexibility for factory operations, said Yongbin Wei, vice president of engineering at Qualcomm. The company is planning to demonstrate full 5G TSN in the next 3GPP release 16 in 2020.
Bosch Rexroth makes a ctrlX Automation platform so that industrial machine makers can pick between real-time wired industrial Ethernet or real-time 5G wireless as needed, without having to change the machine application.
Elsewhere at SPS, STMicroelectronics and maxon showed off a $129 industrial servo control development kit for drives, robotics and automation. Called the Evalkit-Robot-1, it is designed to help users work with precise positioning and motion in servo drives and robotics. A maxon 100-watt motor with a built-in encoder is included in the kit as well as an intelligent three-phase motor controller with an inverter stage that includes ST power transistors.
………………………………………………………………………………………………………………………………………………………………………………………………………………
The one area of the globe currently leading the way with 5G is Europe, said Sebastiano Di Filippo, senior director, business development for Qualcomm Technologies Europe. As an example of Europe's advanced activity in this area, he noted that the European Commission recently announced that it is "harmonizing its 26GHz radio spectrum band for 5G."
As for 5G's application in industry, Di Filippo said "real time computing at the edge is a major application for 5G." With this in mind, specific factory applications Qualcomm is investigating for 5G include wearable devices, automated guided vehicle, robots, wireless edge analytics, sensors, and computer vision.
References:
https://www.webwire.com/ViewPressRel.asp?aId=250700
https://www.fierceelectronics.com/electronics/siemens-qualcomm-showcase-private-5g-net-for-industrial-apps
https://www.automationworld.com/factory/blog/21103544/bosch-rexroth-and-siemens-collaborate-with-qualcomm-on-5g
---