Dell'Oro: Telecom Equipment Market declined 4% YoY; Statista: $49.3B revenues in 2020
Preliminary estimates suggest 1Q20 revenue shares relative to 2019 revenue shares for the top five suppliers – the latter indicated herein parenthesis – show that Huawei, Nokia, Ericsson, ZTE, and Cisco comprised 28% (29%), 15% (16%), 14% (14%), 11% (10%), 6% (7%), respectively.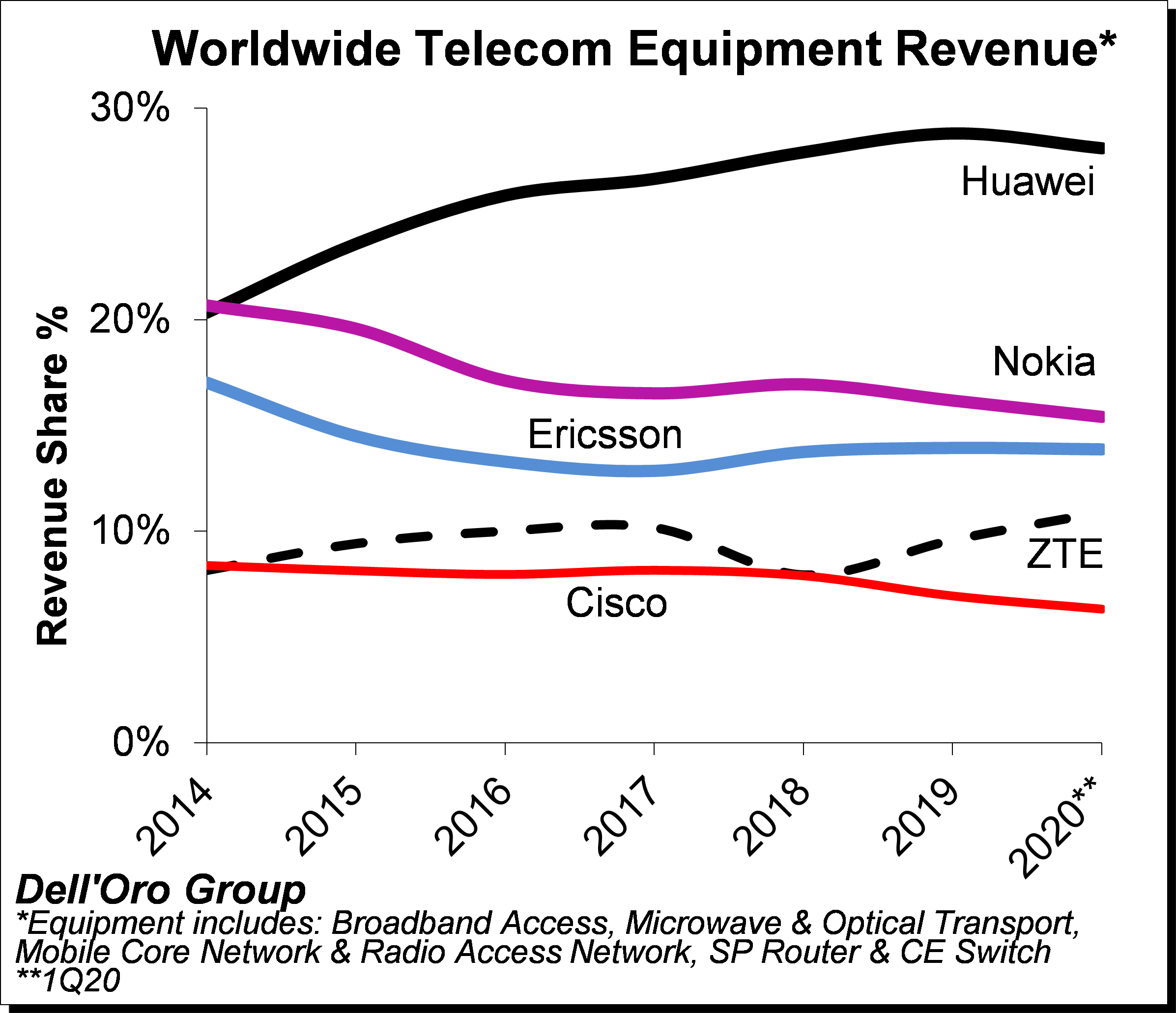 Table 1: Telecom equipment market shares
Vendor
2019 market share
Q1 2020 market share
Huawei
29%
28%
Nokia
16%
15%
Ericsson
14%
14%
ZTE
10%
11%
Cisco
7%
6%
Source: Dell'Oro Group
Additional key takeaways from the 1Q2020 reporting period include:
Following two years of consecutive growth in 2018 and 2019, the overall telecom equipment market started the year on a weaker note, reflecting mixed market conditions as the positive market sentiment with mobile-related segments, including RAN and Core, was not enough to offset reduced demand for Broadband Access, Routers and CE Switch, and Optical/Microwave Transport.
While healthy end-user fundamentals and positive 5G momentum outweighed downward risks associated with the COVID-19 pandemic for both RAN and Core investments, the pandemic had a more material impact on some of the non-wireless related segments, driven partly by supply chain disruptions and weakened demand as a result of increased macroeconomic uncertainty.
Within the technology segments, Mobile RAN and Core revenues together advanced at a single-digit rate, accounting for nearly half of the overall telecom equipment market during 1Q20. At the same time, the combined revenues for Broadband Access, Microwave Transport, and Routers and CE Switch declined at a double-digit pace Y/Y, accounting for about a third of the overall market.
In contrast to previous recessions, the COVID-19 slowdown is shifting and transforming the way we use the network. But a shift in how users are consuming data doesn't necessarily result in a corresponding increase in spending on new infrastructure to support that traffic growth. Some suppliers and service providers indicated that network capacity upgrades were required to accommodate data traffic growth, however, traffic surges did not lead to significant demand for network capacity upgrades across all the telecom equipment segments.
Even though the pandemic is still inflicting high human and economic losses, the Dell'Oro analyst team collectively expect market conditions and supply chain risks to be more favorable in the second half of 2020, propelling the overall telecom equipment market to advance 1% in 2020, reflecting a downward revision from the previous 2% growth outlook.
Dell'Oro Group telecommunication infrastructure research programs consist of: Broadband Access, Microwave Transmission & Mobile Backhaul, Mobile Core Networks, Mobile Radio Access Network, Optical Transport, and Service Provider (SP) Router & Carrier Ethernet Switch.
…………………………………………………………………………………………………….
Separately, Statista reports that  telecom equipment spending is projected to increase from 44.8 billion U.S. dollars in 2015 to around 49.3 billion U.S. dollars in 2020.   In 2019, the estimated revenue of the entire global telecommunications industry was US $610.4 billion.
Ericsson, Cisco Systems, Fujitsu, Nokia, NEC Corporation and Qualcomm are the leading telecom equipment companies worldwide. Cisco Systems is the leading Ethernet switch vendor, with more than 50 percent of the market share. Ethernet switches are an important and profitable part of the industry, as they are an integral part of IT infrastructure. They are used to receive, process and transmit data between two devices connected by a physical layer. Together, the top 5 vendors of Ethernet switches generated more than 25 billion U.S. dollars in revenue in 2017. Cisco is also the main vendor of enterprise WLAN, accounting for 45 percent of the global market share. HPE/Aruba, Arris/Ruckus, Ubiquiti and Huawei are also important vendors of enterprise WLAN worldwide.
Ethernet switch, WLAN and telecom towers are only a few examples of telecom equipment. This industry is vast, and includes other important markets such as smartphones. More than 1.5 billion smartphones were sold worldwide in 2017. Samsung, the global mobile market leader since 2012, sold about 20 percent of this total. Apple and Huawei are Samsung's closest competitors in the market, with around 14 percent and 10 percent of the global smartphone market share respectively.
References:
https://www.statista.com/topics/2844/telecommunications-equipment/#:~:text=In%202018%2C%20IT%20spending%20worldwide,billion%20U.S.%20dollars%20in%202020
---