Verizon earnings beat estimates despite COVID-19 impact; wireless revenues down; 2H-2020 Priorities
Verizon's reported today that 2nd-quarter adjusted earnings per share was $1.18, ahead of analysts' consensus estimate of $1.15, but down from $1.23 in the same period last year.  The company estimates that second-quarter 2020 EPS and adjusted EPS included approximately 14 cents of COVID-19-related net impacts, primarily driven by impacts to wireless service revenue and lower advertising and search revenue from Verizon Media.
Verizon added 173,000 wireless postpaid phone subscribers for the second quarter, as the COVID-19 pandemic weighed on wireless service and equipment revenue (see CFO Matt Ellis quote below).
Total wireless service revenue was down 1.7% from the same period a year ago, to $15.9 billion, while postpaid phone churn for Q2 was 0.51%. Verizon cited a significant drop in wireless equipment revenue because of low activations as the main driver behind a 4% drop in total consumer revenues to $21.1 billion and business to $7.5 billion.
Consumer wireless service revenue declined 2.7% from the year ago period to $13.1 billion. Business wireless revenue declined 3.7% YoY to $7.5 billion (see charts below).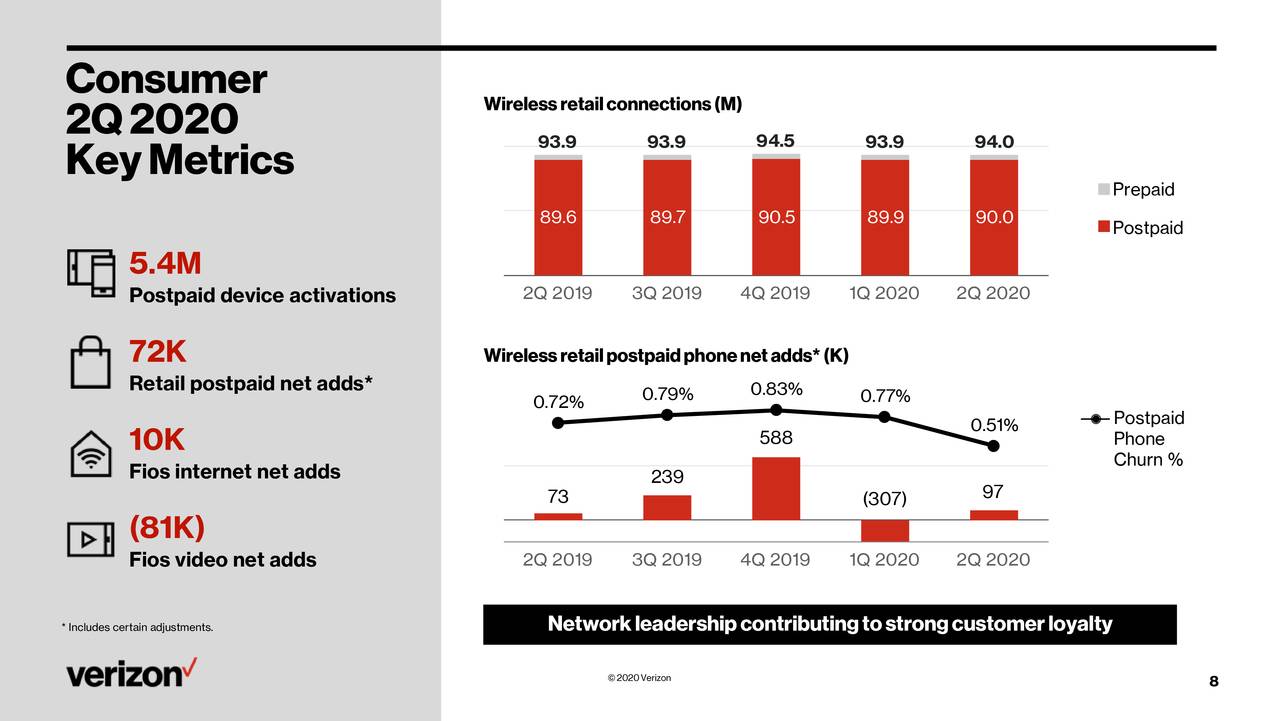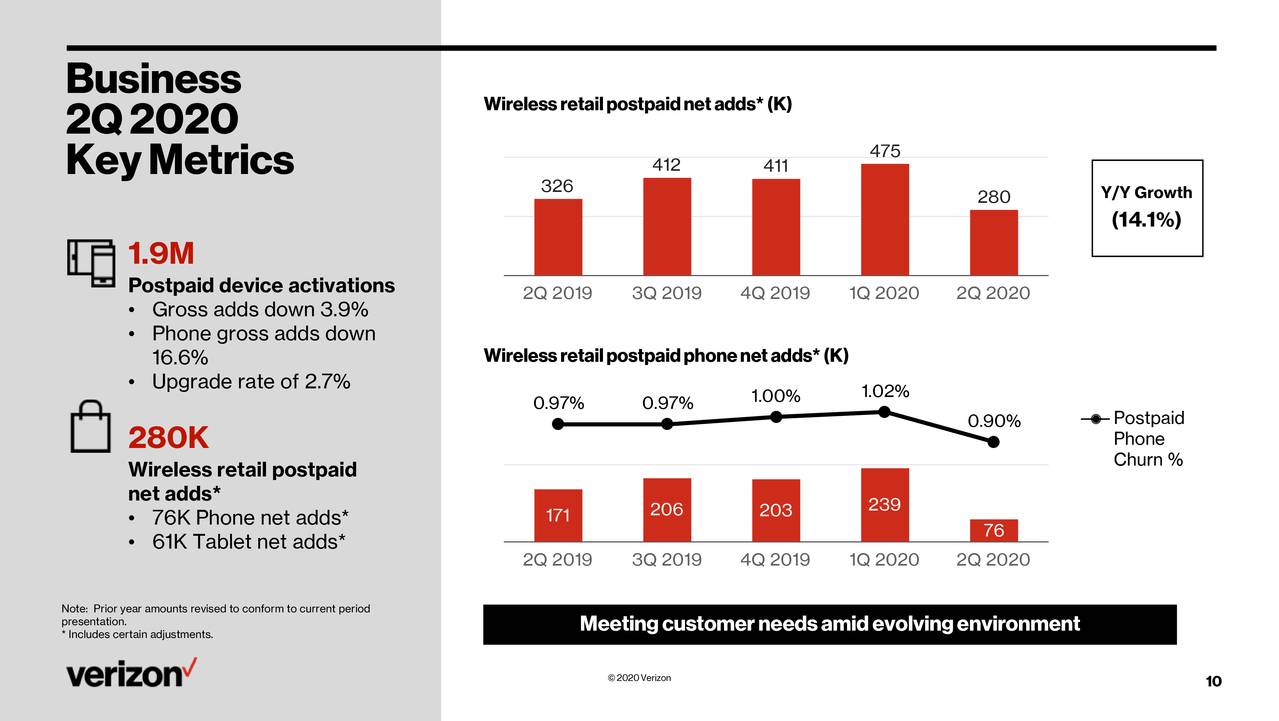 Like AT&T, which reported earnings yesterday, Verizon said the results include impacts from reduced roaming and usage as travel remains restricted, and waived fees. However, Verizon said it had record uptake of its premium Unlimited plans by new accounts. Wireless postpaid average service revenue per account (ARPA) declined 1.8% to $116.02.
……………………………………………………………………………………………………………………………………………………….
Verizon continues to build-out its 5G network, with $9.9 billion in capital expenditures in the first half of the year. Those investments supported capacity and traffic growth across Verizon's networks and included additional fiber and cell sites to expand its 5G UltraWideband rollout, which primarily uses 28 GHz millimeter wave spectrum. Verizon 5G network is in parts of 35 cities, while its fixed wireless 5G Home product is currently in six markets.
"Through extraordinary circumstances, Verizon delivered a strong operational performance in the second quarter," said Verizon CEO Hans Vestberg in a statement. "We remain focused on our strategic direction as a technology leader, quickly adapting to the new environment and providing our customers with reliable and vital connections and technology services, while working to keep our employees safe and accelerating our 5G network deployment. We have embraced, engaged in and responded to important social movements happening throughout the world, and will continue to be at the forefront of initiatives that move the world forward for everyone. We are proud of what we have done, and continue to do, for our customers, shareholders, employees, and society."
Other Q2 metrics for Verizon:
Total revenue of $30.4 billion, down 5.1%
Adjusted EBITDA of $11.5 billion and adjusted EBITDA margin of 37.9%
Earnings per share of $1.18, down 4.1%
Verizon Media revenues were down 24.5% to $1.4 billion
Commenting on the impact of COVID-19, Verizon Chief Financial Officer Matt Ellis told Barron's Friday morning:
"Certainly this was a very different quarter than others, not part of our plan for the year, but when you look at the results I think you see strong operational performance and very good cash flow coming from that. I think it speaks to the nature of our business model and the importance of our products in our customers' lives."
Guidance and 2nd Half 2020 Priorities:
Verizon expects wireless revenue in a range of -1% to flat year over year in the 3rd quarter.  Capital spending is forecast to be in the range of $17.5 billion to $18.5 billion.
Stated 2nd half 2020 initiatives are:
5G adoption
Network monetization
Next-gen B2B applications
Customer differentiation
New revenue opportunities
"Regardless of how results match up against expectations for Verizon, these results should be seen as good compared to what AT&T reported yesterday," wrote New Street Research analyst Jonathan Chaplin on Friday morning. This author certainly agrees, as Verizon is not encumbered by DirecTV and Warner Media as AT&T is.
……………………………………………………………………………………………………………………………………………………
CEO Hans Vestberg:
In February, we made some bold statements about our deployment on 5G in 2020 all the way from the Mobile Edge Compute, 5G Home cities, 5x more small cells on 5G and some 60 cities on the 5G Ultra-Wideband as well as a nationwide coverage on 5G with DSS. I'm happy to report we're on track on that, and in some cases even ahead of the plan. We are continuing to deploy our technology.

Our test with DSS is going very well and as well, we have launched some of the 60 markets when it comes to mobility and some additional markets on 5G Home. However, you're going to see that in the second half of this year we have a lot of new things happening and building on the foundation of the strategy and the strategic priorities that Verizon has outlined the last couple of years.

For Verizon Business Group, 5G Mobile Edge Compute, an important piece of our growth strategy, we have said that we are going to have 10 5G Mobile Edge Compute sites this year deployed. And now we've also started gearing up our partners. We have announced IBM and we also talked about SAP as two very important application providers that are going to take part of our deployment and that we're collaborating with right now. So we're creating a lot of excitement around the 5G Mobile Edge Compute and a lot more to come in the second half. Verizon Business Group, 5G Mobile Edge Compute, an important piece of our growth strategy, we have said that we are going to have 10 5G Mobile Edge Compute sites this year deployed. And now we've also started gearing up our partners. We have announced IBM and we also talked about SAP as two very important application providers that are going to take part of our deployment and that we're collaborating with right now. So we're creating a lot of excitement around the 5G Mobile Edge Compute and a lot more to come in the second half.

We are on plan to deploy more than 5x more millimeter wave base stations this year compared to last year, so the footprint will be much broader and we will be into 60 cities and those cities will be much more covered than they were last year. And we are disclosing that – usually on a fairly frequent basis how that map is growing. As you have seen, we have launched fairly few markets the first half when it comes to the 60, so you should expect quite a lot of noise from us in the second half and we're really excited about that. But you also need to think about our model will also include nationwide, so think about our model being a millimeter wave that is transformative. No one is even close to it in the world. Then we will have national coverage on top of that. And then in the bottom, we have the best 4G network in the world. And then I don't think that our customer will be disappointed with that. We build things that are transformative that are so different than others. So I would be excited for the second half if I would be you. It's crunch time for Verizon. We have been talking about this for one and a half year. I think our customers will be very excited in the second half.

One year ago, we didn't talk about DSS. But of course, our team was working to prepare all the networks so we can actually deploy DSS in all the radio base stations we have. So we constantly are ahead of the game thinking what is needed to be preparing for the network. But right now our focus is very much about the commitments we have to our customers when it comes to 5G, but also to keeping the best network on 4G. That's where we'll have it and then do that fiber reach. Those are the priorities and it will continue so. Then any speculation on the future spectrum or something, that's a little bit early to have right now. But I can tell you my team is always proactively thinking about how to do this network continue to be the best in America. There's no debate about that. And I have a high confidence that they will continue to do so when it comes to our CapEx allocation as well.

If you think about the Mobile Edge Compute, just last week we announced partnership with IBM and with SAP. That's going to be part of the 5G Mobile Edge Compute in order to serve our customers. So you're going to see that how we are doing, sort of laying out early indicators on that path to revenue that we have outlined both internally as well as externally.

5G Mobile Edge Compute. I think that the use cases we see today is very much real-time decision-making. If that's a big distribution center that's going to have 5G-enabled distribution center to actually take real-time decisions, or if it's a big manufacturing plant that's going to use 5G Mobile Edge Compute by wireless connecting to all the robotics, we're in many of those cases. And then you also see cases where sort of IoT devices with 5G will actually enable a new way of delivering a service. And finally, the whole VR and AR for large enterprises where you need a low latency on the campus or in the manufacturing or whatever it might be, those are all the early cases. Many of them right now are based on low latency. We see it's creeping into security because the data can then be contained with the company, meaning they can actually process and have all the processing and storage at the edge, which means they can keep the data for themselves. So those two capabilities are the first one. I think in the next, we're going to see enormous bandwidth of enterprise that need to send a lot of data to the edge in order to take decisions. But so far, latency and security, that's how the 5G Mobile Edge Compute scenarios are working out. And we basically have two, three – or two, I would say, per industry vertical that are lead customers for us. And we work with them to do the solutions and sometimes we are the third party as we don't have all application ourselves. That's how we're working it right now and I'm encouraged. And, of course, as I said before, acceleration has been seen, because all the digitalization and touchless that is needed going forward.

We feel really good about our model. As we have said before, minimum of 10 5G Home cities. We're going to have the cities with a much better chipset. That's on plan for this second half.

And the self-install, which I have been talking about now for one and half year, which excites me that our customers should be able to receive the gear, the CPs and be able to install themselves in a short timeframe. It's not that I'm down to the times that I have envisioned. I wanted to be below one hour, but we have come a far way from the eight hours we started with. And compared to a fiber installation where you need to first put it on the agenda, you wait for a couple of weeks and you have to come there and install it, and it takes hours to do. This is a totally different way. It's transformative. As I said, we are building 5G that's transformative, not the me-too to my 4G.

I think one thing that we have learned also is that, of course, fixed wireless access, we think a lot about consumers, but there is an opportunity clearly when you see this also as a fixed wireless access opportunity for small and medium business, et cetera, that we will start working on later on.
CFO Matt Ellis:
We're driving these (5G Home) revenues off of the same (wireless) network that you are getting 5G mobility revenues on. So this is the first time we've had that opportunity to drive multiple revenue streams off of the same investment. And so as we roll out the network, we'll have the opportunity to add more market share. And so we're very excited about that as we head into '21 with the progress we're making this year.

We're certainly excited about the opportunities that come with the C-band auction. One of the great things about having got the balance sheet in position that we have is it gives us the opportunity to take advantage of items like that when they come along. And I don't think that – as I look at the balance sheet and I look at the auction that that will provide any inhibitor [ph] to us either in terms of what we do in the auction or how we invest in the rest of the business. In terms of the free cash flow, so the second quarter as you say, a couple of items in there. We had the tax benefit from the item that we recognized in the fourth quarter last year. We also had a timing difference of about $2 billion moving just regular cash payments from second quarter to last week. But all-in-all, look, our cash flow will continue to be strong because we have – obviously we have a strong business with a recurring revenue stream that will continue into the second half of the year. Working capital provided a benefit in the first half with the lower volumes. We'll see how that plays out in the second half of the year. And I think that will be one of the key determinants of how cash flow looks for the full year on a year-over-year basis. So we'll see how it plays out, but I certainly expect free cash flow to continue to be strong for the business.
………………………………………………………………………………………………………………………………………………
References:
---