Is a new 5G Patent War in the works? Expert Opinion + Review of 5G patent studies
Introduction:
A recent Bloomberg article sees an increasing amount of patent litigation arising from the use of 5G and other (unnamed) wireless technologies.  Wireless telecom patent producers, like Qualcomm and Nokia (along with many others not mentioned in the article) may reap royalties from many different types of  products that communicate using wireless networks.  Examples include "talking cars" (aka V2V or V2X), and IoT devices [1.] being planned in agriculture, medicine, appliances and other sectors.
………………………………………………………………………………………………………………………………………………………………..
Note 1.  The 5G/IMT 2020 use case "Massive Machine to Machine communications" is the wireless connectivity used in the IoT.  Note that IMT 2020.SPECS includes NB-IoT as one of the Radio Interface Technologies supported by 3GPP, China, Korea, and India/TSDSI.
………………………………………………………………………………………………………………………………………………………………..
"So many different types of companies have to find a way to get these deals done," said Joe Siino, president of Via Licensing, a Dolby Laboratories Inc. unit that works with audio, wireless, broadcast and automotive industries. "It's taking the problems we had with smartphones and multiplying it by 10."
After noting the "4G smartphone patent wars," Bloomberg says the new wireless patent disputes are potentially more lucrative, as sales of 5G devices is forecast to grow to $668 billion globally in 2026 from $5.5 billion this year, according to Allied Market Research.  Here's a review of recent court rulings, again from Bloomberg:
Courts in the U.S. and Europe have in the past few weeks rejected efforts claiming the telecommunications companies' licensing policies violated antitrust laws and confirmed their ability to limit the use of fundamental wireless technology by those who refuse to meet their licensing demands.

Those rulings have already favored the telecoms in cases brought by the automobile industry in Europe and the U.S. over the current wireless standards

In the past few weeks, judges in Germany sided with Sharp Corp.'s request to limit Daimler AG sales in its home country for using its mobile technology without a license. In an unrelated case a federal judge in Texas threw out an antitrust lawsuit filed by Continental AG, a Daimler parts supplier, against a patent-licensing pool (aka Patent Troll) set up as a one-stop shop for access to patents.

That pool, Avanci LLC, handles licensing patents owned by Qualcomm, Nokia, Sharp and other telecom companies. It charges $15 per vehicle for a range of patented inventions needed to comply with 2G, 3G and 4G standards, and is developing a plan to charge for the next generation, known as 5G.

In a letter to the U.S. Federal Trade Commission (FTC), Daimler and Ford Motor Co. warned that an appeals court ruling won by Qualcomm could "destabilize the standards ecosystem by encouraging the abuse of market power acquired through collaborative standard-setting."
And a few selected quotes:
"Patent owners want to get paid because they are proud of what they created and continue to innovate," Kasim Alfalahi, founder and CEO of Avanci. "You have to find a middle ground, you have to find a place where these things can meet."
"The fact that more and more industries are going to start incorporating technology that has to be standardized means it's going to be even more important to resolve these issues," said Katie Coltart, a patent lawyer with Kirkland & Ellis's London office.
"You've got a handful of companies that are investing billions of dollars in research," said Mark Snyder, deputy general counsel for Qualcomm. "In a functioning market, you want people to engage in earnest negotiation. FRAND is a two-way street."
Telecoms.com Scott Bicheno wrote: "Around half of Huawei's 5G patent applications seem to have been made in China, and they account for half of all such applications made in China. While there's nothing intrinsically wrong with that, it's worth noting that Samsung and LG, which are in the top three 5G patent applicants alongside Qualcomm, have hardly filed any applications in Korea. It's almost as if the barrier to entry for patent filing in China is lower."
5G Patent Expert Yigang Cai, PhD [2.] Comments:
Here's why I would prefer to ban 5G patent litigations:
Currently, most companies generating 5G patents aim to license royalty revenues rather than to protect the intellectual property they have created.
A high percentage of the many patents granted are not essential (professionals call them garbage patents), or only quite least claims among those patents are useful. It is kind of a waste of financial expenses and resources worldwide.
Restrictions on the use of 5G patents will hurt most industries in the future, when 5G use cases and industry vertical applications are being developed.
Infringing on garbage patents truly is a waste of world resources and unnecessary cost to most industries.  Infringing on Standards Essential Patents (SEPs) is much worse.  Anyone might claim the equipment or devices complying with standards will infringe someone's SEP patents.
……………………………………………………………………………………………………………………………………………………………………………..
Note 2. Among other honors, Yigang Cai, PhD was awarded the first ever Alcatel-Lucent "Distinguished Inventor Award" (2013) with his inventive accomplishments and patent contributions throughout his career with the company. Yigang has filed a total of 1000+ patents globally, of which 669 are granted patents (including 196 U.S. granted patents as of this week).  Many of his inventions in wireless networks have been built into products and systems of 2G/3G/4G and 5G, and deployed worldwide. He is one of the pioneers and leaders in developing the principles and components of Machine Type Communications (MTC).  Dr. Cai generated many 5G inventions, including 5G New Radio (NR), 5G end-to-end architectures and use cases (both Access Networks and Core Networks), Network Slicing, MEC, 5G Machine Type Communications (MTC), and Device-to-Device Communications.
…………………………………………………………………………………………………………………………………………………………………………….
Review of 5G Patent Studies:
1.   In a 2019 study by GreyB, a research company, Huawei was found not only to hold more 5G-related patents than any other company (some 13,474), but also to hold the bigger share of standard-essential patents (or SEPs) – about 19% of them vs 15% for Samsung, 14% for LG, 12% for each of Nokia and Qualcomm, and just 9% for Ericsson.
Authors of the study wrote: "Huawei holds the most 5G patents i.e. 13473 followed by Qualcomm and then Samsung with 12719 and 9299 respectively. China wants to have an upper hand in 5G therefore, it won't come as a surprise to see Chinese companies such as Huawei and ZTE surpass some of the top companies worldwide."
Here is the list of top 10 companies holding most 5G patents:
2.  In a January 2020 released study, Berlin, Germany based Iplytics found that the 5G standard is highly patented. In total 95,526 5G
declarations patents have been declared for 5G which breaks down to 21,571 unique patent families. Only 44% of these patent families have yet been granted.
As most 5G patents have been recently filed, we would expect the rate of granted patents to further increase in the next few years. Most 5G patents where declared between 2017 and 2019 showing a sharp increase year by year. And as the 5G standard development is not yet completed (that includes IMT 2020.SPECS and 3GPP Release 16)  further patent declarations are expected in the upcoming years.
It's also interesting that 24% of the patents declared for 5G have before already been declared for 4G. This shows that some 4G technologies are still relevant for the new 5G specifications. As of January 1st, 2020 Huawei (CN) has declared most 5G patents followed by Samsung (KR), ZTE (CN), LG (KR), Nokia (FI), Ericsson (SE) and Qualcomm (US). All of those top 5G patent owners have already been active in the 4G standard development.
The study identified new market players. Here the Chinese companies Guangdong Oppo (CN), Vivo Mobile (CN), FG Innovation (CN), Spreadtrum Communications (CN) and the Taiwanese ASUSTeK Computer (TW) are new in the top patent owner list comparing 5G and 4G. The study shows however that the larger share of the Chinese newcomers' patent portfolios is yet filed locally in China and are yet not granted. Given that 5G is a recent technology the study shows that the patent portfolios of these Chinese companies are still very young and could very well still be filed and granted internationally.
This study also investigated companies' participation in the standards development, where technical contributions submitted to the 3GPP (3rd Generation Partnership Project) – the spec writing organization that develops complete radio and non-radio telecommunications specs for 3G, 4G and 5G – were counted and analyzed.
The main 4G standard developers such as Huawei, Ericsson, Nokia, Qualcomm, ZTE or Samsung and LG are again strong players for the 5G development. Here again the data shows increasing participation from new and upcoming Chinese players. When counting only approved 5G standard contributions, Huawei, Ericsson, Nokia and Qualcomm are the strongest players.
3.  As of February 2020, The Times of India says that Huawei has filed the most 5G patents, but Samsung has been GRANTED the most.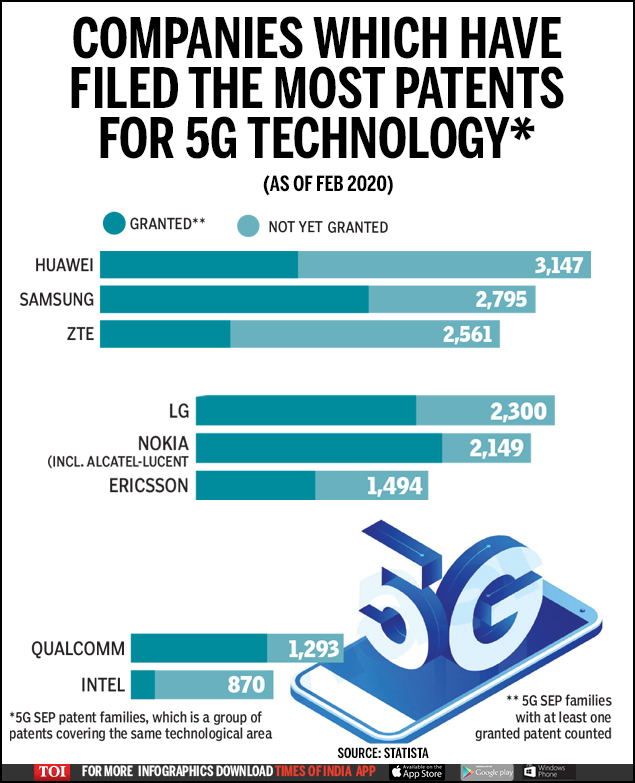 Bloomberg believes that there may be some "bumps in the road" for 5G and other wireless patent owners. A Chinese court has issued an order that would limit InterDigital Inc.'s powers in a royalty spat with handset maker Xiaomi Corp., even though the legal fight is in India. And judges in Dusseldorf indicated they want the European Union's top court to weigh in on the dispute between Nokia and Daimler, which could turn the tide against the former handset maker if the EU top judges side with the carmaker.
The concern is that if there isn't enough money for patent owners, they won't work together to develop a single system that can be used for anyone. Too much money, though, means manufacturers will increase their prices or opt to pass on using the latest technology, said Mauricio Uribe, a patent lawyer with Knobbe Martens in Seattle.  "Neither extreme is good for consumers," he said.
……………………………………………………………………………………………………………………………………………………………………………..
---