A new report, jointly released by IP consulting and analysis companies, Amplified and GreyB, disclosed that the top 6 companies (Huawei, Samsung, LG, Nokia, Ericsson, Qualcomm) account for 64.9% in 18,887 declared patent families. In granted 10,763 declared patent families, 2,893 families have been identified as core SEPs where top 6 companies account for 72.5%.
Huawei was first with 530 patent families and a ratio 18.3%. Nokia and Samsung were ranked No. 2 and No. 3 with 14.6% and 12.9%. respectively.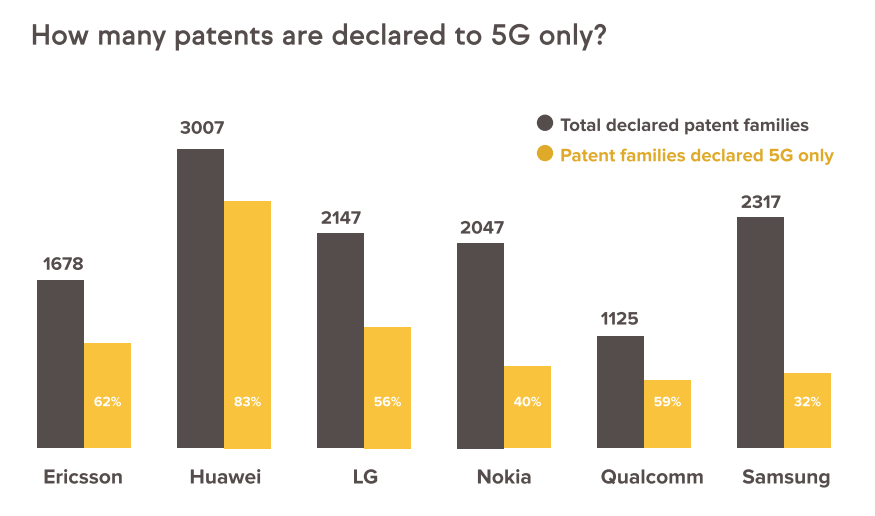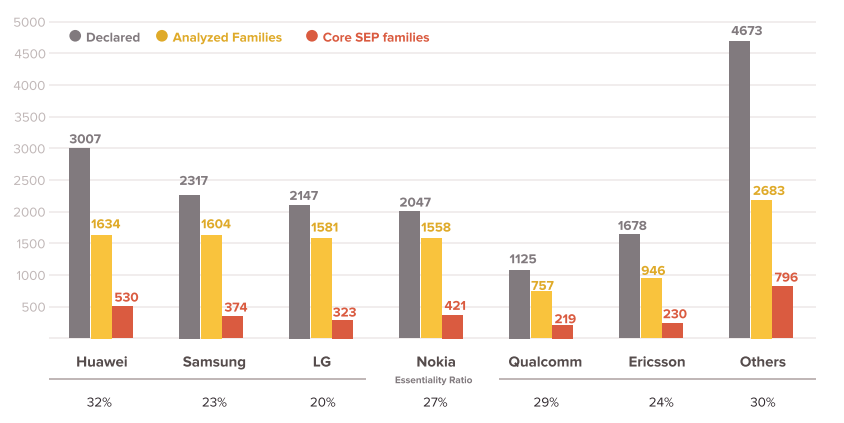 The report is an update of the previous report "Exploration of 5G Standards and Preliminary Findings on Essentiality" released on May 26, 2020.
………………………………………………………………………………………………………………………………
Separately, Samsung Electronics Co., Ltd. announced on March 10th that it has ranked first in 5G Standard Essential Patent (SEP)¹ shares according to a patent essentiality study conducted by IPlytics2, a Berlin-based market intelligence firm comprised of economists, scientists and engineers. The findings were published in IPlytics' recent report: "Who is leading the 5G patent race? A patent landscape analysis on declared SEPs and standards contributions."
Samsung also ranked second in two other categories: share of 5G granted3 and active patent4 families5, and share of 5G granted and active patent families with at least one of them granted by the EPO (European Patent Office) or USPTO (United States Patent and Trademark Office).
Last year, Samsung also led in 5G patents as a result of its research and development of 5G standards and technologies.
the top 10 companies own more than 80% of all granted 5G patent families, while the top 20 own more than 93% of all 5G granted patent families. These numbers confirm that there are only a few major large 5G patent owners, but looking at overall 5G declarations, the IPlytics Platform database identified more than 100 independent companies, which have declared ownership of at least one 5G patent.
The 5G patent family statistics presented in Table 1 are not based on verified SEP families. Neither ETSI nor the declaring companies have published independent assessments of the essentiality or validity of the declared 5G patents. Thus, the 5G patent families presented are only potentially essential. Many well-known SEP studies estimate that between 20% and 30% of all declared patents are essential. However, the essentiality rate differs across patent portfolios. To better understand the essentiality rate across portfolios, IPlytics created a data set of 1,000 5G-declared patent families (EPO/USPTO granted), which independent experts have mapped to 5G specifications. Here, the experts mapped the patents for six hours in a first check and then EPO/USPTO patent attorneys double-checked the mapping for a further three hours.
Table 1. Top 5G patent declaring companies (with >1% share)
| | | | | |
| --- | --- | --- | --- | --- |
| Current Assignee | 5G families | 5G granted and active families | 5G EPO/USPTO granted and active families | 5G EPO/USPTO granted and active families not declared to other generations |
| Huawei (CN) | 15.39% | 15.38% | 13.96% | 17.57% |
| Qualcomm (US) | 11.24% | 12.91% | 14.93% | 16.36% |
| ZTE (CN) | 9.81% | 5.64% | 3.44% | 2.54% |
| Samsung Electronics (KR) | 9.67% | 13.28% | 15.10% | 14.72% |
| Nokia (FN) | 9.01% | 13.23% | 15.29% | 11.85% |
| LG Electronics (KR) | 7.01% | 8.7% | 10.3% | 11.48% |
| Ericsson (SE) | 4.35% | 4.59% | 5.25% | 3.79% |
| Sharp (JP) | 3.65% | 4.62% | 4.66% | 5.50% |
| Oppo (CN) | 3.47% | 0.95% | 0.64% | 1% |
| CATT Datang Mobile (CN) | 3.44% | 0.85% | 0.46% | 0.68% |
| Apple (US) | 3.21% | 1.46% | 1.66% | 2.15% |
| NTT Docomo (JP) | 3.18% | 1.98% | 2.25% | 1.9% |
Source: IPlytics
………………………………………………………………………………………………………………………………..
Superscript Notes:
[1] "A patent that protects technology essential to a standard", European Commission report – "Setting out the EU approach to Standard Essential Patents", p1, November 2017.
[3] "a patent that is granted by at least one of patent offices", IPlytics report – "who is leading the 5G patent race", p5, November 2019.
[4] "in active status, which means it has not lapsed, been revoked or expired", IPlytics report – "who is leading the 5G patent race", p3, November 2019.
…………………………………………………………………………………………………………………………………………….
References:
https://www.amplified.ai/news/5g-updated
https://static1.squarespace.com/static/59fa01a118b27d1bfef7f050/t/603caec7fe1d40450f23c831/1614589756133/5G+Report+%28Updated+findings%29.pdf
https://www.greyb.com/5g-patents/
https://news.samsung.com/us/samsung-extends-leadership-5g-patents/
https://www.iam-media.com/who-leading-the-5g-patent-race-patent-landscape-analysis-declared-seps-and-standards-contributions
https://techblog.comsoc.org/2020/06/24/greyb-study-huawei-undisputed-leader-in-5g-standard-essential-patents-seps/
https://techblog.comsoc.org/2020/07/10/5g-specifications-3gpp-5g-radio-standard-imt-2020-and-standard-essential-patents/
https://techblog.comsoc.org/2020/10/03/is-a-new-5g-patent-war-in-the-works-expert-opinion-review-of-5g-patent-studies/
Introduction:
A recent Bloomberg article sees an increasing amount of patent litigation arising from the use of 5G and other (unnamed) wireless technologies.  Wireless telecom patent producers, like Qualcomm and Nokia (along with many others not mentioned in the article) may reap royalties from many different types of  products that communicate using wireless networks.  Examples include "talking cars" (aka V2V or V2X), and IoT devices [1.] being planned in agriculture, medicine, appliances and other sectors.
………………………………………………………………………………………………………………………………………………………………..
Note 1.  The 5G/IMT 2020 use case "Massive Machine to Machine communications" is the wireless connectivity used in the IoT.  Note that IMT 2020.SPECS includes NB-IoT as one of the Radio Interface Technologies supported by 3GPP, China, Korea, and India/TSDSI.
………………………………………………………………………………………………………………………………………………………………..
"So many different types of companies have to find a way to get these deals done," said Joe Siino, president of Via Licensing, a Dolby Laboratories Inc. unit that works with audio, wireless, broadcast and automotive industries. "It's taking the problems we had with smartphones and multiplying it by 10."
After noting the "4G smartphone patent wars," Bloomberg says the new wireless patent disputes are potentially more lucrative, as sales of 5G devices is forecast to grow to $668 billion globally in 2026 from $5.5 billion this year, according to Allied Market Research.  Here's a review of recent court rulings, again from Bloomberg:
Courts in the U.S. and Europe have in the past few weeks rejected efforts claiming the telecommunications companies' licensing policies violated antitrust laws and confirmed their ability to limit the use of fundamental wireless technology by those who refuse to meet their licensing demands.

Those rulings have already favored the telecoms in cases brought by the automobile industry in Europe and the U.S. over the current wireless standards

In the past few weeks, judges in Germany sided with Sharp Corp.'s request to limit Daimler AG sales in its home country for using its mobile technology without a license. In an unrelated case a federal judge in Texas threw out an antitrust lawsuit filed by Continental AG, a Daimler parts supplier, against a patent-licensing pool (aka Patent Troll) set up as a one-stop shop for access to patents.

That pool, Avanci LLC, handles licensing patents owned by Qualcomm, Nokia, Sharp and other telecom companies. It charges $15 per vehicle for a range of patented inventions needed to comply with 2G, 3G and 4G standards, and is developing a plan to charge for the next generation, known as 5G.

In a letter to the U.S. Federal Trade Commission (FTC), Daimler and Ford Motor Co. warned that an appeals court ruling won by Qualcomm could "destabilize the standards ecosystem by encouraging the abuse of market power acquired through collaborative standard-setting."
And a few selected quotes:
"Patent owners want to get paid because they are proud of what they created and continue to innovate," Kasim Alfalahi, founder and CEO of Avanci. "You have to find a middle ground, you have to find a place where these things can meet."
"The fact that more and more industries are going to start incorporating technology that has to be standardized means it's going to be even more important to resolve these issues," said Katie Coltart, a patent lawyer with Kirkland & Ellis's London office.
"You've got a handful of companies that are investing billions of dollars in research," said Mark Snyder, deputy general counsel for Qualcomm. "In a functioning market, you want people to engage in earnest negotiation. FRAND is a two-way street."
Telecoms.com Scott Bicheno wrote: "Around half of Huawei's 5G patent applications seem to have been made in China, and they account for half of all such applications made in China. While there's nothing intrinsically wrong with that, it's worth noting that Samsung and LG, which are in the top three 5G patent applicants alongside Qualcomm, have hardly filed any applications in Korea. It's almost as if the barrier to entry for patent filing in China is lower."
5G Patent Expert Yigang Cai, PhD [2.] Comments:
Here's why I would prefer to ban 5G patent litigations:
Currently, most companies generating 5G patents aim to license royalty revenues rather than to protect the intellectual property they have created.
A high percentage of the many patents granted are not essential (professionals call them garbage patents), or only quite least claims among those patents are useful. It is kind of a waste of financial expenses and resources worldwide.
Restrictions on the use of 5G patents will hurt most industries in the future, when 5G use cases and industry vertical applications are being developed.
Infringing on garbage patents truly is a waste of world resources and unnecessary cost to most industries.  Infringing on Standards Essential Patents (SEPs) is much worse.  Anyone might claim the equipment or devices complying with standards will infringe someone's SEP patents.
……………………………………………………………………………………………………………………………………………………………………………..
Note 2. Among other honors, Yigang Cai, PhD was awarded the first ever Alcatel-Lucent "Distinguished Inventor Award" (2013) with his inventive accomplishments and patent contributions throughout his career with the company. Yigang has filed a total of 1000+ patents globally, of which 669 are granted patents (including 196 U.S. granted patents as of this week).  Many of his inventions in wireless networks have been built into products and systems of 2G/3G/4G and 5G, and deployed worldwide. He is one of the pioneers and leaders in developing the principles and components of Machine Type Communications (MTC).  Dr. Cai generated many 5G inventions, including 5G New Radio (NR), 5G end-to-end architectures and use cases (both Access Networks and Core Networks), Network Slicing, MEC, 5G Machine Type Communications (MTC), and Device-to-Device Communications.
…………………………………………………………………………………………………………………………………………………………………………….
Review of 5G Patent Studies:
1.   In a 2019 study by GreyB, a research company, Huawei was found not only to hold more 5G-related patents than any other company (some 13,474), but also to hold the bigger share of standard-essential patents (or SEPs) – about 19% of them vs 15% for Samsung, 14% for LG, 12% for each of Nokia and Qualcomm, and just 9% for Ericsson.
Authors of the study wrote: "Huawei holds the most 5G patents i.e. 13473 followed by Qualcomm and then Samsung with 12719 and 9299 respectively. China wants to have an upper hand in 5G therefore, it won't come as a surprise to see Chinese companies such as Huawei and ZTE surpass some of the top companies worldwide."
Here is the list of top 10 companies holding most 5G patents:
2.  In a January 2020 released study, Berlin, Germany based Iplytics found that the 5G standard is highly patented. In total 95,526 5G
declarations patents have been declared for 5G which breaks down to 21,571 unique patent families. Only 44% of these patent families have yet been granted.
As most 5G patents have been recently filed, we would expect the rate of granted patents to further increase in the next few years. Most 5G patents where declared between 2017 and 2019 showing a sharp increase year by year. And as the 5G standard development is not yet completed (that includes IMT 2020.SPECS and 3GPP Release 16)  further patent declarations are expected in the upcoming years.
It's also interesting that 24% of the patents declared for 5G have before already been declared for 4G. This shows that some 4G technologies are still relevant for the new 5G specifications. As of January 1st, 2020 Huawei (CN) has declared most 5G patents followed by Samsung (KR), ZTE (CN), LG (KR), Nokia (FI), Ericsson (SE) and Qualcomm (US). All of those top 5G patent owners have already been active in the 4G standard development.
The study identified new market players. Here the Chinese companies Guangdong Oppo (CN), Vivo Mobile (CN), FG Innovation (CN), Spreadtrum Communications (CN) and the Taiwanese ASUSTeK Computer (TW) are new in the top patent owner list comparing 5G and 4G. The study shows however that the larger share of the Chinese newcomers' patent portfolios is yet filed locally in China and are yet not granted. Given that 5G is a recent technology the study shows that the patent portfolios of these Chinese companies are still very young and could very well still be filed and granted internationally.
This study also investigated companies' participation in the standards development, where technical contributions submitted to the 3GPP (3rd Generation Partnership Project) – the spec writing organization that develops complete radio and non-radio telecommunications specs for 3G, 4G and 5G – were counted and analyzed.
The main 4G standard developers such as Huawei, Ericsson, Nokia, Qualcomm, ZTE or Samsung and LG are again strong players for the 5G development. Here again the data shows increasing participation from new and upcoming Chinese players. When counting only approved 5G standard contributions, Huawei, Ericsson, Nokia and Qualcomm are the strongest players.
3.  As of February 2020, The Times of India says that Huawei has filed the most 5G patents, but Samsung has been GRANTED the most.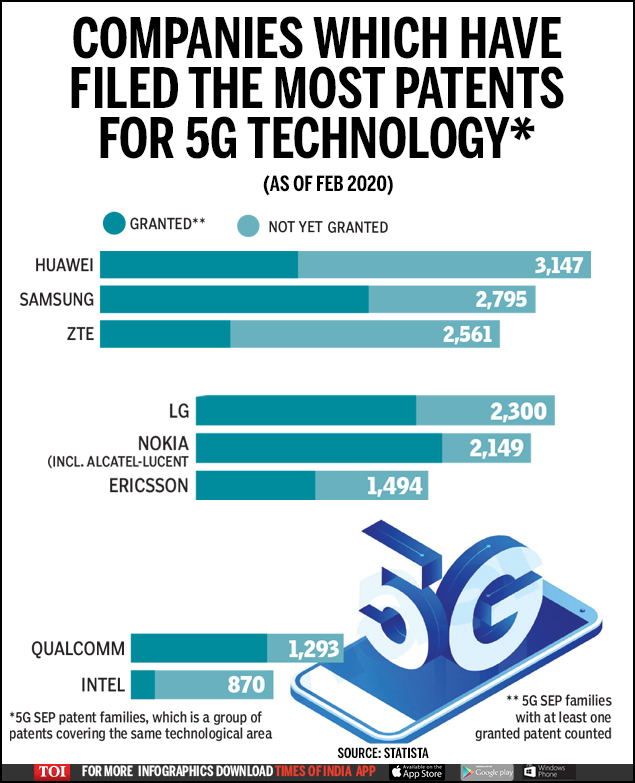 Bloomberg believes that there may be some "bumps in the road" for 5G and other wireless patent owners. A Chinese court has issued an order that would limit InterDigital Inc.'s powers in a royalty spat with handset maker Xiaomi Corp., even though the legal fight is in India. And judges in Dusseldorf indicated they want the European Union's top court to weigh in on the dispute between Nokia and Daimler, which could turn the tide against the former handset maker if the EU top judges side with the carmaker.
The concern is that if there isn't enough money for patent owners, they won't work together to develop a single system that can be used for anyone. Too much money, though, means manufacturers will increase their prices or opt to pass on using the latest technology, said Mauricio Uribe, a patent lawyer with Knobbe Martens in Seattle.  "Neither extreme is good for consumers," he said.
……………………………………………………………………………………………………………………………………………………………………………..
Market research firm GreyB cooperated with Amplified, which develops software for intellectual property research, to publish a "preliminary" report named 'Who Owns Core 5G Patents? – A Detailed Analysis of 5G Standard Essential Patents (SEP)s.' The stated aim of the project is 'to bring greater transparency to the landscape of 5G standard essential patents.'
The caveat is that the data used for the study in this report is from March 2019 and its taken from the ETSI website, rather than ITU-R WP5D–IMT 2020 website.  Note that 3GPP members declare IPR not to 3GPP (which is not a legal entity but is a collaborative activity between several SDOs), but to their regional standard bodies for which they are participating.  Many of the 3GPP members are also ETSI members, so they declare their IPR to ETSI.
For info on 3GPP IPR handling: https://www.3gpp.org/about-3gpp/legal-matters
………………………………………………………………………………………………………………………………………………..
From the report authors:
The report is the first of a series of collaborations between Amplified and GreyB that aim to bring greater transparency to the landscape of 5G standard essential patents. The data is large, opaque, and highly technical. Our focus will be on making the data involved more accessible and understandable. The issues are nuanced and complicated. We hope that this report and the following reports enable the many stakeholders involved to have more effective discussions and make better decisions.
Patents, which help protect the rights of the innovators who contribute to building the standard, may be declared as potentially essential and relevant to the standard. These are known as SEPs. Declaration does not require verification. Verifying that a patent is essential to a particular standard is a complex task
requiring significant time from experts in the field.
Importance of Standards:
Standards benefit businesses, policy makers, and society in general.
• They promote innovation in the market through rewarding R&D
• Help to commercialize the technology and bring products to market faster
• Ensure and define interoperability and interchangeability which gives manufacturers and consumers more choice
• Encourage improvement and competition in the market
• Help protect consumer safety
They balance cooperation and competition among innovative companies such that the net benefit is greater than the sum of their individual parts.
Manufacturers who implement standardized technology get an even playing field – a blueprint from which they can all build from at a predictable cost. This encourages more companies to participate in a market and innovate around the core technology.
Standards provide the ground rules for different devices, systems and processes to work together. Interoperable and interchangeable products gives consumers more choice and that encourages market pressure towards better, safer, and cheaper products.
Finally, standards provide policymakers with well-documented baselines and rules for implementation which helps them to understand the implications of new technology and take action to protect consumer, business, societal interests
……………………………………………………………………………………………………………………….
5G Patent Leaders:
The strong conclusion of the report is that Huawei is the 5G SEP leader, and not just by a little bit. As you can see in the chart below, Huawei accounts for 19% of core (used in 5G standards/3GPP specs) patents, followed by the two Korean tech giants, which are surprisingly ahead of Huawei's main rivals in this case.
GreyB originally got in touch with Telecoms.com after reading an article there titled: 5G patent chest-beating is an unhelpful distraction. The purpose of the research is an attempt to cut through the noise created by various competing claims and get to the heart of the matter.
"5G is going to be next disruptive technology," report co-author Muzammil Hassan of GreyB, told Telecoms.com. "And going by all the fuss around, it is important to know where each of the top contributors of 5G technology stand in terms of quality of innovation. Some may want to switch gears and file better inventions."
One other metric GreyB was keen to flag up was 'essentiality ratio,' which seeks to illustrate the proportion of filed patents that make it into the core standard. Once more, in the chart below, Huawei comes top, but it should be noted that the ratio is derived from only those patents analyzed.
As a proportion of all declared patents Huawei is among the lowest at 13%, compared to the leader Nokia with 20%. Ericsson has the lowest ranks of all by this metric with 11%.  The Sweden based company is also the lowest in SEPs with only 9%.
Problems and pitfalls:
Reviewing historical work done in this field we've identified the following pitfalls which we seek to avoid:
• Extrapolating conclusions done from a small sample size
• Using proxies from 4G and projecting those onto 5G
• Taking declared numbers at face-value
• Implicitly framing all patents as equal by focusing on patent quantity only without accounting for quality
The complex nature of patent data analysis simply makes it impossible to address these issues completely so unfortunately it may be impossible to avoid all of these in entirety. However, it is our goal to create a reliable report and therefore we believe it is critical to acknowledge and account for them transparently and to the best of our ability. Our methodology is detailed in the appendix and we invite corrections, additions, criticism, and contributions.
Patent Source  and Study Methodology:
The data covered was all patents from the ETSI website 5G declaration list March 2019 version. This covers any patent or patent application declared to the ETSI 5G standard. Essentiality evaluation involves significant time and effort so there is a lag between release date of our report and data covered. We'll issue updates as we continue to analyze the data.
• All patents declared to relevant 5G specifications and projects were selected resulting in 63,985 individual patent documents (granted patents, published patent applications, and non-public patent applications)
• ~500 Non-public patent documents, unavailable for inspection, were removed
• The remaining ~63,500 patent documents were grouped into 12,002 patent families.
• 6,402 of the 12,002 patent families with a granted patent having live legal status as of 31st December 2019 were kept, the rest were removed
• We determined our understanding of each of the 6,402 patent families by reading the claims and related embodiments from these granted patents and checked the correspondence history and documentation at the patent office to understand each patent.
• We determined essentiality for each patent family as a Core SEP or not by checking any specifications declared to be relevant by the patent holder to the SEP and compared the specific sections of these to compare overlap of the patent claims with those sections. If partial or no overlap was found, we then broadened our comparison to the wider group of all other specifications to repeat this process.
………………………………………………………………………………………………..
References:
2021: Who Owns Core 5G Patents? – A Detailed Analysis of 5G SEPs
5G Patent Wars: Are Nokia's 3,000 "5G" Patent Declarations Legit?
Strategy Analytics: Huawei 1st among top 5 contributors to 3GPP 5G specs
https://www.cov.com/-/media/files/corporate/publications/2018/10/what_ip_attorneys_need_to_know_about_5g.pdf
---