Huawei Executive: "China's 5G user experience is fake, dumb and poor"-is it a con game?
At the opening ceremony of the China International Information and Communication Exhibition on October 14th, Ding Yun, executive director of Huawei Technologies Co., Ltd  said that China's 5G user experience has three problems of "fake, dumb, and poor."  In particular, some users have a 5G LOGO on their mobile phones, but they are not connected to the 5G network, cannot make 5G calls, or frequently switch signals, according to an article by Xia Xutian on the Sina Tech website.
How could a Huawei executive say such things about its home country which supposedly has very close ties, impact and influence on the world's top telecom equipment supplier and #1 or #2 global smartphone vendor?  See Comment and Analysis below for more on this.
While China has built the world's largest 5G network, it has a gap in experience, coverage, and commercial closed-loop operation, Ding Yun said. For comparison purposes, that the 5G downlink rate in South Korea is more than 600 megabits while the average in China is only a bit more than 270 megabits.  South Korea's 5G user penetration at the end of September reached 25%, while China's penetration level is only about 8%.
"Objectively speaking, I am also a 5G user. We have just completed the first phase of 5G construction today. It is indeed a great improvement over the 4G experience, but our network still has many problems. I use three words to sum it up: fake, dumb, bad/poor."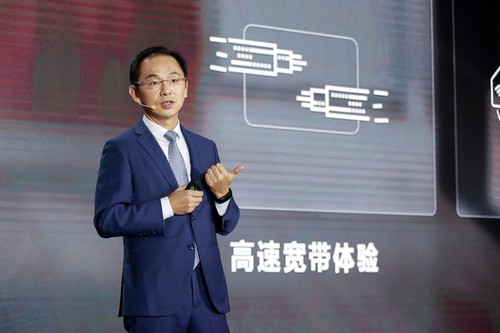 Huawei's Ryan Ding speaking at the China International Information and Communication Exhibition about 5G in China
Photo Credit: Huawei
…………………………………………………………………………………………………………………………………………………………………………………………………………….
What's fake? In many cases the user's smartphone has a 5G logo but no 5G coverage.  The experience is still 4G, but the display is 5G.  Those users are not connected to the 5G network and can't make 5G calls."
What is dumb? Some places in China have 5G signal coverage, but there is no 4G anchor station, so calls cannot be made.  He said the anchor point of 4G happens to be on the edge of multiple cells. The frequent handover of 4G and 5G results in a very poor user experience.
Ding Yun noted that although the number of 5G users in China has reached 150 million, the matching rate of networks, mobile phones and packages of 5G users is still very low. Many users have bought 5G packages, but their mobile phones are still 4G. There are also many users who have 5G mobile phones, but there is no 5G network coverage in their geographical area.
Ding Yun pointed out that operations and maintenance costs are also an unavoidable issue for 5G. At present, the peak rate of 5G is 25 times that of 4G, but 5G equipment (especially mmWave if and when deployed in China) will greatly increase the power consumption of 5G base stations, which poses a huge challenge to the entire power supply system (not to mention the huge electricity costs incurred by the 5G network operator).
"We have conducted a survey on the power consumption of China's network. About 32% of the sites have insufficient power, and in some places, the battery capacity is also insufficient," he added.
Ding Yun urged 5G network operators to:
1] build out 5G business ecosystems through innovative and differentiated applications;
2] reduce expenditure and optimize the TCO of operators from an overall perspective; and
3] look towards the future and upgrade the current operating platform as soon as possible to face potential problems such as the bill storm that 5G will bring.
In response to the 3rd objective, Huawei is using big data to connect user data, operational data, and terminal data, so that the machine, network, and applications can provide a better match.
In conclusion Ding Yun suggested the following:
To build the most successful 5G for thousands of industries, wireless network operators must first have a deep understanding of the industries they are targeting.  Different industries have different specific requirements for 5G in terms of latency, reliability/availability, throughput, security, etc. Therefore, to develop 5G industry applications, we first need to clarify the boundaries of capabilities, consolidate the ability base to serve thousands of industries, implement a replicable business model, and actively promote ecological construction, especially the development of application ecology.
As operators expand the construction of 5G industry applications from connection to connectivity + computing, and then to SLA (network) slicing, their corresponding business models will gradually shift from a direct sales model to a value sharing model that combines active integration and integration . Ultimately, the business model of 5G industry applications will develop in the direction of multi-path, closed-loop, and multi-win as operators choose their roles.
Unify (5G and other) standards and develop ecology. (What 5G standards is he referring to? There are none at this time).  The application development of the 5G industry is not only a matter for operators, but also requires the entire industry chain to "stretch it into one strand" and integrate the telecommunications industry with other industries to form industry standards. Only in this way can the development of 5G industry applications be accelerated.
…………………………………………………………………………………………………………………………………………………………………………………………………
Comment and Analysis:
Ding Yun's remarks are a refreshing change from the usual self congratulatory speeches given by 5G network operators and equipment suppliers (like Huawei).  We are astonished he can be so honest with the Chinese government and China Communist Party having so much control over telecommunications and other industries in China.
Here are a few copy/paste (and translated from Chinese to English) Sina reader comments:
"I have not found a demand for 5G in the current application (environment)"
"Haha, so embarrassing


"
"China's 5G, got up early. Experience the night episode (where there is no 5G service to conserve electricity costs for carriers)"
"In Qingdao, there is basically no real 5G SA network. When only the SA mode is selected, the 5G signal is gone, and now the operator's 5G speed limit is 500M bps"
"The conclusion is that I continue to use my 4G"
"The worst is a three-year contract with China Mobile"
 "The three major operators are too hateful and must be punished."
"China network operators are deliberately lowering the 4G signal, forcing everyone to use 5G. Just this dirty trick, give his grandma a whistle."
"No 5G signal coverage."
"Fake, dumb, and bad are synonymous with China's three major network operators."
"What is the conclusion? For 5G, it's better to wait first, don't worry about changing phones 

, let alone changing pricing packages. It's not very useful and costs money.

"
"The basic meaning is, the operator, burn me

"
……………………………………………………………………………………………………………………………………………………………………………………………
Email from a very knowledgeable, anonymous Chinese 5G expert corroborates what Ding Yun said:
China claims they have 100 millions of 5G end point devices now.  Actually, those are mostly 4G handsets whose users were coerced to subscribe to a 5G package. The 3 major state owned network operators purposely lowered 4G-LTE speeds and forced subscribers change to the 5G package which only provides the previous 4G-LTE speeds.
China claims they have deployed 40,000 5G NR base stations. But without URLLC (ultra high reliability, ultra low latency) enhancements to 5GNR (3GPP Release 16) and mMTC (massive machine to machine communications) standards, 5G NR is not complete.  (3GPP has not set a date for the conclusion and evaluation of URLLC in the RAN performance testing which is supposed to be in the "frozen" 3GPP Release 16 set of specs)
There are no mmWave 5G base stations at all in China.
Currently China 5G  base stations consume huge amounts of energy, so the 3 major 5G network operators shut them down at night to reduce electricity bills.  Note the above readers comment, "Experience the night episode."
Former minister of China Ministry of Finance and seated deputy minister of the Ministry of Industry and Information Technology (MIIT) recently publicly expressed concerns about China's 5G development and investments.  They said China had made bad 5G investments and that China has not yet balanced the 3G and 4G investments made by its network operators).
What kind of joke is this?
References:
https://finance.sina.com.cn/tech/2020-10-15/doc-iiznezxr6037613.shtml
https://t.cj.sina.com.cn/articles/view/1642471052/61e61e8c02000ynrk?cre=tianyi&mod=pcpager_tech&loc=1&r=9&rfunc=3&tj=none&tr=9
https://www.wsbtv.com/news/ap-explains-promise/KEKKYBDSVGE4W66CY24PMOYMJA/
---