Telecompaper: FTTH spurs growth in Netherlands broadband market
FTTH accounted for all of the new growth on the Netherlands broadband market in Q3 2020, the latest research by Telecompaper shows. Cable operators lost broadband subscribers for the first time on record, suggesting the fiber market is really taking off.
The mass market (consumer + SOHO) added 32,000 fixed broadband subscribers in the third quarter, the same number as in Q2 and slightly less than the year-earlier period, according to Telecompaper's quarterly Dutch Broadband report.
FTTH growth accelerated to 68,000 new connections, while cable lost 8,000 customers and DSL shed 28,000 lines.  The decrease in cable customers was driven by market leader Ziggo, which lost 7,000 broadband subscribers in the period. This is the first time it has lost customers since launching cable broadband. Nevertheless, Ziggo remains market leader, with over 43 percent of Dutch broadband subscribers.
KPN was the biggest gainer on the market, adding 37,000 broadband customers in Q3. KPN's growth is driven by the takeover of customers from its discontinued Telfort brand and an accelerating FTTH roll-out in the past year. The KPN brand added over 40,000 FTTH subscribers in the quarter, more than four times the rate of growth in Q3 2019. This increased its share of the total FTTH market to 53.5 percent of connections.
T-Mobile Netherlands also continued to grow, adding 31,000 broadband subscribers. This makes it the third-largest broadband brand with a 5.3 percent market share. In the FTTH segment, T-Mobile is number two with just over 13 percent of connections, followed closely by Caiway with 12 percent.
"The figures suggest KPN's strategy to speed up its FTTH roll-out is starting to pay off and stem the loss of broadband subscribers," said Kamiel Albrecht, Telecompaper's senior research analyst for the Dutch fixed market. "Ziggo is not sitting still and should soon complete its nationwide roll-out of gigabit service, putting the companies on more equal footing. More intensive marketing of the top speeds can be expected in 2021, as the importance of broadband remains top of the mind during the pandemic."
The above figures are based on Telecompaper's continuous analysis of the Dutch broadband market. For a comprehensive overview of market data and trends, including a five-year forecast, the Q3 2020 edition of the Dutch Broadband report is now available for purchase on the Telecompaper website.
From Global Data: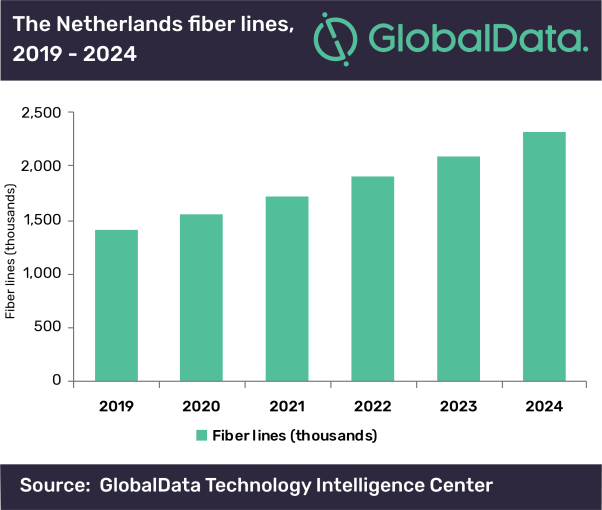 Reference:
https://www.telecompaper.com/news/fibre-dominates-dutch-broadband-growth-in-q3-2020–1364963
---