Coherent WDM shipments surged in 4Q20 with Ciena in the lead; 400 ZR explained
Shipments of the most advanced 3rd generation (400/600Gbps) and 5th generation coherent (800Gbps) WDM technology surged last year as network operators upgraded to the latest transmission hardware, according to the 4Q20 Transport Applications Report from optical networking market research firm Cignal AI.

Ciena continues to lead shipments of advanced coherent technology, but Cisco, Infinera, Huawei, and Nokia began to take share in 4Q20. Acacia also continued to ship thousands of coherent ports to support a cloud operator's optical white box deployment.
"Vendors beyond Ciena are finally ramping production of 3rd gen coherent technology and accelerating the growth of this new market," said Andrew Schmitt, Directing Analyst at Cignal AI. "4th gen coherent 400ZR [1.] and 400ZR+ technology will be the next market share battleground entering 2022."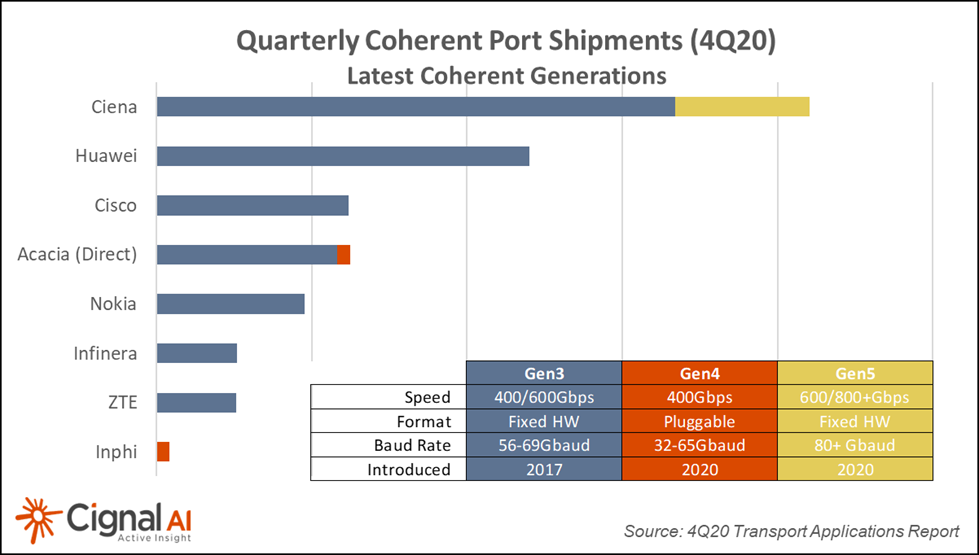 Note 1. What is 400ZR?
Aimed predominantly at short-reach, single-span fiber optic links for Data Center Interconnect (DCI), 400ZR is an interoperable networking Implementation Agreement (IA) released by the OIF (Optical Internetworking Forum) in March 2020. It defines a footprint-optimized solution for transporting 400Gb Ethernet over DCI (Data Center Interconnect) links targeting a minimum of 80 km. Enabled by advanced coherent optical technology design targeting small, pluggable form factor modules such as QSFP-DD and OSFP, 400ZR supports high capacity data transport, matched to 400GE switch port market introduction.
……………………………………………………………………………………………………………………………………..
Comments on 400ZR:
The main driver for 400ZR were the cloud giants (AKA hyperscalers) who needed to upgrade their DCI links to 400G b/sec to carry ever increasing data and video traffic.  Yet they were very slow to do so, despite IEEE 802.3bs 200/400G b/sec Ethernet standard and 40G b/sec ITU-T  OTN recommendations (Optical Physical Interfaces G.959.1, G.695, G.698.x) in place for many years.  Up until last year, Ciena was the only optical networking equipment vendor that offered production ready 400G b/sec DWDM gear.
Light Reading's Sterling Perrin wrote: "Although 400ZR work within the OIF began with hyperscalers, there is already evidence that the architecture also appeals to CSPs (communications service providers)."
"Sweden's Telia Carrier, Ethiopian internet service provider WebSprix and Windstream in the US have all announced plans to commercial deploy routed optical networks using 400G pluggable coherent optics beginning this year."
………………………………………………………………………………………………………………
References:
https://cignal.ai/free-articles/
https://www.ciena.com/insights/what-is/What-is-400ZR.html
https://www.itu.int/en/ITU-T/studygroups/2017-2020/15/Documents/OFC2018-1-SG15-Hot-topics-OTN.pdf
https://www.lightreading.com/opticalip/routing/an-ip-over-dwdm-renaissance-at-400g/a/d-id/768513
---