Will AT&T's huge fiber build-out win broadband market share from cablecos/MSOs?
AT&T added 235,000 fiber connections in the first quarter, ending the period with nearly 5.2 million total fiber customers. AT&T says they have a total of around 15 million fiber and non-fiber customers, so fiber access is approximately 1/3 of total customers now.
The company recently announced it plans to build fiber to 3 million new customer locations this year and 4 million next year. AT&T plans to double the number of locations where it offers fiber Internet, from approximately 15 million to about 30 million, by 2025. To do that, AT&T is planning to increase its annual capital expenses from $21 billion to around $24 billion.
AT&T's new focus on connectivity over content is a direct result of its spinning off Warner Media to Discovery, as we chronicled in this IEEE Techblog post. Thaddeus Arroyo, head of AT&T's consumer business, made that crystal clear at a recent BoA investor event:
"We expect capital expenditures of about $24 billion a year after the Warner Media discovery transaction closes. That's an incremental investment that's going to go to fiber to 5G capacity and 5G C-band deployment.
We have another great opportunity, the one we continue to talk around fiber. So as part of this capital, we're going to be investing in fiber expansion to meet the growing needs for bandwidth that require a much more robust fiber network regardless of the last mile serving technology. Fiber is the foundation that fuels our network. Expanding our fiber reach serves multiple services hanging off at each strand of fiber. It includes macro cell sites, small cell sites, wholesale services, enterprise, small business, and fiber that's extended directly into our customers' homes and into businesses.
We plan to reach 30 million customer locations passed with fiber by the end of 2025. That's going to double our existing fiber footprint. And investing in fiber drives solid returns because it's a superior product. Where we have fiber we win, we're improving share in our fiber footprint, and the penetration rates are accelerating and growing, given our increased financial flexibility. We're comfortable in our ability to invest and achieve our leverage targets that we outlined of getting to 2.6% at close and below 2.5% by the end of 2023."
Mo Katibeh, the AT&T executive responsible for fiber and 5G build-outs, added on via a recent post on LinkedIn:  "We are building MORE Fiber to MORE homes and businesses. And we're talking A LOT of fiber – MILLIONS of new locations every year, planning to cover 30 MILLION customer locations by the end of 2025! And you know what comes with all that investment in America? JOBS. Our AT&T Network Build team is GROWING.."
Previously, Katibeh wrote on LinkedIn : "Contributing to a large portion of the $105B Capital spend between 2016 and 2020 – our team is building out AT&T #Fiber to MILLIONS of new customer locations in 2021, as well as augmenting America's best mobility network with more capacity, more speed – and more #5G (you know I love 5G!)."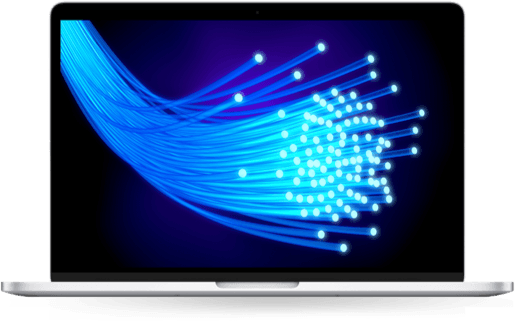 …………………………………………………………………………………………………………………………………………………………..
So with all that said, will AT&T's fiber build-out keep pace with cable companies/MSOs DOCSIS networks?
Tom Rutledge, Charter's CEO, made a brief comment about plant upgrades on the earnings call (note – Dave Watson made similar comments on the Comcast earnings call):
"We're continuously increasing the capacity in our core and hubs and augmenting our network to improve speed and performance at a pace dictated by customers in the marketplace. We have a cost-effective approach to using DOCSIS 3.1, which we've already deployed, to expand our network capacity 1.2 gigahertz, which gives us the ability to offer multi-gigabit speeds in the downstream and at least 1 gigabit per second in the upstream."
According to Leichtman Research Group, the top cable companies had 68 million broadband subscribers, and top wireline telecom companies had 33.2 million subscribers at the end of 2019.
"Based on the currently available information, cable stole wired broadband market share in Verizon and AT&T markets as well. Oy vey!" said Jim Patterson of Patterson Advisory Group in his May 2, 2021 newsletter.  "Think about Comcast and AT&T as having roughly the same number of homes passed (AT&T probably closer to 57 million homes versus the nearly 60 million shown for Comcast)," he added.  Patterson noted that top cable companies Comcast, Charter and Altice managed to capture 86% of broadband customer growth in the U.S. in the first quarter of this year.
"(AT&T) fiber connections simply aren't growing fast enough to keep up," wrote colleague Craig Moffett of MoffettNathanson in a recent note to clients.  Here's more:
To be sure, there are questions about the extent to which these deployments will overlap cable (or will instead be focused on unserved rural communities), and the extent to which labor and supply chain contraints might limit acheivability of announced targets. Still, taken together, these deployments suggest that, after a precipitous decline in new fiber construction in 2020, planned fiber deployments do, indeed, rise over the next two years; we expect that both 2021 and 2022 will represent new all-time peaks in total number of fiber homes passed. Typically, the competitive impact from overbuilds is felt with some lag, suggesting the impact on cable operators will peak in 2024/2025.

At the same time, we expect that federal stimulus to accelerate broadband market growth in 2021 and 2022, perhaps significantly, with new household formation, in particular, driving upside to 2021 and 2022 forecasts.

Longer term, however, Cable operators will have to contend with more fiber overbuilds, as TelCos increasingly see both more favorable economics for fiber deployment and increasingly acknowledge that their copper plant faces imminent obsolescence without it. The forecasts for fiber deployment in this note suggest that 2021 will be a record for fiber construction – assuming labor and materials capacity can accommodate the TelCos' own forecasts – and 2022 will step up higher still. After that, deployments are expected to abate, at least to a degree.
"Cable can upgrade its plant quickly and at low cost to offer at least 4.6Gbit/s down and 1.5Gbit/s up, well beyond current fiber offerings. They can do this before the move to DOCSIS 4.0, which is still years off," wrote the financial analysts at New Street Research in a recent note to investors.   The result, according to the New Street analysts, is that fiber providers like AT&T won't necessarily be able to dominate the fiber market with a 1 Gbit/s FTTH/FTTP connection and take market share from cable incumbents.
"Cable will face new fiber competition in more of its markets over the next few years; however, there is little to no prospect of fiber delivering a service in those markets that cable can't easily match or beat," New Street concluded.
…………………………………………………………………………………………………………………………………………………………….
"Looking back and being a little critical, we probably allowed the cable companies to execute and to take share in that market in a significant way," AT&T CFO Pascal Desroches said at a recent Credit Suisse investor event.
AT&T executives have said that the company's fiber investment ultimately will generate internal returns of around 15%. Desroches said that return on investment will be due to a variety of factors. Fiber "supports not only consumer needs, it supports needs for our enterprise businesses as well as needs for potentially our reseller business. So being able to look across and integrate the planning for fiber deployment such that it not only serves consumer needs, but it serves these other market adjacencies as well is something that we haven't been very good at historically, That's why we're really bullish and we believe we're going to be able to execute really well here," AT&T's CFO concluded.
References:
https://www.lightreading.com/opticalip/is-atandts-fiber-investment-good-idea/d/d-id/770468?
https://investors.att.com/~/media/Files/A/ATT-IR-V2/events-and-presentations/bank-of-america-transcript-6-16-21.pdf
https://www.linkedin.com/feed/update/urn:li:activity:6813211481950318592/
https://investors.att.com/~/media/Files/A/ATT-IR-V2/events-and-presentations/final-credit-suisse-transcript-6-15-21.pdf
---