AT&T Earnings, Revenue, Subscriber Additions Beat Forecasts
AT&T reported Q1 FY 2021 earnings results that beat analyst expectations.  Revenue surpassed forecasts, up 7.6% from the year-ago quarter to $44.0 billion, reflecting partial recovery from the prior-year effects of the initial Covid-19 outbreak.
Higher revenues from WarnerMedia, Mobility (1.), Mexico, and Consumer Wireline more than offset declines in domestic video and Business Wireline and the sale of AT&T's activities in Puerto Rico and the U.S. Virgin Islands.
Note 1.  Mobility (aka Wireless) is AT&T's largest and most important business, accounting for 43% of consolidated revenues, and fully 67% of pro-forma revenues post divestitures. Business and Consumer broadband wireline are also important segments for the telco, which is greatly expanding its fiber optic footprint.  AT&T expects 1 million Consumer Fiber net adds for the full year 2021.
……………………………………………………………………………………….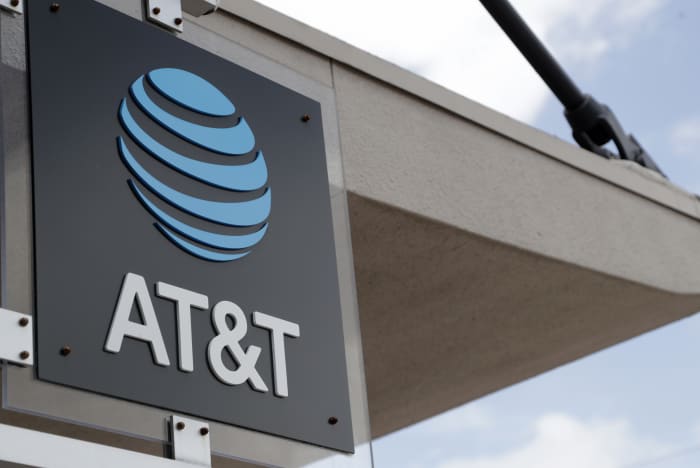 The telco added 789,000 net new postpaid wireless phone subscribers in the second quarter, a major turnaround from the 151,000 subscribers it shed in the year-ago quarter.
After showing such a strong recovery in second-quarter results at its wireless and media businesses, AT&T raised its full-year outlook. The company now expects 2-3% comparable sales growth this year, compared to an earlier forecast for 1 percent. This excludes the impact of the pending spin-off of DirecTV, which should be completed in the coming weeks.
However, everything was not all wine and roses for AT&T. Operating profit dropped to $3.3 billion from $3.5 billion a year ago, due to a bigger writedown on Vrio and higher programming costs from the return of sports.
Net adjusted profit increased to $1.5 billion from $1.2 billion, helped by financial gains, and adjusted EPS totaled 89 cents, up 7.2% year-on-year. Analysts had projected AT&T earnings of 79 cents a share on revenue of $42.64 billion. A year earlier, AT&T earned 83 cents a share on revenue of $41.1 billion.
Operating cash flow fell by around $1.1 billion from a year ago to $10.9 billion, with capex at $4.0 billion and content spend of  $5.3 billion.  Free cash flow totaled $7.0 billion. With net debt down by around $0.9 billion compared to March, AT&T finished the period with leverage of 3.15x adjusted EBITDA (Earnings Before Interest, Taxes, Depreciation and Amortization).
For the full year 2021, AT&T now expects adjusted EPS (Earnings Per Share) to grow in the low- to mid-single digits with capex at around $17 billion.
During its earnings call, AT&T CFO Pascal Desroches said the operator reached a "major inflection point in our consumer wireline business," with broadband revenue growth now surpassing legacy declines.
"The story with Fiber remains much the same. We continue to see solid subscriber growth with most of those customers new to AT&T. And broadband revenues grew more than 8%. HBO Max continues to exceed our expectations. Having surpassed the lower end of our global subscriber target 6 months ahead of plan, we are now raising our expectations to 70 million to 73 million global subscribers by the end of the year. We also launched our domestic ad-supported version of HBO Max as well as our international offering in 39 Latin American territories at the end of the quarter. That sets us up for additional customer growth as our addressable market expand."
"We expect profitability trends to improve," he continued. "We saw they improved from Q1 to Q2 and we expect that to continue as we make our way through the back part of the year."
"Our Fiber growth continues to be solid. We added 246,000 Fiber customers in the quarter. Broadband ARPU grew by 6.1% year-over-year. Our aggregate fiber penetration rate is now more than 36%, up from about 31% a year ago. And nearly 80% of net adds are new AT&T broadband customers. We've reached a major inflection point in our Consumer Wireline business. Broadband revenue growth now surpasses legacy declines."
AT&T CEO John Stankey noted its consumer fiber subscriber base increased by more than 1 million customers since the same quarter a year ago. The operator ended the quarter with 5.43 million fiber customers, up from 4.32 million in Q2 2020.
Jeff McElfresh, CEO of AT&T's Communications division, reiterated on the call it expects to reach 3 million new locations with fiber in 2021 and tipped this new build to spur accelerated net additions in Q3 and Q4.
"The first two quarters of this year have essentially been built selling into our aged fiber footprint from a prior build," he said. "We are currently deploying some of the early stages of our next 3 million build that we disclosed for this year…the bulk of that inventory is going to come online towards the back half of the year. So my expectations are that our net add performance takes a step up as that inventory comes online."
………………………………………………………………………………..
Quotes:
"We expect Dish to be successful in the market," explained Jeff McElfresh, the CEO of AT&T Communications, which houses the company's 5G and fiber operations. "And so the competitive dynamics aren't changed here. Rather, we get to participate in their success at this point."
"We're going to enjoy some anchor tenant benefits from that," he said of the company's new deal with Microsoft. "We're not disclosing any specific financial details, but one thing that we are not doing … We're not outsourcing our core network functions. We are relying upon Microsoft to develop a scaled compute and storage capability at the edge while we retain control of our network stack and the kinds of services that we're going to offer to the market." McElfresh explained that the transaction will allow AT&T to focus on its services rather than the nitty gritty details of maintaining its network operations.
"It just continues to prove to be sustainable," McElfresh said of AT&T's free phone promotion, which has not dragged down AT&T's earnings or profits. "We've remained consistent in our offer construct… This model is sustainable."
Analyst colleague Craig Moffett of MoffettNathanson wrote:
When AT&T first embarked on their disastrous detour into the Media business, the wireless industry was in the throes of a brutal price war. It was hard to read the company's moves as anything other than an intentional diversification away from wireless.

As it happened, the wireless industry started getting better right around the time that AT&T moved to buy Time Warner. That was no coincidence. AT&T's need to focus on debt reduction at the time was the principal reason the industry pulled back from the brink.

Three years later, the wireless industry is still doing well. Industry subscriber growth across post-paid and pre-paid combined has soared to an improbable 5x population growth, and the very strong unit growth reported by AT&T and Verizon over the past two days suggests that it's not slowing down for now.

Yes, AT&T's solid growth comes with the asterisk of extreme promotions that are still suppressing EBITDA – AT&T's EBITDA growth is lagging well behind Verizon's, despite much faster unit growth. But, all in all, their results in Q2 were inarguably very strong.

But in jettisoning their Media and other non-core assets now, AT&T risks pivoting back to wireless at a time when this is as good as it gets. Competitive intensity in the wireless industry appears poised to be getting stronger (for all mobile carriers).

Just as AT&T, in retrospect, diversified away from Wireless at the bottom, are they diving back in at the top?
"It's always difficult to parse the market reaction to such a tangle of businesses (we are looking forward to AT&T being a telecom company again)," wrote the financial analysts at New Street Research in a note to investors. "Taken together, the business that will constitute the future AT&T beat on revenue and subs (phone adds spectacular)," added the New Street analysts.
"AT&T added 789,000 postpaid phone subs in the quarter, well ahead of our 325,000 forecast, with the beat roughly evenly split between better gross adds and lower churn (0.69% vs our 0.80%), indicating that the company's retention efforts continued to be effective in the quarter," wrote the financial analysts with Evercore in a note to investors.
References:
https://about.att.com/story/2021/second_quarter_2021_results.html
https://investors.att.com/~/media/Files/A/ATT-IR-V2/financial-reports/quarterly-earnings/2021/q221/ATT_2Q21_Earnings.pdf
https://www.telecompaper.com/news/atandt-raises-fy-outlook-after-q2-recovery-in-wireless-media-businesses–1391155
https://www.lightreading.com/the-core/atandt-clarifies-dish-microsoft-deals—and-that-free-phone-promotion/d/d-id/771029?
https://www.fiercetelecom.com/financial/at-t-adds-246k-fiber-subs-q2-tips-momentum-to-accelerate-h2
https://investors.att.com/~/media/Files/A/ATT-IR-V2/financial-reports/quarterly-earnings/2021/q221/final-2q21-earnings-transcript-72221.pdf
---