Dell'Oro: 5G Fixed Wireless Access (FWA) deployments to be driven by lower cost CPE
by Jeff Heynen, Dell'Oro Group
Introduction:
The global demand for broadband service has resulted in an acceleration of interest among fixed and mobile operators alike to either expand their existing LTE or point-to-multipoint fixed wireless access (FWA) offerings or roll out early 5G FWA services to a growing base of current and potential subscribers. In both mature and emerging markets, there has been a tremendous increase in the number of RFPs for equipment and software to support large-scale 5G fixed wireless service deployments. Clearly, service providers are looking to strike while the iron is hot, securing subscribers who need broadband now, while also taking advantage of growing government subsidization of broadband service rollouts.
The vendor ecosystem supporting 5G fixed wireless has naturally increased, particularly in the area of dedicated CPE. According to the GSA (Global mobile Suppliers Association), there are currently over 130 FWA CPE devices (both indoor and outdoor) that have been announced by a growing list of vendors, which now numbers above 50. Over 50 of these dedicated CPE are now commercially available, which is up from 15 commercially-available units just one year ago. By the end of 2021, we expect that the number of commercially-available devices will exceed 100 and will double in 2022. The number of vendors producing or planning to produce 5G FWA CPE already exceeds the number of suppliers of 4G FWA CPE.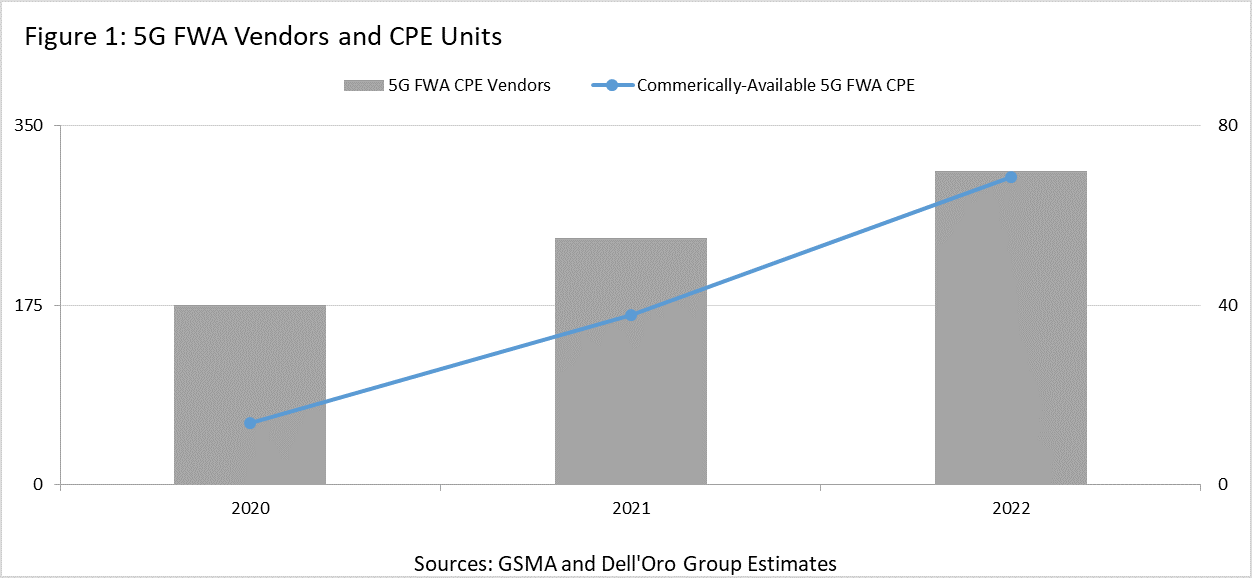 The increase in available units, which corresponds with the perceived addressable market of 5G network deployments and subscriber uptake, combined with the rapid uptake of 5G-capable smartphones will help to push the cost of both indoor and outdoor 5G FWA units down to levels that satisfy the business case requirements of operators globally. In particular, operators in emerging markets where ARPU levels are typically low, cost-reduced CPE are an absolutely critical requirement to ensuring a faster ROI.
The larger the addressable market, the more willing component suppliers will be to forward-price to capture a larger share of that growing market. The resulting price reductions in components begets wider availability of finished CPE. It becomes an iterative cycle that benefits the entire supply chain and the network operators as end purchasers.
Quick Ramp of 5G FWA Devices Expected:
At the end of 2020, we estimate that there are nearly 60M fixed wireless subscribers globally. A large percentage of these subscribers use 4G LTE networks, though there are also subscribers using 3G networks, proprietary point-to-multipoint services, as well as some using early 5G technologies, including sub-6Ghz and millimeter wave. We estimate that the 5G subscribers are around 1 million currently. However, we expect that those subscriber numbers are set to double in 2021, as operators such as T-Mobile (USA), AT&T, Verizon, Bell Canada, Saudi Telecom, Rain (South Africa), Swisscom, Deutsche Telekom, Optus, and others introduce or expand 5G FWA services this year.
With those operator commitments already in place, we estimate that the total number of 5G FWA devices shipping to operators this year will easily exceed 3 million units and could push 4 million units. The vast majority of these units will be to support sub-6Ghz service offerings, though we also expect to see millimeter wave units, as some operators use a combination of those technologies to provide both extensive coverage and fiber-like speeds in areas where the competition from fixed broadband providers is more intense. Overall, however, we expect volumes first from sub-6GHz units this year and into next year, followed by increasing volumes of millimeter wave units beginning in the latter part of 2022 and into 2023.
We also anticipate that the vast majority of 5G FWA deployments will rely on indoor gateways that combine a 5G modem with a WiFi 6 access point for signal distribution within the home. Many of these gateways will also be mesh-capable and will be paired with satellite units to blanket homes with WiFi coverage and to eliminate dead spots within the home.
There will be situations where outdoor units will be required, particularly in the case of millimeter wave deployments which require line of sight because of the high-frequency ranges being used. But even in the case of sub-6Ghz 5G FWA deployments, outdoor units will be required when homes or apartments have very thick-paned windows or are located in LEED (Leadership in Energy and Environmental Design) buildings.
With this growing clarity around deployment models and device types, we expect that the costs of 5G FWA CPE will decline throughout this year and next, providing a catalyst for much larger, global deployments of the service through 2022 and beyond. We believe that the average cost for an indoor 5G FWA CPE will decline from around $475 in 2020 to around $180 by the end of 2023 (Figure 2).
5G chipsets will see the biggest price declines, helped in large part by increasing volumes of 5G smartphones, but also by a growing ecosystem of 5G modems, gateways, tablets, cars, and other products reliant on 5G networks for WAN connectivity. Currently, 5G SoCs are roughly 4x the cost of 4G SoCs. But we have seen this played out before in the early stages of 4G network and device rollouts when the cost of chips dropped quickly as device volumes increased.
Similarly, the cost of WiFi 6 chips remains about 15-20% higher than WiFi 5 units. While WiFi 6 will be the primary technology for mature, highly competitive markets, WiFi 5 will remain an important option for very price-sensitive markets, particularly those in developing countries and in rural markets where competition comes from lower-cost services. But as enterprise and higher-end residential gateways are built with WiFi 6 technology, the cost of those chips will decline significantly over the next couple of years.
Beyond these two major components, manufacturing costs will also decline as equipment and contract manufacturers increase volumes based on initial board and hardware designs. FWA gateway designs, like higher-end residential WiFi access point designs, are well-understood at this point. However, with any new product spin, there is a learning curve for the manufacturers. Though the cost of producing the first few thousand units is high, the costs quickly decrease as the manufacturing process becomes clearly defined and as new iterations of the devices incorporate lower-cost components.
There are two critical components for the steady reduction in cost for 5G FWA CPE: Increased orders and volumes from service providers, along with the cooperation among providers of 4G CPE devices and 5G units to understand how to bring down the costs as quickly as possible. This cooperation will be necessary to stimulate interest among service providers, who can then drive the volumes necessary to improve the overall economics of delivering 5G fixed wireless services. 
5G FWA Will Build on 4G Deployments:
Though the deployment of FWA services using 4G LTE networks has been moderately successful around the world, 5G will dramatically boost the addressable market of subscribers, as well as the service's ability to reasonably compete with most fixed broadband technologies. 5G can comfortably deliver downstream speeds that compare favorably with VDSL and DOCSIS 3.0 services while easily beating previous generations of both fixed technologies. More importantly, C-band and millimeter wave technologies promise to be comparable with DOCSIS 3.1 and fiber services, thereby expanding the addressable market of subscribers even further.
Mobile operators around the world who have previously been unable to compete with fixed broadband providers, as well as fixed broadband providers looking to expand the reach of their services more quickly, are all enthusiastic about the opportunity in front of them with FWA. Their growing commitment to the service, as well as a rapidly expanding vendor ecosystem for customer devices, will help to quickly reduce the cost of those devices, thereby ensuring a faster ROI for service providers and a willingness to expand their reach even further.
---