The Sorry State of 5G SA Core Networks- Smart Communications in Phillipines
Very few 5G SA core networks of any size have been launched to date. According to the Global Mobile Suppliers Association (GSA), just 13 network operators had launched commercial public 5G SA networks as of the middle of August 2021. Some 45 other operators are planning on deploying 5G SA for public networks, and 23 operators are involved in tests or trials.  That's out of a total of 176 commercial 5G networks launched worldwide (163 of them are 5G NSA networks)!
Note that there is NO 5G core network in 5G NSA as per middle of this chart: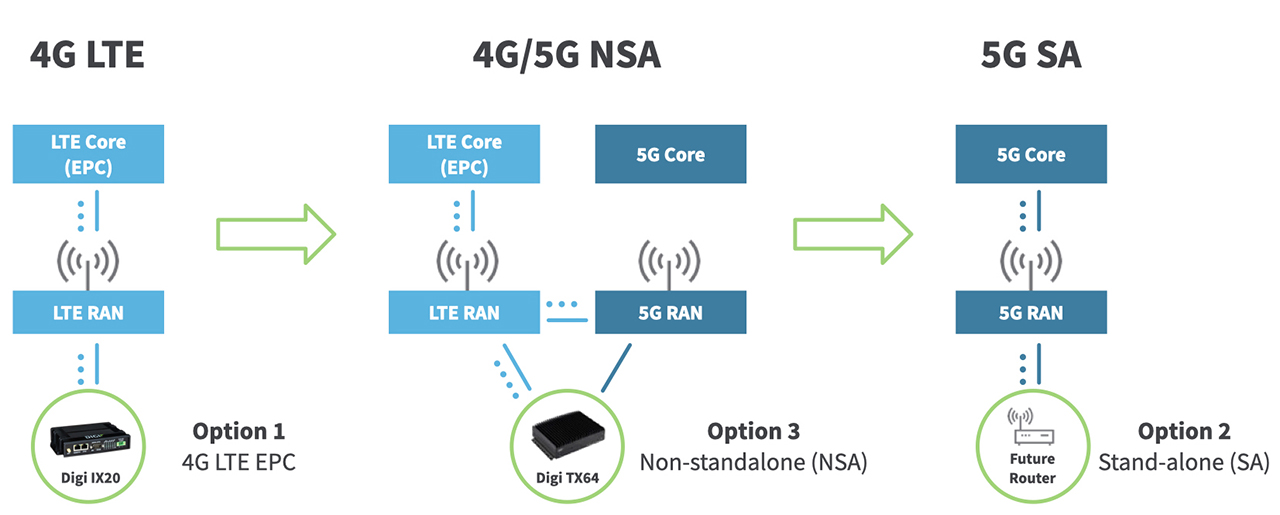 In the U.S., T-Mobile's 5G SA has not provided the much touted benefits such as network slicing, automation, service chaining, network management, etc.  "The light version of 5G standalone," summed up analyst Roger Entner, founder of Recon Analytics.
For T-Mobile, the immediate incentive and upside to deploy SA 5G was making its midband 2.5GHz 5G more relevant, Entner said. As in, keeping its low band 600MHz 5G non-standalone as the pilot signal would lead to fewer phone screens lighting up with its mid band 5G, especially indoors.
"Now that 2.5GHz signal can piggyback on the 600 pilot," he said. "With that, they get better penetration in the building with 2.5."
Karri Kuoppamaki, SVP of radio network technology and strategy at T-Mobile, said that "the vast majority" of the carrier's 5G customers had SA-ready SIMs, but he didn't offer more specifics about the state of its standalone deployment.  Those customers may not necessarily realize they've gotten anything special from SA 5G at T-Mobile, but that may not matter either, given the superiority of the carrier's mid-band 5G.
"Standalone 5G is a means to an end," said Craig Moffett, analyst with MoffettNathanson. "Ultimately, what matters is network capability. Being first gives T-Mobile just one more edge in network performance."  Avi Greengart, founder and lead analyst at Techsponential, concurred.
"For now, smartphone buyers should focus on finding the best combination of speed and coverage that is available in their area," he said in an email. "That is often T-Mobile's 5G network, but the technical underpinnings are somewhat less important to average consumers than the amount and frequency of the spectrum that T-Mobile has to deploy thanks to its acquisition of Sprint."
………………………………………………………………………………………………………………………………………….
Smart Communications is one of the few wireless network operators in the world to have launched a 5G standalone (SA) network.  The Philippines-based telco is using a separate 5G core and operating a network that is no longer anchored to 4G LTE (5G NSA). The new infrastructure supports network slicing and opens up industrial and enterprise opportunities, for example.
Smart's 5G SA network is not yet widely available. In fact, it has been launched only in Makati – a city in the Metro Manila region and the country's financial hub. PLDT-owned Smart said its "first batch" of 5G SA sites is fully operational.  Smart  noted that it has now deployed more than 4,000 non-standalone 5G sites nationwide, supported by PLDT's 524,000 kilometer fiber network. Smart first launched 5G services in 2020.
Smart has collaborated with Ericsson, Huawei and Nokia on 5G, although it only name-checked the Swedish vendor in today's release. For example, Smart said it has teamed up with Ericsson to develop 5G use cases at the PLDT-Smart Technolab, which currently hosts one of the 5G SA sites.
"Through the years, PLDT and Smart have been at the forefront of breakthrough innovations in the telco industry, including 5G.  With the first batch of our 5G SA sites now fully operational, we are starting to see the true capabilities of 5G which will play a critical role in the advancement of massive IoT, health care and smart cities, delivering customer experience that is truly world-class" said Alfredo Panlilio, PLDT and Smart Communications president and CEO.
"Technology plays an important role in today's society as evidently seen during the pandemic. 5G SA, as an innovation platform, will create new opportunities for enterprises and consumers that will maximize its ultra-reliable and low latency capabilities. This enables industrial automation, autonomous mobile robotics deployment, safe remote crane operations, fast response in gaming and interactive video streaming, among others. We are creating opportunities for the Filipino Enterprises to compete in the global arena," said Mario Tamayo, head of technology at PLDT and Smart.
With the activation of the first 5G SA sites at the PLDT and Smart headquarters in Makati, Smart has upgraded its 5G facilities, enabling them to connect with the 5G core network.
With 5G SA in place, Smart said it will be able to offer Voice over New Radio (VoNR) and network slicing capabilities in the short term, as well as support new industrial and enterprise opportunities. Smart made its first successful VoNR call in July this year at the Technolab in Smart Tower in Makati City.
Smart is certainly the first to launch 5G SA in the Philippines, while rival Globe Telecom is testing the technology. Globe had 81.7 million mobile subscribers and Smart 71.7 million at the end of the second quarter.  Smart and Globe still dominate the Philippines mobile market, despite a challenge from China Telecom-backed newcomer Dito Telecom.
About Smart Communications:
More than 650 global brands—including those in the most highly regulated industries and all the G15 investment banks, rely on Smart Communications to deliver meaningful customer communications across the entire lifecycle—empowering them to succeed in today's digital-focused, customer-driven world while also simplifying processes and operating more efficiently. This is what it means to scale the conversation.
References:
https://www.lightreading.com/asia/smart-trumpets-standalone-milestone-with-5g/d/d-id/772511?
https://www.lightreading.com/the-core/in-slow-race-to-launch-standalone-5g-t-mobile-stands-alone-for-now/d/d-id/772503?
https://www.smartcommunications.com/resources/press-releases/
https://www.rcrwireless.com/20211004/5g/smart-activates-5g-sa-network-headquarters-philippines
Telcos Loss: Private 5G & MEC/5G SA Core Network – Cloud Giants Take Market Share
---