Bharti Airtel, Ericsson conduct India's first rural 5G trial; Ericsson – India Q & A
On October 5th Bharti Airtel said it has conducted India's first rural 5G trial with Swedish telecoms equipment maker Ericsson. The demonstration took place in Bhaipur Bramanan village on the outskirts of Delhi/NCR using 5G trial spectrum allocated by India's Department of Telecommunications (DoT).
"The trial showcases the massive potential offered by 5G towards bridging the digital divide by enabling access to high speed broadband through solutions such as enhanced mobile broadband (eMBB) and Fixed Wireless Access (FWA) services," the companies said in a joint statement.
The trial demonstrated over 200Mbps throughput on 3GPP-compliant 5G Fixed Wireless Access (FWA) device located more than 10km from the site.
The trial also showcased that a commercially available 3GPP-based 5G smartphone could connect to the test network and record over 100Mbps speeds at a distance of more than 10km from the site.
The 5G site was powered by Ericsson's 3GPP-compliant 5G radio. The trial was carried out by utilizing the allocated mid-band trial spectrum in 3500MHz band and existing FDD spectrum band.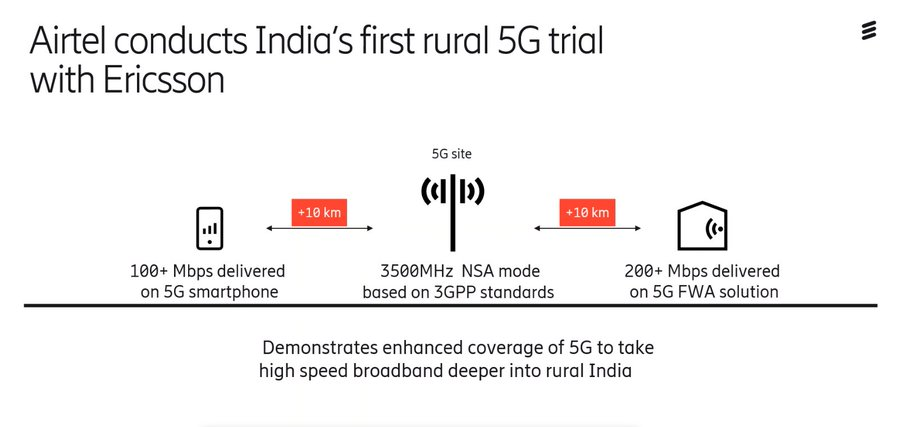 "Having demonstrated India's first 5G network and also the first 5G cloud gaming experience, Airtel is proud to have also conducted the nation's first 5G trial in a rural geography. 5G will be a transformational technology when it comes to delivering broadband coverage to the last mile through use cases like FWA and contribute to a more inclusive digital economy," said Randeep Singh Sekhon, Airtel CTO.
"The technology milestone of extended coverage achieved by Ericsson and Airtel as part of the ongoing 5G trial in India is even more significant since it demonstrates how 5G can 'connect the unconnected' in India, enable faster 5G rollout and truly help India realize its 'Digital India' vision," added Nunzio Mirtillo, Head of Ericsson South east Asia, Oceania and India.
According to an Ericsson study, on average, a 10% increase in the Mobile Broadband adoption ratio causes a 0.8% increase in GDP.
Airtel has previously demonstrated cloud gaming in a 5G environment, as part of its 5G trials in Gurgaon's Manesar. It had used the mid-band spectrum provided by the DoT for this purpose.  The Sunil Mittal-led telco has also been rallying to ensure that any new 5G handset sold in India must support all existing bands in India for 5G, including the mmWave bands.
Earlier this year, Airtel successfully demonstrated 5G services over a live 4G-LTE network in Hyderabad, marking an industry first. It is also conducting 5G trials in multiple cities across India and validating technologies and use cases through the trial spectrum allotted by the DoT . Airtel has partnered with Ericsson and Nokia for these trials.
………………………………………………………………………………………………………………………
Q and A with Nunzio Mirtillo, head of Ericsson (Southeast Asia, Ocea­nia and India):
How has been the market performing for Ericsson this year?
We have been doing well in India and increasing our market share constantly. Over the past three/four years, we have been increasing our market share in India and we have kept our market share when the merger with Vodafone and Idea happened. When it comes to Bharti, we have increased market share substantially in the last few years, both on core and on radio, showing two things – one, our willingness to stay and increase our presence in India, and two, that we are competitive. Because you can be willing to do something but then you also need to be competitive in terms of technology, in terms of TCO and we have been showing that. And on top of that we have been delivering quite a good quality of service to our customers because that is ultimately what counts the most.
Have your telco partners been spending on network expansion aggressively?
We know the situation of Vodafone Idea, and I believe they have a great chance to do well in India and I think they will. And now with the latest from the government, I hope they will have a nice restart. When it comes to Jio we are not a relevant partner with Jio when it comes to the radio business, although we work with Jio. I think they have been also doing their job and their investment in a nice way. But Bharti has accelerated quite a lot in the last few years, and you can see the result in their market evaluation and also in terms of subscriber acquisition, ARPU increase, and we have been part of that journey, partnering with them as well. Showing that India is a market where if you do invest, you provide network quality and you have the right strategy and the right focus, the market is there. And if you do well, you will get the payback for that.
How do you see this whole 5G story panning out in the Indian market?

The sooner the better for the country actually. As everyone says in Q1, the spectrum will be made available from the government to the operators. So, I really hope so. India has been a bit sleepy for a while but then in the last three, four years it really did catch up quite a lot on 4G. So now the country should not lose momentum.
Secondly, the government should make available at least between 80 to 100 megahertz of 3.5GHz or the mid-band to the existing operators and also make sure that they auction millimeter wave spectrum which is a 400 megahertz which will be very much needed going forward to match the tremendous demand of mobile broadband that will be there in the future. And also, you also need to take care of the transport network, so we also need enough spectrum on the E band for connecting the 5G networks.
That's what we believe and that's the basic and India cannot, in my view, go below basic because there's the Digital Highway for the country, it's not only kind of business as such. It's really a vital infrastructure for the future of India. And they also need to make sure that they deliver that spectrum at a reasonable price because otherwise they will impact from the start the ones that are supposed to invest.
I think they will be reasonable, because I have seen a lot of good things in India in the last few years with the tremendous push shown on Digital India, Make in India, and it's all good programs.
References:
https://telecom.economictimes.indiatimes.com/news/airtel-ericsson-conduct-indias-first-rural-5g-trial/86776922
https://telecom.economictimes.indiatimes.com/news/ettelecom-interviews-ericssons-nunzio-mirtillo-on-telecom-relief-package-vodafone-idea-future-5g-openran-and-satcom/86910717
---