AT&T earnings, mobility and consumer broadband grow; stiff competition lies ahead
AT&T today reported a net profit of $5.9 billion in the third quarter, up from $2.8 billion a year ago. Adjusted EPS, excluding the one-time effects of the divestments, reached $0.87 versus $0.76 a year earlier. The company now expects full-year adjusted EPS to be at the high end of the earlier indicated low- to mid-single digit growth range and free cash flow should meet the $26 billion target.
AT&T said it was on track to meet its full-year targets. Revenues for the three months to September were still down 5.7 percent year-on-year to $39.9 billion due to the spin-off its pay-TV business in July, along with other divestments and weaker sales in Business Wireline.
Source: AT&T
…………………………………………………………………………………………………………………………………….
Mobility is AT&T's largest and most important business, accounting for 48% of consolidated
revenues, and more than two thirds of pro-forma revenues post divestitures.  The company's mobile business did quite well in the third quarter, adding over 1 million postpaid lines. AT&T has now added 4.4 million wireless postpaid subscribers over the past four quarters.  Jeff McElfresh, Chief Executive Officer, AT&T Communications said on today's earnings call (see analyst Craig Moffett's comments below):
Our (wireless) strategy is working here at AT&T. As we've demonstrated, it's the fifth consecutive quarter where we have driven some momentum and gaining (market) share. Our net add strength here in the quarter at 928,000, that compares to what we had produced back in 2019 in the third quarter of 101,000. And we're driving strong service revenue growth. And we just posted the largest total EBITDA that we've generated out of the wireless business segment. The best part about it, Phil, is that our customers are telling us that we're doing a good job. These churn levels that are low are a signal to the service and the value that we're offering and our NPS feedback that we've received is the highest that we've ever received.

I'd also point to things like our FirstNet program. We're starting to reach some scale here. Third quarter, we posted the highest net add quarter since launching the program and we've arrived at a position of leadership and strength in the law enforcement segment under the public safety sector. And so all in all, it's been the operational changes that we've made at AT&T that has driven really strong momentum in our customer counts.
For comparison, arch rival Verizon added a net 699,000 postpaid subscribers including 429,000 postpaid phones in the third quarter.  T-Mobile US will report third quarter results on November 2nd after the stock market closes.
HBO subscribers grew to nearly 70 million by the end of the quarter.   Excluding its U.S. video business (to be spun off and merged with Discovery (DISCA) by the middle of next year), revenues rose to $38.1 billion from $36.4 billion in the year-ago quarter, and adjusted operating improved to $8.1 billion from $7.8 billion.
"We continue to execute well in growing customer relationships, and we're on track to meet our guidance for the year," said John Stankey, AT&T CEO. "We had our best postpaid phone net add quarter in more than 10 years, our fiber broadband net adds increased sequentially, and HBO Max global subscribers neared 70 million. We also have clear line of sight on reaching the halfway mark by the end of the year of our $6 billion cost-savings goal."
Third-quarter revenues were $28.2 billion, up 3.8% year over year due to increases in Mobility and Consumer Wireline more than offsetting a decline in Business Wireline. Operating contribution was $7.1 billion, up 0.8% year over year, with operating income margin of 25.2%, compared to 26.0% in the year-ago quarter.
Highlights of AT&T's Consumer Wireline business:
289,000 AT&T Fiber net adds; penetration about 37%
Revenues up 3.4%; broadband revenues up 7.6% with ARPU growth of 5.2%
Growth in fiber broadband is an important part of AT&T's new strategy, with billions of dollars of capital investment planned to expand its network and win new customers. In the third quarter, broadband internet subscriber growth was underwhelming. The company added a net 5,700 broadband customers, versus the consensus of 52,000. That includes a smaller-than-expected 289,000 fiber adds and a larger-than-expected loss of 261,000 DSL customers.  Yet AT&T CFO Pascal  Desroches said on today's earnings call:
Our Fiber growth was solid. We had our highest Fiber gross adds ever and we continue to win share wherever we have Fiber. We added 289,000 Fiber customers in the quarter, and more than 70% of the Fiber net adds are new AT&T broadband customers and this gives us great confidence as we continue to build out our Fiber footprint.
CEO Stankey added a bit more color by saying:
We're on this path to substantially increase our Fiber footprint and that stretches across both our consumer and our business base. And I think as you've known from past history, this is — it's not uncommon for us to go through these ramps of infrastructure builds. We've done that many times before. We've recently been through one where we went through a multi-year ramp on fiber builds that we kind of started executing around the 2015 timeframe. They always, as you move through the front end of them, have a few moments where they're a little bit lumpy and a little bit rocky because that's the nature of it.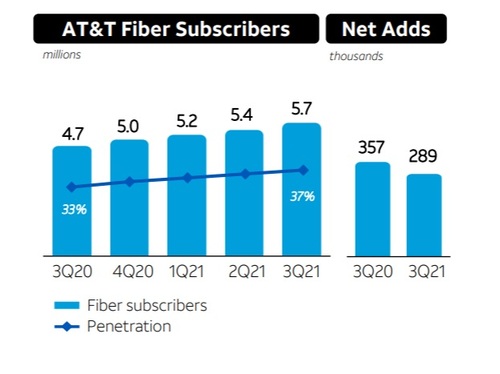 Source: AT&T
…………………………………………………………………………………………………………………………………………..
AT&T said it cut operating expenses by $3.4 billion in the past 12 months, to $32.8 billion. Divestments and lower sports programming costs were offset by higher wireless equipment costs and higher costs for other types of content at WarnerMedia, plus increased sales and marketing expenses. Operating profit was helped also by lower depreciation and amortization following earlier asset write-downs.
Earnings report summary:
AT&T added 1,218,000 postpaid wireless net additions in the third quarter as well as 249,000 prepaid phone ads and 928,000 postpaid phone net ads.
AT&T's mobility unit reported revenue growth of 7% in the third quarter to $19.1 billion and operating income of $6 billion.
AT&T's equipment revenue was $4.6 billion, up 15%, due to strong smartphone sales.
AT&T Fiber added 289,000 net customers and broadband revenue was up 7.6% in the third quarter from a year ago.
WarnerMedia revenue in the third quarter was $8.4 billion, up 14.2% from a year ago.
"AT&T lays claim to the most hated stock and the most maligned management team in our universe," wrote New Street analyst Jonathan Chaplin after AT&T's earnings report on Thursday morning. "…We continue to expect AT&T to struggle as T-Mobile and cable rise. That certainly doesn't seem to have happened this quarter though, with exceptionally strong net adds in wireless; however, it's unclear how much credit investors will give AT&T for the newfound resilience in its wireless business, at least in light of everything else."
With respect to AT&T's carrier competitors, analyst Craig Moffett wrote in note to clients:
In Wireless, competitor T-Mobile has staked out the rather unusual dual position of lowest cost AND best network. TMobile is expanding its footprint, retail presence, and market share in rural America, and it is targeting market share gains in business wireless. Verizon is planning a march "up the stack," with a focus on mobile edge compute in the 5G enterprise market. Verizon's network strategy, somewhat quixotically we would argue, still has a large component of millimeter wave ultra-wideband. But, as a backup, Verizon has amassed a huge trove of C-Band spectrum, and they claim the industry's densest network.

As we inch toward the finish line of the 3.45 GHz spectrum auction, we will probably learn that AT&T has narrowed, but not fully closed, their spectrum gap versus Verizon (but not T-Mobile). What will its network strategy be? In Business Wireline, it is the nation's largest incumbent, facing declining share and eroding pricing. What will its Business Wireline strategy be?
………………………………………………………………………………………………………………………………………………….
On October 11th, AT&T awarded a 5 year contract to Ericsson in order to accelerate the expansion of AT&T's 5G network. This deal helps support deployment of the service provider's recently acquired C-band spectrum and the launch of 5G Standalone (SA) (which has been outsourced to Microsoft Azure).
Ericsson will help AT&T to bring its 5G network to more consumers, businesses and first responders across key industries – including 5G use cases in sports and venues, entertainment, travel and transportation, business transformation and public safety. AT&T's network evolution is made possible in part by the Ericsson Radio System portfolio, which includes the Advanced Antenna System (AAS), Advanced RAN Coordination and Carrier Aggregation technologies.
The deployments will support future network enhancements like Cloud RAN, which offers communications services providers increased flexibility, faster delivery of services and greater scalability in networks. The platform supports a centralized RAN architecture enabled by Ericsson Fronthaul Gateway, a new technology that will enable a more efficient transport of the fronthaul interface by converting it to packet (eCPRI).
References:
https://about.att.com/story/2021/q3_earnings.html
https://investors.att.com/financial-reports/quarterly-earnings/2021
https://www.telecompaper.com/news/atandt-grows-underlying-sales-in-q3-on-mobile-hbo-expansion–1401409
https://www.telecompaper.com/news/atandt-selects-ericsson-for-expansion-of-5g-network-c-band-spectrum-build–1400105
---