Executive Summary:
The Telecom Infra Project (TIP) is gaining a lot of awareness and market traction, judging by last week's very well attended TIP Summit at the Santa Clara Convention Center.  The number of telecom network operators presented was very impressive, especially considering that none were from the U.S. with the exception of AT&T, which presented on behalf of the Open Compute Project (OCP) Networking Group.   It was announced at the summit that the OCP Networking group had formed an alliance with TIP.
The network operators that presented or were panelists included representatives from:  Deutsche Telekom AG, Telefonica, BT, MTN Group (Africa),  Bharti Airtel LTD (India), Reliance Jio (India), Vodafone, Turkcell (Turkey), Orange, SK Telecom, TIM Brasil, etc.  Telecom Italia, NTT, and others were present too.   Cable Labs – the R&D arm of the MSOs/cablecos – was represented in a panel where they announced a new TIP Community Lab (details below).
Facebook co-founded TIP along with Intel, Nokia, Deutsche Telekom, and SK Telecom at the 2016 Mobile World Congress event.  Like the OCP (also started by Facebook), its mission is to dis-aggregate network hardware into modules and define open source software building blocks. As its name implies, TIP's focus is telecom infrastructure specific in its work to develop and deploy new networking technologies. TIP members include more than 500 companies, including telcos, Internet companies, vendors, consulting firms and system integrators.  Membership seems to have grown exponentially in the last year.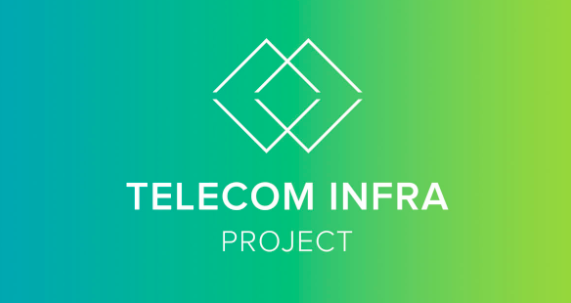 During his opening keynote speech, Axel Clauberg, VP of technology and innovation at Deutsche Telekom and chairman of the TIP Board of Directors, announced that three more operators had joined the TIP Board: BT, Telefonica, and Vodafone.
"TIP is truly operator-focused," Clauberg said. "It's called Telecom Infrastructure Project, and I really count on the operators to continue contributing to TIP and to take us to new heights." That includes testing and deploying the new software and hardware contributed to TIP, he added.
"My big goal for next year is to get into the deployment stage," Clauberg said. "We are working on deployable technology. [In 2018] I want to be measured on whether we are successfully entering that stage."
Jay Parikh, head of engineering and infrastructure at Facebook, echoed that TIP's end goal is deployments, whether it is developing new technologies, or supporting the ecosystem that will allow them to scale.
"It is still very early. Those of you who have been in the telco industry for a long time know that it does not move lightning fast. But we're going to try and change that," Parikh said.
…………………………………………………………………………………………………………………….
TIP divides its work into three areas — access, backhaul, and core & management — and each of the project groups falls under one of those three areas.  Several new project groups were announced at the summit:
Artificial Intelligence and applied Machine Learning (AI/ML): will focus on using machine learning and automation to help carriers keep pace with the growth in network size, traffic volume, and service complexity. It will also work to accelerate deployment of new over-the-top services, autonomous vehicles, drones, and augmented reality/virtual reality.
End-to-End Network Slicing (E2E-NS): aims to create multiple networks that share the same physical infrastructure. That would allow operators to dedicate a portion of their network to a certain functionality and should make it easier for them to deploy 5G-enabled applications.
openRAN: will develop RAN technologies based on General Purpose Processing Platforms (GPPP) and disaggregated software.
The other projects/working groups are the following:
Edge Computing: This group is addressing system integration requirements with innovative, cost-effective and efficient end-to-end solutions that serve rural and urban regions in optimal and profitable ways.
 This group is pioneering a 60GHz wireless networking system to deliver gigabits of capacity in dense, urban environments more quickly, easily and at a lower cost than deploying fiber.  A contribution was made to IEEE 802.11ay task force this year on use cases for mmW backhaul.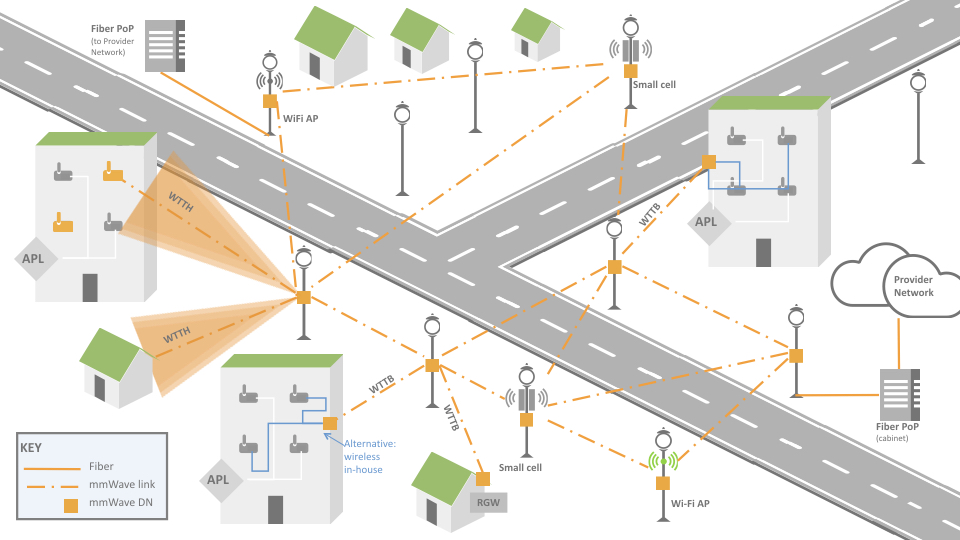 Above illustration courtesy of TIP mmW Networks Group
Open Optical Packet Transport:  This project group will define Dense Wavelength Division Multiplexing (DWDM) open packet transport architecture that triggers new innovation and avoids implementation lock-ins. Open DWDM systems include open line system & control, transponder & network management and packet-switch and router technologies.
The Working Group is focused on enabling carriers to more efficiently deliver new services and applications by using mobile edge computing (MEC) to turn the RAN network edge (mobile, fixed, licensed and unlicensed spectrum) into an open media and service hub.
The project is pioneering a virtualized RAN (VRAN) solution comprised of low-cost remote radio units that can be managed and dynamically reconfigured by a centralized infrastructure over non-ideal transport.
project group will develop an open RAN architecture by defining open interfaces between internal components and focusing on the lab activity with various companies for multi-vendor interoperability. The goal is to broaden the mobile ecosystem of related technology companies to drive a faster pace of innovation.
A complete description, with pointers/hyperlinks to respective project/work group charters is in the TIP Company Member Application here.
TEACs –  Innovation Centers for TIP:
Also of note was the announcement of several new TEACs – TIP Ecosystem Acceleration Centers, where start-ups and investors can work together with incumbent network operators to progress their respective agendas for telecom infrastructure.
The TIP website comments on the mission of the TEACs:
"By bringing together the key actors – established operators, cutting-edge startups, and global & local investors – TEACs establish the necessary foundation to foster collaboration, accelerate trials, and bring deployable infrastructure solutions to the telecom industry."
TEACs are located in London (BT), Paris (Orange), and Seoul (SK Telecom). .
TIP Community Labs:
TIP Community Labs are physical spaces that enable collaboration between member companies in a TIP project group to develop telecom infrastructure solutions. While the labs are dedicated to TIP projects and host TIP project teams, the space and basic equipment are sponsored by individual TIP member companies hosting the space.  The labs are located in: Seoul, South Korea (sponsored by SK Telecom); Bonn, Germany (sponsored by Deutsche Telekom); Menlo Park, California, USA (sponsored by Facebook). Coming Soon Rio de Janiero, Brazil – to be sponsored by TIM Brasil.  At this summit, Cable Labs announced it will soon open a TIP Community Lab in Louisville, CO.
…………………………………………………………………………………………………………………………..
Selected Quotes:
AT&T's Tom Anschutz (a very respected colleague) said during his November 9th – 1pm keynote presentation:
"Network functions need to be disaggregated and 'cloudified.'  We need to decompose monolithic, vertically integrated systems into building blocks; create abstraction layers that hide complexity.  Design code and hardware as independent modules that don't bring down the entire IT system/telecom network if they fail."
Other noteworthy quotes:
"We're going to build these use-case demonstrations," said Mansoor Hanif, director of converged networks and innovation at BT. "If you're going to do something as difficult and complex as network slicing, you might as well do it right."
"This is the opening of a system that runs radio as a software on top of general purpose processes and interworks with independent radio," said Santiago Tenorio, head of networks at Vodafone Group. The project will work to reduce the costs associated with building mobile networks and make it easier for smaller vendors to enter the market.  "By opening the system will we get a lower cost base? Definitely yes," absolutely yes," Tenorio added.
"Opening up closed, black-box systems enables innovation at every level, so that customers can meet the challenges facing their networks faster and more efficiently," said Josh Leslie, CEO of Cumulus Networks. "We're excited to work with the TIP community to bring open systems to networks beyond the data center." [See reference press release from Cumulus below].
"Open approaches are key to achieving TIP's mission of disaggregating the traditional network deployment approach," said Hans-Juergen Schmidtke, Co-Chair of the TIP Open Optical Packet Transport project group. "Our collaboration with Cumulus Networks to enable Cumulus Linux on Voyager (open packet DWDM architecture framework and white box transponder design) is an important contribution that will help accelerate the ecosystem's adoption of Voyager."
……………………………………………………………………………………………………………………………
Closing Comments:  Request for Reader Inputs!
 What's really interesting is that there are no U.S. telco members of TIP.  Bell Canada is the only North American telecom carrier among its 500 members. Equinix and Cable Labs are the only quasi- network operator members in the U.S.
Rather than write a voluminous report which few would read, we invite readers to contact the author or post a comment on areas of interest after reviewing the 2017 TIPS Summit agenda.
References:
http://www.businesswire.com/news/home/20171108005571/en/Cumulus-Networks-Telecom-Infra-Project-TIP-Collaborate
https://www.devex.com/news/telecom-industry-tries-new-tactics-to-connect-the-unconnected-91492
Mobile operators are expected to invest nearly $9 billion in C-RAN (cloud or centralized radio access network) infrastructure roll-outs by the end of 2017, according to a report by SNS Research.
Benefits of C–RAN include improved performance due to the ability to coordinate between cells, and also cost reductions as a result of pooling resources.
The C-RAN market is expected to grow at a CAGR of approximately 24% between 2017 and 2020. These investments will include spending on RRHs (Remote Radio Heads), BBUs (Baseband Units) and front haul transport network equipment.
SNS Research said:
C-RAN is an architectural shift in RAN (Radio Access Network) design, where the bulk of baseband processing is centralized and aggregated for a large number of distributed radio nodes.  Initially popularized by Japanese and South Korean mobile operators, C-RAN technology is beginning to gain momentum worldwide with major tier 1 operators –  including Verizon Communications, AT&T, Sprint, China Mobile, Vodafone, TIM (Telecom Italia Mobile), Orange and Telefónica –  seeking to leverage the benefits of centralized baseband processing.
In comparison to standalone clusters of base stations, C-RAN provides significant performance and economic benefits such as: baseband pooling, enhanced coordination between cells, virtualization, network extensibility, smaller deployment footprint and reduced power consumption.
The "C-RAN (Centralized Radio Access Network) Ecosystem: 2017 – 2030 – Opportunities, Challenges, Strategies & Forecasts" report presents an in-depth assessment of the C-RAN ecosystem including enabling technologies, key trends, market drivers, challenges, standardization, regulatory landscape, deployment models, operator case studies, opportunities, future road map, value chain, ecosystem player profiles and strategies. The report also presents forecasts for C-RAN infrastructure investments from 2017 till 2030. The forecasts cover 3 individual sub-markets and 6 regions.
SNS Research said their report would to be of value to current and future potential investors into the C-RAN ecosystem, as well as enabling technology providers, C-RAN solution providers, mobile operators and other ecosystem players who wish to broaden their knowledge of the ecosystem.  For further information concerning the SNS Research report "The C-RAN (Centralized Radio Access Network) Ecosystem: 2017 – 2030 – Opportunities, Challenges, Strategies & Forecasts" please visit: http://www.snstelecom.com/c-ran 
…………………………………………………………………………………………..
Separately, in a research report titled: "Cloud Radio Access Network (C-RAN) Market – Global Forecast to 2022,"  Research and Markets said that the market for C-RAN is expected to grow from US $681.6 million in 2017 to US $1,132.3 million by 2022, at a CAGR of 10.7%.
………………………………………………………………………………………………………..
Editor's Note:  That $1,132.3M Research and Markets forecast by 2022 is significantly less than the $9B SNS Research says wireless carriers will spend on C-RAN this year!  Also note that Research and Markets C-RAN forecast of $681.6M in 2017 is only 7.57% of $9B forecast by SNS Research for this same year.  The CAGR is also substantially lower at 10.7% from Research and Markets vs 24% from SNS Research (see above).
The above referenced Research and Markets report is evidently being sold by Markets and Markets (India), and by several other report selling firms.  Hence, we have no idea who did the actual C-RAN market research and forecasts.  The numbers seem to be very shaky to us and some of the report re-sellers use terrible English grammar.
…………………………………………………………………………………………………
Author's Note on C-RAN Definitions and Distinctions:
A Cloud-RAN (C-RAN type 1) is a virtualized radio access network that could coordinate multiple radio sites from a data center using NFV and/or SDN techniques. The management of geographically dispersed radio sites is managed by ac compute server in the data center.
A Centralized-RAN (C-RAN type 2) refers to pooling baseband units, in a co-location facility, central office or other carrier owned property. Operators do this to minimize footprint and achieve maximize efficiency when providing broadband wireless services within a stadium, block of Class A commercial buildings or other areas of high network demand.  The baseband processing unit (BBU) is the part of the RAN that carriers may move to a central location from which multiple remote radio heads can be served.
According to RCR Wireless – What is C-RAN?:
Centralized RAN and centralized DAS (Distributed Antenna System) both describe architectures in which the mobile operator maintains direct control and ownership of the baseband equipment. Cloud RAN implies this equipment is owned by another service provider, or the baseband processing is handled in software run on a generic "white box" server.

​"From a network point of view cloud and centralized RAN are the same in terms of requirements (front haul for instance) and work in the same way," said analyst Monica Paolini of Senza Fili Consulting. "The difference is in the ownership of equipment."

Paolini foresees more uptake for centralized RAN than for cloud-based RAN in the months ahead.  "I think it is unlikely that operators would want to give control to a third party for the RAN baseband – ownership maybe, but not control," Paolini added.
–>Please see Addendum for descriptions of Nokia and Ericsson C-RAN products.
………………………………………………………………………………………………………..
Research and Markets C-RAN Forecast (continued):
Key players were said to be: Nokia, Cisco Systems, Samsung, ZTE Corporation, Altiostar (?), Ericsson, Huawei, NEC, Fujitsu, Intel & Mavenir (?).
4G and 5G accessibility, the reduction of Capital Expenditure (CAPEX) and Operational Expenditure (OPEX) are the major factors driving the growth of the global C-RAN market, according to Research and Markets.
Government and security standards are expected to be the major restraints for the C-RAN market. Regulatory policies differ from nation to nation and from business to business. The structure of these varying regulatory policies, along with changing macroeconomic factors, makes it difficult for vendors to meet the end-users' requirements.

A conservative base station consists of Base Band Units (BBUs) and Remote Radio Heads (RRHs). Centralized RAN pools BBUs in a centralized location where they are clustered with other BBUs. Virtualized RAN moves the base band processor to a data center. Hence, it can also be termed as cloud RAN.
Virtualization technology is expected to have the largest market size during the forecast period.
North America is expected to witness the highest CAGR and market share during the forecast period. Factors such as continual growth in the mobile network, increasing business complexities, and the unregulated nature of the internet are driving the growth of the C-RAN market in North America.
Network Function Virtualization (NFV) and "5G" were said to be driving forces for C-RAN deployments.
Research and Markets Contact:
Laura Wood, Senior Manager
press@researchandmarkets.com
For E.S.T Office Hours Call 1-917-300-0470
For U.S./CAN Toll Free Call 1-800-526-8630
…………………………………………………………………………………………………
Addendum:
1. From Nokia's Centralized-RAN product description:
Nokia Centralized RAN software uses clusters of LTE base stations to turn the interference into useful traffic. The base stations use uplink signals from multiple cells' base stations to cancel the interference and select the best signals from 12 receivers. Network configuration is optimized every millisecond for each mobile device to match actual interference, enhancing LTE upload speeds.

Centralized RAN creates liquid capacity for mass events where the uplink environment is limited, enabling ultra dense cell deployments. It uses the LTE-Advanced capability of Uplink Coordinated Multi-point (UL CoMP) to turn interference into useful traffic. With this, we are able to double average uplink capacity and provide up to ten-fold cell edge throughput gains.  It also uses up to 33% less power, for longer device battery life.

Benefits include:
Maximizes spectral efficiency and use to give more than 200 percent average uplink throughput gain

Eliminates cell edge degradation to give ten-fold increase in cell edge uplink speeds

Works with all existing R8 LTE terminals and Nokia equipment, making it easy to deploy
2.  From Ericsson's Cloud-RAN product description:
Mobile broadband is approaching a point where cellular infrastructure is a viable substitute for fixed broadband in many markets. In this new environment, mobile operators are seeking ways to increase network capacity and coverage while reducing time to market for new services and achieving lower total cost of ownership.
To accomplish this, they must cost-effectively combine multiple standards, frequency bands, cell layers and transport network solutions, while at the same time shortening latencies and handling substantially increased data rates.
By introducing Cloud RAN architectures, operators will be able to use Network Functions Virtualization techniques and data center processing capabilities in their networks. This allows for resource pooling, scalability, layer interworking and spectral efficiency.
Cloud RAN can provide further benefits in terms of more separated and decoupled scalability of the different parts of the RAN functionality, as well as a decreased need for dedicated radio hardware and options to mitigate functional and capacity asymmetries introduced by future, much more capable radio access technologies.
Cloud RAN is a frequently used expression today, but is often used with different meanings. When Ericsson talks about Cloud RAN, we want to incorporate as many important aspects of network architecture as possible, with focus on concepts that deals with collaboration. This will give us the flexibility to talk about it in more than one way.
Cloud RAN covers coordination, centralization and virtualization and is a classical optimization problem with more than one boundary condition for successful business. There will not be one solution that fits all scenarios. Solutions will need to coexist and leverage investments made. In the end, the successful operators and vendors will of course be the ones that manage to provide the best user experience at the lowest total cost of ownership.
https://www.telecomasia.net/content/telcos-spend-9b-c-ran-2017
http://www.snstelecom.com/c-ran-centralized-ran-a-9-billion-opportunity-says-sns-research-report
http://www.businesswire.com/news/home/20170808005786/en/Cloud-Radio-Access-Network-C-RAN-Market-Reach
http://www.rcrwireless.com/20151222/featured/what-is-c-ran-tag4
https://networks.nokia.com/products/centralized-ran
https://www.ericsson.com/ourportfolio/networks-solutions/cloud-ran?nav=fgb_101_0851
---