OpenVault: Broadband data usage surges as 1-Gig adoption climbs to 15.4% of wireline subscribers
Dramatic increases in provisioned speeds are continuing to shift the broadband landscape, according to the Q3 2022 edition of the (OpenVault Broadband Insights) report. The report was issued today by OpenVault [1.], a market-leading source of SaaS-based revenue and network improvement solutions and data-driven insights for the broadband industry.
Note 1.  OpenVault is a company that specializes in collecting and analyzing household broadband usage data.  It bases its quarterly reports on anonymized and aggregated data from "millions of individual broadband subscribers."
Using data aggregated from OpenVault's broadband management tools, the 3Q22 OVBI shows a continued increase in gigabit tier adoption, as well as migration of subscribers to speeds of 200 Mbps or higher. Fifteen percent of subscribers were on gigabit tier plans in 3Q22, an increase of 35% over the 11.4% figure in 3Q21, and the percentage of subscribers on plans between 200-400 Mbps doubled to 54.8% from 27.4% in 3Q21. At the end of the third quarter, only 4.7% of all subscribers were provisioned for speeds of less than 50 Mbps, a reduction of more than 50% from the 3Q21 figure of 9.8%.
Gigabit tier subscribers are up more than 600% since the third quarter of 2019 and are now 15.4% of all wireline internet subs. "This trend is impacting bandwidth usage characteristics, with faster growth in power users and median bandwidth usage.  Faster speeds are fueling greater consumption that may be reflected in the need for greater capacity in the future."
Key findings in the 3Q22 report: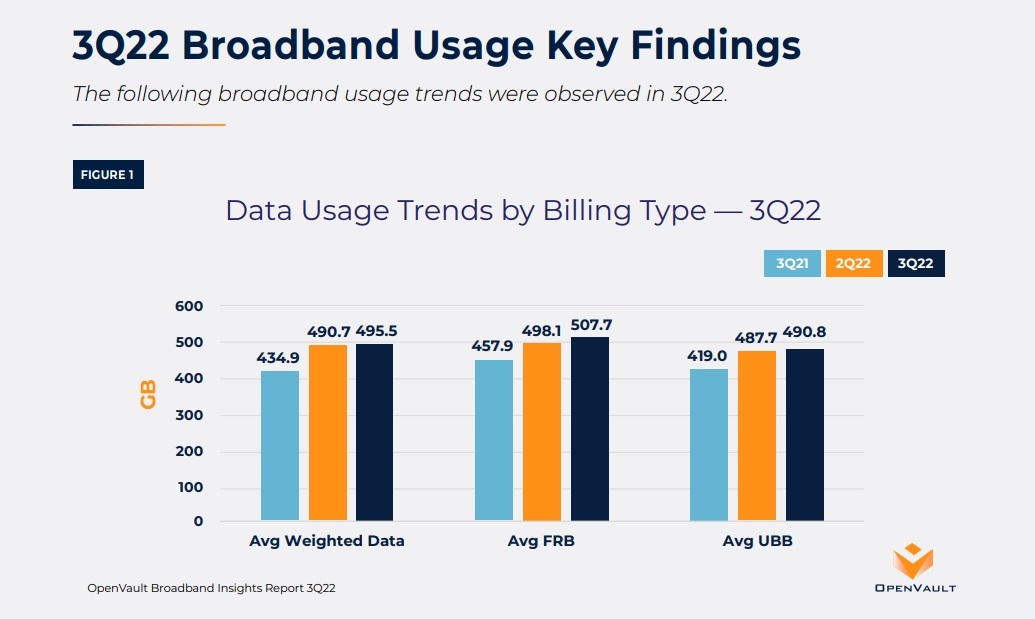 Other Highlights:
Average monthly usage of 495.5 GB was up 13.9% from 3Q21's average of 434.9 GB, and represented a slight increase over 2Q22's 490.7 GB. Median broadband was up 14.3% year over year, representing broader growth across all subscribers.
The speed tier with the fastest annual growth is in the range of 200 Mbit/s to 400 Mbit/s, which doubled to 54.8% of all subscribers. The percentage of customers on low-end 50Mbit/s tiers shrank to just 4.7% in Q3 2022, down more than 50% from the year-ago quarter.
Year-over-year growth of power users of 1TB or more was 18%, to 13.7% of all subscribers, while the super power user category of consumers of 2 TB or more rose almost 50% during the same time frame.
Participants in the  FCC's Affordable Connectivity Program (ACP) consumed 615.2 GB of data in 3Q22, 24% more than the 495.5 used by the general population.
OpenVault founder and CEO Mark Trudeau told Light Reading in October that high levels of data usage among ACP participants is surprising, but he said it's likely due to households in the program that use the funds to upgrade to faster speed packages. As a successor to the original Emergency Broadband Benefit (EBB) program, ACP provides qualifying low-income households with a $30 per month subsidy ($75 for tribal households) that can be applied toward Internet subscriptions.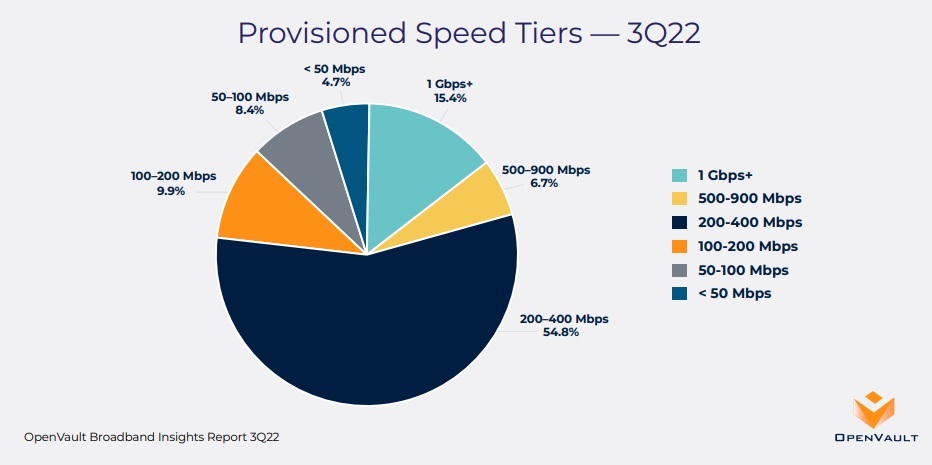 The entire report is at https://xprss.io/zdgeG if you fill in a form and click SEND (to OpenVault).
OpenVault also provides continuously updated broadband consumption figures at https://openvault.com/broadbandtracker/.
References:
https://www.lightreading.com/broadband/average-monthly-data-usage-nears-half-terabyte-as-1-gig-adoption-climbs—study/d/d-id/781811?
https://www.telecompetitor.com/clients/openvault/2022/Q3/index.php
Ookla Ranks Internet Performance in the World's Largest Cities: China is #1
---