TeleGeography, a global telecommunications market research and consulting firm, has released its 2021 WAN Manager Survey, revealing that Direct Internet Access (DIA) is gaining ground on MPLS, with 42% of average sites running the product in 2021.
At the same time, survey responses show a clear downtrend in MPLS use, from a dominant high of 82% of sites running the product in 2018 down to 46% in 2021.  It marks the first time this figure has dropped below half of average sites. This shift to DIA reflects the plans of many WAN managers to reduce their reliance on MPLS in their networks.
Key Findings:
• For the first time, MPLS usage dipped below half of average sites—46% of sites were running MPLS in 2021.
• DIA is hot on the heels of MPLS, with 42% of average sites running the product in 2021.
• MPLS usage at average WAN sites has declined by 5% compounded annually over four years, while DIA and broadband usage has climbed by 3% and 1.5% each year across the same time period.
• WAN managers want more bandwidth. Across MPLS, DIA, and broadband, the percentage of large port sizes being procured is growing, while port sizes 50 Mbps and under are declining 1-3% compounded annually.
• The most common strategy for backing up MPLS is using an alternative connectivity service like DIA or broadband.
• Zero Trust Security adoption is on the rise, growing from just 8% of respondents in 2019 to 35% in 2021, and the knowledge gap is narrowing.
• Multi-factor authentication (MFA) and single sign on (SSO) are the top ZTS features implemented.
• Increased remote work is the top factor driving companies towards ZTS solutions.
• Top network infrastructure security vendors in hardware–Palo Alto, Cisco, and Fortinet–also lead in the software-based security vertical.
TeleGeography's WAN Manager Survey features analysis based on the experiences of WAN managers from 185 companies with a median revenue of $10 billion USD. The 2021 focuses on IT managers whose day-to-day role covers designing, sourcing, and managing U.S. national, regional, and global corporate wide area computer networks. It also includes 60 new responses across various industries.
TeleGeography's report highlights how the extension of COVID-related remote work has accelerated many ongoing WAN trends like migration to the cloud, SD-WAN adoption, and incorporation of alternative access technologies into the underlay. To that effect, the team found that DIA and business broadband usage have been on the rise, with DIA experiencing a four-year CAGR increase of 3% and broadband logging an increase of 1.5%.
"Through our survey, we can see that enterprise companies are embracing hybrid networks more and more. MPLS usage in our respondents' WAN has been declining steadily, and in 2021 we saw a near-equal ratio of MPLS and DIA in the average network. Given these rates, we'll have an eye on DIA usage to perhaps overtake MPLS in future surveys," said Elizabeth Thorne, Senior Analyst at TeleGeography.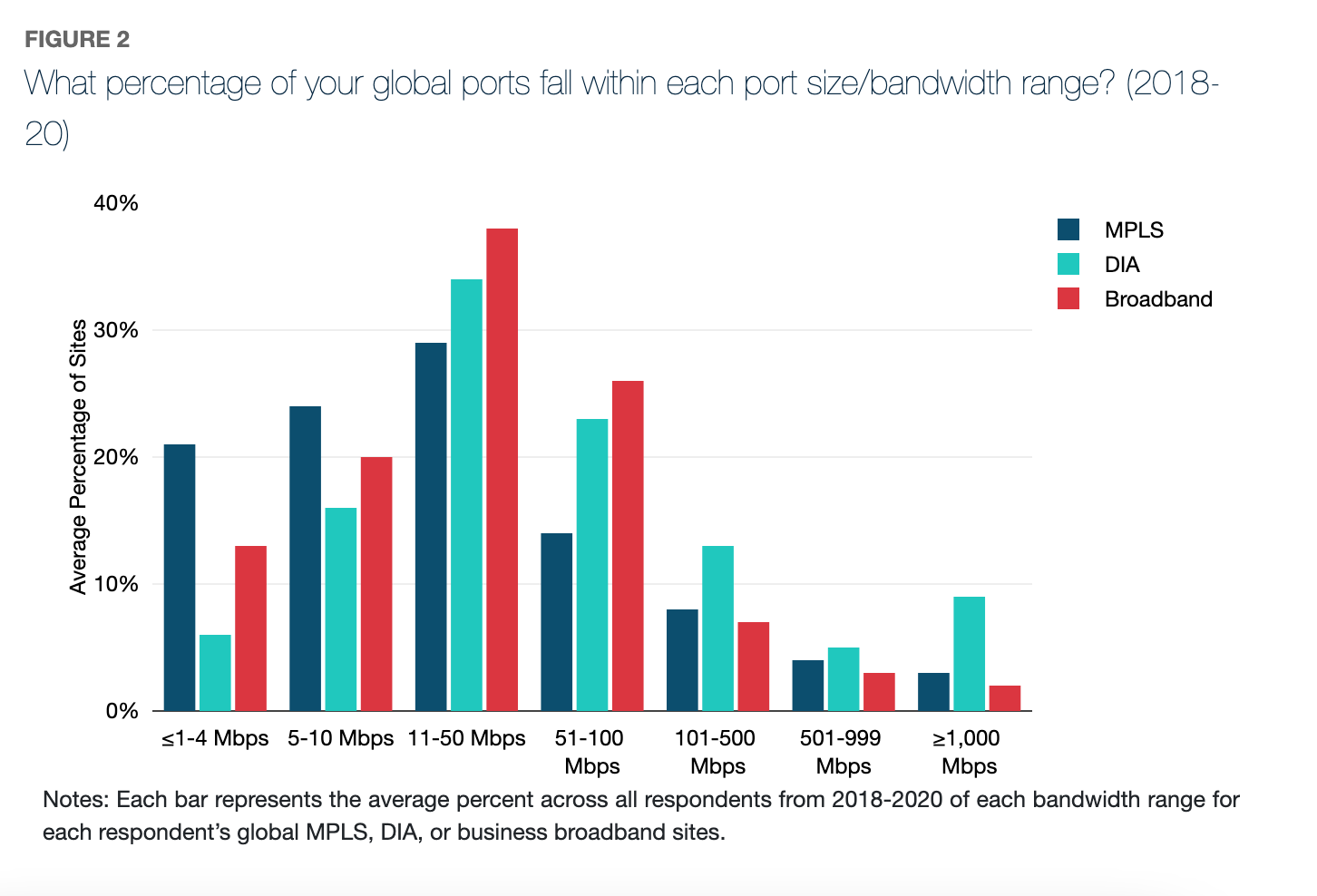 TeleGeography's new survey also reveals WAN managers' views on zero trust security (ZTS) and secure access service edge (SASE) adoption. ZTS adoption is on the rise, growing from just 8% of respondents in 2019 to 35% in 2021, a significant increase in just two years.
Telegeography asked WAN managers how far along they were in implementing ZTS (Zero Trust Security) or SASE (Secure Access Service Edge) security policies on their network.  Here are the results:
• Implementation of one or more elements of ZTS/SASE on at least some of the respondent's network jumped from just 8% in 2019 to 35% in 2021, a significant increase in just two years.
• There's been a narrowing of the knowledge gap. Just 8% of respondents were unfamiliar with ZTS in 2021, compared to one in five in 2019.
• Overall we saw a shift down the deployment pipeline, with reductions in the percentage of respondents who either had not started, or were just beginning their implementation journey.
• In 2021 we introduced the option "Waiting on SD-WAN," as in past interviews many respondents indicated that their adoption of zero trust policies was incumbent on their SD-WAN deployment. That is reflected in the results, as it was the second most common–28%–stage respondents were in.
Other findings:
Fixed Wireless Access (FWA) represents a small percent of average WAN sites, often used as backups or temporary connectivity.
Satellite had the lowest reported average usage, and has maintained its reputation as an expensive connectivity option of last resort.
…………………………………………………………………………………………………………………..
End Quote:
"Enterprise networking is evolving, in part due to an increase in remote working. Network managers are facing the challenge of accommodating a remote-friendly, work-from-anywhere environment and many will likely be moving toward internet-first networks and further away from MPLS in the coming years," said Greg Bryan, Senior Manager at TeleGeography.
References:
https://www.totaltele.com/512391/Legacy-MPLS-Networking-Declines-While-Direct-Internet-Access-Booms-According-to-TeleGeographys-WAN-Manager-Survey
https://www2.telegeography.com/download-the-wan-manager-survey-executive-summary
by Amir Khan (edited by Alan J Weissberger)
MPLS networking has been a staple feature of service providers for over 20 years, and it's a technology that remains widely in use. But there is every indication that MPLS is nearing the end of its usefulness as an effective enterprise WAN solution.
Enterprise networking is moving to the cloud, and connectivity is required that fits the bill, mirroring cloud's ease of deployment and able to adapt to business needs at cloud speed.
Will carriers and service providers keep relying on MPLS to the bitter end? Or will they take a proactive approach by assisting their enterprise customers with a migration journey to a future of networking built in the cloud and designed for the cloud era? If they act now, and make the right strategic partnerships, service providers can take credit for leading this migration in an orderly, secure and planned manner, empowering their customers to operate 'at the speed of business.'
It is certainly clear that service providers must avoid the trap made by previous generations who failed to move fast enough away from legacy revenue streams, such as voice. The evolutionary pace of cloud is much more rapid than any previous transitional phase, meaning telcos have minimal time to decide on a strategy. Acting now to adopt a cloud-native approach could be the difference between being a disruptor and one of the disrupted. The tipping point is at hand.
Why might MPLS networking no longer be appropriate for contemporary enterprise customers? For that, we need to consider the recent past from the viewpoint of the enterprise. MPLS was designed for connecting sites to sites, and sites to data centers, globally.
As a CIO, you had to call your MPLS service provider and they provisioned a connection for you. This typically took weeks, if not months. How long would depend on what capacity the service provider had available in the region where you needed the connectivity. The cost for the bandwidth in question would be quite high too, compared to basic Internet service.  The SLAs are good with MPLS, compared to Internet, but there's a price to be paid for that.
As enterprises started to become more and more reliant on cloud services, the dynamics began to change. The task of a WAN has moved on from just connecting campuses and data centers. Cloud has created new traffic patterns, with enterprises now running many workloads in many different clouds. You can't optimize that kind of complexity with MPLS, because it's too rigid.
What's needed instead is an approach that is designed from the ground up for the modern needs, one that lives in the cloud. That means more than just an on-ramp that connects to the edge of the cloud. It's about cloud-native technology, available as a service, able to seamlessly interconnect multiple clouds but also reach beyond cloud boundaries into enterprise on-premise locations.
Service providers need to realize that unless they can come up with an offer based around these principles, one that takes their enterprise customers beyond MPLS, then somebody else will do it instead.
Cloud networking is a solution that the customer will eventually be drawn to, with or without the service provider. By moving now to meet this need, the service provider can prove that they are a trusted partner, looking beyond the short term, offering something beyond the familiar. Service providers don't have the luxury now of sitting around deciding. Those that do will lose over time, and get left so far behind they will no longer be able to compete.
Service providers already know that existing revenue streams are declining as cloud takes over. But it's not just about adding a new product line to their portfolio. They must take a hard look at their own business models, transforming themselves away from what's safe and traditional and embracing something much more radical.
They must review internal processes and cultures, preparing themselves not just for a new technology but for a whole new market. The way they approach the customer has to be right. Being cloud-relevant, for example, is about offering services on a global scale. Even small businesses have people working for them across the globe now. Customers will expect not just a global footprint, but one with security and full visibility baked in.
If service providers can reengineer their business for the new age of cloud then they will gain agility, free themselves to explore new revenue opportunities and look forward to continued relevance.
About Amir Khan:
Amir is a computer networking visionary who founded and led Viptela's market-leading, cloud-first, Software-Defined Wide Area Networking (SD-WAN) business before its acquisition by Cisco.
As prescient as he was in identifying the $8B opportunity for SD-WAN, Amir recognized that the network hampered the cloud journey and founded Alkira in 2018 with CTO Atif Khan to reinvent networking for the cloud era. Amir's vision is to deliver the Cloud Network as-a-Service (CNaaS).
Alkira has delivered the industry's first Network Cloud, a global unified cloud network infrastructure delivered as-a-service with 1) connectivity for hybrid and multi-cloud networks 2) integrated network and security services, and 3) end-to-end operational visibility and governance. Alkira CSX, is an on-demand, as-a-service, point and click, unified CNaaS that enables cloud architects to design, build, and deploy a global multi-cloud network in minutes. Alkira enables enterprises to implement 50% less firewall capacity, and reduce TCO by up to 40%. Before Viptela, Amir held leadership roles at Cisco, Juniper, and Nortel. He holds 4 patents. Amir earned an MS in Electrical Engineering from the University of Colorado at Boulder, and a BS in Electrical Engineering from the University of Mississippi.
References:
---