Overview:
UK's Bullitt Group, in partnership with Motorola Mobility (a Lenovo company), has unveiled a new device in the Motorola Defy rugged range that incorporates its unique satellite-to-mobile messaging service. The motorola defy satellite link, is a Bluetooth device that provides satellite connectivity to any iOS or Android smartphone*, designed for anyone that has ever been frustrated by a lack of cell coverage – whether travelling or participating in outdoor activities, or just in their daily lives.
Note:  This Bullitt-Motorola initiative joins a lot of other smart phone satellite messaging services announced in the last few months (please refer to links in References below.
The Motorola Defy puts the satellite connectivity hardware—a new chip from MediaTek—in a separate self-powered device that connects to either iPhones (running iOS 14 or later) or Android smartphones (running Android 10 or later) over Bluetooth. It's rated IP68, which means it can survive a shallow dunking (a couple of feet of water) for up to 30 minutes, while Motorola claims you can get several days of use from the Defy's 600 mAh rechargeable battery.
Motorola and Bullitt have reaffirmed their commitment to innovation by integrating Bullitt Satellite Messenger into the new Motorola Defy range, showcased by both companies at MWC 2023.
Instead of using the native messaging app on either platform, the Motorola Defy relies on the third party Bullitt Satellite Messenger app that also works when the device has wifi or cellular connectivity, but will automatically switch to using geostationary satellites when the user is out of range of terrestrial services. For two-way chats, other users will need the Bullitt app as well, but messages can be relayed through SMS, which will prompt the other party to install the app before they can chat with the sender.
Recipients aren't charged for receiving messages or sending replies, but the person relying on the satellite connection is. Up to 30 two-way messages can be sent for $4.99/month, although the $99 Motorola Defy can also be purchased as part of a $149, 12-month messaging subscription bundle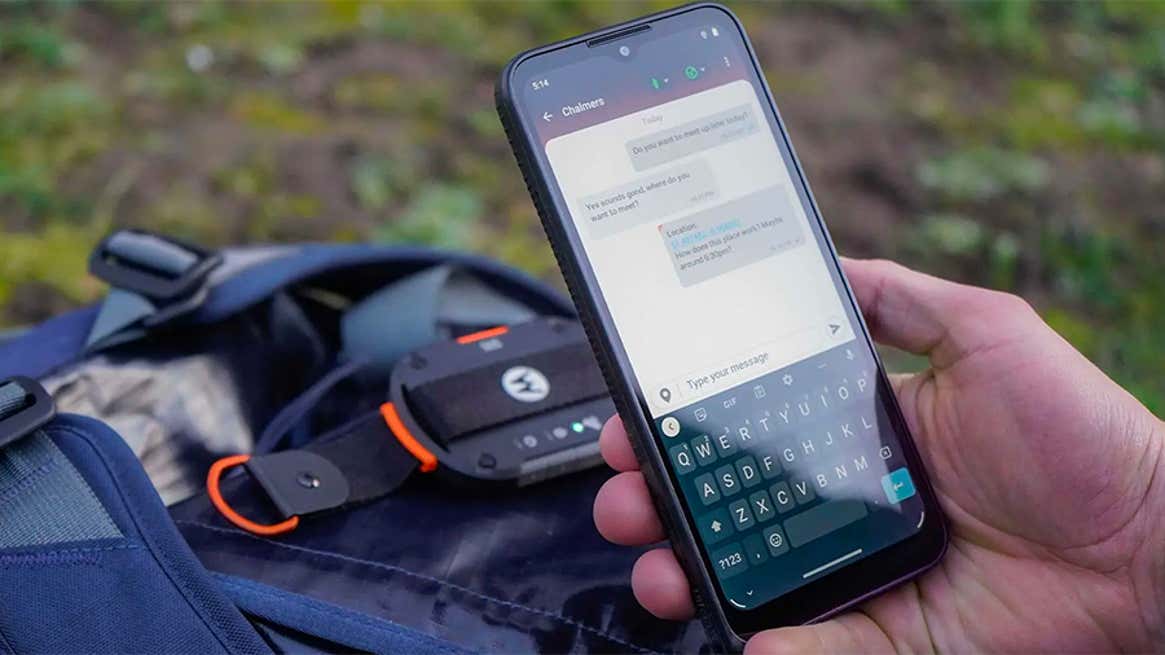 Source: Motorola
Quotes:
Motorola Defy satellite link: a robust Bluetooth accessory with Bullitt Satellite Connectivity:
The Motorola Defy satellite link is a compact, lightweight, Bluetooth accessory with a handy attachment loop that allows any Android or iOS device* to connect to the Bullitt Satellite Messenger application and utilize its full functionality, including true two-way messaging over satellite, as well as location sharing and SOS assistance.
The tough, pocket-friendly device has passed Mil-Spec 810H testing and is waterproof and dustproof with an IP68 rating. It has a 600mAh battery, providing sufficient battery life for multiple days of use. The design includes a physical SOS and location 'Check In' button, allowing it to offer some functions even when apart from its paired smartphone.
Designed to give any smartphone the power of satellite connectivity, the motorola defy satellite link is an advanced satellite hotspot device that ensures peace of mind – wherever your next adventure takes you.
Bullitt Satellite Messenger: Featuring direct-to-satellite mobile phone technology for two-way satellite messaging:
Bullitt Satellite Messenger is the first 3GPP standards-based satellite NTN or 'direct-to-device' service. The new motorola defy range will use the service to access existing geostationary satellites, providing affordable and continuous coverage internationally over existing, well-established infrastructure. With this new technology, customers can message over satellite, as long as they have a clear view of the sky.
The motorola defy satellite device will Bluetooth connect to any smartphone. The device then connects directly to geostationary satellites 22,300 miles above the earth and allows you to send text messages via the Bullitt Satellite Messenger app, when cellular and Wi-Fi are not available. Recipients without the Bullitt Satellite Messenger app can receive a message as a simple SMS to their existing phone, and are invited to download the associated Android or iOS app to respond.
The cost of the messages sent or received over satellite will be deducted from the satellite messaging subscriber's plan with no cost to the recipient. There is no charge to either party when sending or receiving messages over an internet connection.
SOS Assist – with 24/7 access to emergency response centers provided by FocusPoint International – is included with all plans which start from as little as $4.99/ month, with other flexible and heavier usage plans also available.
Pricing and availability:
The motorola defy satellite link will be available from April 2023 across international retailers. For local availability visit www.motorolarugged.com. Priced from $99 / €119 / £99 for the device only. A bundle including one year subscription to the Essentials Messaging service plan (up to 30 two-way messages per month and SOS Assist) will start at $149 / €169/ £149.
The motorola defy satellite link will be available for the first hands-on demonstrations at Showstoppers at MWC23, Sunday, 26 February, 4-7pm, Maritime Museum and at the Bullitt stand, Hall 7, Stand B50.  The devices are also on display on the Lenovo stand in Hall 3, Stand 3N30 and MediaTek in Hall 3, Stand 3D10.
References:
New motorola defy satellite link Bluetooth connected device with satellite messaging unveiled at MWC 2023
https://gizmodo.com/motorola-defy-satellite-messaging-iphone-android-ios-1850154912
---