Enterprise networking and IT cybersecurity professionals are turning to managed SD-WAN (software-defined wide area networking) and SASE (secure access service edge) services to deal with the increasing challenges caused by network complexity, according to a new report from market research firm Futuriom.
SD-WAN and SASE have been evolving and maturing for several years now, but the market is far from mature. It is still growing and is highly fragmented, both in terms of the companies involved in providing services and technology to enterprise users and in how SD-WAN and SASE capabilities are deployed and consumed by enterprises.
What's needed more than ever are software-based platforms for integrating the management of network and security functions at the same time. This approach was first initiated by SD-WAN, which separated the software control from the hardware for branch-office networking. SD-WAN evolved and grew by adapting security functionality (SASE), which could be integrated into the network platform.
The market has expanded to include SASE functionality, which provides cybersecurity functions such as secure web gateway (SWG), cloud access security broker (CASB), firewall-as-a-service (FWaaS), intrusion detection, zero-trust network access (ZTNA), and many others to protect enterprise access to public networks and SaaS apps.
Futuriom's survey took place in March and April of 2023. The total audience of 196 respondents came from three countries: the U.S. (127 respondents), Germany (37), and India (32).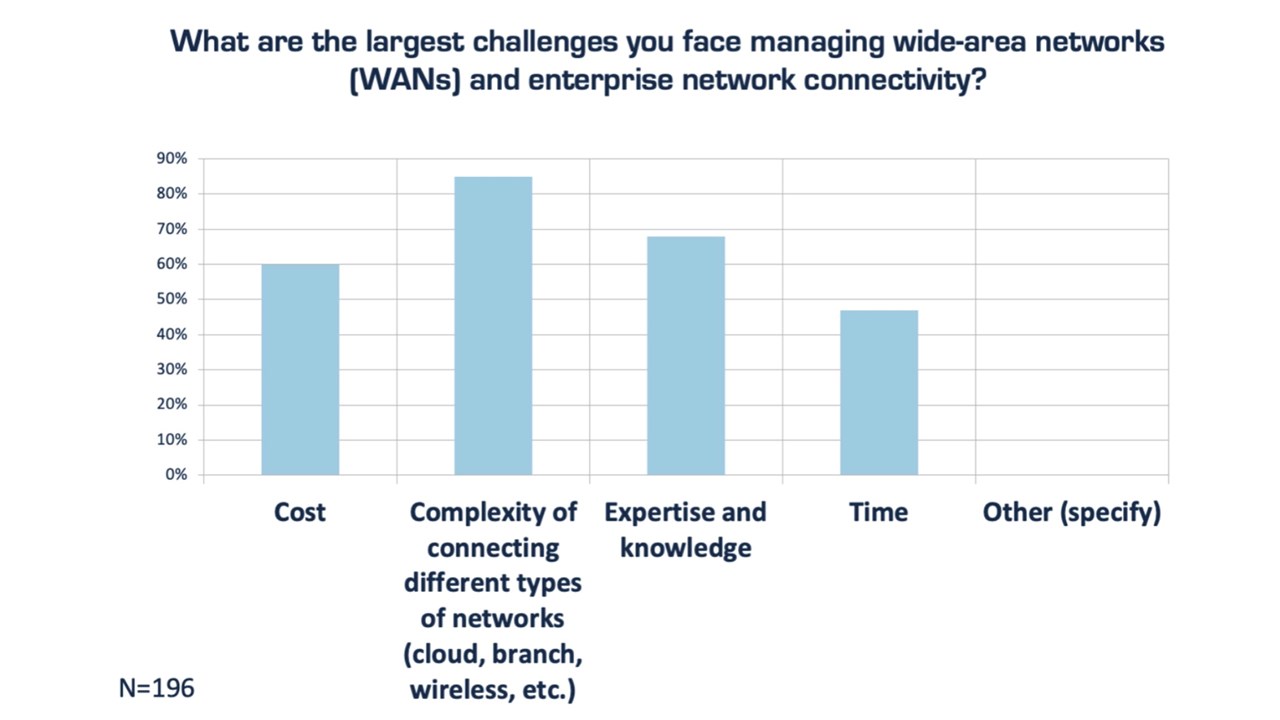 Report Highlights and Key Findings:
Survey respondents indicate strong demand for SD-WAN and SASE managed services. Our survey data and discussions with end users indicate that SD-WAN/SASE technology helps professionals with network and security challenges, including the growing complexity created by distributed applications, cloud connectivity, and sprawling security risks.
Managing network complexity is the largest challenge driving managed services demand. When asked about the largest challenges in managing WANs, 85% of respondents identified complexity, followed by expertise and knowledge (68%). Rounding out the responses were cost (60%) and time (47%). (Multiple responses were allowed.)
Hybrid work and the need for zero-trust network access (ZTNA) are key drivers of SD-WAN/SASE technology. In the survey, 98% of respondents said that hybrid work has increased demand for SASE and ZTNA. When we asked respondents if ZTNA is a crucial component of SASE and SD-WAN offerings, 92% said yes.
Hybrid (cloud/edge deployment) and single-pass architectures will be important components of SASE/SD-WAN services going forward. When respondents were asked if they wanted a hybrid solution that can accommodate networking and security both on premises and using cloud points of presence (PoPs), 98% said yes. In addition, 94% of respondents said they prefer a single-pass architecture.
There will continue to be a diversity of SD-WAN/SASE deployment models. The two most popular models for deployment are best-of-breed combination (34%) and single-vendor (23%), but survey results show a wide diversity of deployment models.
Companies covered in this report: Aryaka, Amazon, AT&T, British Telecom, Cato Networks, Check Point Software, Cisco, Colt, Comcast, Deutsche Telekom/T-Systems, Forcepoint, Fortinet, HPE (Aruba), Hughes, Juniper Networks, Lumen Technology, NTT, Orange, Palo Alto Networks, Tata Communications, Telefónica, Telstra, VMware, Verizon, Versa Networks, Vodafone, Windstream, Zscaler.
…………………………………………………………………………………………………………………………
Separately, Dell'Oro Group reported that the portion of the SASE market, where vendors offer both SD-WAN and SSE (security service edge) solutions, grew an impressive 55% year-over-year (YoY) in 1Q 2023. By doing so, single-vendor SASE overtook the multi-vendor SASE portion of the market, consisting of vendors that can only offer the SD-WAN or SSE component. The overall SASE market revenue rose by over 30 percent for the fifth consecutive quarter in 1Q 2023 and, by doing so, was not far off the $2B mark.
"Even as enterprises have been more judicious in how they spend security budget, the robust growth of the SASE market is a testament to the strong commitment by enterprises and the value they bring to secure users' access to cloud-based applications from anywhere," said Mauricio Sanchez, Research Director at Dell'Oro Group. "The vendors that can offer both the SD-WAN and SSE components are setting themselves apart in an extremely competitive market," added Sanchez.
Additional highlights from the 1Q 2023 SASE and SD-WAN Quarterly Report:
For the first time since Dell'Oro started tracking SASE in 1Q 2019, there was a revenue position change in the number one spot, with Zscaler overtook Cisco.
Palo Alto Networks overtook Broadcom (Symantec) for the number three overall SASE revenue position.
Check Point, HPE/Aruba, and Netskope became single-vendor SASE players.
Both SSE and SD-WAN revenue grew above 30 percent YoY.
Unified SASE solutions–defined as SASE solutions where SD-WAN and SSE have been tightly integrated into a single technology stack–eclipsed $200M for the third consecutive quarter, representing over 140% growth.
Overall SASE revenue growth on a regional basis varied from 27% in North America to 49% percent in the Caribbean and Latin America.
The Access Router market revenue surged forward by over 15% YoY on improved hardware supply.
The Dell'Oro Group SASE & SD-WAN report includes manufacturers' revenue covering the SASE and Access Router markets. In addition, the report analyzes the SASE market from two perspectives, technology (SD-WAN networking and SSE security) and implementation (unified and disaggregated). The report also provides unit information for the Access Router market. To purchase this report, please contact us at [email protected].
References:
https://www.futuriom.com/articles/news/results-from-our-sd-wan-sase-managed-services-survey/2023/06
Single-Vendor SASE Revenue Climbs 55 Percent in 1Q 2023 as More Vendors Become a One-Stop Shop, According to Dell'Oro Group
---