At Google Cloud Next '21 the cloud giant announced Google Distributed Cloud, a portfolio of solutions consisting of hardware and software that extend Google cloud infrastructure to the edge and into the customer premises data center.  This new offering permits wireless network operators to run their 5G core and radio access network (RAN) functions on Google Distributed Cloud in a variety of locations. These could include a telco's own facilities, premises owned by customers or Google's network of about 140 centers. One unifying theme is that hosting functions in a multitude of places – and not just a couple of big data centers – would shorten the distance that data signals must travel and cut service-interfering latency, a measure of the journey time. Functions can also be co-hosted with enterprise applications, according to Google.
In particular, Google Distributed Cloud can run across multiple locations, including:
Google's network edge – Allowing customers to leverage over 140+ Google network edge locations around the world.
Operator edge – Enabling customers to take advantage of an operator's edge network and benefit from 5G/LTE services offered by our leading communication service provider (CSP) partners. The operator edge is optimized to support low-latency use cases, running edge applications with stringent latency and bandwidth requirements.
Customer edge – Supporting customer-owned edge or remote locations such as retail stores, factory floors, or branch offices, which require localized compute and processing directly in the edge locations.
Customer data centers – Supporting customer-owned data centers and colocation facilities to address strict data security and privacy requirements, and to modernize on-premises deployments while meeting regulatory compliance.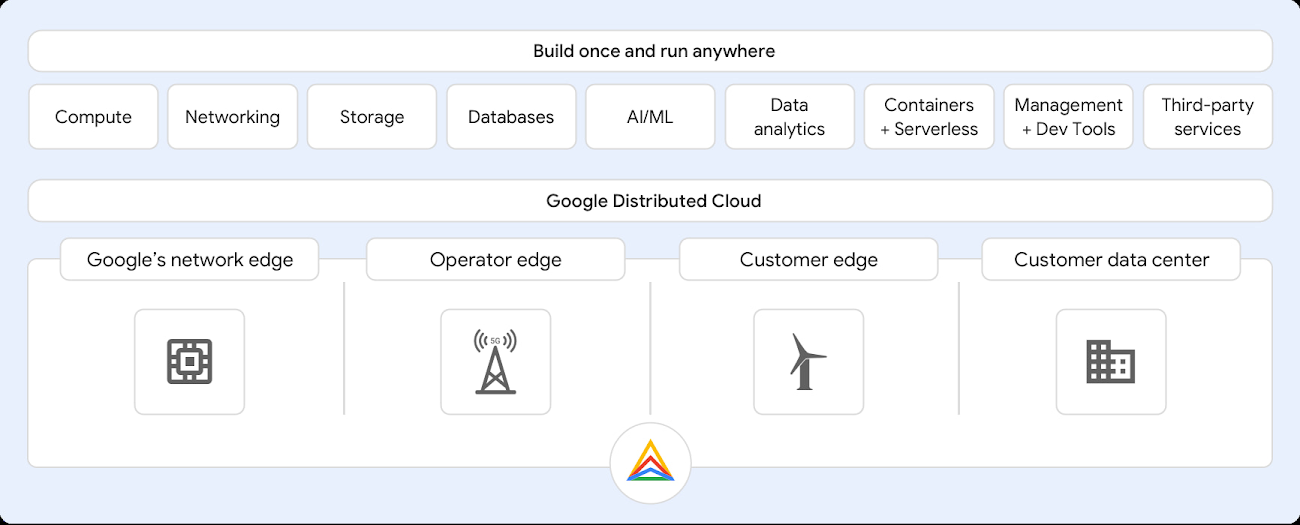 The first products under this portfolio include Google Distributed Cloud Edge and Google Distributed Cloud Hosted.  Google Distributed Cloud Edge is now available for preview, while Google Distributed Cloud Hosted set to become available in preview in the first half of 2022.
Google Distributed Cloud Edge is primarily aimed at wireless network operators. It  is designed to exist in the operator edge, customer edge and Google edge locations, of which there are over 140 around the world.
while Google Distributed Cloud Hosted is meant for public-sector and commercial customers that need to meet strict data residency, security or privacy requirements. Both are fully managed and comprise hardware and software solutions, including artificial intelligence and analytics capabilities.
During a media briefing, Google Cloud's VP and GM of Open Infrastructure Sachin Gupta said "This portfolio allows customers to focus on applications and business initiatives rather than management of their underlying infrastructure. In other words, they can just leave the complexity to us."
Gupta added that the Distributed Cloud Edge product enables network operators to run 5G core and radio access network functions closer to users, allowing them to slash latency and "offer their enterprise customers high-speed bandwidth, with private 5G and localized compute." In a blog, the executive added the product advances previously announced work with Ericsson and Nokia to deliver cloud-native network applications.  He said that Distributed Cloud Hosted  is a "safe and secure way to modernize on premises deployments without requiring any connectivity to Google Cloud."
Google Distributed Cloud is built on Anthos, an open-source-based platform that unifies the management of infrastructure and applications across on-premises, edge, and in multiple public clouds, all while offering consistent operation at scale. Google Distributed Cloud taps into our planet-scale infrastructure that delivers the highest levels of performance, availability, and security, while Anthos running on Google-managed hardware at the customer or edge location provides a services platform on which to run applications securely and remotely.
Using Google Distributed Cloud, customers can migrate or modernize applications and process data locally with Google Cloud services, including databases, machine learning, data analytics and container management. Customers can also leverage third-party services from leading vendors in their own dedicated environment. At launch, a diverse portfolio of partners, including Cisco, Dell, HPE, and NetApp, will support the service.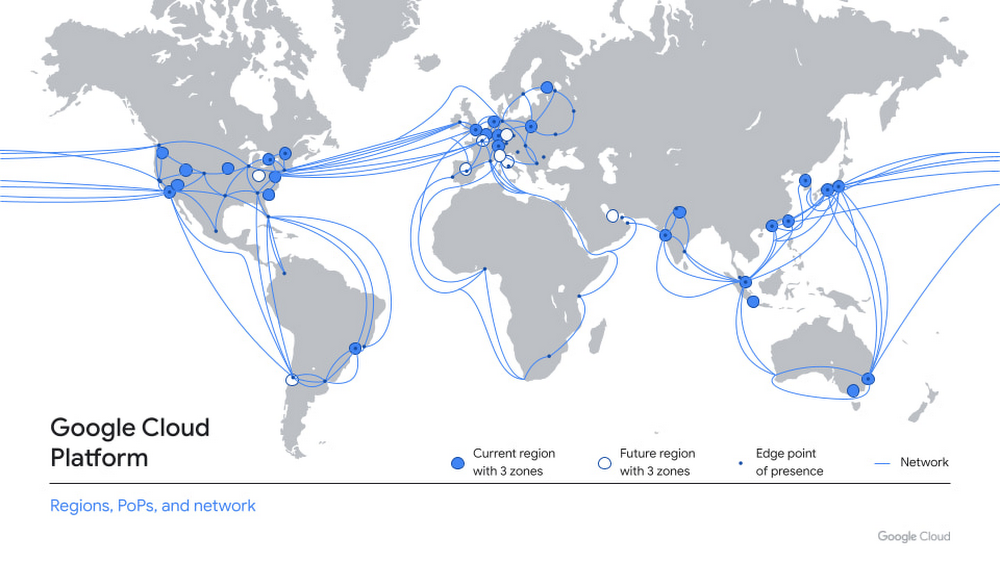 As Google's global network increases in reach, the company will be building out service-centric networking capabilities to simplify everything from connectivity to observability. For organizations with interconnects, VPNs, and SD-WANs, Networking Connectivity Center provides a centralized management model, with monitoring and visualization through our Network Intelligence Center. And, with Private Service Connect, partners and customers such as Bloomberg, MongoDB, and Elastic are now able to easily connect services without having to configure the underlying network.
Enterprises with workloads both on-premises and in the cloud can leverage hybrid load balancing to securely optimize application delivery. To help you detect and prevent malicious bot attacks, we recently integrated reCAPTCHA Enterprise with Cloud Amor. Together with Cloud IDS, the Google network edge is fortified with best-in-class security.
Obviously, virtualization is a network operator prerequisite so that network software runs on common, off-the-shelf compute servers. After virtualizing, network operators could theoretically integrate their networks with Google's distributed cloud.
Iain Morris of Light Reading offers his opinion:
Operators might do this if they believe a deal with Google costs less than operating a private cloud, or if it promises other benefits. But it means giving the hyper-scaler a big say over technology strategy and would have been inconceivable just a few years ago, when the valuation gap between telecom players and Internet firms was not so extreme and telcos were much warier of tie-ups.

For a start, it would obviously hand prominent roles to Anthos, Google's application management platform, and Kubernetes, a container orchestration platform that Google originally designed. Even when Google's facilities are not being used, it will effectively manage the hardware and software.
Obviously, neither Ericsson or Nokia were listed as partners or systems integrators as their purpose built wireless network equipment and 5G SA core network software are in direct competition with 5G deployments using hyper-scale cloud service providers (AWS, Azure, Google Cloud) technology.  Ericsson will launch virtual RAN software next year while Nokia´s AirScale Cloud RAN solution is in trials with major wireless network operators, including AT&T (which has outsourced its 5G SA core network to Amazon AWS).  Nonetheless, those two major network equipment vendors made supportive comments:
"The announcement of Google Distributed Cloud supports Ericsson's vision of the network becoming a platform of innovation, enabling companies across the ecosystem to deliver the applications of the future the way they need to, unlocking the full potential of 5G and edge," said Rishi Bhaskar, Head of Hyperscale Cloud Providers for Ericsson North America.
"This announcement builds on our on-going partnership with Google Cloud to develop Nokia cloud-native 5G core and Nokia radio solutions for Google's edge computing platform," said Nishant Batra, Nokia Chief Strategy and Technology Officer. "By extending this relationship into Google Distributed Cloud Edge, we will increase customer choice and flexibility, ultimately helping our global customer base with multiple cloud-based solutions to deliver 5G services on the network edge."
Curiously, there was no mention of software partners in Google's announcement, but any RAN software would have to work with the underlying base station hardware. Who takes responsibility for that is something 5G network operators must resolve before committing to Google Cloud.
Iain says that network operators teaming up with cloud service providers is a new form of lock-in substituting cloud hyper-scalers from wireless network equipment vendors. He wrote:
What's entirely unclear is why operators should worry less about dependency on Google than they currently do about their heavy reliance on Ericsson, Huawei and Nokia. Switching from one RAN vendor to another is costly but feasible, as swap-outs of Huawei in Europe are showing. Moving from one public cloud to another may be as tricky as quitting a crime syndicate. In 2019, Snapchat developer Snap warned in a regulatory filing that moving systems between public clouds would be "difficult to implement" and demand "significant time and expense."

If this and other hyper-scaler offers take off, the real losers would probably not be Ericsson and Nokia – which can still sell radio units and provide RAN software – but the vendors of private cloud software, such as VMware and Red Hat (owned by IBM). More generally, the public cloud could also be a threat to some of Google's own hardware partners. "The server vendors (Dell, HPE etc) also lose out," says James Crawshaw, a principal analyst with Omdia (a sister company to Light Reading, in an email. "Although they are going to be building and shipping the Google boxes, I suspect the margins on these will be lower than the regular servers they sell enterprises."

Few telcos have been as brave/reckless (delete according to bias) as Dish and gone all-in with a public cloud. That is partly because brownfield operators would be writing off the servers they already own. Nevertheless, Crawshaw expects public cloud usage to keep rising. "Servers are depreciated over three to seven years depending on the business and how fresh they like their IT," he says. "So while the telcos will continue to run their own clouds, they will increase their public cloud usage over time and only partially renew their private estate."
AT&T, Bell Canada, Telus, Telenet, TIM, Reliance Jio and Orange are all on the growing list of operators that have put some IT workloads on Google Cloud. "Some of these are running packet core and RAN applications as well," says Gupta. Contrast that with Dish Network which is wholly reliant on the AWS public cloud and AT&T which has its own physical 5G RAN, but will use the public AWS cloud for its 5G SA core network.
"Some years ago, everyone was saying we would have vendor lock-in with Ericsson, Huawei and Nokia and no one mentioned Oracle and Cisco and now the light is on hyper-scalers," said Yves Bellego, Orange's director of network strategy, during a recent interview with Light Reading. "In fact, that risk is something we have always been very concerned about."  That would imply cloud hyper-scaler lock-in is something network operators must carefully evaluate.
…………………………………………………………………………………………………………………………………………….
References:
https://cloud.google.com/blog/topics/hybrid-cloud/announcing-google-distributed-cloud-edge-and-hosted
https://cloud.google.com/distributed-cloud
https://cloud.google.com/blog/topics/hybrid-cloud/announcing-google-distributed-cloud-edge-and-hosted
https://www.lightreading.com/service-provider-cloud/google-wants-to-take-your-mobile-network-off-your-hands-telcos/d/d-id/772687?
https://www.fiercetelecom.com/telecom/google-targets-telcos-new-distributed-cloud-infrastructure
https://telecoms.com/511704/google-launches-a-more-flexible-iteration-of-its-cloud-portfolio/
---