According to IDC's Worldwide Semiannual Telecom Services Tracker. the worldwide market for telecoms and pay-TV services experienced a recovery during the second half of 2020, following the turbulent first half of the year as Covid-19 encouraged much greater on-line access and video binging.
Worldwide telecommunications services and pay TV services revenues totaled $1,53-trillion in 2020, representing flat year-over-year growth.  Americas was the largest region, accounting for $583 billion in services revenues, 38% of the total market. Asia-Pacific telcos generated $482 billion from services (more than 31% of the total), while those in EMEA generated services sales valued at $471 billion (almost 31% of the total).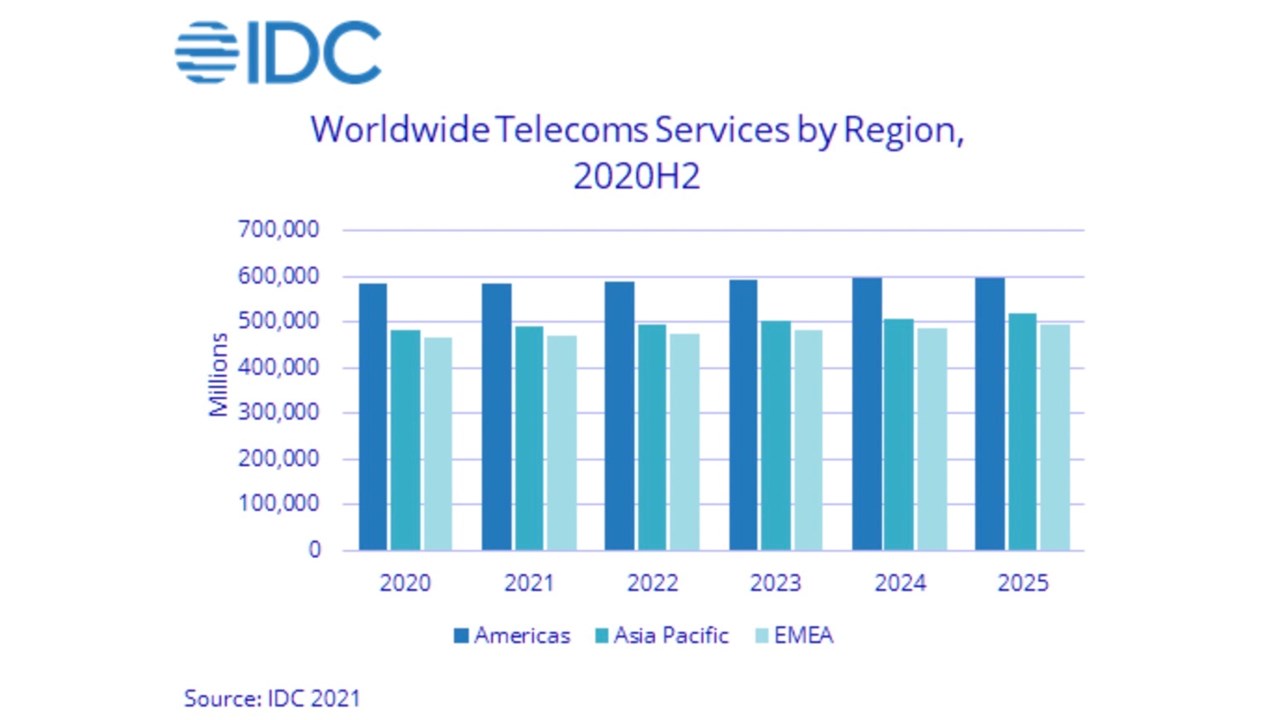 Global Regional Services Revenue and Year-on-Year Growth (revenues in $B)
Global Region
2020 Revenue
2019 Revenue
2020/2019

Growth

Americas
$583
$579
0.7%
Asia/Pacific
$482
$482
0.0%
EMEA
$467
$471
-0.8%
WW Total
$1,532
$1,532
0.0%
Source: IDC Worldwide Semiannual Services Tracker – 2H 2020
Although the revenue outcome in 2020 was neutral, the pandemic drastically changed the trends that have shaped the global telco market for a long time. Consumer fixed data services have suddenly become the most important type of connectivity, enabling home-bound people to work and entertain. Business fixed data services have temporarily lost momentum due to the migration of traffic to the consumer segment, but most of these connections were preserved as they were protected by long-term contracts. Fixed voice services saw a slight increase in dropout rates because some companies within the small business segments went bankrupt and more residential clients gave up their connections for cost-cutting purposes. Mobile services spending also declined slightly due to slower renewal of contract agreements, reduction of out-of-bundle spending, and a sharp decrease in roaming revenues due to travel restrictions. In the Pay TV segment, the migration from traditional Pay TV to Over the Top (OTT) services accelerated during the COVID-19 crisis, driven by increased consumption of video content and new OTT service launches.
IDC expects worldwide telecom services spending to increase by a meager 0.7% in 2021 reaching a total of $1,54-trillion. Growth during each of the next four years will take the market over the $1.6 trillion mark by 2025.
Is that tiny growth in revenues (not profits) enough to give the network operators the confidence to invest suitably in their networks (especially 5G), autonomous systems, operations and processes?
Telecom TV's Ray Lemaistre addresses that question in a blog post:
There are two ways to look at this, using '5G' as the lens (which is a valid perspective given the industry focus in terms of stated service potential and investment focus).

The first is the 'glass half full' view, that service providers are managing to at least grow and that without the benefits of enhanced mobile and fixed broadband services they'd be shrinking and in trouble.

The second (glass half empty) perspective is that a very small level of annual growth in a global market that underpins the strategies of pretty every other vertical sector, enables high-value enterprise and consumer services and now has 5G as a new value creator following significant levels of investment (that are ongoing) should be generating much greater returns on investment and sales growth – if IDC is right, the market is little better than 'flat', which isn't much to get excited about.

So is IDC being too pessimistic? Or realistic? Or even too positive about the service revenue trends of the telcos? The world is now revolving around digital services, yet the traditional suppliers of communications services don't appear to be the ones that will financially benefit, no matter how much time, effort and money they pump into 5G.
IDC believes that connectivity will become an even more critical asset for households and businesses after the pandemic, as some of the habits adopted during the crisis (remote working, collaboration, online media consumption) are expected to become part of everyday life. The migration toward FttP access is expected to accelerate in most of the country markets, while the business fixed data market will recover in the longer term as the economic recovery drives increased investments in the cloudification of enterprise business activities. Revenue growth in the mobile services space will be buoyed to a degree by 5G adoption, which will invite users to deploy more advanced data capabilities and uptake the content and services dependent on high-speed data connectivity.
The global telco market was put to a serious test in 2020 and it successfully passed. IDC believes that the lessons learned last year will help the industry to secure stable growth in the coming period. "The COVID-19 pandemic demonstrates the resilience and value of the telecoms industry," said Chris Barnard, vice president, European Infrastructure and Telecoms. "New ways of working will persist beyond the pandemic, shaping future revenue opportunities, while the network-centricity of consumers will drive bandwidth requirements in that segment as well."
About IDC Trackers
IDC Tracker products provide accurate and timely market size, vendor share, and forecasts for hundreds of technology markets from more than 100 countries around the globe. Using proprietary tools and research processes, IDC's Trackers are updated on a semiannual, quarterly, and monthly basis. Tracker results are delivered to clients in user-friendly Excel deliverables and on-line query tools.
For more information about IDC's Worldwide Semiannual Telecom Services Tracker, please contact Kathy Nagamine at 650-350-6423 or [email protected].
……………………………………………………………………………………………………………………………………
References:
https://www.idc.com/getdoc.jsp?containerId=prUS47671521
https://www.telecomtv.com/content/access-evolution/global-telecoms-services-sector-forecast-offers-little-joy-for-telcos-41449/
---