Global Telecom Services Market
According to Stefan Pongratz of Dell'Oro, U.S. suppliers collectively accounted for around 16% of the global telecom equipment market in 2022, underpinned by strong presence in broadband access, optical transport and Service Provider Routers. Not surprisingly, this global view is masking the progress to some degree. If we exclude China, we estimate that the 20+ American suppliers comprise ~20% of the broader telecom equipment market.
U.S. suppliers appear to be struggling more in the RAN market. Per Dell'Oro's 4Q22 RAN report, the American-based vendors still accounted for less than 1% of the global RAN market in 2022. Even if China is removed, the aggregate revenue share remains in the same range.
…………………………………………………………………………………………………………………………………………………………………….
Editor's Note:  The big 5 have dominated the global RAN market for over 15 years.  Huawei, Ericsson, Nokia, ZTE, and Samsung together have about 95% of the global RAN market. Pongratz  expects global RAN revenues to decline at a low-single-digit rate for 2023, with a surge in spending from India-based operators to fuel their 5G plans offset by dropping demand in China, Europe, and North America.
"After four years of extraordinary growth that catapulted the RAN market to record levels in 2021, the RAN market is now entering a new phase," Pongratz wrote. "Even with 5G still increasing at a healthy pace, comparisons are more challenging and the implication for the broader RAN market is that growth is decelerating."
…………………………………………………………………………………………………………………………………………………………………….
Dell'Oro estimates that the collective RAN revenues for the U.S. suppliers had an increased of 60% in 2022 relative to 2020, in part because of the improved entry points with Open RAN.  U.S. network equipment vendors are fairly optimistic about the growth prospects:
Mavenir is targeting 30%+ growth in 2023. While the mobile core network continues to drive the lion's share of its revenue mix, Mavenir's 10,000+ macro-site brownfield pipeline is expected to play a pivotal role in reaching this $1 billion group revenue target for FY23.
Celona is working with 100+ customers and has seen a 300%+ increase in the number of connected devices across its 5G installed base. The vendor is now targeting to more than double its revenues this fiscal year.
JMA has not shared any growth objectives for its wireless business. Even so, the vendor has announced multiple DoD wins and believes its all-American team is well positioned to support advanced private 5G networks for the U.S. government.
Verana Networks is set to work on a trial with Verizon later this year.
Dell is planning to enter the vRAN market over the next year, allegedly.
Airspan's equipment and software revenue growth slowed in 2022. Still, trial activity is on the rise and Airspan remains hopeful that its 400+ private network wins will soon have a more meaningful impact on the topline.
At the same time, it is early days in this process of re-shaping the RAN. And even if global market concentration as measured by the Herfindahl-Hirschman Index (HHI) is actually trending in the right direction, vendors with smaller footprints are still trying to figure out the best near-term and long-term approaches to improve their respective RAN positions – some think that open RAN can be an entry point for brownfield macro opportunities while others believe the likelihood of winning is greater in greenfield settings (public or private).
Open RAN might help to open the door, but this movement does not change the fact that RAN remains a scale game and double-digit RAN revenue shares are still required to maintain competitive portfolios.
Currently, this vendor asymmetry between RAN and the broader telecom equipment market then also implies that the U.S. suppliers are actually doing rather well beyond the wireless scope. In fact, if we remove the RAN from the picture, we estimate that the U.S. vendors accounted for around a fourth of the global non-RAN telecom equipment market. Better yet, if we take it one step further and also strip out China, the data shows that the American team comprised around one third of the non-RAN telco equipment market excluding China.
Dell'Oro's assessment is that the U.S. suppliers hold a strong position in the non-RAN telecom equipment market. When it comes to RAN, however, the data shows that the American-based suppliers are moving in the right direction, especially in private wireless. But the overall progress has been slow, and it is still a long road ahead before we can establish that the U.S. suppliers are back at full speed in the broader public plus private 5G RAN business
…………………………………………………………………………………………………………………………………………………………
Stefan Pongratz is a vice president at the Dell'Oro Group. He joined Dell'Oro in 2010 after spending 10 years with the Anritsu Company. Pongratz is responsible for the firm's Radio Access Network and Telecom Capex programs and has authored advanced research reports on the wireless market assessing the impact and the market opportunity with small cells, C-RAN, 5G, IoT and CBRS.
References:
https://www.fiercewireless.com/wireless/what-state-us-ran-and-non-ran-suppliers-pongratz
The 9.7% year-over-year drop in the global telecom market is based on GfK's exclusive POS (point of sale) data for retailers in 67 countries worldwide, excluding North America.  The industry had $360 billion (U.S. $) in revenue from January to December 2022.
The smartphone segment, including phablets, experienced a 10.2% drop year over year, but still accounted for $330 billion (US) in revenue.  One of the few market drivers in 2022 was consumers with higher and middle incomes. These shoppers now account for 48% of all smartphone buyers, up 4 percentage points compared to 2021.  Demand for premium devices also increased; revenue for 5G models, for example, grew by 1.2% in 2022 versus the year before. The same applies to devices with more storage; smartphones with a capacity of over 256GB recorded an increase of 19% and accounted for 41% of total market revenue in 2022.
"While we had already predicted saturation effects in 2022 after the strong telecom sales in pandemic years, the additional weakness of the Chinese market significantly impacted the results," explains Jan Lorbach, GfK expert for the Telecom industry. "But GfK expects a stabilization of the telecom market in 2023."
While consumers who are still buying smartphones are opting for premium devices, the total number of purchases decreased in 2022. One reason may be that people are keeping their smartphones for a longer time. Data from gfknewron Consumer shows that, from January to September 2019, only 48% of consumers used their smartphones for two years or longer; for the same period in 2022, that increased to 57% (an increase of plus 9 percentage points).
This new longevity in ownership can especially be observed in Generation Z (15 to 25 years old), where the share of Gen Z consumers keeping their smartphones for two-plus years now stands at 14 percentage points above the average. This younger generation has a clear focus on sustainability and therefore may be consciously extending the lifecycle of their devices.
Wearables Hold Steady:
One of the few telecom segments that managed to survive the difficult year 2022 in a stable manner is wearables. With $13.9 billion (US $) in revenue, the wearables market achieved almost the same level in 2022 as in the previous year (minus 1.1% compared to 2021). Although popular segments have lost ground, this has been offset by growth in other product lines.
GfK also saw significant year-over-year (2022 vs. 2021) increases and declines in revenue in specific wearables categories:
• Health and Fitness tracker: -31%
• Smartwatches: +21%
• Wrist Sport Computers: -43%
These shifts have been driven by increasing consumer demand for greater control of their health, via smart features. Accordingly, wearables with a sleep tracking feature (plus 4%) or blood oxygen sensors (plus 20%) showed strong growth. This trend also led to innovations, such as the new feature of stress level measuring (EDA). Launched in the fourth quarter of 2021, these devices already account for 16% of revenue in the wearables market and continue to grow.
AR/VR headsets: First decline ever, but potential is still high:
Further hot topics for MWC are virtual reality (VR), augmented reality (AR), and the metaverse — made possible by devices such as VR headsets. While awareness and discussions around the metaverse have risen, retail sales of VR headsets in the European market* actually declined by 15% year-over-year in 2022. This is the first decline ever, as the market has previously recorded double-digit growth for years.
"The European market seems to have accomplished initial consumer penetration of VR headsets," says Sohjin Baek, GfK expert for global IT hardware industry. "The industry should now focus on providing more content, as well as better visual quality and security, to drive the market based on this initial penetration. Convincing consumers about the use cases will be key to drive VR/metaverse forward."
Outlook 2023:
GfK experts forecast a stronger year 2023 for the global Telecom market overall compared to the relatively weak 2022. At a regional level, China, which is the largest single market, is expected to pick up again and significantly drive global market growth. Additionally, developments within the three main product categories will have a positive impact:
Although replacement cycles are extending, smartphone purchases made at the height of the pandemic in 2020 and 2021 are entering the expected renewal cycle window this year.
In wearables the next generation of Health Tracking sensors, which will expand the scope of applications, will drive the market. In addition, positive revenue growth is expected for the smartwatches segment.
VR/AR is expected to become more tangible and grow into areas beyond gaming. This is one of the segments with the greatest potential in the coming years.
To remain competitive in the market and differentiate from competitors in terms of quality, retailers and manufacturers should continue to innovate for more powerful or faster devices that make consumers' lives easier. "Innovation will further drive consumer's demand," says Jan Lorbach, GfK expert for the Telecom market. "When the holding time of smartphones is extending and budgets are tight, consumers will more than ever ask for value for money."
…………………………………………………………………………………………………………………………………………………………………………………………………………………………………………………….
About the GfK method:
Through its retail panels, GfK regularly collects POS data in more than 70 countries worldwide for the consumer electronics, photography, telecommunications, information technology, office equipment, and small and large household appliances sectors. All figures are according to GfK panel market, with global data excluding North America and presented in US dollars. Revenues are presented in US dollars Non Subsidized Prices (NSP).
gfknewron is an always-on platform that combines market, consumer and brand data supercharged with AI-powered recommendations. It enables companies to gain actionable and connected insights and act at speed to ignite sustainable growth. The platform offers three specific modules: "gfknewron Market" for market and competitor insights, "gfknewron Consumer" for an in-depth consumer understanding and "gfknewron Predict" that delivers recommendations for companies based on market data and AI-powered intelligence.
* European market data include Belgium, Denmark, Finland, France, Germany, United Kingdom, Greece, Italy, Netherlands, Norway, Portugal, Russia, Spain, Sweden
U.S. media contact:  David Stanton +1 (908) 875-9844; [email protected]
…………………………………………………………………………………………………………………………………………………………………………………………………………………………………………………….
Separately,  ReportLinker forecasts that the Global IoT Telecom Services Market size is expected to reach $97.9 billion by 2028, rising at a market growth of 31.8% CAGR during the forecast period.  IoT protocols and 5G interconnection can broadcast information from thousands of devices to a large number of consumers without slowing communication speed or limiting capacity. The market for IoT telecom services is driven by these factors, which are anticipated to increase in the future. The growth of the IoT telecom services market is primarily driven by the increasing acceptance of technological advancement and innovation, as well as IoT-powered smart security cameras.
Based on connectivity, the IoT telecom services market is segmented into cellular technology, LPWAN, NB-IoT, and RF-based. In 2021, the LPWAN segment garnered a substantial revenue share in the IoT telecom service market. This is due to the widespread acceptance of the IoT telecom service market to strengthen LPWA Network (LPWAN) technologies, which offer a low-cost, low-power wireless option with global reach and robust security. In the telecom industry, machine-to-machine connections are crucial; for this, WiFi and GSM technologies are typically employed.
References

:
https://www.gfk.com/press/telecom-global-trends-mwc
https://www.globenewswire.com/news-release/2023/02/22/2613477/0/en/The-Global-IoT-Telecom-Services-Market-size-is-expected-to-reach-97-9-billion-by-2028-rising-at-a-market-growth-of-31-8-CAGR-during-the-forecast-period.html
According to IDC's Worldwide Semiannual Telecom Services Tracker. the worldwide market for telecoms and pay-TV services experienced a recovery during the second half of 2020, following the turbulent first half of the year as Covid-19 encouraged much greater on-line access and video binging.
Worldwide telecommunications services and pay TV services revenues totaled $1,53-trillion in 2020, representing flat year-over-year growth.  Americas was the largest region, accounting for $583 billion in services revenues, 38% of the total market. Asia-Pacific telcos generated $482 billion from services (more than 31% of the total), while those in EMEA generated services sales valued at $471 billion (almost 31% of the total).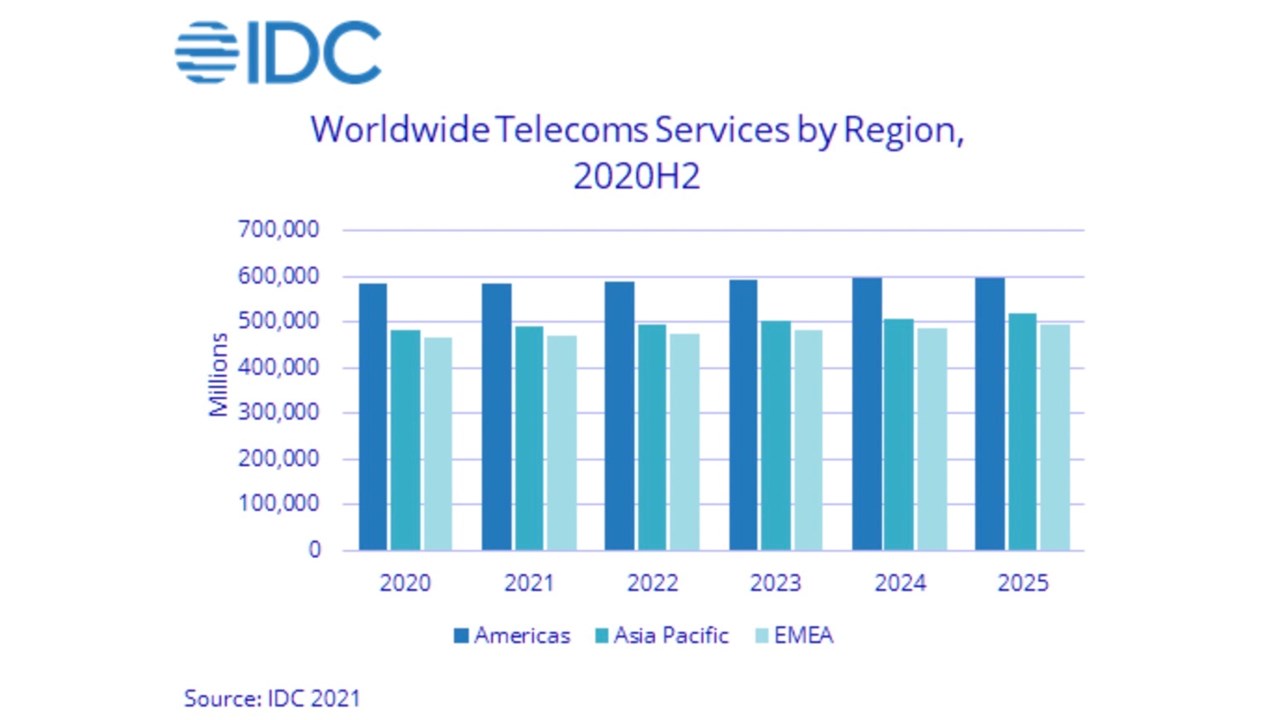 Global Regional Services Revenue and Year-on-Year Growth (revenues in $B)
Global Region
2020 Revenue
2019 Revenue
2020/2019

Growth

Americas
$583
$579
0.7%
Asia/Pacific
$482
$482
0.0%
EMEA
$467
$471
-0.8%
WW Total
$1,532
$1,532
0.0%
Source: IDC Worldwide Semiannual Services Tracker – 2H 2020
Although the revenue outcome in 2020 was neutral, the pandemic drastically changed the trends that have shaped the global telco market for a long time. Consumer fixed data services have suddenly become the most important type of connectivity, enabling home-bound people to work and entertain. Business fixed data services have temporarily lost momentum due to the migration of traffic to the consumer segment, but most of these connections were preserved as they were protected by long-term contracts. Fixed voice services saw a slight increase in dropout rates because some companies within the small business segments went bankrupt and more residential clients gave up their connections for cost-cutting purposes. Mobile services spending also declined slightly due to slower renewal of contract agreements, reduction of out-of-bundle spending, and a sharp decrease in roaming revenues due to travel restrictions. In the Pay TV segment, the migration from traditional Pay TV to Over the Top (OTT) services accelerated during the COVID-19 crisis, driven by increased consumption of video content and new OTT service launches.
IDC expects worldwide telecom services spending to increase by a meager 0.7% in 2021 reaching a total of $1,54-trillion. Growth during each of the next four years will take the market over the $1.6 trillion mark by 2025.
Is that tiny growth in revenues (not profits) enough to give the network operators the confidence to invest suitably in their networks (especially 5G), autonomous systems, operations and processes?
Telecom TV's Ray Lemaistre addresses that question in a blog post:
There are two ways to look at this, using '5G' as the lens (which is a valid perspective given the industry focus in terms of stated service potential and investment focus).

The first is the 'glass half full' view, that service providers are managing to at least grow and that without the benefits of enhanced mobile and fixed broadband services they'd be shrinking and in trouble.

The second (glass half empty) perspective is that a very small level of annual growth in a global market that underpins the strategies of pretty every other vertical sector, enables high-value enterprise and consumer services and now has 5G as a new value creator following significant levels of investment (that are ongoing) should be generating much greater returns on investment and sales growth – if IDC is right, the market is little better than 'flat', which isn't much to get excited about.

So is IDC being too pessimistic? Or realistic? Or even too positive about the service revenue trends of the telcos? The world is now revolving around digital services, yet the traditional suppliers of communications services don't appear to be the ones that will financially benefit, no matter how much time, effort and money they pump into 5G.
IDC believes that connectivity will become an even more critical asset for households and businesses after the pandemic, as some of the habits adopted during the crisis (remote working, collaboration, online media consumption) are expected to become part of everyday life. The migration toward FttP access is expected to accelerate in most of the country markets, while the business fixed data market will recover in the longer term as the economic recovery drives increased investments in the cloudification of enterprise business activities. Revenue growth in the mobile services space will be buoyed to a degree by 5G adoption, which will invite users to deploy more advanced data capabilities and uptake the content and services dependent on high-speed data connectivity.
The global telco market was put to a serious test in 2020 and it successfully passed. IDC believes that the lessons learned last year will help the industry to secure stable growth in the coming period. "The COVID-19 pandemic demonstrates the resilience and value of the telecoms industry," said Chris Barnard, vice president, European Infrastructure and Telecoms. "New ways of working will persist beyond the pandemic, shaping future revenue opportunities, while the network-centricity of consumers will drive bandwidth requirements in that segment as well."
About IDC Trackers
IDC Tracker products provide accurate and timely market size, vendor share, and forecasts for hundreds of technology markets from more than 100 countries around the globe. Using proprietary tools and research processes, IDC's Trackers are updated on a semiannual, quarterly, and monthly basis. Tracker results are delivered to clients in user-friendly Excel deliverables and on-line query tools.
For more information about IDC's Worldwide Semiannual Telecom Services Tracker, please contact Kathy Nagamine at 650-350-6423 or [email protected].
……………………………………………………………………………………………………………………………………
References:
https://www.idc.com/getdoc.jsp?containerId=prUS47671521
https://www.telecomtv.com/content/access-evolution/global-telecoms-services-sector-forecast-offers-little-joy-for-telcos-41449/
---