Open RAN Policy Coalition
Believe it or not, there is now a third Open RAN consortium, joining the ORAN Alliance and TIP OpenRAN. Even more astonishing is that none of the three consortiums have any liaison or co-operation with ITU-R or ITU-T which are standardizing 5G as IMT 2020 radio and non-radio aspects, respectively.  Nor do these consortiums liaise with 3GPP which is the REAL mover and shaker developing 5G specs that are implementable.
Thirty-one global technology companies have launched the Open RAN Policy Coalition to promote policies that will advance the adoption of open and interoperable solutions in the Radio Access Network (RAN) as a means to create innovation, spur competition and expand the supply chain for advanced wireless technologies including 5G.
Open RAN Policy Coalition founding members include Airspan, Altiostar, AT&T, AWS, Cisco, CommScope, Dell, DISH Network, Facebook, Fujitsu, Google, IBM, Intel, Juniper Networks, Mavenir, Microsoft, NEC Corporation, NewEdge Signal Solutions, NTT, Oracle, Parallel Wireless, Qualcomm, Rakuten Mobile, Samsung Electronics America, Telefónica, US Ignite, Verizon, VMWare, Vodafone, World Wide Technology, and XCOM-Labs.
"Open RAN networks are a significant departure from the traditional industry model and legislators need to know the advantages and how government actions can help accelerating the development and deployment of open and interoperable solutions," said Thierry Maupilé, Altiostar's executive vice president, in a statement.
"As evidenced by the current global pandemic, vendor choice and flexibility in next-generation network deployments are necessary from a security and performance standpoint," said Diane Rinaldo [1.], Executive Director, Open RAN Policy Coalition.  "By promoting policies that standardize and develop open interfaces, we can ensure interoperability and security across different players and potentially lower the barrier to entry for new innovators."  Yet that is exactly what the O-RAN Alliance and TIP OpenRAN project were set up to do.
Note 1.  Ms. Rinaldo was until recently the deputy assistant secretary for communications and information at the US Department of Commerce (DoC).
In past generations of mobile networks, the networks were deployed using fully integrated cell sites, where the radios, hardware and software were provided by a single manufacturer as a closed proprietary solution.  Today, the industry is working towards standards and technical specifications that define open interfaces between the radios, hardware and software so that networks can be deployed using more than one vendor.
Multi-vendor deployments enable a more competitive marketplace and give network operators greater ability to manage their networks and flexibility to draw on the innovations of multiple suppliers to upgrade their infrastructure with the latest technology.
Using multiple interoperable suppliers also allows operators to potentially move more quickly to replace or address vulnerable network equipment when reacting to threats, and shift network capacity on demand.
The coalition believes that the U.S. Federal Government has an important role to play in facilitating and fostering an open, diverse and secure supply chain for advanced wireless technologies, including 5G, such as by funding research and development, and testing open and interoperable networks and solutions, and incentivizing supply chain diversity.
Isn't that a clear indication the coalition has and will continue to exclude Chinese vendors like Huawei and ZTE?
The launch of the new group, interestingly, comes several weeks after a bipartisan group of US senators proposed investing more than $1 billion in open RAN technologies. Under their plans, the funds would come from spectrum auction proceeds and be managed by the National Telecommunications and Information Administration (NTIA).
………………………………………………………………………………………………………………………………..
Rakuten leads the way forward for Open RANs:
Rakuten Mobile has deployed a version of Open RAN in Japan.  The greenfield virtualized, open RAN build was made available for commercial LTE services in April with plans to move to 5G on the virtualized infrastructure. A number of Rakuten Mobile's vendors, including NEC, are members of the Open RAN Policy Coalition. Further, Rakuten Mobile has expressed interest in providing its network model to other operators interested in following a similar virtualized OPEN RAN 5G network.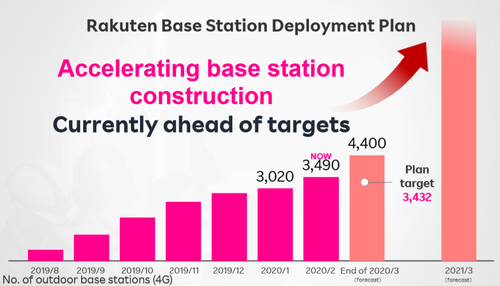 However, analysts have remained skeptical that Rakuten can challenge Japan's old guard with a cloud-only mobile network. In a research note published in March, shortly before Rakuten's launch, Atul Goyal, an analyst with Jefferies, flagged "numerous connectivity issues" when Rakuten introduced its beta service in late 2019. "A poor-quality, low-price network is likely to fail in Japan," he wrote. Its failure would be a huge setback for open RAN.
……………………………………………………………………………………………………………………………………….
Parallel Wireless is on board:
Parallel Wireless CEO Steve Papa told RCR Wireless that the open RAN business model matches the generational shifts in cellular. "The economics of a coverage technology and architecture don't scale well as a capacity architecture. The entire business models of the incumbent vendors don't work and don't map to what the people deploying the equipment require given the economic realities."
Papa continued to say that open RAN "is exposing this to more innovators to participate, which is good. But more importantly, the U.S. government is waking up to its role in supporting the semiconductor market." He noted the Made in China 2025 focus on developing semiconductor expertise and other moves he characterized as "a state actor tipping to playing field…Our commercial market in communications infrastructure equipment is being distorted by a state actor. We can let that happen or we can counter it in a similar way."
"We see this coalition as an important addition to the standards work that O-RAN Alliance is doing and also global deployments driven by TIP," said Steve Papa, the CEO of Parallel Wireless, in comments emailed to Light Reading.
…………………………………………………………………………………………………………………………………..
References:
https://www.rcrwireless.com/20200505/policy/open-ran-policy-coalition-launches
https://www.lightreading.com/5g/us-sets-up-new-open-ran-group-amid-telecom-slugfest-with-china/d/d-id/759409?
TIP OpenRAN and O-RAN Alliance liaison and collaboration for Open Radio Access Networks
O-RAN Alliance, Telecom Infra Project (TIP) & OCP Telco may open up telecom equipment market to new entrants
---