The Global AI in Telecommunication Market [1.] is estimated to be $1.2 Billion (B) in 2021 and is expected to reach $6.3B by 2026, growing at a CAGR of 38%, according to a report by Research and Markets.
For comparison, Valuates says the global AI In Telecommunication market size is projected to reach $14.99B by 2027, from $11.89B in 2020, at a CAGR of 42.6% during 2021-2027.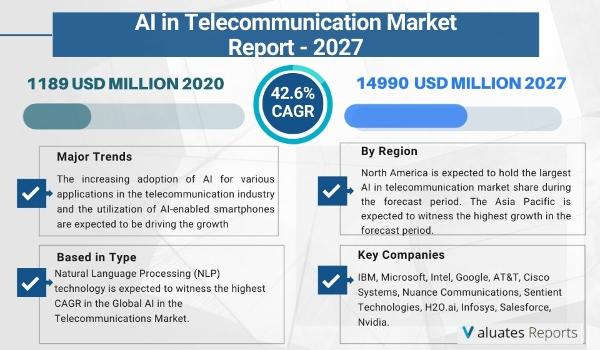 Note 1. Artificial Intelligence in Telecom includes handling large volumes of data using machine learning and analytics, automating detection and correction of failures in transmission, automating customer care services, and complementing Internet of Things(IoT), e-mail, voice call, and database storage services.
Key factors of AI in telecom include the deployment of 5G mobile networks, growing demand for effective and efficient network management solutions have been driving  AI in telecommunications market growth. Increasing AI-embedded smartphones and the growing adoption of AI solutions in various telecom applications are likely to further drive market growth.
Market Drivers:
Increasing Adoption of AI for Various Applications in the Telecommunication Industry
AI Can Be the Key to Self-Driving Telecommunication Networks
Increased Need for Monitoring the Content Spread on Telecommunication Networks
Growing Demand for Effective and Efficient Network Management Solutions
Telecom vendors commonly use AI for customer service applications, such as chatbots and virtual assistants, to address many support requests for installation, maintenance, and troubleshooting. To improve customer experience, telecom operators are adopting AI.
Other common uses of AI in Telecom include:
Predictive maintenance

Network optimization

Fraud detection and prevention

Robotic process automation (RPA)
Opportunities include:
Cloud-Based AI Offerings in the Telecommunication Industry
Utilization of AI-Enabled Smartphones
Conversely, incompatibility between telecommunication systems and AI technology, which leads to integration complexity in these solutions, is the major constraint for market growth. Also, the lack of skilled expertise and privacy & identity concerns of individuals are some other factors hindering the market growth.
References:
https://www.prnewswire.com/news-releases/the-worldwide-ai-in-telecommunication-industry-is-expected-to-reach-6-3-billion-by-2026–301401190.html
https://techblog.comsoc.org/2021/08/26/emerging-ai-trends-in-the-telecom-industry/
---