SK Telecom today announced that it has successfully accomplished the world's first standalone (SA) 5G data session on its multi-vendor commercial 5G network in South Korea.
Editor Notes:
1.  T-Mobile claimed they were the first carrier to successfully test 5G SA operation which we covered in this article:  T-Mobile Claim: 1st Standalone 5G Data Session on a Multi-Vendor Radio and Core Network.
2.  Definition: 5G Stand Alone (SA) refers to using 5G specifications (in cells/base stations and endpoints) for both signalling and information transfer.  All 5G deployments to date use NSA operation which uses 4G-LTE signaling and 4G-Evolved Packet Core (EPC) as well as LTE network management
SA operation requires the new 5G Packet Core (5GC) architecture from 3GPP instead of relying on the EPC to allow the deployment of 5G without the LTE network.
Ericsson provides 5G Standalone 5G facts:
New cloud-native 5G Core

Simplified RAN and device architecture

The only option to provide same 5G coverage for low band as legacy system
Supports advanced network-slicing functions (not standardized yet – may be in 3GPP Release 16)
Facilitates a wider range of use cases for new devices
Brings ultra-low latency  (that won't happen to completion of 3GPP Release 16 in June 2020 if then)
3. South Korea was the first country in the world to launch 5G services and currently has some of the most wide ranging 5G networks anywhere in the world.  That's largely due to government co-ordination with the three large South Korean wireless network operators – SK Telecom, KT and LG Uplus.
………………………………………………………………………………………….
With this major breakthrough in 5G, SK Telecom says it is now fully set to provide standalone 5G services. SK Telecom said that it plans to launch the world's first 5G SA service in the first half of this year.
The standalone 5G data call took place on January 16, 2020 in Busan, the second largest city in Korea, using SK Telecom's commercial 5G network deployed in that region.
To achieve this standalone 5G milestone, the company applied standalone 5G New Radio (NR) software to its existing non-standalone (NSA) 5G base stations, and completed multi-vendor interoperability between network equipment of Ericsson and Samsung.
SK Telecom has also applied key 5G technologies such as network slicing and mobile edge computing (MEC) to its standalone 5G network. Network slicing is being highlighted as an essential technology for providing optimal support for different types of 5G services by partitioning a single physical network into multiple virtual mobile networks. MEC minimizes latency by providing a shortcut for data transmission through installation of small-scale data center at 5G base station or router. MEC can improve the performance of ultra-low latency 5G services such as cloud gaming, smart factory and autonomous driving.
"With the successful standalone 5G data call on our multi-vendor commercial 5G network, we are now standing on the threshold of launching standalone 5G service, a key enabler of revolutionary changes and innovations in all industries," said Park Jong-kwan, Vice President and Head of 5GX Labs of SK Telecom. "SK Telecom will offer the best 5G networks and services to realize a whole new level of customer experience in the 5G era."
About SK Telecom
SK Telecom (NYSE: SKM) is the largest mobile operator in Korea with nearly 50 percent of the market share. As the pioneer of all generations of mobile networks, the company has commercialized the fifth generation (5G) network on December 1, 2018 and announced the first 5G smartphone subscribers on April 3, 2019. With its world's best 5G, SK Telecom is set to realize the Age of Hyper-Innovation by transforming the way customers work, live and play.
Building on its strength in mobile services, the company is also creating unprecedented value in diverse ICT-related markets including media, security and commerce.
For more information, please contact skt_press@sk.com or sktelecom@bcw-global.com.
………………………………………………………………………………………….
Related—Big 3 Korean carriers vow to offer seamless telecom service during lunar new year:
Korea's big three mobile network operators have committed to provide "seamless" connectivity over the Korean Lunar New Year festivities, according to reports in the Korean press.
SK Telecom, KT and LG Uplus all committed to provide extra capacity in their networks over the Seollal period, as Koreans travel home for the holiday, placing extra strain on the country's networks, particularly in public spaces such as train stations and along the country's roads.
"To respond to possible data traffic jams, LG Uplus checked out base stations for 4G and 5G networks and will run an emergency situation room. We will also increase the number of technicians for highly-populated areas such as airports," the company told journalists from the Korea Times.
SK Telecom predicted that it would see a 24 per cent hike in data traffic over the holiday period, as vacationing Koreans make use of high demand services like UHD video streaming and geolocation services. SK Telecom identified 750 busy areas that will receive special attention over the period, while KT said that it would be proactively managing traffic in 970 locations across the country.
All three mobile network operators have said that they will have more technicians and service staff working over the holiday to help them cope with the increase in demand.
Technicians of SK Telecom check network quality at an airport, Sunday. Photo Courtesy of SK Telecom
…………………………………………………………………………………………………
LG Uplus will also run an emergency response center at its office in Magok, western Seoul during the holiday.
The company has completed inspections of 4G and 5G base stations installed at highway rest areas, SRT and KTX train stations and bus terminals throughout the country.
"To respond to possible data traffic jams, LG Uplus checked out base stations for 4G and 5G networks and will run an emergency situation room. We will also increase the number of technicians for highly-populated areas such as airports," the company said.
KT designated 970 places including highways, department stores, bus terminals, airports, train stations and other busy areas in the country as data quality management zones.
South Korea was the first country in the world to launch 5G commercial services with the big three wireless carriers doing so on the same day.
References:
nology/infrastructure/21305-korean-operators-band-together-to-bolster-4g-and-5g-connectivity-over-lunar-new-year
https://www.koreatimes.co.kr/www/tech/2020/01/133_282175.html
Due to ever increasing demand for data, saturated mobile markets, and stiff opposition from cloud companies,  global telecom network providers are facing difficult times. These market pressures have led to vicious price wars for mobile services and, as a result, declining average revenue per user (ARPU).  This is especially true in India where Vodafone Idea and Bharti Airtel have recently announced huge losses, write-downs as their share prices collapsed.
……………………………………………………………………………………………………………………………………………………………………………………………………………………………………………………………………….
Artificial Intelligence (AI) use in Telecommunications:
For many global telecoms, shoring up market share under today's pressures while also future-proofing operations means having to invest in AI. The telecom industry is expected to invest $36.7 billion annually in AI software, hardware, and services by 2025, according to Tractica.
Through its ability to parse large data sets in a contextual manner, provide requested information or analysis, and trigger actions, AI can help telecoms cut costs and streamline by digitizing their operations. In practice, this means leveraging the increasingly vast gold mine of data generated by customers that passes through wireless networks — the amount of data that moves through AT&T's wireless network has increased 470,000% since 2007, for example.
AI applications in the telecommunications industry use advanced algorithms to look for patterns within the data, enabling telcos to both detect and predict network anomalies, and allowing them to proactively fix problems before customers are negatively impacted.
Some forward-thinking telcos have focused their AI investments on four main areas:
Network optimization
Preventive maintenance
Virtual Assistants
Robotic process automation (RPA)
In these areas, AI has already begun to deliver tangible business results, according to blogger Liad Churchill
……………………………………………………………………………………………………………………………………………………………………………………………………………………………………..
Meanwhile, a Tractia report on AI for Telecommunications Applications identifies the following functions which will benefit from AI:
Network Operations Monitoring & Management
Customer Service & Marketing VDAs (Voluntary Disclosure Agreements)
Intelligent CRM Systems
Customer Experience Management
Cybersecurity & Fraud Mitigation
Other Use Cases
……………………………………………………………………………………………………………………………………………………………………………………………………………………………………..
Here are a few takeaways from the AI in Telecommunications report by Business Insider Intelligence:
Telecoms have long struggled with their customer experience image: In 2018, telecommunications had the lowest average Net Promoter Score (NPS), a measure of how favorably a company is viewed by customers, of any industry.
Companies that use advanced analytics, which can be accessed via AI, to improve this image and the overall customer experience are seeing revenue gains and cost reductions within a few years of adoption.
Most (57%) executives believe that AI will transform their companies within three years, per Deloitte's State of AI in Enterprise.
Overall, telecoms should focus on a hybrid organizational model to move beyond pilots to launch full-scale AI solutions that can have the biggest impact on their companies.
References:
https://www.businessinsider.com/the-ai-in-telecommunications-report-2019-7
https://techsee.me/blog/artificial-intelligence-in-telecommunications-industry/
The Network Gets Smarter, Simpler and More Secure with Artificial Intelligence and Machine Learning:
Cisco today announced software innovations designed to make managing and securing networks easier. As today's businesses increasingly invest in digital technologies, IT teams are struggling under the amplified workload. To alleviate this burden and allow IT to focus on delivering innovation, Cisco is introducing new artificial intelligence and machine learning capabilities to allow IT teams to function at machine speed and scale through personalized network insights. As part of its broadened capabilities offering, Cisco is also unveiling innovations to more effectively manage users and applications across the entire enterprise network – from campus networks and wide-area networks, to data centers and the IoT edge.
IT teams currently face a daunting challenge. According to 451 Research, nearly two-thirds of organizations report that their IT teams are facing increased workloads; but increased IT headcount is in the cards for only about one-third of companies in the coming year. At the same time, it has never been more imperative for IT to deliver great digital experiences in this hyper-competitive landscape. Bridging the gap between the needs of a business and the resources available requires innovative network automation and analytics tools, powered by data and underpinned by artificial intelligence and machine learning.
Cisco's new capabilities will grant IT teams:
More Visibility: No two networks are the same. Environments are always changing. Cisco continuously collects relevant data from local networks and correlates it against the aggregate deidentified data set to create highly individualized network baselines. These baselines constantly learn and adapt as the number of devices, users and applications evolves, and as environments change.
Greater Insights: Network complexity has grown beyond the human scale of processing. Cisco uses machine learning to correlate the immense amount of data coming from the network against the individualized network baselines to uncover the issues that will have the greatest impact on the network. This improves issue relevancy, alerting IT of the issues that matter most. It also discovers trends and patterns, so IT can pre-emptively identify issues before they become a problem.
Guided Actions: Cisco uses machine reasoning algorithms and automated workflows to perform the logical troubleshooting steps that an engineer would execute to resolve a problem. This helps IT detect issues and vulnerabilities, analyze the root cause and execute corrective actions faster than ever.
"As the pace of change and diversity of the environment continues to rapidly evolve, Cisco is committed to continually simplifying our solutions," said Scott Harrell, Senior Vice President and General Manager of Cisco's Enterprise Networking Business. "Artificial intelligence and machine learning can enable businesses to efficiently discern which issues to prioritize, becoming more nimble and proactive. This will have a profound effect on network operations and the IT teams that run them. At Cisco, we're future proofing our networks and the workforce through automation and intelligence."
Reducing Complexity with the Multidomain Network
To help customers simplify the unprecedented complexity of modern IT, Cisco is building an architecture that spans every domain of the intent-based network — campus, branch, WAN, IoT, data center and cloud.  Cisco has created solutions optimized to meet the unique needs of each of these networking domains. Today, Cisco is introducing new integrations, so users have a secure, consistent experience no matter where, when or how they connect. The new integrations allow for end-to-end:
Network segmentation: The integration of Cisco SD-Access with Cisco SD-WAN and Cisco Application Centric Infrastructure (ACI) makes it easier for IT teams to consistently authorize, onboard and segment users and devices across campus, branch, data center and cloud networks, even when users and applications change. Because of this segmentation, IT is able to safeguard against unauthorized access to sensitive data and critical applications.
Application experience: Cisco now automatically conveys application requirements between the data center and the WAN, allowing the network to select the best path and prioritize traffic even if applications move or change. This allows IT teams to dynamically elevate application performance across the enterprise and branch.
Pervasive security: As an industry leader in cybersecurity, Cisco is leveraging its security innovations across all domains. By extending the ability to detect threats in encrypted traffic across public clouds, and by protecting the campus, branch and WAN against threats, Cisco says it's providing the end-to-end security customers need.
Cisco's Ecosystem Drives Innovation
As the network becomes increasingly programmable, Cisco's ecosystem of partners and developers has been crucial to drive innovation. To help organizations keep up with the relentless pace of change, Cisco DevNet, the company's developer program, has introduced community-backed efforts to make adopting networking technology easy and accessible. This includes machine learning and artificial intelligence developer resources, which include use cases and resources to get started with new applications; the Cisco DevNet Automation Exchange, which contains a curated repository of code for all levels of network automation use cases; and the Cisco DNA Center Platform, which helps networking professionals and software developers alike to build new applications and integrations.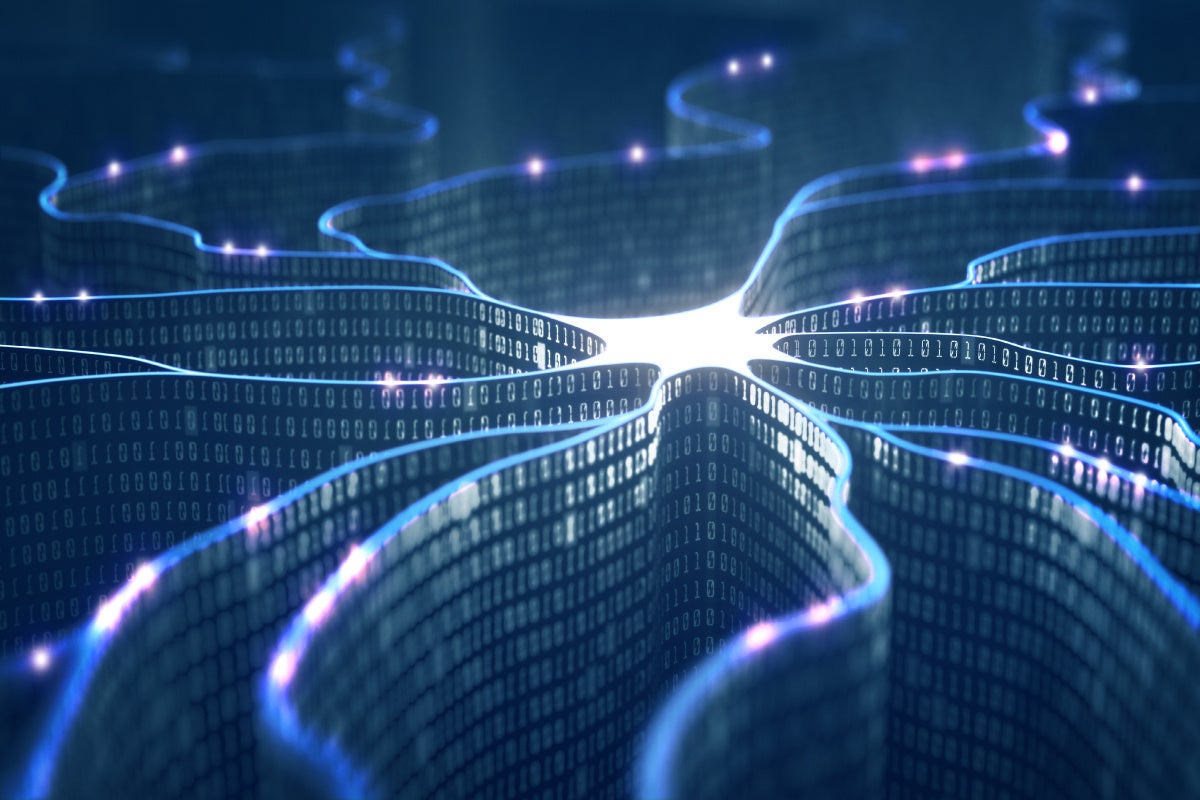 Cisco:  How AI and machine learning are going to transform your enterprise network
…………………………………………………………………………………………………………..
Availability, Licensing and Services
Cisco AI Network Analytics will be a standard part of Cisco DNA Assurance and will be available in the next version of Cisco DNA Center, generally available summer of 2019. Cisco AI Network Analytics capabilities will be included in the Cisco DNA Advantage software licensing tier.
The multidomain network integrations will be available with the next version of Cisco DNA Center, generally available summer of 2019. These integrations will be included in the Cisco DNA Advantage software licensing tier.
Cisco Customer Experience for Cisco DNA solutions accelerates deployment of next-gen intent-based networking solutions while reducing risk and disruption. The Cisco Customer Experience portfolio of services delivers expert guidance, best practices and innovative tools to help customers transition with greater ease and confidence. This also allows them to innovate faster, stay competitive, extract more value and realize faster ROI.
Additional Resources
SOURCE:  Cisco Systems
………………………………………………………………………..
References:
https://www.prnewswire.com/news-releases/the-network-gets-smarter-simpler-and-more-secure-with-artificial-intelligence-and-machine-learning-300864306.html
https://www.networkworld.com/article/3305327/cisco-how-ai-and-machine-learning-are-going-to-change-your-network.html
---