CES 2020: Lenovo Yoga 5G claims to be the first 5G laptop PC
Lenovo has displayed the world's first "5G" laptop at CES 2020 in Las Vegas, NV. The Chinese company says the Lenovo Yoga 5G is the first PC to be able to connect to (pre-IMT 2020 standard) 5G mmWave networks.  However, neither the spectrum used nor the "5G" networks supported were disclosed.  The Yoga 5G also supports Bluetooth 5.0 wireless connectivity, but (astonishingly) WiFi is not listed in the data sheet.
The Lenovo Yoga 5G will go on sale in the first quarter of 2020, starting at $1,499 (around £1,200, AU$2,100), and in North America will be known as the Lenovo Flex 5G.
The Lenovo Yoga 5G was previously known as Project Limitless before its official name was unveiled yesterday at CES 2000.  As with other Yoga laptops, this is an ultra-portable 2-in-1 device, with a screen that can be folded backwards to turn it into a tablet.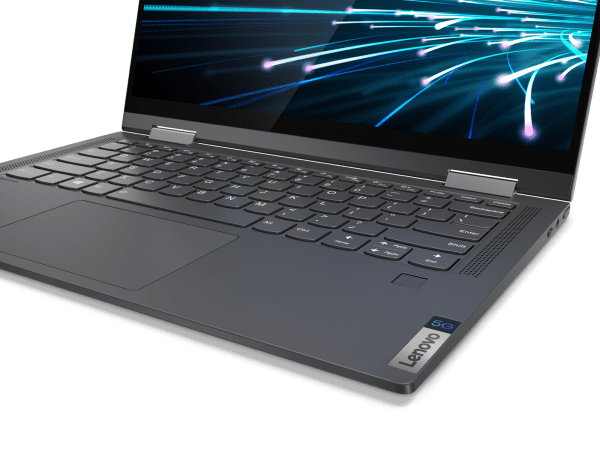 The Lenovo Yoga 5G is also the first laptop to run on the Qualcomm Snapdragon 8cx platform, which includes built-in support for 5G connections, allowing the Yoga 5G to connect via a service provider and access super-fast mobile internet. According to Lenovo, this will allow the user to download large files easily, with download speeds of around 4Gb/s.  The company says its 5G laptop is "up to 10 times faster than 4G through a 5G service provider when on the move and reliable WiFi access at home."  That's quite impressive!
Lenovo said in a press release "5G technology will change entire industries as we know them, disrupting some while helping to launch others."
Lenovo NOTES:
Requires 5G network service and separately purchased cellular data plan that may vary by location. Additional terms, conditions and/or charges apply. Connection speeds will vary due to location, environment, network conditions and other factors.
"5G" Download speeds vary by region and service provider, e.g. Verizon in U.S. offers up to 4Gbs/second. Network strength also varies by 5G service provider.
References:
Lenovo Breaks Barriers with New Consumer Technology Unveiled at CES 2020
https://news.lenovo.com/wp-content/uploads/2020/01/Lenovo-Yoga-5G_14Inch_Qualcomm.pdf
---