Lenovo has displayed the world's first "5G" laptop at CES 2020 in Las Vegas, NV. The Chinese company says the Lenovo Yoga 5G is the first PC to be able to connect to (pre-IMT 2020 standard) 5G mmWave networks.  However, neither the spectrum used nor the "5G" networks supported were disclosed.  The Yoga 5G also supports Bluetooth 5.0 wireless connectivity, but (astonishingly) WiFi is not listed in the data sheet.
The Lenovo Yoga 5G will go on sale in the first quarter of 2020, starting at $1,499 (around £1,200, AU$2,100), and in North America will be known as the Lenovo Flex 5G.
The Lenovo Yoga 5G was previously known as Project Limitless before its official name was unveiled yesterday at CES 2000.  As with other Yoga laptops, this is an ultra-portable 2-in-1 device, with a screen that can be folded backwards to turn it into a tablet.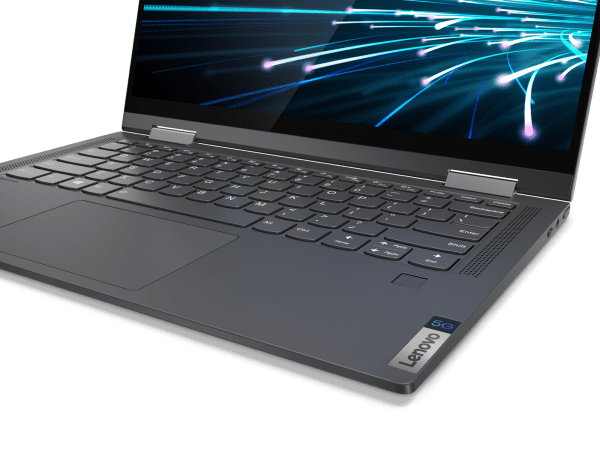 The Lenovo Yoga 5G is also the first laptop to run on the Qualcomm Snapdragon 8cx platform, which includes built-in support for 5G connections, allowing the Yoga 5G to connect via a service provider and access super-fast mobile internet. According to Lenovo, this will allow the user to download large files easily, with download speeds of around 4Gb/s.  The company says its 5G laptop is "up to 10 times faster than 4G through a 5G service provider when on the move and reliable WiFi access at home."  That's quite impressive!
Lenovo said in a press release "5G technology will change entire industries as we know them, disrupting some while helping to launch others."
Lenovo NOTES:
Requires 5G network service and separately purchased cellular data plan that may vary by location. Additional terms, conditions and/or charges apply. Connection speeds will vary due to location, environment, network conditions and other factors.
"5G" Download speeds vary by region and service provider, e.g. Verizon in U.S. offers up to 4Gbs/second. Network strength also varies by 5G service provider.
References:
Lenovo Breaks Barriers with New Consumer Technology Unveiled at CES 2020
https://news.lenovo.com/wp-content/uploads/2020/01/Lenovo-Yoga-5G_14Inch_Qualcomm.pdf
Introduction:
Several new ideas, concepts and forecasts were made at JEDEC's Mobile & IOT Forum on March 26, 2018 in Santa Clara, CA. In particular:
Artificial Intelligence/Machine Learning/Deep Learning will have a huge, positive impact on control of IoT devices (2 presentations summarized);

3GPP specified

NB-IoT

is a strong contender among the many Low Power Wide Area Networks (LPWANs) for IoT;

New and different IT requirements at the network edge are needed to provide the low latency needed for real time control of IoT devices;  
MIPI Alliance specifications for Mobile and IoT were presented and MIPI's role explained.
In this first of a two part event summary we provide highlights of the first two keynote speeches at the conference. In part II, we'll look at more aspects of AI, MIPI, and the new IT requirements for the intelligent network edge as suggested by Lenovo.
Discussion of Selected Keynote Presentations:
Signs of Intelligent Life: AI Simplifies IoT
In his opening keynote presentation, Stephen Lum of Samsung said that some IoT industry vertical device volumes have seen an explosion of demand due to the introduction of Artificial Intelligence into their usage model. The connection and control of those devices is driving tremendous data traffic volumes into the cloud where the AI/ML/DL actually takes place. For example, the Amazon Echo and Google Home connected device control has all voice recognition, language understanding, AI/ML/DL done in cloud resident data center compute servers owned and programmed by Amazon and Google, respectively. Autonomous vehicles will also have AI/ML/DL done in the cloud but likely at the network edge to provide ultra-low latency.
Stephen stated that a simple thesis of deep learning is that the more data used to train neural networks, the smarter the AI becomes. Some of his other cogent data points were the following:
New AI chips are being designed to efficiently process deep neural networks.
Solid state memory needs to keep pace with processors to prevent bottlenecks. See bullet points below for UFS.
Scalability becomes more critical as consumers adopt new services.
Universal Flash Storage (UFS) is a high performance, scalable interface for storage at the edge of the network.
UFS combines the key features of eMMC (embedded Multi-Media Controller) and SSDs (Solid State Drives).

UFS Card brings benefits to a removable storage form factor.
The diverse needs of three IoT industry verticals were said to be as follows:
Wearables

(e.g. smart watches, fitness trackers, etc): Low power, Low density, Specialized form factors.

Smart Home

(AKA Connected Home): Low cost, Low to mid density, Low to high bandwidth –depending on the device to be analyzed and/or controlled, 2-5 years longevity.

Automotive

(more than just autonomous vehicles): High bandwidth, High density, Very high reliability, 7-10 years longevity.
Summary:
Artificial Intelligence is enabling more innovative real-time services to be delivered to consumers.

AI in the Cloud simplifies edge devices, encourages their adoption with low cost of entry.

Autonomous vehicles, cannot be Cloud dependent, will become AI servers on wheels.

JEDEC has enabled tremendous advances in memory while expediting quick adoption and provides a firm foundation for memory-related ecosystems
……………………………………………………………………………………………………………………..
Opening a New Era of IoT -Opportunities and Solutions
Note: I related best to this presentation at it was the only one dealing exclusively with the network aspects of IoT.
Harrison Hsieh of Mediatek said at the beginning of his excellent presentation that we should look at the network required for IoT based on whether the devices/ end points were indoors or outdoors.
Let's first look at an IoT indoor application presented by Mr. Hsieh:
Challenges of Smart Home (e.g. kitchen management, living room control, home heating/cooling/climate control, entertainment device control, security/surveillance, etc.):
Uncovered Zone: Bad connection, No signal, Dead end

Different Protocols (and wiring or wireless): Kitchen, Living room, Lighting, Climate control, Surveillance
Whole home IoT coverage requires Adaptive Networking which includes: Easy Setup/Configuration, Network Healing (after failure detection), Fast Roaming, Beam/Frequency Band Steering, Smart QoS, and Solid Security.
According to MediaTek, the IoT home system should be: Easy to Use, Have a unified protocol, be intuitive to install, have a single ecosystem with a user friendly interface (e.g. plug and play).
Harrison said that MediaTek's Human to Machine interface solutions will focus on Hands-Free Voice Controlled Applications which are intuitive to configure and control diverse devices.  We strongly agree!
Next, the outdoor IoT applications face many challenges today, including:
a.] Complicated Technologies:
• Unlicensed Wireless (e.g. LoRa WAN, Sigfox, etc)
• Proprietary Technologies (too many)
• Complex Deployment
b.] Limitation of Signal Coverage:
• Low Penetration Capability (trees, buildings/walls, etc)
• Limited Range with Single Base Station
c.] High Power Consumption:
• Legacy Technologies
• Not Dedicated or purpose built for outdoor IoT design (except for SIgfox and LoRA WAN, maybe LTE Category M/M1?)
Low Power Wide Area Networks (LPWANs) for IoT [1.] need a dedicated solution, which Mediatek believes is 3GPP's NB-IoT. They think it's the clear winner when compared to other LTE standards, including LTE Category M/M1 which many carriers are using today for IoT applications.
In particular, LTE NB-IoT R14 [2] was said to offer the following attributes:
System Bandwidth of 200kHz

Down Link Peak Rate of 127kbps

Up Link Peak Rate of 18kbps(ST) / 158kbps(MT)

Link Budget (power consumption) of 164 dB

Low Memory Requirement (especially compared to other LTE standards)

Half Duplex mode

Battery life measured in years rather than days or weeks
Other advantages of LTE NB-IoT R14 include:
Location Accuracy (UTDOA/OTDOA)

Mobility Enhancement (Cell Reselection)

High Data Rate (Supports FOTA or firmware updates over the air)
………………………………………………………………………………………………………………..
Note 1. Market for LPWANs:
LPWANs will be the world's fastest-growing connectivity technology through 2025, supporting 4 billion IoT devices by that date, according to market tracker ABI Research.
"We expect to have more than 100 million NB-IoT connections on our network by 2020," said Xiaotian Chen, general manager of China Unicom's IoT group, said in a Cisco press statement.
China Mobile reported at MWC 2018 that it has launched NB-IoT networks in 346 cities using chipsets from five companies — Huawei, Mediatek, Qualcomm, RDA, and ZTE. The carrier has approved for use on its network 15 NB-IoT modules using the chips, according to a report from TechInsights analysts at the MWC 2018 event.
China Telecom, gave an update on its aggressive deployments of NB-IoT at a U.S. the MWC Americas event last September.
In the U.S., T-Mobile, Sprint and Verizon plan to deploy NB-IoT with T-Mobile's offering planned for 2018 with the others to follow.
……………………………………………………………………………………………………………………..
Note 2.  3GPP's LTE NB-IoT R14 briefly explained:
In 3GPP LTE Release 13, Narrowband Internet of Things (NB-IoT) was specified for providing wide-area connectivity for massive machine-type communications for IoT.
In 3GPP LTE Release 14, NB-IoT was further developed to deliver an enhanced user experience in selected areas through the addition of features such as increased positioning accuracy, increased peak data rates, the introduction of a lower device power class, improved non-anchor carrier operation, multicast, and authorization of coverage enhancements. 
According to MediaTek, 3GPP Release 14 imbues essential features for NB-IoT mobile applications such as:
Location accuracy via just modem (UTDOA/OTDOA)
Mobility enhancements from seamless cell re-selection
Push-to-talk voice messaging services
Higher efficiency by lowering power consumption for wearables
Supports massive industrial or city-wide deployments with multicast
……………………………………………………………………………………………………………
Summary of Mediatek's IoT LPWAN Solution:
• Global Oriented NB-IoT Solution:
– Support NB1 (Rel.13) & NB2 (Rel.14) Global Bands (450Mhz – 2.1Ghz)
– Latest NB2 Modem Technology (Position allocation/Higher Data Rate/Cell Reselection)
• Highly Integration with Low Power Design:
– Leading SoC integrated design with Small form factor
– Rich I/Os for various application
– Optimized low power design in One-time battery
• Comprehensive Product Portfolio:
– Combination with MediaTek Connectivity technologies
– Integrated and matured Software offerings
In closing, Harrison predicted that the IT user interface will change from keyboard to voice (it already has for this author on his smart phone and tablet) while NB-IOT market will "take off in 2019-2020" timeframe.
Mediatek's System on a Chip (SoC) connectivity solutions are targeted at the home, on the move (mobile) and in the cloud.
……………………………………………………………………………………………………….
Part II. of this event summary was published on March 29, 2018 at https://techblog.comsoc.org/2018/03/29/ai-deep-learning-new-it-requirements-for-edge-computing-mipi-alliance-for-mobile-and-iot/
……………………………………………………………………………………………………………………………………………………………………………………………………
References:
https://labs.mediatek.com/en/blog/IoT-tech-comparison-and-vision
MediaTek targets "huge" NB-IoT opportunity – Mobile World Live
https://www.eetimes.com/document.asp?doc_id=1333023
https://www.nickhunn.com/13-companies-announce-nb-iot-chips/
https://www.eetimes.com/document.asp?doc_id=1332311
https://www.link-labs.com/blog/overview-of-narrowband-iot
JEDEC Forum: AI/Deep Learning, New IT Requirements for Edge Computing & MIPI Alliance for Mobile and IoT- Part II.
---