Cignal AI: Optical Network Equipment Sales +25% in 4Q2019 + 650 Group
Cignal AI:
Recent optical network equipment sales in North America were quite encouraging – up more than 25% for 4Q19 and 10% for all of 2019, according to the most recent Transport Hardware Report.
"After three years of North American spending declines as operators focused capex on wireless and access, optical hardware sales in the region revived and grew at a healthy pace for 2019, while packet hardware sales remained flat," said Scott Wilkinson, Lead Analyst at Cignal AI. "Market leaders Ciena, Infinera, and Cisco all achieved optical sales growth exceeding 25% in 2019."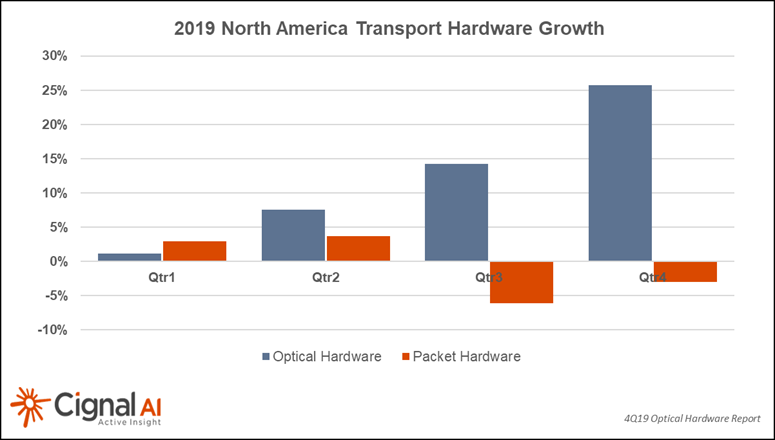 Manufacturing at Huawei in Dongguan appears to be close to resuming normal levels of operation, although installation activity underway in China is still not clear. Ciena indicated a revenue impact of $30M during an earnings call in early March. It's unclear right now what the ultimate impact will be; time will tell. We will revisit projections in April with the hope that events will be more certain at that time.
OFC was severely impacted when almost all major exhibitors pulled out of the show as health concerns mounted. The organizers did an admirable job of salvaging the technical sessions via Zoom teleconference.
Cignal AI will deliver a wrap-up report summarizing many of the important announcements that companies intended to make during the show. Look for it in the coming weeks, and if you have important news or perspective to share – contact us!
……………………………………………………………………………………………
Separately, a newly released report by 650 Group states that the Optical Transport Network market revenues increased 5% Y/Y in 4Q19. Revenues in four of the six geographic theatres experienced year over year growth, with North America having been the most robust.
"For the full year 2019, the top five Hyperscalers experienced the most growth out of any customer segment we track and has consistently been a top-performing customer segment in recent years," said Chris DePuy, Technology Analyst and Founder at 650 Group. "Top vendors in the market are expecting their 800 Gbps optical transport technology to contribute to revenues towards the end of this year, 2020. We expect that optical transport systems companies that ship this new technology early will be well-positioned to take on the potential substitution threat of optical modules on switches and routers in the coming years."
The forecast section of this report has been updated to reflect changes in both demand and supply related to health fears that have emerged in 1Q20. The report also reflects quantitative Data Center Interconnect (DCI) deployment scenarios across long-haul, metro, cloud, colocation, and telecom service providers.
For more information about the report, contact:
[email protected] or www.650group.com
---